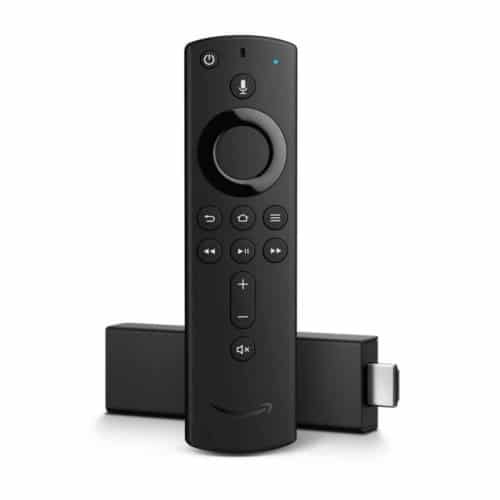 I used to say that the Amazon Fire TV Stick was the cheapest way to stream video to your TV and cut the cord.  The last release added Alexa, making it the cheapest way to have yourself a digital assistant. The latest 2018 release has added 4K video resolution and support for HDR, or High Dynamic Range
You will have top-notch picture quality and all the power of Amazon Alexa for just $34.99 (Normally priced at $49.99.) You can play music, order a pizza, and play guessing games at one-third of the price. Granted, you have to press a button on the remote where the Echo will automatically respond when you say "Alexa."
Furthermore, the Fire Stick is also an easy way to install the popular media center KODI. By the way, that's exactly what people are installing when they say they can "jailbreak a Fire Stick." However, all this functionality is secondary to the Fire Sticks primary purpose . . . streaming.
Setting Up Amazon Fire TV Stick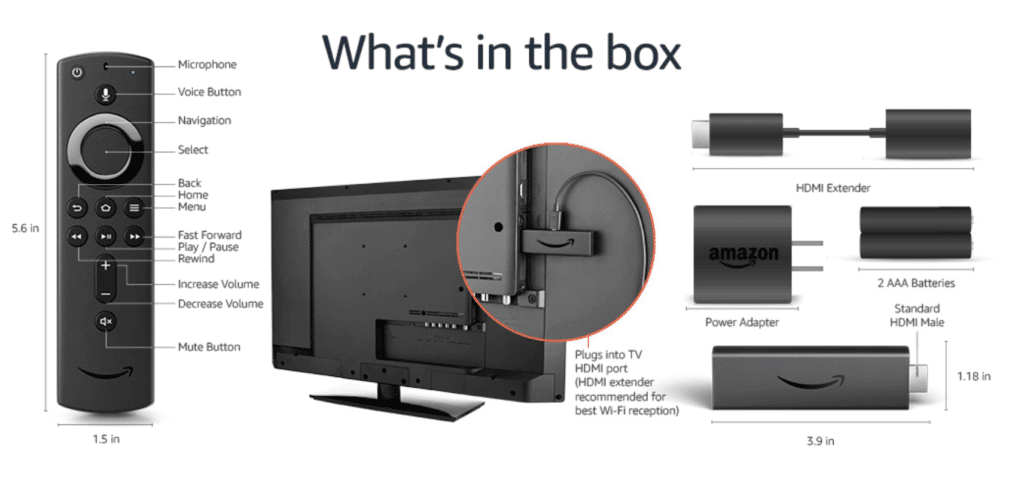 The Fire Stick plugs into the HDMI port on your television. Then, simply attach the included power adapter to your Fire Stick to provide power to the device. The Fire TV Stick comes with an HDMI extender dongle in case the Fire Stick juts out of your TV at an odd angle. From there, stick the included AAA batteries into the remote. Once the Fire Stick automatically pairs with the remote, follow the following steps.
The Fire Stick should locate a list of WiFi networks. Chose yours and enter the password.
The Fire Stick will then install any updates
Next, supply your Amazon account login information. If you purchased the device through Amazon, this is already configured.
A Short tutorial should begin. After that, you are free to use your Fire Stick
Fire Stick Features
Amazon offers a ton of apps. HBO Now, Showtime, Netflix, Hulu, Sling TV, Amazon Instant Video, and more install through the Amazon App Store. Check out the device on Amazon to get a sense of all the available apps. There are over 7000 apps and games available.
As previously mentioned, Alexa provides voice control for the app. Simply press the microphone button on the remote and say "Find The Walking Dead" and Alexa will search for the title on apps like Netflix, Hulu, HBO Now, and Amazon Video. While an Amazon Prime isn't required to use the Fire Stick, it adds a ton of content. Check out my post on the benefits of Amazon Prime for more information.
You can also ask Alexa to play songs or music from an artist. Alexa will then look through your available music services. Amazon Fire Stick works with Spotify, Pandora, Vevo, and of course Amazon Prime Music. For example, just say, "Play "Where is My Mind" by "Pixies" and if it's available it will play on your TV.
Alexa will also accept voice commands like "play next episode", "Launch an app", and more.
Amazon Fire TV Stick Specs
99 mm x 30 mm x 14 mm (only housing) | 108 mm x 30 mm x 14 mm (including the connector)
Weight  – 53.6 g
Processor –  Quad-core 1.7 GHz
GPU – IMG GE8300
Storage  – 8 GB internal
Memory – 1 GB
Wi-Fi Connectivity – Dual-band, dual-antenna Wi-Fi (MIMO) for faster streaming and fewer dropped connections than standard Wi-Fi. Supports 802.11a/b/g/n/ac Wi-Fi networks.
Bluetooth – Bluetooth 5.0 + LE
Voice Support –  Yes, with Alexa Voice Remote (included) or free Fire TV Remote App (available for download on Fire, Android, and iOS)
Game Controller Support –  Yes, optimized for Amazon Fire TV Game Controller and most games are compatible with other Bluetooth controllers
Cloud Storage – Free cloud storage for all Amazon content
Ports – HDMI output, Micro USB (for power only)
Audio Support – Dolby Atmos, 7.1 surround sound, 2-channel stereo, and HDMI audio pass through up to 5.
Supported Video Resolution: 4K, 1080p and 720p up to 60 fps
Supported Video Formats: Dolby Vision, HDR 10, HDR10+, HLG, H.265, H.264, VP9 Audio: AAC-LC, AC3, eAC3 (Dolby Digital Plus), FLAC, MP3, PCM/Wave, Vorbis, Dolby Atmos (EC3_JOC), Photo: JPEG, PNG, GIF, BMP
Audio:  AAC-LC, HE-AACv1 (AAC+), HE-AACv2 (eAAC+), AC3 (Dolby Digital), eAC3 (Dolby Digital Plus), FLAC, MIDI, MP3, PCM/Wave, Vorbis, AMR-NB, AMR-WB
Bottom Line
The Amazon Fire TV Stick is a not only a great device to cut the cord on the cheap, but not provides top video and audio quality. Throw in Alexa, and the Fire TV Stick and the  $34.99  price tag makes this the best deal around.

Dennis is the editor in chief at Grounded Reason. Before writing about using technology to save you money he spent 20 years working in Information Technology.

Latest posts by Dennis Restauro (see all)
If you enjoyed this article, please subscribe to our weekly newsletter!. It's free and goes out every week to keep you up to date on articles we publish to Grounded Reason. Subscribing will also inform you on the latest deals out there for internet, streaming, and more.
Check Out These Hot Articles!