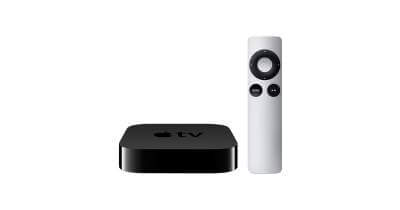 When my family cut the cable cord in 2013, the latest Apple TV device was fairly new.  Since we already owned an Apple iPad and iPhone it appeared to be the logical choice for streaming movies and TV shows to our television.
Apple TV AirPlay mirroring allows users to stream photos, music, movies, and TV shows from their iOS device (iPad, iPod, and iPhone) to the Apple TV for enjoyment on their television. I've tried other streaming devices and Airplay within the Apple ecosystems is easily the best option for getting content from an Apple device to the TV.
While Apple TV s AirPlay mirroring makes it the best option for Apple device owners, this Apple TV review will cover other reasons why this set top streaming device is still worthy of consideration.

Apple TV Installation
Similar to other Apple products, setting up an Apple TV is a breeze. Simply power the device from a wall socket using the included power cord and connect the device to the TV using an HMDI cable. As with similar devices, the HDMI cable requires a separate purchase.
Once the power and HDMI cables are connected, the startup screen should initialize. From here the setup can be finished by using the included Apple TV remote or an iOS device running iOS 7.0 or later.
Setup from an iOS device
First, navigate to "Settings" on your iOS device and ensure Bluetooth is on. Also be sure that the iOS device is on the same network you would like the Apple TV to be on.
Next, simply touch your iOS to the Apple TV and wait for the prompts to appear. Enter your Apple ID and password on your iPhone and iPad when asked. You will also be asked if your iOS device should remember this password, and whether you mind if Apple collects device performance data. These options are up to you.
Once the prompts are completed, Apple TV completes the setup process. Be sure the iOS device is near the Apple TV while this process completes. Once finished, your Apple TV is ready for use.
Setup with the Apple TV Remote
The Apple TV can also be set up using the included Apple TV remote. The process is largely the same as using an iOS device. The only notable difference is selecting your Wi-Fi network using the remote.
Furthermore, entering your Apple ID and password is a bit tedious in comparison to using an iPad or iPhone.  As with the iOS device, simply navigate through the prompts, entering the required information until the setup is complete.
Sharing your iTunes Library
Apple TV integrates easily with iTunes.  Ensure you are using the latest iTunes version on your PC or Mac. On a Mac, simply click the Apple menu in the left hand corner and select "Software update." PC users can update by selecting the "Help" menu from within iTunes and choosing "Check for Updates."
Once iTunes is current, select "File" > "Home Sharing" > "Turn on Home Sharing" and enter your Apple ID and password. The menu options are the same on both PC and Mac. Next from the Apple TV select "Settings" > "Computers" > "Turn on Home Sharing." You will then be prompted to enter the Apple ID and password associated with the computer. Once entered, you will have access to the computer's iTunes library on your television.
Using AirPlay
Once Apple TV is set up, AirPlay can be used to stream photos, movies, TV shows, and music from an iOS device to your television.  Simply swipe your finger up from the bottom of the screen to bring up the control panel. Next, select the Airplay button pictured below and choose the device to AirPlay to. The Television should now mirror your iOS device.
From within apps like Netflix, HBO GO, and Hulu Plus, an Airplay button may be present in the app. It's recommended to use the Airplay function from within the app, opposed to using the control panel as explained above.  However, supported apps can be directly accessed from the Apple TV negating the need to use AirPlay.
Apple TV Recommendations
If possible connect the Apple TV to your network using an Ethernet cable. I find it more stable compared to Wi-Fi.
Don't sit objects on top of your Apple TV. It will interfere with the Wi-Fi signal. The same could be said about hiding the Apple TV away in a cabinet or closet.
Using an available app on the Apple TV is always preferred to using the same app on an iOS device with AirPlay.
Apple TV Content
Aside from the ability to mirror your iOS device, Apple TV runs numerous apps (also called channels) to watch directly on your Apple TV. They include Netflix, Hulu Plus, HBO GO and much more.  For a full list of apps available in the US check: https://www.apple.com/appletv/whats-on/
Apple TV now support Amazon Instant Video by downloading the Amazon instant video app on your iPhone or iPad. You can then Airplay it to the apply TV from your iOS device. Of course, Apple would prefer you to use their iTunes Store, but both now work. 
The Bottom Line
Apple TV Pros
The User Interface is clean and responsive
Apps Load Quickly
Airplay for iOS owners
iTunes Library Sharing is simple
Apple TV Cons
Hardware is over 2 years old
Verdict
Apple TV may be 2 years old, but I recommend it. It's the go-to streaming device for my family. Its user interface and responsiveness bests newer device on the market. However, for non-iOS device owners I would look into purchasing a Roku 3 for your TV streaming needs.
Product: Apple TV
Reviewer: Dennis Restauro on December 30, 2014
Purchase An Apple TV
If interested in purchasing an Apple TV please purchase your Apple TV with this link. The price is only $69 (down from $99) and doing so supports Grounded Reason as Best Buy pays this website a small commission for each purchase. I only link products I fully support and have used personally.
Need More Information?
If this article didn't answer your specific question, head over to our Home Page! It will guide you to affordable internet providers, streaming services to meet your needs, information on antennas, and many more tools and resources to help you save money on TV and Internet access.
For tips and tricks on cutting the cord and other tech topics be sure to join our Facebook Page.
Join Millions of Cord Cutters
Disclosure: Grounded Reason is supported by a small commission for purchases made through some product links on this website. We do not accept compensation from companies attempting to sway our review of products.