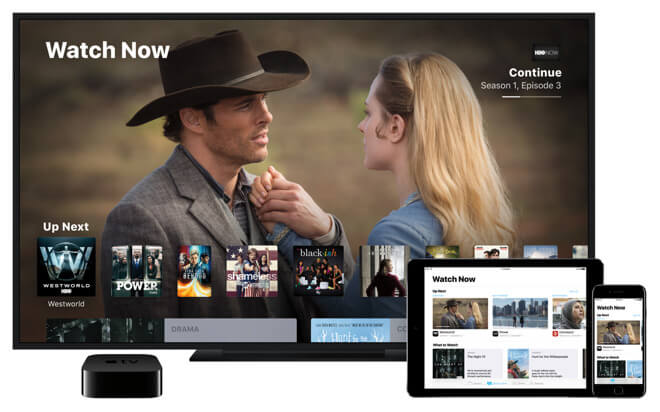 One of the biggest complaints I hear about cord cutting is having content spread across multiple apps and services. Streaming devices like Roku have instituted universal search in their devices, which search multiple services. However, there still isn't away to browse for ideas without going into each app separately. Apple may have solved that problem.
Yesterday, at their Special Event, Apple unveiled its new "TV" app. The app releases this year, and will be available on tvOS and iOS devices. Therefore, it works on Apple TV, iPad and iPhone. The TV app aims to unify content across all of your services in one interface.
Furthermore, the TV app is show focused. Let's assume you have HBO Now and a service that offers the current season of The Walking Dead. Apple's new TV app will show both of those shows in the TV app on the same interface. Hence, no more jumping between apps to navigate from show to show.
Furthermore, it's not just about actively selecting the shows you want from multiple services in a single interface. The TV app also curates content across multiple streaming services and content apps. Ultimately, it seems like the guide app every cord-cutter has been asking for.
The experience is similar to channels on a cable box. If you see a show you like and select it, it plays from the TV app. In other words, it bypasses all the annoying menu navigation in the various apps and services you subscribe to a plays right in Apple's TV app.
Siri Live Tune-In
While this is enough to get cord cutters excited, Siri takes the TV app to a completely new level. If you want to watch a live event and aren't sure which app is streaming the event, just ask Siri. For example, if you ask Siri to watch "Thursday Night Football" she will grab the live stream from Twitter and pull it up in the TV app for you.
You can also ask Siri questions about the show you're watching. If the app contains the metadata to answer the question about the content, Siri will show the answer. In Twitter's case, you can also see tweets related to the content. The TV app seems to be the first app to integrate not just TV content, but other mediums attached to the TV content.
Apple's "TV" app will be available December 2016 as a free update to the 4th Generation Apple TV. However, the Live Tune-In feature with Siri is available now on your Apple TV. An upcoming December iOS update will push the TV app out to iPhones and iPads. Check back at Grounded Reason for a review of Apple's "TV" app at the end of the year.
Check Out How To Get Gigabit Internet and Free Netflix
If you enjoyed this article, please Subscribe to our weekly newsletter. It goes out every week and keeps you up to date on information relevant to cord cutters. Subscribing will also inform you on the latest deals out there for internet, streaming, and more.
If this article didn't answer your specific question, check out the Cord Cutting Guide. It provides links to the most important articles in our over 200 pages of content to help you ditch pay TV.
For tips and tricks on cutting the cord and other tech topics be sure to join our Facebook Page and follow us on Twitter @Grounded Reason
.