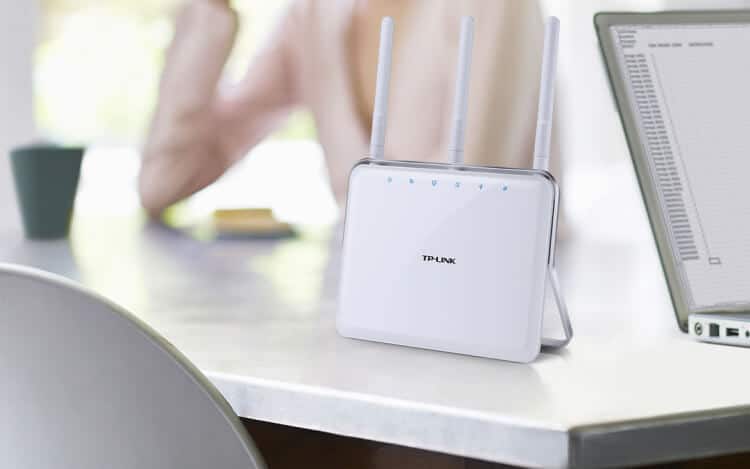 With streaming video accounting for the majority of my home network traffic I decided it was time to upgrade our home router.  Our previous router was 8 years old, and getting a WiFi signal in our bedroom was like trying to lure your cat out of a crawlspace with a bag of cat treats. We literally had to leave the bedroom door open to let the signal in. . . it was time to upgrade.
If you go online and look at some of the recommended routers from the top tech sites, you will see prices ranging from $200-$300 dollars . . .sometimes more.  Truth be told, you can get a much more affordable router without sacrificing much in the way of function or performance.
I was able to get a router that meets all of today's standards, and will keep up with internet speeds for years to come for $110. That router is the TP-LINK Archer C8 AC1750.
Working in IT, I love top of the line technology. However, often times I find we overpay for functionality. What's the point of paying $300 for a top of the line router, when you can pay a third of  that price for a router that meets your needs.
Some may say, buying the best available device keeps you current longer. I find that I'm seeing last years $300 router for about $200,  and it will be everyone's $100 bargain a year from now.
The important part of finding the bargain router is making sure you have the required standards of today,  with the capabilities of handling the newest standards in devices released in the past year. I'm going to go over what those standards are, and why the TP-LINK Archer C8 AC1750 is the one you want to buy to meet them.
What To Look for in A Home Router
Of course you will want the basics, A WiFi Access point, Ethernet capabilities, and  security. However there are things you want to look for to ensure you are ready for not only the devices of tomorrow, but the technology trends that will be prevalent in most houses over the next 5 years. Let's take a look at what those technologies are.

802.11ac
802.11ac is the latest wireless standard. It was approved in January of 2014 and is the WiFi standard being used in modern consumer devices. Most WiFi devices released prior to 2014 will be 802.11n. Legacy devices from the prior 2 decades used the 802.11 G, A, or B standard. If you see a bargain router for $50-$60 bucks,  it most likely doesn't support the AC standard.
You want to ensure that your router can handle the 802.11ac standard. Most all WiFi devices being made now will use it.  Samsung Galaxy has been on the standard since 2013, before it was officially approved. iPhone 6 utilizes 802.11ac, and you can't buy an Apple laptop that doesn't make use of the standard.
If you currently don't have 802.11ac devices, don't worry.  These routers are backwards compatible with the A,B,G, and N standards of yesteryear. This brings me to my next requirement.
Multiple Bands
802.11ac operates on a different frequency than previous iterations of the standard. 802.11ac operates on a 5 GHz frequency, while N, G, B, and A operate at 2.4 GHz.    Since the 802.11ac standard solely operates within the 5 GHz band, all 802.11 routers should have at least 2 bands.
A router with multiple bands will allow you to set up multiple WiFi SSIDs (The WiFi Network Name) on the router. This comes in handy when trying to make your network more efficient.
On my home network, I  created SSIDs using a dual band router, one named mynetwork_2_4G and one called mynetwork5G.  I have all my devices that are 802.11ac capable connect  to the 5 GHz network, and all my 802.11n devices connect to my 2.4 GHz network. This ensures my top speed devices won't be slowed down by the older devices in the house.
The 802.11n standard can also use the 5GHz band, but not many 802.11n devices utilize the 5GHz band. Therefore, I find it better for my network to separate the 802.11ac devices to their own SSID to guarantee peak performance.
WiFi Speeds
When looking at the speeds available from routers, don't expect to get the speeds advertised on the box. Those are the theoretical maximum speeds.  You will most likely find that your speeds are about a quarter of their theoretical maximum speeds.
With that in mind, I recommend getting a router that boasts 450 Mbps on the 2.4 GHz band and 1300 Mbps on the 5 GHz band. Router makers typically add the speeds together when advertising, thus calling the router a 1750, or claiming a 1750 Mbps  capability.
I'll explain what speeds to actually expect later in the article.
802.11ac Beamforming
I'm going to stay above the technical weeds on this one.  The 802.11ac WiFi standard has improved upon the router's ability to target it's client.  Instead of the router wasting it's energy, sending it's signal in all directions, it narrows multiple beams to it's clients for better speed and performance.
Beamforming has existed long before 802.11ac. However, it's usage has been standardized in 802.11ac to apply Multiple Input Multiple Output (MIMO) techniques providing better speeds and reliability.
USB 3.0 Ports
Whether you've considered it or not, USB ports on a router come in very handy. While print capabilities are possible, that can easily be accomplished with a WiFi printer. The real benefit to a USB port is the ability to attach an external hard drive and have Network Attached Storage (NAS) available to all devices on your network.
This provides a means to centrally store movies, music, videos, and other media files. Not only is this convenient for PCs, Macs, and laptops on your network, but you could set up a media server and serve movies and TV shows to the Roku, Apple TV or other streaming device on your network.
So why USB 3.0? The answer is speed.  USB 2.0 drives have a real world write speed of about 9 MB.  Now that's Megabytes.  We need to multiply by 8 bits to get  Mbps.  So in terms of network bandwidth a USB 2.0 drive will run at 72 Mbps. While that's fine if you're using 802.11n,  it won't keep up with 802.11ac.  If you are running a media server over Gigabit Ethernet it can be a downright show stopper.
Even the cheapest USB 3.0 drives  have had real world speeds 20 times faster than that, making them faster than Gigabit Ethernet.  You never want your file server to be the bottleneck of your network.
Best Router For The Money
So what router has all this and won't cost an arm and a leg? If you're looking for all this functionality at a great value I recommend the TP-LINK Archer C8 AC1750. It's got everything we need and can usually be found for about $110.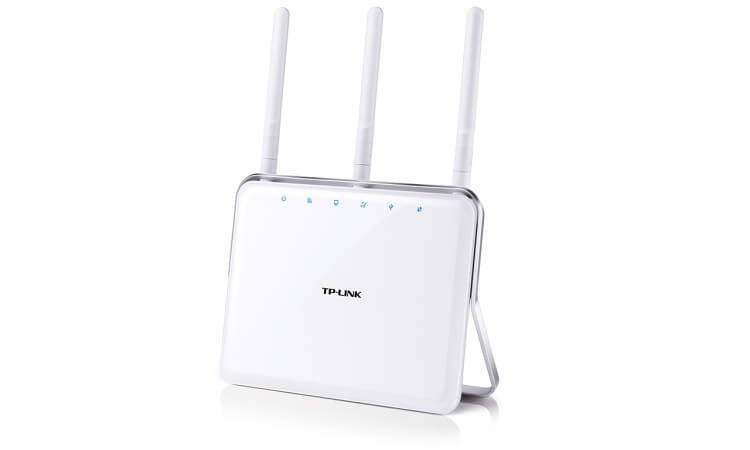 Here are the specifications:
Supports  WiFi 802.11ac, and is backwards compatible with N, G, B, and A.
It's  Dual Band (450Mbps at 2.4GHz and 1300Mbps at 5GHz)
It has a USB 3.0 and a USB 2.0 port
It supports 802.11ac Beamforming
4 Gigabit Ethernet Ports
800MHz dual-core CPU
As for performance, this router easily kept up with my internet connection. On the 2.4 GHz network I consistently get 45 – 50 Mbps of bandwidth in every room in the house.  The furthest test point was our bedroom which has  50 feet 2 walls between the room and the router.
On the 5GHz band, my device gets internal network speeds between 275-300 Mbps when in the same room as my router. In our bedroom the network still performs at a speedy 180 Mbps.
As I said, all router makers love to put the theoretical maximums on the box.  The 450Mbps and 1300Mbps speeds quoted on the box are theoretical.  You will most likely find that your speeds are closer to what I show in my tests above.
This router also provides the ability to create a separate guest network. This provides an easy way to provide secure internet to your house guest, while keeping them separated from your home or office network.
Setting up this router is a breeze, has multi-language support and it comes with live 24/7 technical support.
Best Wireless Router Under $100
I said the title of the article is "Best Streaming Router Around $100", and my recommendation is priced at  around $110. I know, for some, $100 might be the most they want to spend.  For those folks the TP-LINK Archer C7 AC1750 will cover most the important functions.
It's essentially the same router minus the beamforming and USB 3.0 port (it has 2 USB 2.0 ports instead).  It also has a single core processor, which may take performance down a notch below the C8 under heavy loads. However it wasn't noticeable in my experience.
It performed identically to the C8 when in proximity to the router.  However the lack of beamforming was noticeable in the bedroom as I was getting speeds around 100 Mbps on my 802.11ac device.
So if you don't care to use your router to serve media, and can live without the beamforming boost, then the TP-LINK Archer C7 AC1750 should suit you just fine.
Tips for Installing your TP-LINK Archer
To ensure you get the best performance I wanted to go over some of the things I've done in my home network to ensure peak performance. This doesn't just apply to TP-LINK Archer C8 AC1750, but any WiFi router you install.
WiFi Router Placement
WiFi signals have better range and reliability when they are angled downward.  This is why it's best to install your router on the second floor or on top of a high shelf or surface on your first floor. I know many people like to install the router in the basement, but that will hinder your WiFi network performance.
It's equally important not to block or hide your router. It impedes the signal, lowering network coverage in your home or office. I understand that most people don't want to look at a router as it doesn't add much to décor. But, if you put it up high on a shelf or cabinet, you get better WiFi coverage and no one can see it anyway.
Set Up Two WiFi Networks
This is extremely easy to do with TP-LINK routers. All you have to do is set up one Wireless network name SSID for the 5 GHz network, and another SSID for the 2.4 GHz network.
Then connect your wireless devices with 802.11ac to the 5 GHz network and all the other wireless devices to the 2.4 GHz network.  Connecting all devices to the same SSID regardless of WiFi standard causes the potential to slow throughput to your more modern devices.
On our home network, we have an iPhone 6 and one laptop connected to the 5 GHz network as they both support 802.11ac. My wife's iPhone 5c and the kids kindles are connected to the 2.4 Ghz network.
Use Gigabit Ethernet
The more devices on your WiFi network, the slower it will preform. Households today have multiple computers, tablets, phones, and printers on their network.  If your household cut the cable cord and watches TV over the internet, you're sometimes adding multiple over-the-top streaming devices to the equation.
Considering the number of devices in today's households, it makes sense to put your stationary devices on wired Ethernet if possible. This will free up wireless bandwidth for devices that require it, like smartphones, laptops, and tablets.
I personally ensure all streaming devices like Roku 3 and Apple TV utilize an Ethernet connection.  While most won't even notice, a correctly installed wired Ethernet connection will always be more reliable than wireless.
I know what you're thinking, "You just told you to put the router high up on the shelf, now you want me to run 4 Ethernet cables from it?"
Not at all.  You can simply use 1 Ethernet port and run the Ethernet cable to a smart switch. The differences between a managed, unmanaged switch is a topic for another day. But, unless computer networking is a hobby for you, you'll want a smart switch.
The smart switch should be located in a place in your house where you can easily run Ethernet connections to the rooms you require. I recommend the basement.  It's possible to run the smart switch to another smart switch.
For instance, let's say you have an Xbox One, PC, and Roku in the same location. You could run the router to your smart switch in the basement. Then, you could run 1 Ethernet cable to the entertainment center. From there, you could connect the Ethernet cable to another 5 port smart switch and use the other three ports for the Xbox One, Roku, and PC. The diagram below illustrates this setup.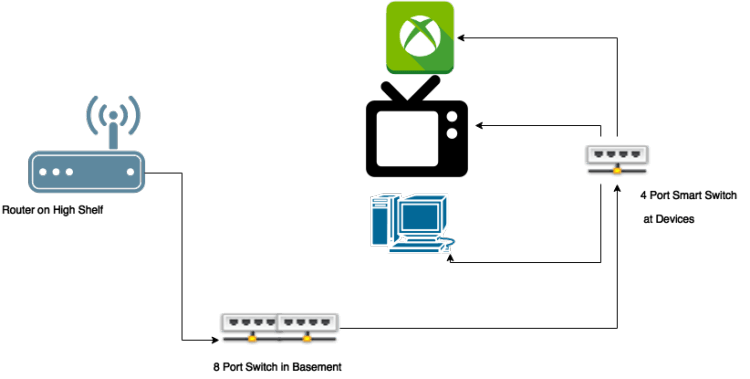 Be advised that you are sharing the 1 Gbps bandwidth on that single port between the switch in the basement and the 4 port switch at the entertainment center.  This typically isn't an issue, but if you're running all three devices at full capacity, they will be sharing that 1 Gbps line back to the switch in the basement.
With this example, even at full blast you shouldn't notice a problem. However, I would advise against daisy chaining more than 2 switches, as it can pose a throughput problem.  If you need more ports,  get a larger switch. Smart switches for home networks are relatively inexpensive.
Bottom Line
There is no need to buy a $300 router when you can get the functionality you need for a third of that price. Furthermore, you can take a fraction of that $200 you saved and set up a Gigabit Ethernet network in your house.
Coupled with a properly configured WiFi network, your home network will be setup for optimal video streaming  performance. Enough to be the envy of any cord-cutter.  Even the guy with the $300 router.
Need More Information?
If this article didn't answer your specific question, head over to our Home Page! It will guide you to affordable internet providers, streaming services to meet your needs, information on antennas, and many more tools and resources to help you save money on TV and Internet access.
For tips and tricks on cutting the cord and other tech topics be sure to join our Facebook Page.
Join Millions of Cord Cutters
Disclosure: Grounded Reason is supported by a small commission for purchases made through some product links on this website. We do not accept compensation from companies attempting to sway our review of products.