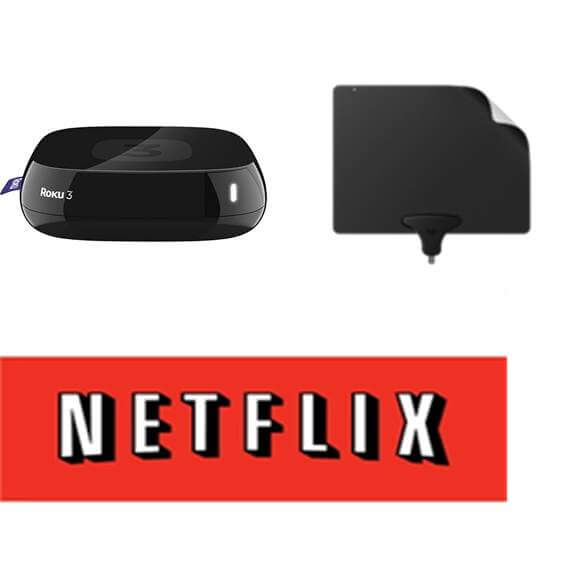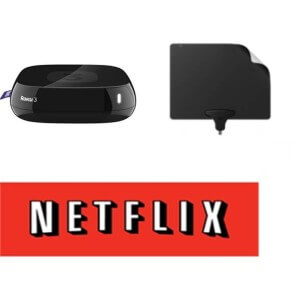 Earlier this year, numerous stories appeared to downplay the number of cord cutters, or people who watch TV without subscribing to a cable or satellite provider.  My favorite post was Matthew Klein's piece for Bloomberg essentially claiming cord cutters don't exist.
Recently, the narrative has shifted to downplaying the number of cord cutters. Just this month Peter Kafka wrote an article for Recode, claiming "cord cutting is here, but it's not big."
Then there are those that love to play the semantics game.  They carve up the people without cable into little groups. First, there were cord cutters, then cord-nevers, and now we have cord-shavers.  It's as if creating enough groups will make it  seem that no one is cutting the cord.

Not Many Cord Cutters? The Numbers Don't Agree
It's understandable why so many journalists see cord cutters as a small group with slow growth.  Most of the data they look at is derived from the pay TV subscriber numbers.  This data includes non-residential subscriptions. A "cord cutter" is a person, not a company.  Therefore, counting corporate subscriptions clouds the numbers and hides the cord cutters.
A better gauge of the number of cord cutters would be residential households, and how they watch television. That data is readily available from Nielsen, and it paints an entirely different picture when it comes to cord cutters.
While people can play with the words to write or say whatever they want, the number of households living without pay TV  tells the real story. The "Shifts in Viewing" report, released by Nielsen in September,  shows that over 14 million households in the United States watch TV without a cable or satellite provider. That is over 36.4 million people. The table from the report shown below, describes the distribution of content sources  for television in the United States.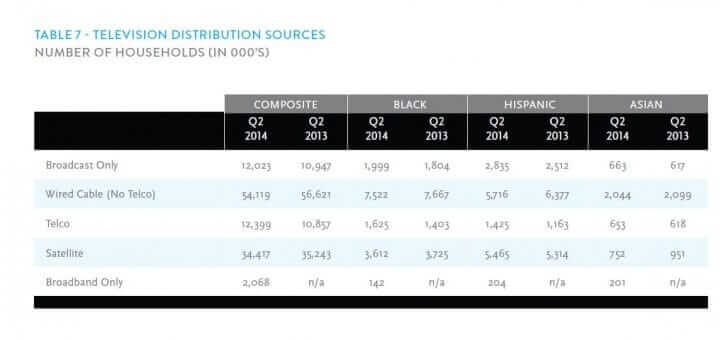 The 14 million cord cutters are divided into groups that only get their television from an over the air antenna, and those who get their TV only from broadband internet.
While this is the first year recording the number of broadband only users, the number of people only using and antenna to watch television (Broadcast Only) has  dramaticly risen.  Between June of 2013 and June of 2014, over 1 million people joined the ranks of people solely using an antenna for TV entertainment.
That's a 10% increase in one year. Antenna makers are noticing the increase in demand as well.  Mark Buff, president of Mohu, the company that makes the Mohu Leaf Antenna, says "units are flying out of our facility."
The "Telco" group in the table indicates a household receiving fiber optic TV  from a telephone company. Verizon FiOS and ATT U-Verse are examples of the "Telco" group. While fiber optic telephone companies gained 2.5 million households in the last year, those pay TV gains were offset by subscriber losses for both cable and satellite providers.
Approximately 1.8 million households abandoned their pay TV service between 2013 and 2014.  That translates to 1.75% of their customers cutting the cord over those 12 months alone.
While there are 2 million broadband only  (internet TV) users, over 6 million households in the antenna only group also have broadband. Therefore, no matter what you call a cord cutter, 2 million are broadband only, 6 million are antenna only, and 6 million use a combination of both.
This means the 14 million  cord cutter households is greater than the households receiving fiber optic television from companies like Verizon and AT&T. Furthermore, they are growing at a faster rate and evenly across all demographics.
The Nielsen data measures people in homes watching TV, which is a much better way to measure cord cutters. Their data shows the number of cord cutter households is 14 million, their growing at a fast pace, and their growth comes at a cost to satellite, fiber, and cable TV.
UPDATE: New Nielsen numbers were released in early December that show this trend exploding.  Read Cord Cutters Near 15 Million Househoulds for more details.
Need More Information?
If this article didn't answer your specific question, head over to our Home Page! It will guide you to affordable internet providers, streaming services to meet your needs, information on antennas, and many more tools and resources to help you save money on TV and Internet access.
For tips and tricks on cutting the cord and other tech topics be sure to join our Facebook Page.
Join Millions of Cord Cutters
Disclosure: Grounded Reason is supported by a small commission for purchases made through some product links on this website. We do not accept compensation from companies attempting to sway our review of products.