Dennis is the editor in chief at Grounded Reason. Before writing about using technology to save you money he spent 20 years working in the tech sector as a sysadmin, an analyst, and an enterprise architect.

Latest posts by Dennis Restauro (see all)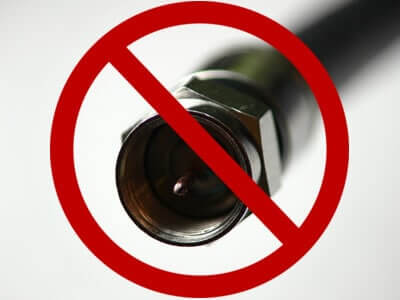 Last month I wrote about how misguided those in the media are when attempting to count the number of cord cutters dropping their cable subscriptions. Typically, the data quoted is derived from cable and satellite company subscriber numbers. Using company subscriber numbers are problematic due to the inclusion of non residential subscribers.
When cable companies report subscribers, non only does it include home subscribers, but business subscribers as well. This in effect skews the data in regard to cord cutters. For example, let's assume a cable company suffers a large amount of cancellations from residential subscribers. However, that same company has an equal number of new business able subscriptions. The final result will appear as though no one cut the cord.

Thankfully, Nielsen provides data based on residential households. I find those numbers much more relevant to the number of people ditching cable and cutting the cord. The numbers released in September showed over 14 million TV watching households live without cable, and about 8 million of those are using a set top streaming device. That's a lot of cord cutters. Certainly more than many media outlets would lead us to believe.
Looking at the latest data from Nielsen shows an even more dire situation for cable companies. According to The Total Audience Report, released this month, over 330,000 households have dropped their cable, satellite or fiber TV subscription. Furthermore, the report showed an increase of over 500,000 households using only broadband to watch TV.
These numbers show cord cutting rising at an accelerated pace. Between quarter 2 and 3 of 2014 the amount of households with a television and only a broadband connection has increased over 24%! Another 12.2 million households are considered "broadcast only" which means they only possess an over the air antenna. However, this is a bit of a misnomer as the latest report states that 6.4 million of those broadcast only customers have broadband internet access as well. It's only reasonable that many of those 6.4 million are using a steaming device on their TV as well.
This data clearly shows that 2 million American households have dropped their cable, satellite and fiber TV subscriptions between June of 2013 and September of this year. Furthermore it's easy to see those households shifting to broadcast and broadband only television.
In only the three months between July and September of this year there was an increase of 648,000 households that watch TV with an antenna, set top streaming box, or both. Anyone who still believes we aren't in the middle of a cord cutting wave isn't reading the writing on the wall.
Need More Information?
If this article didn't answer your specific question, head over to our Home Page! It's designed as a guide to our most important articles to help you ditch pay TV.
For tips and tricks on cutting the cord and other tech topics be sure to join our Facebook Page and follow us on Twitter @Grounded Reason.
Grounded Reason Top Deals of The Month
When you subscribe to Verizon Fios Gigabit Internet you get a $100 Visa® Prepaid Card, your first month of YouTube TV covered, and an entire year of Disney+ on Verizon!!! Check out this Amazing Offer!
With 58 live channels and a cloud DVR for just $20 per month, Philo TV is one of the best deals you 'll find online. Try a Free Trial to Philo Now! No credit card required!
Join Millions of Cord Cutters
Disclosure: Grounded Reason is supported by a small commission for purchases made through some product links on this website. We do not accept compensation from companies attempting to sway our review of products.