Dennis is the editor in chief at Grounded Reason. Before writing about using technology to save you money he spent 20 years working in the tech sector as a sysadmin, an analyst, and an enterprise architect.

Latest posts by Dennis Restauro (see all)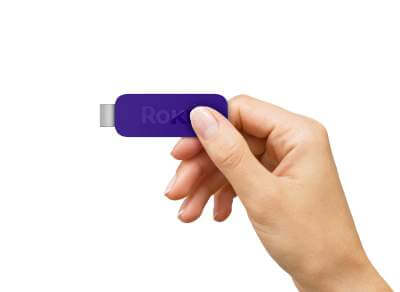 UPDATE:A newer version of the Roku Streaming Stick was released in April 2016.
If you do not currently own a device that allows you to stream content to your television, a Roku Streaming Stick might be just what you're missing.This little device is about the size of a thumb drive and gives you the means to cut the cord to save big bucks on your monthly cable bill. Even if you're not looking to cut the cord, this device packs serious value with a price tag as low as $50
The Roku Streaming Stick plugs right into your television and gives you the power to stream music, television shows, and movies from the internet to your TV. It supports numerous services like Netflix, Hulu Plus, Amazon Instant video, Spotify, Pandora, and much much more. There are over 1,000 channels of entertainment available to you through this tiny wonder.

Available in Two Versions
In order to use the Roku Streaming Stick, you will need a TV with an HDMI port.  The Streaming Stick is  sold in two versions.  The first is the "HDMI" version, which requires an external power source. A USB port on your TV can supply power. This option will require the Roku Streaming Stick to boot up when the TV is powered on.  Alternatively, you can power the device from a wall outlet using the USB adapter included in the HDMI version.
The other version sold is the "Roku Ready" version.  This version requires an MHL port on your TV.  MHL stands for Mobile High-definition Link, and looks like an HDMI port.  If your TV supports MHL, it will have a port that looks much like HDMI, but labeled "MHL".  The "Roku Ready" version does not require an external power source, as it is powered from the MHL port.
Unlike Google Chromecast, the Roku Streaming Stick is controlled by using a sleek user interface. The interface is very responsive, and can be driven using the included remote control.
The Roku Streaming Stick requires a wireless network with a connection to the internet.  The device is set up by following these 4 easy steps.
Installing your Roku Streaming Stick
Step 1: Based on the version you purchased, plug the Roku Streaming Stick into the HDMI or MHL port. The HDMI version will require external power from a USB port on the TV, or the USB external adapter.  The Roku Ready version does not require external power as it is powered from the MHL port.
Step 2: Turn on the TV.
Step 3: Insert the two included double AA batteries into the remote.  If the LED starts blinking, it is pairing with the device.  Once paired it will stop blinking.
Step 4: Follow the guided setup on your television to set up the device on your network.
Just a Few Drawbacks
Ethernet is not supported.  If you do not have Wi-Fi, I recommend checking out my cord cutting guide for another solution.
The hardware isn't as powerful as the Roku 3.  Heavy apps like YouTube and Netflix take a little longer to start up.
It's purple.  Sorry, I'm not a big fan of purple.
Take the Next Step Cut the Cord
Once you have finished the guided setup, use the remote to explore all that Roku has to offer.  While there is a great deal of content available through the Roku Streaming Stick, many will not be willing to cut the cord without local and network programming.  This can easily be solved with a simple TV antenna. For full details, check out my antenna guide.  For a comprehensive look at how to cut the cord, visit my cord cutting guide.
If you decide to purchase the Roku Streaming Stick, pleaseuse thee referral links below. Any purchase made through the link  supports content published on this website through a commission paid by Amazon.
 Roku Streaming Stick (HDMI Version) – purchase through Amazon
 Roku Streaming Stick (Roku ReadyVersion) – purchase through Amazon
Deal of The Month
Looking for fast Internet and a way to stream live TV online? Right now, new Fios customers can get blazing fast internet and 1 month of Free YouTube TV!.
Need More Information?
If this article didn't answer your specific question, head over to our Home Page! It's designed as a guide to our most important articles to help you ditch pay TV.
For tips and tricks on cutting the cord and other tech topics be sure to join our Facebook Page and follow us on Twitter @Grounded Reason.
Join Millions of Cord Cutters
Disclosure: Grounded Reason is supported by a small commission for purchases made through some product links on this website. We do not accept compensation from companies attempting to sway our review of products.