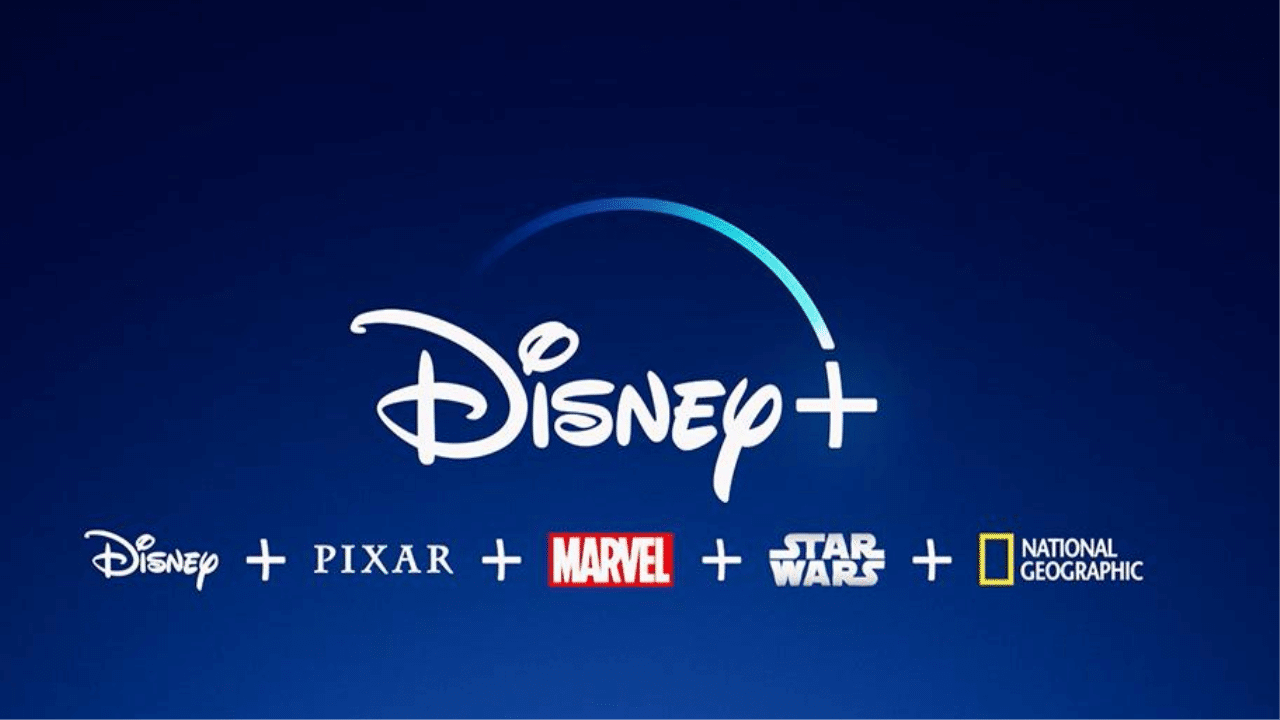 Update: If you came here to see what content is available on Disney+, we put together an up to date Disney+ search tool. Check out: What Shows are on Disney Plus
We wanted to put together a review of the Disney+ (Disney Plus) that answers any question one may have about the new streaming service. This guide covers:
All the TV shows and movies currently available on Disney+
Future shows coming to Disney+
Disney+ device support and features
Deals to get Disney+ free and other ways to save on the service
At the end of the article, we'll consider all the factors and decide if Disney+ is worth the price?
What is Disney+
Disney+ is a Disney owned OTT (over the top) subscription-based streaming service. The service provides video-on-demand content from Pixar, Marvel, Lucasfilm, National Geographic, and the recently acquired 20th Century Fox.
Disney+ launched on November 12th, 2019. It offers direct-to-consumer streaming, so you do not need a cable TV or satellite subscription to purchase.
Let's take a look at the content, features, pricing, and devices supported by Disney+.
How Much is Disney Plus
The service costs only $6.99 per month. However, Disney+ also has year-long subscriptions at a discounted price of $69.99. Be sure to try the Disney+ 1-week free trial. There is no contract commitment unless you chose the annual plan.
Disney+ Deals
Bundle Disney+, ESPN+ and Hulu
Disney also allows subscribers to bundle Disney+ with Hulu's streaming library and Disney's ESPN+ streaming service for just $12.99 per month.
If you already have Hulu, you are still eligible for this offer. Just follow the instructions below:
You'll need to sign up for the bundle via Disney+ (not Hulu)
You'll need to use the same email address associated with your Hulu account.
You will continue to be billed separately for your Hulu subscription
As long as you keep your eligible existing Hulu account, Disney will give you a credit towards your Disney bundle subscription in the amount of $5.99/month — the value of the Hulu (ad-supported) plan included in the Disney bundle (however, you'll keep the Hulu plan you have)
So this means even if you have the Hulu Live TV plan, you'll keep that plan, have access to Disney+ and ESPN+, and get a $5.99 credit to your monthly Hulu bill. We've put together a guide on How To Bundle different Hulu plans with Disney+ if you need a bit more detail.
Disney+ is Free with Verizon
Right now, Verizon is including 12 months of Disney+ with all of their Fios Internet plans. They are also offering up to 12 months of Disney+ for customers with Verizon unlimited wireless plans. This deal is for new and existing customers.
What is On Disney Plus
Want to see everything available on Disney+? Check out our database of every TV Show and Movie on Disney+. Here are some of the highlights:
The entire Disney Movie Vault
Every Pixar Movie and shorts
All of Disney's Star Wars movies and TV shows will be moving to Disney+ within its first year of launch
New Marvel, Star Wars, Disney, and Pixar movies will stream exclusively on Disney+ after their theatrical run
Nearly 500 movies and 7500 TV episodes in all.
A ton of Muppets Content
Original Shows and more which we will cover later in this article
Disney+ Features and Specs
Movies and TV Shows are in 4K HDR and ad-free
Every Disney Plus account can stream to four devices simultaneously
Subscribers can have up to 10 devices use one account
Users can create multiple profiles
Subscribers can download shows and movies to their devices to watch offline
Recommended speeds are 5.0 Mbps for High Definition content and 25.0 Mbps for 4K UHD content
Dolby Vision is supported with some content (recommended speed 25 Mbps)
How To Watch Disney Plus
As you see below in the "supported devices" section, Disney+ is available on a wide array of devices. Once you sign up for a 1-week free trial to Disney+, you can download the Disney+ app and start binging content!
Where to Get the Disney+ App
After you sign up to the free trial, download the app from the sources below:
Roku, Fire TV, Apple TV, Game Console – Download the Disney+ app from each device's respective app or channel store.
iOS devices – on the App Store
Android Devices – Google Play
Download Content from Disney+
You can download and store TV shows and movies from Disney+ on up to 10 devices. There are no limitations on how many times you can download the same title, or on the amount of time to watch a downloaded title, provided that you connect one of your compatible devices to the internet and access Disney+ at least once every thirty (30) days.
You can watch Disney Plus (Disney+) on streaming devices like Roku, smart TVs, web browsers, mobile devices, and game consoles. Here are all the devices Disney+ supports:
Amazon Fire TV and Fire TV Stick (All Versions)
iPhone, iPad, iPod touch (iOS/iPad OS 11.0 and later)
Apple TV (4th gen or later and Apple V 4K running tvOS 11.0 and later)
Chromecast
Android phones and TV devices (Android OS version 5.0 Lollipop or later)
Playstation 4
Xbox One
Sony Smart TVs (Android based)
What is On Disney+ (In-Depth)
Disney announced loads of original content being developed for the Disney+ streaming service. Here is a breakdown of when and what to expect from Disney+ when it comes to TV shows and movies.
Disney+ Newly Released Movies
Once a Disney, Star Wars, or Marvel movie runs its course in the theater, it will exclusively be available on Disney+.
That means, you may want to consider subscribing to Disney+ if you're going to watch Maleficent: Mistress of Evil, Frozen 2, or Star Wars: Rise of Skywalker once they go into their streaming release phase. Keep in mind any existing release deals will be honored, but eventually, all movie releases will end up on Disney+
Original Shows on Disney+
Disney has an entire slate of TV shows it's looking to release on Disney+. Here are some of the highlights.
The Mandalorian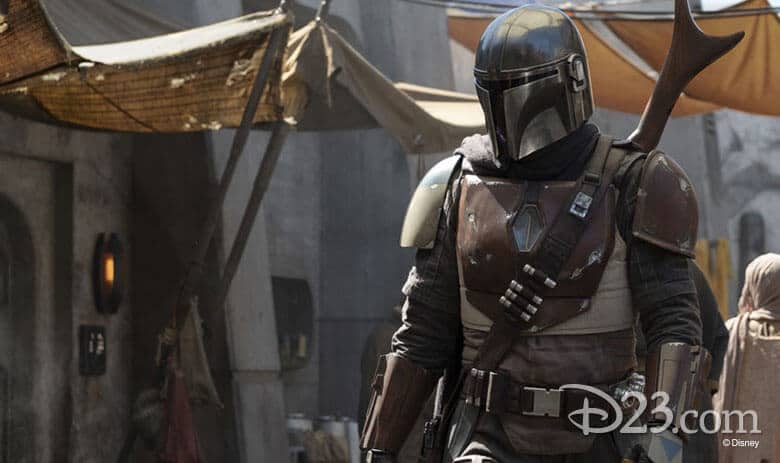 I've been craving a Star Wars Bounty Hunter movie since I first saw Boba Fett in Empire Strikes Back when I was a kid. The Mandalorian TV series may be better than I imagined.
The 8 episode series focuses on a Mandalorian bounty hunter similar to Boba Fett. The timeline takes place about five years after the fall of the Empire in Return of the Jedi. It will be the first time we see this period of the Star Wars universe on screen. The show has already announced a season 2, which will air in October of 2020.
The Mandalorian is the first live-action Star Wars series and it is written and produced by Iron Man director Jon Favreau. This series is currently available on Disney+
You can read my review of The Mandalorian and see why Disney could take my $6.99 per month on the movies and this series alone.
Marvel's "Hero Project"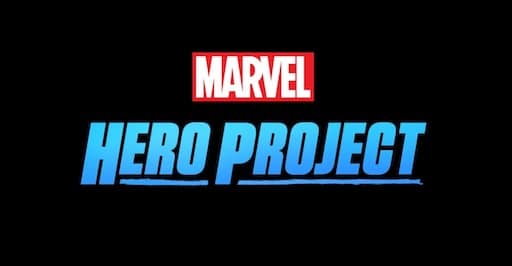 Hero Project is a documentary sharing stories of 20 kids around the county doing kind, brave, and heroic deeds in their community. Marvel Entertainment says:
In life, it doesn't take wearing a suit of iron, carrying a mythical hammer or swinging from spider webs to be a real hero. Sometimes the person who can make a positive difference in the world is the person who simply sees a problem and has the passion to find a creative solution.

Marvel Entertainment
The First Episode is available right now on Disney+. It features a 13-year-old girl named Jordan Reeves, who has a limb difference, having been born with one of her arms ending before her elbow. Rather than let this get her down, Jordan has been galvanized into finding creative solutions for achieving everyday goals. She learned to swim, go rock-climbing, and become a cheerleader. Learn more in our review of Marvel's Hero Project
Encore!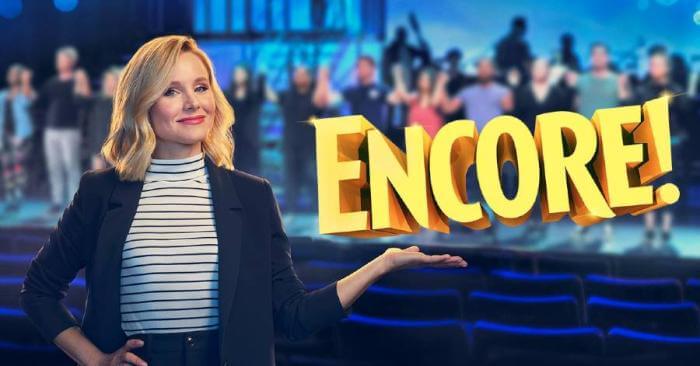 Encore! is a reality show hosted by Kristen Bell where cast members of a high school musical are reunited to recreate their performance years after they initially performed. This show isn't just about enjoying the potential pitfalls of adults recreating their high school performance, but seeing how these people have changed since highschool. We published a review of Encore! for a deeper dive into this entertaining show.
The World According to Jeff Goldblum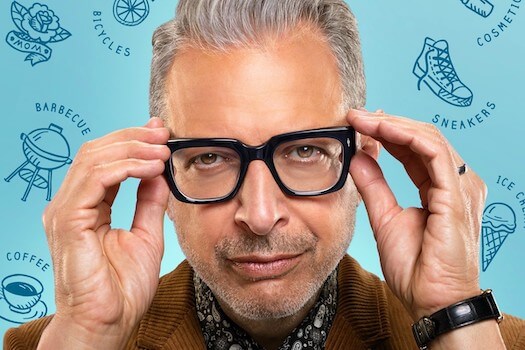 The World According to Jeff Goldblum is an educational documentary program driven by curiosity. In each episode, Goldblum (Jurassic Park, Independence Day) digs into the history and development of everyday items that people are passionate about, learns about how they are made, the culture of popularity surrounding them, and just what makes them exciting and appealing. Check out our review of the first episode!
High School Musical: The Musical: The Series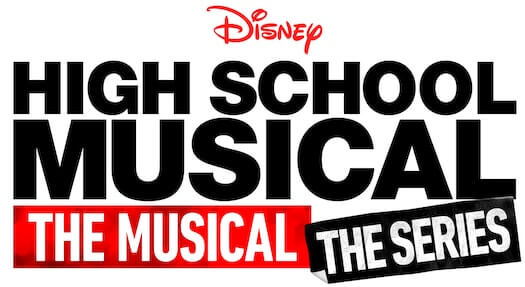 High School Musical is back in series form on Disney+. This mockumentary follows a group of theatre kids attending the school where the original High School Musical movie took place. To make the show even more like a set of Disney Russian nesting dolls, the group is part of their school production of "High School Musical: The Musical." If you are as confused as I am, check out our review of High School Musical: The Musical: The Series.
Original Shows Coming to Disney+
The Falcon and The Winter Soldier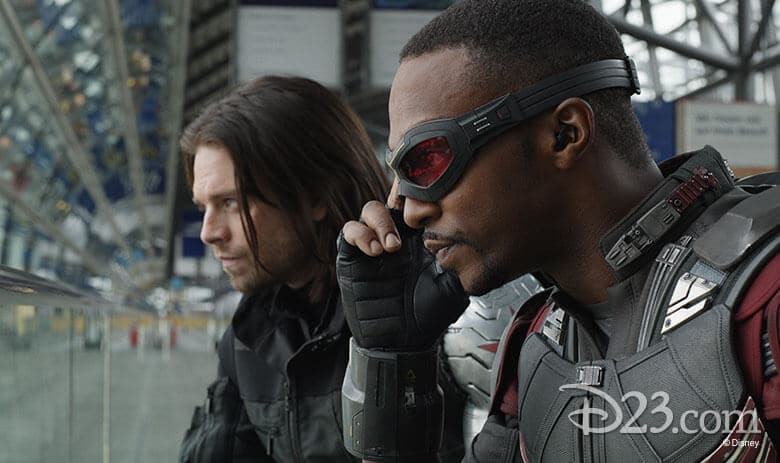 Anthony Mackie will return as Falcon and Sebastian Stan will reprise his role as Winter Soldier in the new Marvel Studios series. This show is planned to be released sometime in the first year.
Untitled Cassian Andor Series
Diego Luna will reprise his role of rebel spy Cassian Andor from Rogue One: A Star Wars Story. The intended spy-thriller series will be set during the formative years of the Rebellion before the events of Rogue One.
The show will explore tales filled with espionage and daring missions to restore hope to a galaxy in the grip of a ruthless Empire. The best part about this series is Alan Tudyk will reprise his role as K-2SO.
Expect to see this series released within the first 2 years of the launch of Disney+.
Other Planned Series
There are loads of top-notch talent set to helm shows on the upcoming Disney+ service. Including:
Loki: Within two years of the launch of Disney+ Tom Hiddleston will reprise his role as Loki in a new Loki series.
WandaVision: Elizabeth Olsen will return as Wanda Maximoff and Paul Bettany will reprise his role as The Vision in the new Marvel Studios series. The Wanda and Vision series is expected within the first two years of the Disney+ service.
Monsters at Work: This animated series is set in Monsters Inc. and will follow Tylor Tuskmon, a monster mechanic working his way up within the company. This is set to release in the first year.
Marvel's What If…? This animated series slated for year 1 takes inspiration from the comic books of the same name. Each episode will explore a moment from the Marvel Cinematic Universe ask the question, "What if something else happened" and leading the audience into a Marvel reality they've never seen.
Check out the trailer below for a sneak peak at the Marvel shows coming to Disney+ soon:
Is Disney+ Worth the Price
Disney+'s $6.99 price tag makes it one of the more affordable streaming services out there right now. Considering Disney+ is the only place to stream Star Wars, Marvel, Disney, and Pixar movies once they wrap up their theatrical run, this is a natural choice for those wanting to stream blockbuster movies. Disney releases 20-30 films a year and raked in about 40% of the 2019 box office. Renting half of these movies would easily cost more than subscribing to Disney+
If that isn't enough to justify the price, subscribers have access to the entire Disney movie Vault, Pixar movies and shorts, nearly every episode of TV shows aired on Disney Channel, Disney Jr, and Disney XD, 30 seasons of the Simpsons, along with anything Marvel or Star Wars. Then there the slate of Disney+ original shows. Many would pay $6.99 just to watch The Mandalorian. 
The app interface is smooth and responsive, the amount of content available is vast, and the cost only comes to $6.99 per month. We rate Disney+ as a top-rated 5-star streaming service. It's easily worth the price and consider the service an amazing value. You can see if you agree at no cost by taking advantage of this 1-week free trial to Disney+.
Currently Available on Disney+
We have an up to date daily feed of everything available on Disney+. We've put it in a searchable page so you can see if they have the shows and movies you are looking for. Check out our database of every TV Show and Movie on Disney+.
Need More Information?
If this article didn't answer your specific question, head over to our Home Page! It's designed as a guide to our most important articles to help you ditch pay TV.
For tips and tricks on cutting the cord and other tech topics be sure to join our Facebook Page.
Join Millions of Cord Cutters
Disclosure: Grounded Reason is supported by a small commission for purchases made through some product links on this website. We do not accept compensation from companies attempting to sway our review of products.