Educational Toys for Boys AND Girls: Snap Circuits is Both
 – Ages 8-108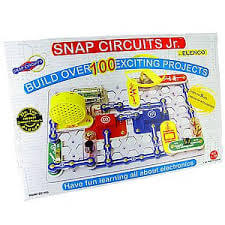 I'm currently in the middle of writing a guide on how to cut the cord and ditch cable, but my 4 year old daughter just introduced me to one of the  greatest educational toys I've ever seen.   I just  had to share it  with you.  I know I said ages 8-108 like the box said,  but my 4 year old was introduced to this educational toy at camp.   She just finished up a week at "Little Engineer Camp". No, this wasn't engineer as in driving the choo-choo.

This was the "here let me design that computer chip for you" type of engineer. Just to let you know she is the type of little girl that comes out of her room carrying her play tool box wearing a princess dress. I think she's pretty cool. Well after the last day of camp she said she wanted to show me something.
She sat me down, and opens up a box that says "Snap Circuits" on it.   Then she took out directions, turned to a specific page, and proceeded to construct a doorbell. I sat back in amazement as my four year old constructed an actually useful piece of technology from around 50 parts. I've seen a lot of great educational toys over the years, but this one is in a class by itself. The directions are picture based and easy to follow even if your child isn't reading yet.
An Educational Toy That's Easy to Understand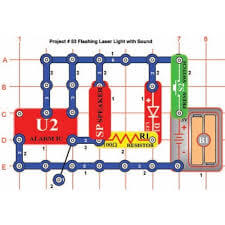 Here is a picture of the directions.  This isn't like the "Erector Sets" we grew up on where we needed dad or moms help to build anything remotely awesome. Every piece snaps together without the need of any tools.
The pieces are bigger than you would expect so as long as your child possesses the fine motor skills to do something like cut with scissors they should be fine. My little girl still has trouble buttoning a shirt, but Snap-Circuits are no issue for her.   The set my daughter came home with is the 100 piece set called "Snap-Circuits Jr."
Now I know the age on the box says ages 8-108,  but as long as you supervise kids under 8 everything should be fine.  This is one of those educational toys the parent will love as much of as the kid.  You know an educational toy is great when the dad is on the internet trying to figure out how the different parts function.  Yes,  I did that.
I'm actually very excited to get the extreme 750 piece set.  While my 4 year old brought this into the house,  my 7 year old loves it too, so we definitely need more pieces.  For them of course,  not for me.
An Educational Toy That's Safe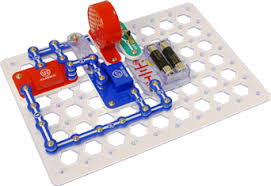 Here is what a completed project actually looks like.  Keep in mind that this is the 100 piece set.  The bigger sets will have more complicated projects.  I really think this toy is good for any age as long as they aren't sticking toys in their mouth.
Yes,  there is electricity but it's from two AA batteries so there is hardly any real voltage.  This toy is completely safe,  and trust me you will want to supervise your kids with this one.  Not because it's dangerous,  but because it's so fun and interesting.
The set we own is the Snap Circuits Jr. SC-100 Kit.  We are going to get the Snap Circuits Extreme SC-750 Electronics Discovery Kit next.  They do sell upgrade kits to extend a kit you own, but the price point seems better with the base kit as you get an additional peg board.
If you are looking for educational toys for your kids (or spouse) you really can't  go wrong with this one.  It's one of those educational toys that will be around for generations.
Disclosure: When I find an amazing product and decide to review it I include a referral link for you to purchase the product. If you make the purchase through the link Amazon pays this website a few cents on the dollar that goes to supporting the site. I have personally used the products linked on this page so you can be confident in the review of the product. Thanks for reading the review "Educational Toys? Snap-Circuits is one of the Greats" and supporting this site.
Need More Information?
If this article didn't answer your specific question, head over to our Home Page! It will guide you to affordable internet providers, streaming services to meet your needs, information on antennas, and many more tools and resources to help you save money on TV and Internet access.
For tips and tricks on cutting the cord and other tech topics be sure to join our Facebook Page.
Join Millions of Cord Cutters
Disclosure: Grounded Reason is supported by a small commission for purchases made through some product links on this website. We do not accept compensation from companies attempting to sway our review of products.