Dennis is the editor in chief at Grounded Reason. Before writing about using technology to save you money he spent 20 years working in the tech sector as a sysadmin, an analyst, and an enterprise architect.

Latest posts by Dennis Restauro (see all)
This post is a sponsored opportunity from Fios. However, all content and opinions expressed here are my own.

In addition to being a proponent of cutting the cord and ditching cable TV, I'm also an avid Xbox gamer. Every gamer knows a fast and reliable internet connection is a must-have to avoid lag and the untimely Fortnite squad wipe. However, my biggest concern is the time it takes to download and install a new game. With many games weighing in at 50GB and Enhanced Xbox One X games like Halo 5 sized around 100GB, installing them can take hours even on a 50 Mbps Internet connection.
That's why I'm excited to let you know about an amazing deal from Fios geared specifically toward Xbox gamers. Right now you can switch to Fios Gigabit Connection
for $79.99 per month, w/ Auto Pay plus taxes, equipment charges and other fees, and receive a one year Xbox Live Gold subscription and your choice between two top multi-streamer games, PlayerUnknown's Battlegrounds (PUBG) and Sea of Thieves.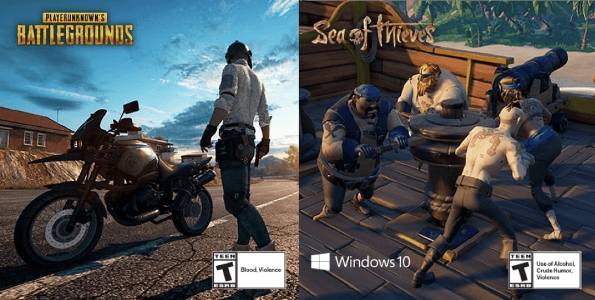 As if Fios Gigabit Connection $79.99 per month wasn't already a great deal, here is a list of everything you receive with this deal:
Internet speeds up to 940 Mbps download and 880 Mbps upload
Standard setup charge is waived ($99 value when you order online)
Xbox Live Gold 1 year membership. Already have a Gold Subscription? Fios will add a year to it.
your choice of PLAYERUNKNOWN'S BATTLEGROUNDS or Sea of Thieves on Xbox One
If you're stuck in a contract, Fios provides up to a $500 credit to help cover your early termination fee
With download speeds up to 940 Mbps, the nearly 5-hour wait to download a 100 GB game can be cut to under 20 minutes. Avoid waiting on long downloads and the in-game lag by signing up for this Fios Gigabit Connection online exclusive
.
Other Great Deals from Verizon Fios
If you are an Xbox gamer I recommend the deal above. However, for those of you that are more interested in cutting the cord, Fios has other great internet connection speeds at amazing prices.
Right now you can get 100/100 Mbps for $39.99
per month plus taxes, equipment charges, other fees, autopay and a 1-year price guarantee. This deal also waives the standard setup charge of $99 when you order online. If you are stuck in a contract this deal provides up to a $500 credit to help cover your early termination fee.
If you need more speed you can get 300/300 Mbps for $59.99
per month plus taxes, equipment charges, other fees, and autopay. This offer comes with a 2-year price guarantee. This deal also includes a $50 Visa® Prepaid Card in addition to waiving the $99 setup charge and up to a $500 credit to help cover your early termination fee.
Why I use Verizon Fios
I've been using Verizon Fios Internet for nearly 5 years now and it's the best Internet service I've ever used. It's more reliable than the cable internet I've used in the past. In fact, I can only recall 2 unplanned Internet outages during my time with Fios and their top-notch support had me up and running after a phone call.
In addition to the outstanding support, the consistency of the internet connection speed I receive is a credit to the quality of their service. Every time I run a speed test, the delivered speed is right around what is promised. Sometimes it's even a bit above. The same can't be said about the speed fluctuations I noticed with Internet providers I've used in the past. If you are a gamer, a cord cutter, or both, you can't go wrong with Verizon Fios.
Deal of The Month
Offering 58 cable channels for $20 per month, the best deal in live streaming right now is Philo Live TV.
Need More Information?
If this article didn't answer your specific question, head over to our Home Page! It's designed as a guide to our most important articles to help you ditch pay TV.
For tips and tricks on cutting the cord and other tech topics be sure to join our Facebook Page and follow us on Twitter @Grounded Reason.
Join Millions of Cord Cutters
Disclosure: Grounded Reason is supported by a small commission for purchases made through some product links on this website. We do not accept compensation from companies attempting to sway our review of products.