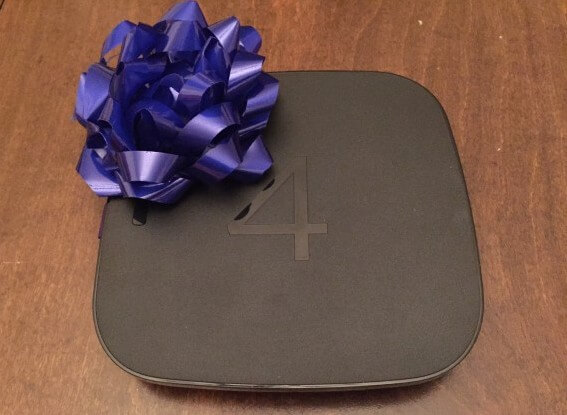 With the holidays approaching, I wanted to walk you through the easiest way to set up a TV streaming solution that you can give as a gift to friends and family.
I know there are many different options out there, and choosing an antenna for someone else can be extremely difficult. So, I'll describe how to get the most content via streaming only. If you read this post and decide you want to go a step further and also get them an antenna, I would take a look at the Mohu Curve.
First a Streaming Device
The most important part of getting someone the gift of no cable is providing a means to stream TV shows and movies to their living room TV. To do this you will need to get them a streaming device. I'll save you the trouble of figuring out which one is right for them. It's the Roku 4.
Even if they are in love with their iPhone or iPad, they will be won over by the Roku 4. I was an Apple TV user, but after doing a review of the Roku 4 I was completely won over. I don't even miss Airplay.
Make sure you purchase an HDMI cable and wrap it with the Roku 4. Unfortunately, it's not provided and they'll need it to use their Roku 4. Not doing so would be like giving a toy without providing the batteries.
Then Some Streaming Services
Sure, there are plenty of free streaming services available out there, but to give someone a real cord cutting experience they will need a couple paid services. Since you may not be giving an antenna, you are going to want to give them a way to stream prime time Network TV, a few of their favorite cable shows, and some movies.
Below is the services you should get and a way to gift these services to a friend or family member.
Hulu – Hulu will provide the current season of prime time network shows for Fox, NBC, ABC. Along with that, they will have tons of on demand content from cable networks like FX, Bravo, Disney, and more.
The cable content is typically one season behind, but its usually full runs so you can binge watch every episode. Some cable networks, like Comedy Central, provide next day access to the current seasons of a few of their shows as well. You can get a gift card for Hulu here. For more information see my review: What is Hulu?
If you noticed, CBS is missing from the lineup. While some past seasons of TV shows are available on Hulu, you will need to provide a way to watch current seasons of CBS shows.
CBS All Access – CBS provides access to over 7500 episodes of programming. Most importantly, you can watch current seasons of all your favorite CBS shows one day after they air on TV.
Furthermore, there are entire runs of past CBS shows available for streaming with the service. Currently, it is the only place where you can binge watch every episode, of every season, of every type of Star Trek online.
As of this post, there isn't a way to gift a subscription to CBS all access, so I recommend emailing this post to your gift recipient when you give the gift. Not only will it get them set up with CBS all access, but provide a resource to explore cord cutting further.
Amazon Prime – Amazon prime is an amazing service. Not only will it provide access to thousands of movies and TV shows, but access to over a million songs, Free two-day shipping, and free Kindle books.
I personally find their TV and Movie streaming content superior to Netflix, and think it's a great gift. Amazon even provides an easy way to give Amazon Prime as a gift. If you want more information on the service, check out my post on all the benefits of Amazon Prime.
Point Them In the Right Direction
You've now set them up with the basics. Not only will they enjoy the streaming functionality, but you may be responsible for saving them thousands when this gift convinces them to drop their cable TV or satellite subscription. If you want to help them explore other cord cutting options, just send them an email to my guide on How to Watch TV without Cable.
If you have any other cord cutting based gift ideas or suggestions, let me know in the comments. Happy Holidays!
Need More Information?
If this article didn't answer your specific question, head over to our Home Page! It will guide you to affordable internet providers, streaming services to meet your needs, information on antennas, and many more tools and resources to help you save money on TV and Internet access.
For tips and tricks on cutting the cord and other tech topics be sure to join our Facebook Page.
Join Millions of Cord Cutters
Disclosure: Grounded Reason is supported by a small commission for purchases made through some product links on this website. We do not accept compensation from companies attempting to sway our review of products.