Heather C. Jackson is a freelance writer, editor, costume designer, and self-proclaimed television junkie located in Baltimore. Her writing work includes copywriting and editing art books, play scripts, and academic work; time as an editor, communications specialist, and publicist in regional theatre; and several years as a home and lifestyle writer and editor.

Latest posts by Heather C. Jackson (see all)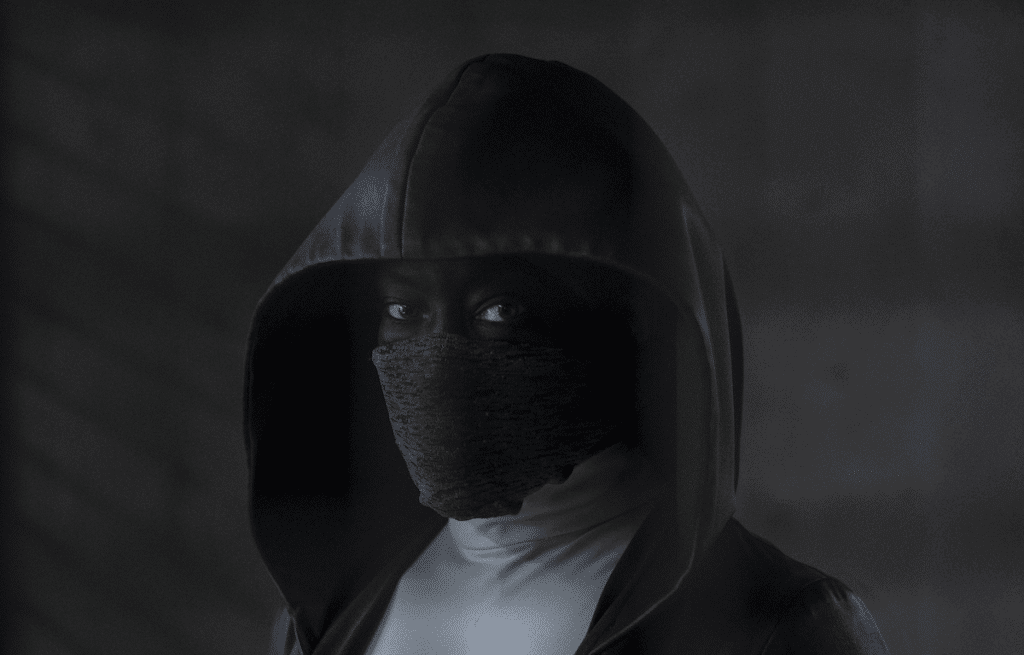 When everyone is wearing a mask, how do you tell the heroes from the villains? That is the question raised in the new comic book-based action series Watchman, from HBO and executive producer Damon Lindelof (Lost, The Leftovers).
Based on the 1980s critically acclaimed DC graphic novel created by Alan Moore and Dave Gibbon, Watchmen is a dark alternate history in which superheroes exist as outlaws, living on the edges of society. However, a revolution is afoot that will bring back both the heroes and the villains in this gritty series starting October 20.
After the rise of heroes in the 1930s of an alternate United States, history as we know it is altered and global power shifts. However, the violence and power of said masked warriors eventually drove them out of popular opinion and into the fringe, where they have remained for years.
Now, a new terrorist group, the Seventh Calvary, has emerged, co-opting the iconic hero Rorschach's mask and striking out against police officers. Police ultimately adopt masks themselves to keep their identities and families safe. With another wave of violence on the rise, who can the people trust? Who are behind the masks? Meanwhile, are the original heroes and villains that were driven away still in the game?
DC's Watchman was one of the most influential comics of the 1980s, examining fascism and power in superhero stories. Lindelof's new series aims to capture the essence of the original graphic novel, but with an adapted and updated setting. Working with director and producer Nicole Kassell (Westworld, The Leftovers), the team tells a new story set in the same world established in the comic. However, the time is 34 years after the end of the original comic in 2019.
Among the stellar cast HBO has assembled for Watchman are Regina King (Seven Seconds) as Detective Angela Abar. She's both a police officer and a masked hero trying to protect her family and get to the bottom of what seems to be a growing conspiracy. Don Johnson plays Police Chief Judd Crawford. Tim Blake Nelson is fellow officer Detective Looking Glass, who wears his own particular mask.
Also in the cast are Jean Smart as an FBI agent who doesn't seem to trust anyone behind a mask, and the incomparable Jeremy Irons as former hero Ozymandias. Other cast members include Yahya Abdul-Mateen II (The Get Down), Hong Chau (Homecoming), Tom Mison (Sleepy Hollow), Andrew Howard (Hell on Wheels), and Louis Gossett Jr.
Want more? Check out the HBO behind the scenes featurette with interviews from Lindelof and the cast:
How to watch Watchmen
Watchman debuts on HBO on October 20, and will have nine episodes in its first season.
There are several ways to subscribe to HBO, including HBO NOW, HBO On Demand, and partners' streaming platforms. While HBO GO is the mobile access point for streaming HBO with a cable login, there are other ways to watch HBO Online.
HBO NOW allows fans to subscribe to HBO without cable TV service. HBO NOW is available for $14.99 a month after a 7-day free trial. Both options have apps and websites that allow viewing via laptop, phone, or TV, as well as through devices such as Roku, Google Fire, and Apple TV.
Both Amazon Prime and Hulu offer an HBO NOW add-on channel through their sites, at the same rate as the standalone service, including the 7-day free trial. It is also available as an add on with Playstation Vue ($15/month) and AT&T TV NOW (starting at $17.99/month), as well as several other cable TV alternative streaming sites.
Need More Information?
If this article didn't answer your specific question, head over to our Home Page! It's designed as a guide to our most important articles to help you ditch pay TV.
For tips and tricks on cutting the cord and other tech topics be sure to join our Facebook Page and follow us on Twitter @Grounded Reason.
Grounded Reason Top Deals of The Month
When you subscribe to Verizon Fios Gigabit Internet you get a $100 Visa® Prepaid Card, your first month of YouTube TV covered, and an entire year of Disney+ on Verizon!!! Check out this Amazing Offer!
With 58 live channels and a cloud DVR for just $20 per month, Philo TV is one of the best deals you 'll find online. Try a Free Trial to Philo Now! No credit card required!
Join Millions of Cord Cutters
Disclosure: Grounded Reason is supported by a small commission for purchases made through some product links on this website. We do not accept compensation from companies attempting to sway our review of products.