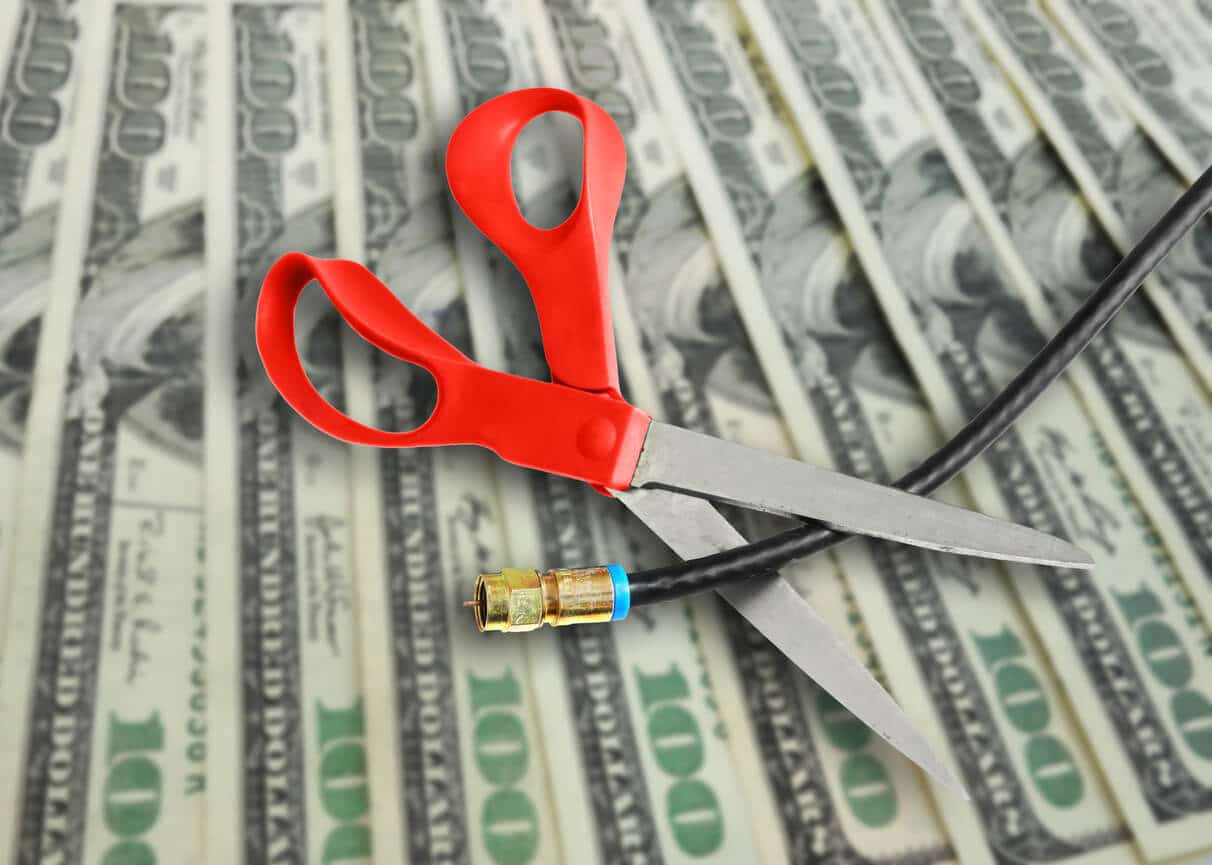 This guide is for those looking to save as much money as possible when cutting the cord on cable TV. We'll cover ways to watch TV free, save on streaming service, find affordable internet and more.
Step 1: Try a TV Antenna
The most-watched networks on TV are ABC, CBS, FOX, and NBC. Naturally, most people who cut the cord will want these networks. While you could get a streaming service to watch your local TV networks, you'll save the most with a TV antenna. Local broadcast networks are still broadcast over the air. If you live in or near a top TV market, you may be able to watch local networks without a monthly charge. The only up-front cost would be the cost of a TV antenna.
We do have a guide that explains everything you need to know about using a TV antenna. However, I understand most people want a simple, quick solution. Before digging into the antenna guide, try the following:
Use the digital TV reception page at the FCC (here is the link)
Type in your zip code and they will show a list of Networks in your area.
If many the networks are in the Green or Yellow, then pick up one of these flat antennas for around $20. If it doesn't work, Amazon let you send it back for a full refund.
If most of your networks aren't in the green or yellow and still want to try an antenna, then take a look at our guide to digital TV over the air.
If a TV antenna doesn't seem like a good fit for you or you want to watch a lot of cable networks, you may need to look into a live streaming service. You may also want to look at Locast. They stream local broadcast networks in about a third of U.S. homes.
Step 2: Limit Streaming Service Subscriptions
With new shows advertised daily, it's easy to grab a bunch of free trials to streaming services, not dropping any and spending a lot of money each month. To avoid that, we need to prioritize and possibly rotate streaming subscriptions to save the most money. When looking at streaming services, we can break them into two broad categories, on-demand, and lie streaming. Let's take a look at both.
Do You Even Need Live Streaming Service
Live TV streaming services provide a way to watch cable and broadcast networks live. However, they are more expensive than on-demand services. If you can avoid subscribing to a live TV streaming service, you can save yourself a good chunk money every month.
To see if you need a live TV streaming service, ask yourself the following questions:
Do I need a way to stream live broadcast TV? (In other words, I couldn't use an antenna or locust)
Do I have to watch the latest seasons of any shows airing on a cable network? (TBS, Bravo, Syfy, etc.)
If you answered No to both of these questions, then you can likely get by without a live TV streaming service. They do make the cord-cutting experience closer to what you had with cable TV, but they aren't a necessity. It's a luxury choice if you have access to the major broadcast networks and can wait for shows on cable to show up on-demand the following season.
But what if you have a way to watch broadcast networks live, but you still want access to cable networks like A&E, HGTV, Hallmark, etc. Then look at subscribing less expensive live TV streaming services like Philo ($20 a month) or Sling TV (starts at $30 per month.)
These services carry a lot of networks found on cable, but Philo streams no local broadcast networks, and Sling TV streams local networks in only a handful of markets. They are the choices to look at for those that want cable channels but have a way to watch NBC, ABC FOX, and CBS. If interested in either then take a look at the following:
If you answered "Yes" to both questions (you still need access to broadcast AND cable channels), then you will have to look at the more expensive live streaming services. They are always going to offer savings over cable or satellite TV. Here is a breakdown of your options:
Hulu + Live TV – Offers local networks in most parts of the country. They also have a great offering of channels you would find on cable. If you subscribe to Hulu + Live TV, you also get the standard Hulu streaming library, which offers a ton of on-demand and Hulu originals. The on-demand content puts it at the top of the list for value even though the Hulu + Live TV service runs $54.99 per month. If you are interested, check out the following resources on Hulu + Live TV:
YouTube TV – YouTube TV is our next favorite option when it comes to streaming local broadcast networks and having access to cable TV channels. The channel offerings are on par with Hulu, but they don't have the same level of on-demand offerings. However, the cost of their service is a bit cheaper at $50 per month. If you are interested, check out the following resources on YouTube TV:
FuboTV and AT&T TV Now also offer live broadcast and cable TV networks; however, each has a drawback. FuboTV lacks access to ABC. Otherwise, their local market coverage is excellent, and they offer a solid lineup of channels found on cable. They also provide some content in 4K resolution, which is rare for live streaming services. AT&T TV Now simply lacks the channel offerings of its competitors
How to Save with On-Demand Streaming Services
On-demand streaming is how most cord-cutters watch TV. However, there are several on-demand streaming services available today. Subscribing to every service offering something you want to watch will not save you money. That is unless you drop the service as soon as you finished watching the show. Streaming services don't lock you into long term contracts, so you can cancel any time you like. To save money, I recommend carrying 1 or 2 subscriptions long term that offer a lot of content and then cycling other services based on your budget.
For example, let's assume I'm an Amazon Prime member. I could use Amazon Prime as the service I want to watch long term. But, I have a bunch of other shows I like on Disney+, HBO, and Showtime. If my budget only allows for Amazon Prime and one other service, then I would pick up HBO one month to watch my favorite HBO shows. The following month, I would drop HBO and pick up Showtime. I'll watch Showtime until I'm out of content, then cut it and pick up Disney+ the following month. This method lets you watch all your favorite, from any service you like, while saving as much as you like.
Best Value On Demand
Here are some of the On-Demand Streaming services that offer the best value.
Disney+, Hulu, and ESPN+: You can get all three of these services for only $12.99 per month! The deal provides all the shows on Disney+, combined heaps of on-demand and original content on Hulu, with ESPN+ as a bonus. I haven't encountered a better streaming value yet. This Hulu portion of this deal only includes the Hulu on-demand streaming library. You may already subscribe to this or have it by subscribing to Hulu with Live TV. If so, you can still get the bundle pricing. Having this much content at your fingertips makes this deal a solid choice as your primary on-demand subscription.
Prime Video: Amazon Prime Video is a reliable option for your main on-demand streaming service. They have a deep catalog of both originals and past seasons of TV shows on both Network and Cable. It's a robust service that always has something interesting to watch that you haven't seen. The best part is, it only costs $8.99 per month.
Netflix: I would be remiss if I didn't mention the service most people already have, even if they haven't cut the cord yet. There is a mountain of TV shows and movies available on the service, which starts at just $8.99 per month.
Check out our streaming services page for information and articles on other streaming service options.
Step 3: Don't Buy a Device You Don't Need
There are a lot of devices out there for TV streaming and cord-cutting. While I recommend a Roku Streaming Stick+ is the best value for those looking to use streaming services on their TV, most likely already have a way to watch Hulu, Netflix, and more on their TV. Here are just a few examples:
Smart TVs – If you bought a new TV in the past few years, you most likely already can watch streaming services on it. Check the website of the streaming services you are interested in and see if they support your TV make and model. In many cases, they will.
Game Consoles: Most streaming services are supported on Xbox One and Playstation 4. If you have a gamer in your house, you can install most streaming services on it and use it to cut the cord on cable.
Your Laptop or Phone: You can use the device your using to read this article to watch TV. If it's a smart device, just see if there is an app available for your favorite streaming service. If it's a laptop, visit the streaming service's website. Odds are they support the browser you're using and can start streaming right now. Granted, this isn't ideal viewing, but I'm trying to cover all the ways you can save some money.
Step 4: Saving On Internet Access
To use a streaming service, you are going to need an internet connection. Unfortunately, only a third of the U.S. has more than one option for broadband. However, there are ways you can save money on internet access. First, check to see if there is more than one internet provider in your area. If not, check out our guide on saving money on internet access.
When looking at which internet plan to get, don't pay for more bandwidth than you need. It's the easiest way to increase your cost. Instead, find our how fast your internet needs to be and chose the plan that meets that requirement. Don't fall for tricks and traps trying to upset you on your internet connection.
Saving Is Up to You
The Cable TV industry loves to push press releases claiming how expensive it is to stream TV these days. What they don't tell you is that cutting the cord is so flexible that you can save as much as you want. Most people are paying over $200 per month for their cable package!
The flexibility of cord-cutting can get that price down to $70 per month using an antenna, Philo, and a $50 per month internet connection. If you want more options, you can pick up Disney+, Hulu, ESPN+, and Showtime, and you are still paying half the average person with cable TV does. Still, want to watch more? Swap your Showtime slot with a new service ever two months and keep your cost under $100. Ultimately, the month you save is up to you.
Need More Information?
If this article didn't answer your specific question, head over to our Home Page! It will guide you to affordable internet providers, streaming services to meet your needs, information on antennas, and many more tools and resources to help you save money on TV and Internet access.
For tips and tricks on cutting the cord and other tech topics be sure to join our Facebook Page.
Join Millions of Cord Cutters
Disclosure: Grounded Reason is supported by a small commission for purchases made through some product links on this website. We do not accept compensation from companies attempting to sway our review of products.