Karen Beck is a freelance writer, friend, and aficionado of science fiction and dystopian books and television. You can Follow @Karenofnine on Twitter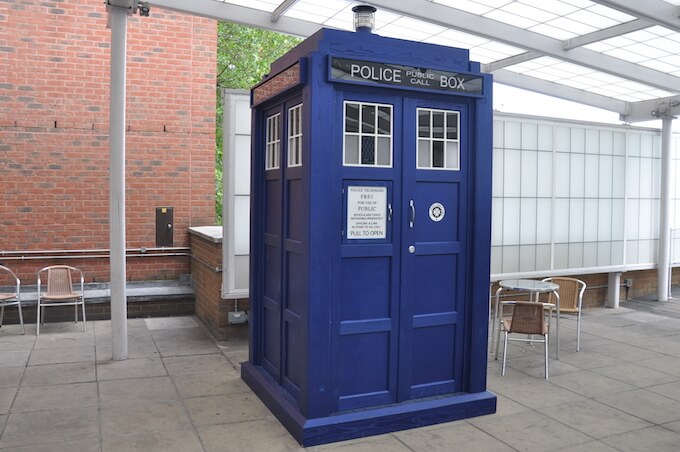 Quick fandom litmus test: is this just a box? Or a shining celebration of quirky adventure and moral intellectualism?
If the former, you're probably new to Who–Doctor Who, that is, the 54-year-old British science fiction show. If the latter, you might be a dyed-in-the-long-scarf "Whovian" who has cookie jars and salt shakers in the shape of that box (the TARDIS, or "Time and Relative Dimension in Space," of course.)
But rookie or fangirl, you'll most likely agree that these days joining in on the beloved time-traveling alien's adventures shouldn't involve a service so Earthbound as cable.
Where to Watch Doctor Who (Season 11)
Season 11 of Doctor Who kicks off on October 7th when new Doctor Jodie Whittaker (the first woman!) appears for the first time.
To catch the latest in space and time, you'll need BBC America. The most affordable way to watch is using a free trial from Philo. However, the channel is available via the online streaming services like FuboTV, Sling TV, and others. Check out our review on How to Watch BBC America Online for more details. You can also purchase individual episodes or the latest season through Itunes or Amazon Video.
Where to Watch Past Seasons of New Who Online
As Whovians deal with their withdrawal, fidgeting with their cosplay bow ties and fezzes, delving into the show's storied past seems inevitable. Newbies might also find it a good time to check out the show and catch up.
Episodes made since the show was started back up again in 2005 comprise the "New Who" era. This faster-paced, flashier era is probably the place to start if you still don't know your sonic screwdrivers from your sonic sunglasses. In fact, if you aren't sure Doctor Who's for you, check out series 3's "Blink," with the Doctor played by many fans' favorite, David Tennant. It's vicious stone angels that only move when you don't look at them are the perfect example of what makes the show weird and wonderful.
If it's your cup of tea, then start with series 1 and Christopher Eccleston's Doctor. All the episodes from 2005's season one through 2016's season 9 are available now for Amazon Prime subscribers or available for purchase on iTunes. You'll be wearing Chucks and eating fish fingers with custard (and understanding these references) before you can say "allons-y."
Watch Classic Doctor Who Online
Once you are hardcore and all in, you'll want to see the whole history of Who–even the black and white episodes, made with adorable low-budget monsters from 1963-1996. These have been traditionally trickier to track down, with Whovians typically resorting to catching the odd rerun Saturday nights on PBS or tracking down DVDs.
Now, however, there is a new option for classic Who watchers. New streaming service BritBox offers 550 episodes from the original 26 seasons, along with a few other British shows. It is available for $6.99 a month and offers a free 7-day trial. Apps are available for Apple TV (4th generation), Roku, Iphones, Ipads, Android handsets, tablets, and Chromecast.
Sure, you've got to pay, but for a fan, it feels great and almost gluttonous to click on any of 550 past episodes and have it pop up. Fourth Doctor Tom Baker's scarf? Third Doctor Jon Pertwee's yellow Whomobile (oh yes, that exists)? First Doctor William Hartnell's introduction to the robotic Daleks? It's all available for anybody who wants a crash course in Britain's geeky past.
To make it easier to wade in, BritBox has organized the episodes under sections like the most popular villains. There is even a "New to Classic Who?" section with essential viewing for each doctor. As an added bonus, the episodes are called "programmes"–making you feel terribly British as you click around. Spot of tea and biscuits, anyone?
Of course, there are still a few holy grails out there that haven't been recovered–some of the episodes remain lost or unavailable. But BritBox reportedly is going to offer audio versions of some of the lost episodes.
For now, fans can be glad we have traveled forward to a time where not just TARDISs but also streaming services house more of the Doctor's adventures than anyone could have thought possible.
Need More Information?
If this article didn't answer your specific question, head over to our Home Page! It will guide you to affordable internet providers, streaming services to meet your needs, information on antennas, and many more tools and resources to help you save money on TV and Internet access.
For tips and tricks on cutting the cord and other tech topics be sure to join our Facebook Page and Follow Us on Twitter.
Join Millions of Cord Cutters
*
Disclosure: Grounded Reason is supported by a small commission for purchases made through some product links on this website. We do not accept compensation from companies attempting to sway our review of products.