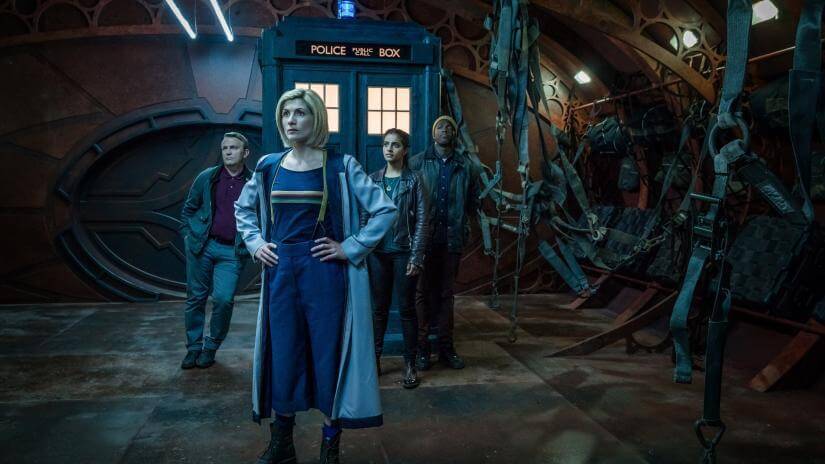 Article Summary
When Does Season 12 of Doctor Who Begin?
Best Answer: Season 12, starring Jodie Whittaker's as thirteenth Doctor returns on Wednesday, January 1st 2020. The premier will air on BBC America at 8 pm ET.
How Do you Doctor Who Without Cable?
Best Answer: Doctor Who airs in the U.S. on BBC America. The TV streaming service Philo (7-day free trial) carries BBC America and includes a cloud DVR and 50+ other channels for only $25 per month. There are other streaming services where you can watch BBC America without having cable TV, but none so affordable that also includes a cloud DVR.
Doctor Who Season 12
"Doctor Who" fans can feel a bit like a tossed football (or a British soccer ball, for us Americans.) And that's not just because our beloved Doctor regenerates into a new actor every few years. We are bounced about between streaming services like Matt Smith's Doctor juggling with his knees in that episode with James Corden.
The show has been on Netflix. It's currently on Prime, and it's moving in Spring 2020 to HBO Max. Keeping up with our beloved Time Lord is not easy.
Now things are even more complicated since we have new episodes coming in January – after one heck of a long year with no new Who. Jodie Whittaker's thirteenth Doctor finally returns on January 1st, picking up where the last season left off precisely one year prior. Nine more episodes will premiere every Sunday after that through February 2020.
To see these new episodes, you'll need yet another streaming service, namely, access to BBC America, or at least a streaming service that offers it like AT&T Watch TV, Philo, Sling TV, Fubo TV, or YouTube TV (as described below). Alternatively, you can buy the episodes from Itunes or a similar service.
Reception to Whittaker's Doctor's first season was mixed. While many lauded her bright, peppy performance, others miss the multi-episode arcs and wry one-liners written by previous showrunner Steven Moffatt. (Some may also miss the Doctor being a man, but we won't dignify that with a real comment.) Last season's showrunner Chris Chibnall returns this year. From the trailer, it looks like we are getting some classic villains (the Judoon!) as well as lots of adventure with her three companions (or "friends") from last season – most notably, apparently for one episode in tuxedos!
I am hoping that the new season gains back some of the U.S. popularity that the show enjoyed under the reigns of David Tennant and Matt Smith. As the show's promoters noted in previous years, we need the shiny intellectual optimism of Doctor Who now more than ever.
Watch "Doctor Who" on BBC America
The new episodes of "Doctor Who" premiering on January 1st will exclusively be on BBC America, at least until the season ends, and it is placed with other modern Doctor Who seasons (presumably on HBO Max.)
New "Doctor Who" on Philo
The best option for watching the latest season of Doctor Who is Philo, which gives you BBC America as well as 57 others for $25/month. You can check out a free trial and see if the service will meet your needs. Philo also includes a cloud DVR for you to record shows to watch later.
Sign Up For A Free Trial To Philo
Philo is supported on Apple iPhone and iPad (running iOS 9 or newer), Android phones and tablets (running 5.0 or later), Fire TV, Apple TV, Roku, and Chromecast.
With online access to BBC America streaming, you will never miss shows like "Doctor Who," as well as "Killing Eve," "Top Gear America," "Broadchurch," and "Dirk Gently's Holistic Detective Agency."
See our review of Philo for more information.
New "Doctor Who" on Sling TV
Another option is Sling. BBC America is in its "orange" and "blue" packages, each of which is $30 a month (you can get 40% off for the first month). Sling TV provides a live stream of BBC America, so you can watch what would be airing on BBC America just as if you had cable. It is included in its Cloud DVR program so you can record shows for later.
Sling TV is available on Roku, Amazon Fire TV, Chromecast, and more, so it's not a problem to enjoy BBC America on a TV, tablet, computer, or other smart devices. There are more channels than I've mentioned available on Sling TV than what I've discussed here. To find out more about what Sling TV has to offer, and more information about Sling TV device compatibility, check out this detailed review of Sling TV.
Sign up for a free trial to Sling TV!
New "Doctor Who" on FuboTV
FuboTV is an excellent place to go for sports, but it offers many other more general channels as well, including BBC America. BBC America is provided, along with 70+ other channels, on its basic package for $69.99 per month. The FuboTV app is available on major platforms, including Apple TV, Android TV, Roku, and Amazon Fire TV. The service also includes a DVR and lets you watch on 2 screens at once (upgrades are available.)
You can sign up for a 1-week free trial or check out our review of FuboTV for more details.
New "Doctor Who" on YouTubeTV
YouTubeTV also offers BBC America streaming live, as well as limitless storage space for recording your shows. Your library of recorded shows can be streamed anywhere. BBC America is included in the base package for $49.99 a month.
Youtube TV includes a cloud DVR and supports Roku, Android, iOS (includes AirPlay to Apple TV), and Chromecast/Chromecast-compatible TVs. Please read our review of YouTube TV for more details.
New "Doctor Who" on AT&T Watch TV
The cheapest option is AT&T Watch TV, which for just $15/month after a 7-day free trial, gives you 35 channels, including BBC America. However, the service doesn't offer a cloud DVR, so you can't record shows. It also does not work with Roku. However, if you want to use it with Apple TV, iOS, Android, Amazon Firestick, Amazon Fire TV, or Google Chrome, this might work for you.
Purchasing New "Doctor Who" Online
If you are only interested in "Doctor Who," it may make sense to buy the full run of the current season online from Amazon, Itunes, or another service. This method may be a cheaper option than buying a streaming service to deliver all BBC America has to offer. To buy the new season of "Doctor Who" show on Itunes or Amazon costs $25.99/HD and $16.99/HD. Each episode drops the day after it premieres on the air. Episodes should be about $3 each. Once you purchase it, you own it. That means you can watch it whenever you want.
Here is a listing of all the Doctor Who available through Amazon.
That said, there you may be interested in other shows on BBC America. In that case, you may be better off going with a streaming service. It ultimately depends on how many shows you are going to follow in a year.
Streaming BBC America if you Have A Pay TV Account
If you have cable TV, you can watch BBC America online using the BBC America app. It's available on almost every streaming device on the market. However, as I said, this requires a cable TV or satellite subscription. The BBC America streaming app requires your (or someone else's) Pay TV provider login credentials to access the content.
Watching Doctors of Previous Seasons.
If you want to catch up on Tennant and Smith all the other Doctors that have come in the show's 55+ year history, you'll need to get a few more services. Modern Doctor Who (that is, the shows that have aired since 2005) will be on Amazon Prime until Spring 2020 when it moves to HBO Max. Classic Doctor Who is currently on Britbox, a streaming service available for $6.99/month.
Need More Information?
If this article didn't answer your specific question, head over to our Home Page! It will guide you to affordable internet providers, streaming services to meet your needs, information on antennas, and many more tools and resources to help you save money on TV and Internet access.
For tips and tricks on cutting the cord and other tech topics be sure to join our Facebook Page and Follow Us on Twitter.
Join Millions of Cord Cutters
*
Disclosure: Grounded Reason is supported by a small commission for purchases made through some product links on this website. We do not accept compensation from companies attempting to sway our review of products.