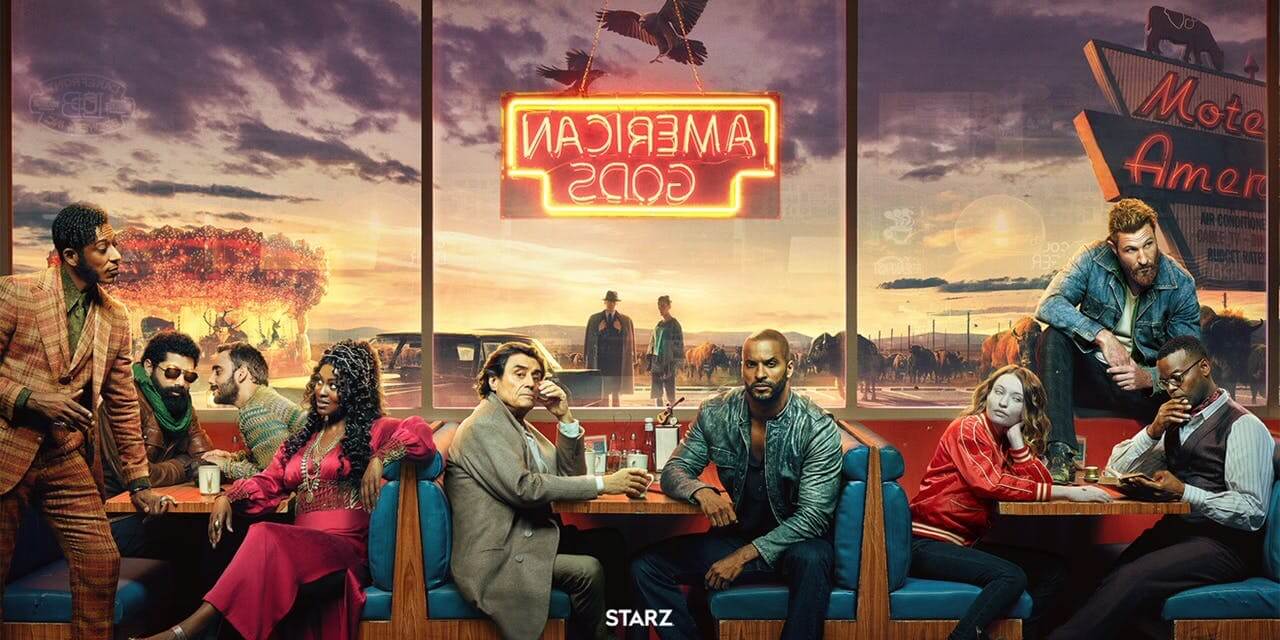 On March 10, the gods go to war. Starz's American Gods returns with a second season of the mystical, sensual, and gritty adaptation of Neil Gaiman's best-selling novel, and it's time for to go big or go home. 
Sign Up For A Free Trial Starz Streaming
What Is American Gods About
American Gods debuted on Starz in April 2017, and was a critical and fan hit. The series centers on Shadow Moon (Ricky Whittle, The 100, Mistresses), an ex-convict who, after losing his wife in a tragic accident on the eve of his release from prison, is struggling to find his purpose. When charismatic con man Mr. Wednesday (Ian McShane, Deadwood) offers him a job as body guard, Shadow finds himself plunged into a world beyond reality, the hidden America, in which old gods of myth are tailors, cab drivers, and morticians, living mundane lives and clinging to the thread of belief that sustain them.
After centuries in America, borne to these shores by generations of people traversing the globe, the old gods are being lost and forgotten. As their religions and believers diminish, they are growing weak, fading away, and being wiped out by the new gods of Media, Technology, and Globalization. However, Mr. Wednesday is on a quest to recruit the old gods to pull together, to gather their strength, and go to war to save their very existence, and Shadow has yet to know his own mysterious role in this pending clash of the titans.
Following the many layers in Gaiman's novel, it is an expansive series, stretching not just across the American landscape, from tourist trap to dusty motel, but back through millennia of human belief and mythology. Each episode contains stories within the story, prologues that show the arrival of gods and their people to American shores. Its intriguing mix of urban fantasy and horror is definitely on the adult end, particularly in terms of the violence (a warning to the faint of heart). However, American Gods is also clearly supported by the budget to make the show visually stunning, bigger than life, and captivating in its creation of moments of magic that roil and tumble free from the gritty façade of everyday life. Behind a grimy motel door, a goddess receives her sacrifices of worship, and a fire escape in Queens rises infinitely to the heavens and the entry to the afterlife.
American Gods Season 1 Trailer
The cast of characters—and the cast that plays them—is as broad as the stories and histories represented. Featured actors include Emily Browning (The Affair) as Shadow's dead-but-not-gone wife Laura, Pablo Schreiber as a volatile leprechaun Mad Sweeney, Peter Stormare as a god of darkness and death, Orlando Jones as trickster god Anansi, and a delightfully floral bedecked Kristen Chenoweth as Easter, as well as goddess of love Bilquis (Yetide Badaki), Anubis (Chris Obi), and Egyptian god Thoth (Demore Barnes).
The slick, flickering persona of the new gods' leader, Mr. World, is played with glee by Crispin Glover, accompanied by Bruce Langley as Technological Boy, and Gillian Anderson as the shape shifting pop-culture channeling New Goddess Media. (Season 2 will see a new New Goddess of New Media rise in Kahyun Kim.)
After spending the first season building the team and laying the groundwork for what's to come, on March 10, it's show time and the gods are ready for war. 
American Gods Season 2 Trailer
How to watch American Gods without cable
American Gods is available without cable through a Starz subscription plan. After a 7-day free trial, the service runs $8.99 a month (currently the channel is offering a discounted annual plan of $74.99 a year). With a subscription, you can watch the series on starz.com, or via the STARZ app on most streaming devices, including Roku, Apple TV, mobile devices, and more. 
No cable TV subscription is required. For more information check out our article on watching Starz online without cable.
Already have too many streaming services? It's easy to add the Starz channel to existing memberships with such services as Amazon Prime or Hulu for an additional $8.99 monthly, after the same 7-day free trial period. 
Not interested in subscribing? Season 1 of American Gods can be purchased by the episode ($1.99 SD/$2.99 HD) or the season ($14.99/$19.99) through digital services such as Amazon Prime, iTunes, YouTube, Vudu, and Google Play.
Need More Information?
If this article didn't answer your specific question, head over to our Home Page! It will guide you to affordable internet providers, streaming services to meet your needs, information on antennas, and many more tools and resources to help you save money on TV and Internet access.
For tips and tricks on cutting the cord and other tech topics be sure to join our Facebook Page.
Join Millions of Cord Cutters
Disclosure: Grounded Reason is supported by a small commission for purchases made through some product links on this website. We do not accept compensation from companies attempting to sway our review of products.