Cable TV better rethink its core business. More and more people realize that they can watch TV without a cable subscription, and it's evident if you look at the viewership data for cable networks. Yesterday Nielsen released The Total Audience Report for the first quarter of 2015. The results look ominous for cable TV networks as they shed close to 2 million households in viewership since the first quarter of 2014. The details are in the chart below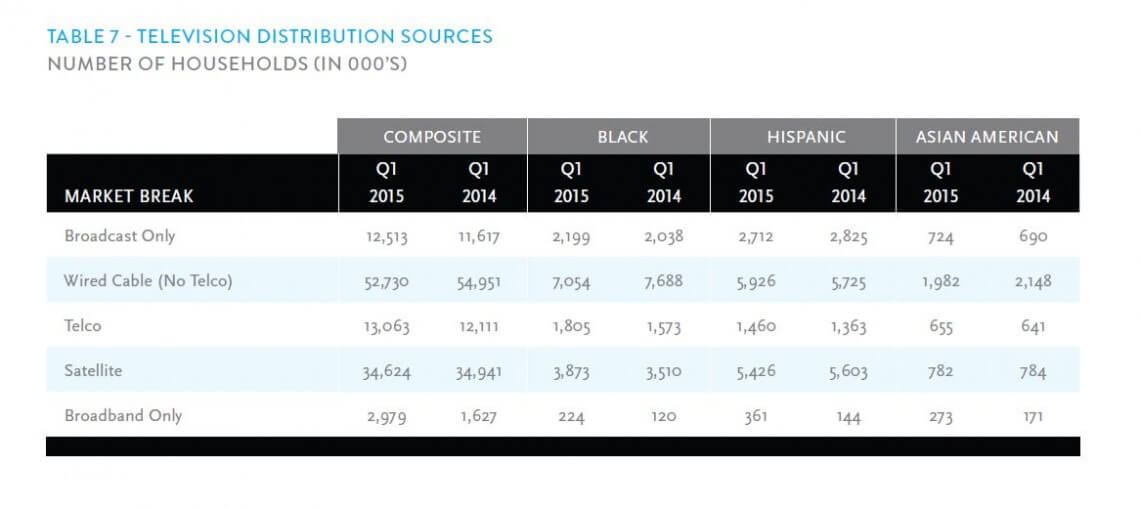 When factoring in satellite service, viewership losses number over 2 million in the past year. Telephone companies that offer video service like Verizon and AT&T seemed to have picked up a number of those subscribers. However, their gains only account for about 50% of the losses from cable and satellite TV.

U.S. Household TV Viewing in 1,000s
| | 2013 Q4 | 2014 Q1 | 2014 Q2 | 2014 Q3 | 2014 Q4 | 2015 Q1 |
| --- | --- | --- | --- | --- | --- | --- |
| Cord Cutters / Nevers | 12,559 | 13,244 | 14,091 | 14,739 | 15,301 | 15,492 |
| Cable / Sat / Telco | 102,767 | 101,832 | 100,935 | 100,596 | 100,769 | 100,417 |
| % without Cab/Sat/Tel | 10.9% | 11.5% | 12.3% | 12.7% | 13.2% | 13.4% |
It's easy to see where these households are getting their TV entertainment. Households using broadband increased roughly 1.3 million over that period. Furthermore, people using antenna based broadcast TV increased about 900,000 during that time.
It's a reasonable assumption that the other half of cable and satellites TV's viewership losses are captured in those broadband and broadcast increases. As seen below, even when factoring the gains of telephone companies, the data show pay TV is losing viewership to broadcast TV and streaming devices.
The news isn't all terrible for traditional pay TV. The data also indicate that while pay TV free households increased in Q1 of 2015, the growth of households watching TV without cable slowed. However, the first quarter of the year is typically one of the strongest for the pay TV industry. This doesn't bode well for Cable TV in 2015
Still the fact remains that between the last quarter of 2013 and the first quarter of this year, the number of households without a traditional pay-tv provider increased by nearly 3 million. That's a 23% increase since late 2013!
Interestingly enough, many industry analysts are in complete denial of the cord cutting phenomenon. The Wall-Street numbers typically reflect a smaller decline in the number of subscribers for the Pay TV Industry.
Not only does this sit contrary to Nielsen's viewership data, but cable TV network ratings in general. The amount of time people spent watching cable networks has plummeted over the past 2 years. Christopher Zara of the International Business Times states:
"Ratings across national cable television networks tumbled 9 percent in 2014, triple the decline seen in 2013 and more than quadruple the 2 percent decline seen in 2012. To call it a crisis would be an understatement. If the trend continues, TV could be heading for a new dark ages."
Moreover, these losses are down across all categories including sports which indicates these losses aren't all due to the onset of the DVR as sports is typically enjoyed live. These numbers indicate a more general move away from traditional TV viewing.
It's also important to consider that this data reflects the time before Sling TV and HBO Now fully hit the market. With Sling TV providing a way to watch networks like ESPN without cable, I would expect a bigger ratings decline for sports based programming next quarter. It will be interesting to see the effect these services had on pay TV in Q2 and beyond.
Subscriber losses doesn't begin to tell the whole story. The TV business is about selling advertising. If cable subscribers are supplementing their viewing with streaming based options it's going to impact advertising revenue for cable TV as networks move to internet based TV to recapture some of that ad revenue for themselves. With subscribers dropping , and cable TV network ratings on the decline, expect to see a precipitous drop is cable TV video revenue in the coming quarters.
Need More Information?
If this article didn't answer your specific question, head over to our Home Page! It will guide you to affordable internet providers, streaming services to meet your needs, information on antennas, and many more tools and resources to help you save money on TV and Internet access.
For tips and tricks on cutting the cord and other tech topics be sure to join our Facebook Page.
Join Millions of Cord Cutters
Disclosure: Grounded Reason is supported by a small commission for purchases made through some product links on this website. We do not accept compensation from companies attempting to sway our review of products.