Another Failure of Media Reporting on Job Openings
CNN Money has just reported there are 4.7 million job openings in July which is slightly up from June.  In typical traditional media fashion they just throw a few eye grabbing numbers, like 4.7 million, and a few quotes from an authority on the page and call it reporting.
There are very few factual takeaways that give you any important information in the article.  With how cynical we have become, most people probably read the article and assumed that majority of the jobs are at McDonalds or Walmart. At least that was my first impression, so maybe I'm projecting.  To get the real story I grabbed the report from Department of Labor and went through it myself.

The Real News on Job Openings
The Department of Labor produces the monthly" Job Openings and Labor Turnover Survey" (JOLTS).  JOLTS has some very good data on the future state of our economy.  Most importantly it shows job opening levels in various industries.
JOLTS also has a handy metric that finds the rate of openings in each industry by taking the total amount of job openings and dividing that by the combined openings and employment that industry.  Here is the table, which you can click to expand, showing job openings levels and rates.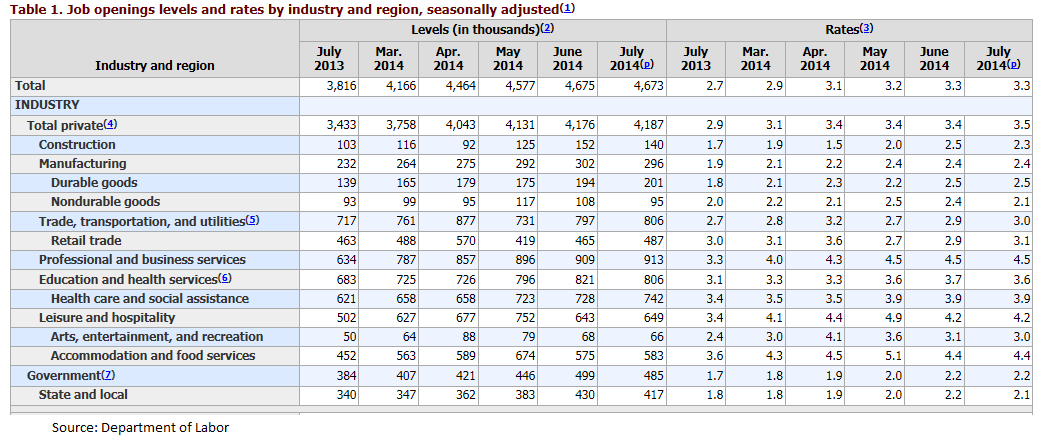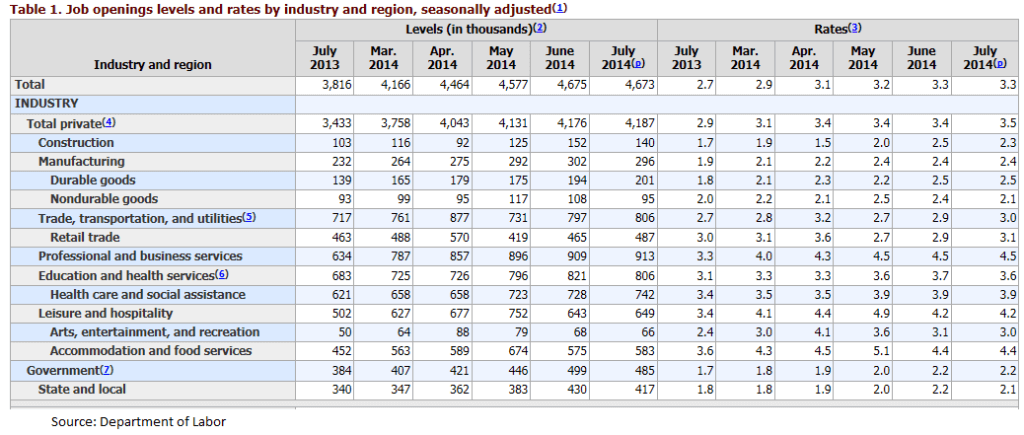 The CNN article misses some major points in the data by just trying to hit on eye catchers like this one;
There were 4.7 million total openings in July, a slight increase over June's figures, but almost 800,000 more openings compared to January, according to the Labor Department's Jobs Opening and Labor Turnover Survey (JOLTS).
It seems like CNN happened to get Federal Reserve Chairwoman Jessica Yellen on the phone and this is what she wanted to talk about,  so they put a story together to publish some quotes.
Any journalist that spent more than five minutes on this article should have mentioned the following takeaways;
Job openings from June to July were flat or decreased in most industries.  The notable exception was Retail Jobs where the job openings rate increased 7%
While the Retail jobs openings jumped up from June to July, they are nearly flat from last year with only a 3% increase in the job openings rate.
While construction and manufacturing were down from June to July, their job openings rates are up almost 35% and 26% from last year.
Professional and Business Services job openings are up 36% from last year.
The CNN Story focused mainly on the current job openings number, and change from June to July.  Both of which are completely unremarkable with the exception of saying that there was little change.
The real story is that many of the job openings that occurred since last year seem to be in sectors where one can make a decent wage. 
Retail jumped last month, but just enough to just tread water with last year's number
Food service job openings are way down from their April peak.
Business Services, Construction, and Manufacturing are all way up from their July 2013 numbers. These were the bulk of the jobs
These numbers  show signs of upcoming job growth in areas where people can make decent income and support their families.  The CNN article completely misses these important points.  Instead of the reader walking away with information about the real situation with U.S job openings, they walk away with a few Jessica Yellen quotes.
Need More Information?
If this article didn't answer your specific question, head over to our Home Page! It will guide you to affordable internet providers, streaming services to meet your needs, information on antennas, and many more tools and resources to help you save money on TV and Internet access.
For tips and tricks on cutting the cord and other tech topics be sure to join our Facebook Page.
Join Millions of Cord Cutters
Disclosure: Grounded Reason is supported by a small commission for purchases made through some product links on this website. We do not accept compensation from companies attempting to sway our review of products.