Dennis is the editor in chief at Grounded Reason. Before writing about using technology to save you money he spent 20 years working in the tech sector as a sysadmin, an analyst, and an enterprise architect.

Latest posts by Dennis Restauro (see all)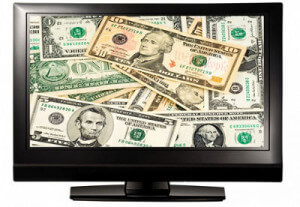 It's easy to save money on cable TV and receive the programming you enjoy without paying for the nonsense you don't want. Still skeptical? Then check out this Cable TV Savings Calculator to see what you could be saving every year.
This guide will not only tell you how to watch TV shows online but also replace Cable TV altogether for very little money to maximize your savings. There are a ton of articles and blog posts on the net giving you a high-level overview of things you need to consider when you replace cable TV. I would like to think the Cord Cutting Guide on Grounded Reason is a little more in depth, as it covers things like HD antennas instead of the normal fare of online streaming services. That's not what I intend to do in this article.
I want to take you through a strategy to replace cable TV and save as much money as you possibly can. This will be a no-frills journey to a destination where we get as much content as possible for the lowest price.

If your main goal is to save money on Cable TV then continue reading. However, if the content is your priority, then check out the other guide on how to replace cable TV.
The Cable Provider's Games
After I replaced cable TV, I quickly realized the strategy Cable TV providers were employing to keep us all hooked on cable. They are making internet access ridiculously expensive when purchased outside of a "Triple Play" package that includes internet, phone, and cable TV.
Cable subscriptions are one of the key metrics stockholders examine when evaluating cable companies. Anyone deciding to replace cable TV is a concern for their stock prices.To deter you from dropping cable TV, they set up great deals that advertise a triple play package for around $80.
To give a little perspective, when we first replaced cable TV, it cost us $75 per month for all our TV and movies via streaming. $55 of that is for the internet connection, $20 for the content. At first glance, it looks like I can get a phone and cable TV for 5 bucks extra a month from a cable provider, compared to my solution to cut the cord. But anyone who has been down this road knows. . .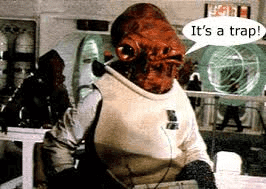 That's right, 10-year-old Admiral Ackbar meme. The cable companies are trying to trap you. They fail to tell you outside of fine print, that there are around $20 in taxes and fees bringing you up to about $100 a month.
Furthermore, the deal price is only for the first 12 months of a 24-month agreement. Your bill takes a considerable jump in year 2. Basically my point it this; If you look beyond the big bold number on the triple play package, you will see that you can save a lot of money if you replace cable TV.
An Internet Connection to Watch TV Shows Online
As you have seen from my example above, internet access is going to be the bulk of the cost when you replace cable TV. If you want to keep this cost as low as possible there are some things you want to consider. The first is video quality. The better the video quality the more bandwidth (measured in megabits per second) or Mbps you will need.
An hour of standard definition video (SD) is roughly 875 Megabytes (MB) which is 7000 megabits (Mb). Doing the math you will need about 2 Mbps of bandwidth to enjoy the download without buffering.
To watch content in high definition (HD) at 720p the file size is roughly 2.25 times larger. HD at 1080p increases the file size of 720p by a factor of about 1.5. That gives us the following bandwidth requirements to stream video without buffering;
Watch everything in SD = 2 Mbps
Watch everything in HD 720p = 4.5 Mbps
Watch everything in HD 1080p = 6.75 Mbps
The point of this article is to save money on cable, so I'm going to assume we will watch most things in SD. I don't want to be completely unrealistic, so I'll assume a 5 Mbps threshold to account for other online activities and maybe a movie in HD 720p every so often. Of course, you may not be able to live without HD 1080p, in which case I'd recommend 10Mbps. Now that we know the bandwidth we require, let's look at how to figure out a low-cost internet access option.
An ISP to Replace Cable TV
Free or semi-free options are what you should investigate first. Municipal internet does exist in a few spots in the country. Investigate those options before calling an internet provider. You might be able to get the Mbps you need at a bargain price.
Currently, if you live in Austin TX, Kansas City MO, or Provo UT you can get 5 Mbps free from Google Fiber. There is a $300 one-time charge, but then you have a free 5 Mbps for life. That's the equivalent to paying $25 bucks a month for your first year, and then you have free internet access. Google is currently in discussions with 34 other cities on supplying Google Fiber.
For those of us not lucky enough to live in Provo, Utah there are still a few inexpensive options out there. You can find available internet only plans in your area. While you are searching around, please keep in mind that ISPs may have a cap on usage. They will typically indicate this in a number of gigabytes (GB) you can transfer in a month. In this case, your video quality is an important factor. For example, a cap of 250 GB will allow for about 280 hours of standard definition streaming, but only 83 hours of high definition at 1080p.
If the only internet providers in your area are the likes of Comcast, Verizon, Cox, etc. then you need to be a little more creative to get a good deal. Ideally, there is more than 1 provider in your area. If this is the case and you can get a no term contract deal at a good price, then grab it. Otherwise, follow these guidelines.
-Never take a contract where the term is longer than the offer price. They will raise the price when the offer price expires, and you will be stuck in the contract.
-Take advantage of promotional offers. There are affiliate websites that have promotional offers not available on the ISP's website. Search around to find a deal.
-As soon as your contract expires shop around. Bounce back and forth between the providers in your area. Again, always take advantage of the promotional offers through affiliate websites.
-Since you will be switching providers every year, get an email address not linked to your ISP. Options include Gmail, Yahoo, Hotmail, or even your own domain.
Stream to Save on Cable
Streaming Devices
Now that we know where our internet is going to come from, we need a device that's going to stream content to the television. Essentially, we need a device that can be put on your home network and has the functionality to install streaming applications. Check to see if you have this capability with your TV, Blu-ray player, DVD player, or gaming console.
My personal favorite is the Xbox 360. Yes, you can replace cable TV with an Xbox 360. If you are sure that you do not have access to any of these devices, then I recommend the Roku Streaming Stick to replace cable TV. It offers great functionality for a low price. If you're having any trouble figuring out if your device can stream movies and TV, feel free to ask any questions in the comments and I'll be sure to answer them.
Content Providers
You have to stick to the providers that your device supports. Below is a brief description of the three that have the most value. They are all free for a trial period. You can sign up for the service below, install the app you're your device, and take them for a test drive. It's a great way to see which ones are right for you.
Hulu Plus – This service is mainly for TV shows. You will be able to watch many current networks shows the night after they air. It is easily the best option for TV shows, however, it has the drawback of commercials.
NetFlix – This service has a wide selection of movies and TV shows available. The original content programming like "House of Cards" and "Orange is the New Black" is worth the price alone. However, this service is not for those that want to watch shows currently airing. It will take roughly 10 months for a current season of a show to be available on Netflix. However, it's great for binge watching several seasons of a show over a weekend.
Amazon Prime Instant Video – Amazon is an interesting service. It easily has the most content, however, not all of it is free with a subscription. You can watch previous seasons of a show at no additional charge, but seasons currently airing are $1.99 apiece. You do not need a subscription to Prime to install the app and buy shows through their service.
How to Watch Local Channels
To watch local channels you need is an antenna. If you are close enough to the towers, a pair of "rabbit ears" may even be enough. If not, look on your roof to see if there is an antenna already set up. Find out where it comes in the house and connect it to your TV via coax cable. Scan for channels, and you are set. Make sure the antenna is grounded if it's outdoors.
If one isn't on your roof, see if you can find an old indoor antenna in your attic or basement. Otherwise, talk to people who remember when Micky Rourke was attractive. Chances are, they are old enough to have one somewhere. If you are the DIY type, you can even build an antenna on your own. If you need something a little more aesthetically pleasing, check out my review of the Mohu Curve. For the full details on choosing an antenna, check out this antenna guide.
What about a Phone
The cheapest option is to use an existing cell phone. That's what I do. If you must have a house phone, just use your internet connection. BasicTalk offers unlimited calling within the U.S. and Canada for only $9.99 a month. This includes voice mail, caller ID, call waiting and 911. Of course, there are taxes and fees, but you are allowed to keep your current number at no cost. They send you a device, you plug it in, and you're making calls over the internet. Basic Talk is just one of many landline phone alternatives.
To recap our costs:
The internet connection is an unknown price variable. It's best to always keep your eyes open for deals that are available but don't let them catch you in a contract trap. You should be able to get a suitable connection for around $50 a month or less.
The Most Inexpensive Way
If you were able to find or build an antenna, have an Xbox or other devices to stream to, and don't mind using your cell for the main line, then you can replace cable TV right now and not pay a cent in start-up costs.
You may want to subscribe to a service like Netflix, Amazon, or Hulu. With one service you will have TV and internet for less than $60 a month with no installation fees, no contract, and no hassles. This can be even cheaper depending on what kind of internet deal you can find.
The "Still Much Cheaper Than Cable" way
The worst case scenario is not having an antenna or streaming device, and you don't want to use your cell phone as the main line. In this case, you will have some start-up costs. You will be paying $20 for the basic antenna. The Roku Streaming Stick will add an additional $50. For the home phone, you can use your internet connection and purchase Basic Talk for $10 a month.
This is our expensive option and our start-up fees are only $70. The monthly bill for a streaming service is around $70 a month. Considering the average triple play runs about $130 a month, in 2 months you recouped the start-up fees and will be saving $60 every month after.
It's easy and inexpensive to save money on cable, so cut the cord today.
Need More Information?
If this article didn't answer your specific question, head over to our Home Page! It's designed as a guide to our most important articles to help you ditch pay TV.
For tips and tricks on cutting the cord and other tech topics be sure to join our Facebook Page.
Join Millions of Cord Cutters
Disclosure: Grounded Reason is supported by a small commission for purchases made through some product links on this website. We do not accept compensation from companies attempting to sway our review of products.