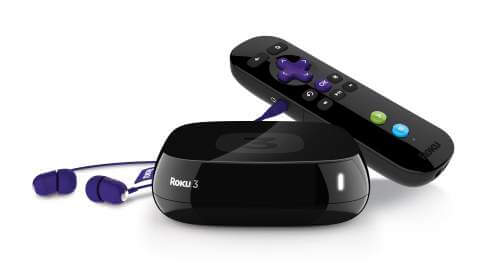 If you are new to steaming TV, you may want to check out what a Roku box is. Then, come back and check out my review of the Roku 3.
It's difficult to stand out in an industry filled with competition such as Google and Apple. However, Roku has managed not only to stand out, but lead the pack when it comes to over the top streaming devices.
It appears Roku intends to stay on top as they have added voice search to their Roku 3 for 2015. Considering Roku already had the best search function of any streaming devices, it comes as no surprise that their voice search is a stellar addition.
While Apple fans may want to stick with Apple TV for Airplay and iTunes, everyone else may want to take a look at the Roku 3 when exploring how to watch TV without cable.

Roku Channels

Roku owners will have over 1,800 available channels to choose from (some paid, some free). As one can imagine, a number Roku channels are narrowly focused (Like Spies, P.I.s & Bounty Hunter Channel). However, all the major names in steaming are available. 
Roku is also quick to add new channels and partner with with quality content providers. For instance, not only can you now watch Sling TV on Roku, but you can get 50% off a Roku 3 when signing up for Sling TV.
Here are some examples of other top tier Roku Channels:
Movies and TV:  Netflix, Hulu, Amazon Instant Video, Sling TV, VUDU, M-GO, Disney, PBS, HBO GO, Crackle TV, PBS, Google Play Store and more
News:  CBS News, Fox News, Sky News, The Blaze, Weather Nation, and more
Sports: MLB.TV, NBA League Pass, NHL Game Center, NFL Now, WatchESPN, WWE Network, Dishworld Sports, UFC Online, and more
Internet: YouTube, Break, Vimeo and countless niche channels
Plex: Roku supports Plex Media Server with an official Plex channel. I recommend picking it up if you are interested in streaming your own media.  It's easily the best way to view personal content on a Roku device.
Aside from video content, there is a plethora of music Roku channels to choose from like Pandora, Spotify, and Slacker.  There aren't enough hours in the day to enjoy all the available content on Roku's numerous channels.
Roku Remote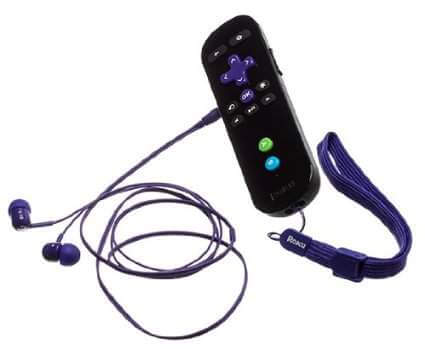 The included remote control contains a built in headphone jack.  This is a fantastic feature for those that want to watch TV without disturbing their roommate or spouse.  Simply plug in the headphones and the Roku mutes the TV's speakers and enables the Roku's private listening mode.
Furthermore, volume control on the Roku remote only affects the headphones volume while in private listening mode. So if someone cranks their headphones up to full volume, the TV volume will remain at the volume level prior to plugging in the headphones.
Roku has even included a decent pair of ear buds to encourage folks to try out the feature. Users essentially receive a fully functioning wireless headset with their Roku 3.
Also, Roku opted to use Wi-Fi for their remote so users do not need to have line of sight with the Roku 3. Roku even sells a $10 kit to mount the Roku 3 on the back of the television.
Roku also provides a remote app for your smartphone or tablet. However, instead of just simulating the remote functions, the app allows users to browse channel selections on their smart device.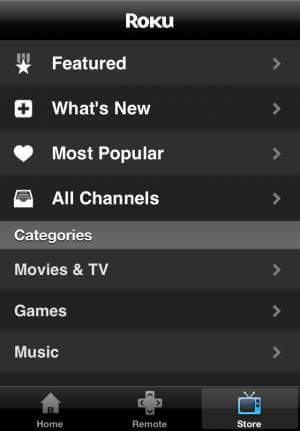 While this might not sound important, you quickly realize that it's better than apps that simply double as a remote. Typically, there is no tactile response on a remote app forcing users to look back and forth between their TV and phone.  This fully functional remote menu app alleviates that problem.
Roku Miracast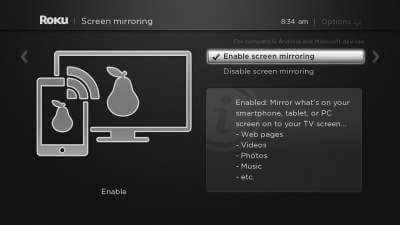 Roku also employs Miracast technology allowing users to mirror compatible mobile device displays.  This enables the user to push their phone's screen to the television. While the picture quality pales in comparison to the quality from native Roku Channels, it is acceptable.
Miracast provides a means to view content not normally available to the Roku 3. While Miracast on Roku is a fairly new feature, the functionality can be upgraded in the future via updates downloaded to the Roku device.
Roku Interface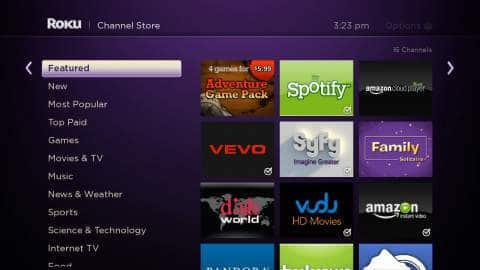 Roku's interface is intuitive and feels more responsive than menus from other streaming devices. The interface displays 9 channels at a time, and the responsiveness of the menu allows users to quickly glide through program choices
With over 1800 Roku channels available, The Roku 3 provides more content than any other streaming device on the market today. Roku's Channel Store is integrated into the menu.
Previously, the Roku Store was in a separate interface requiring users to sit through a long load period before browsing the Channel Store. With the store integrated into the menu this is no longer an issue.
The Menu items are very well categorized into subjects like Internet TV, Movies, and News; allowing users to quickly jump to channel groupings. Small touches like small check marks on already installed channels, and animated menu transitions provide many reasons to love Roku Interface.
Roku Voice Search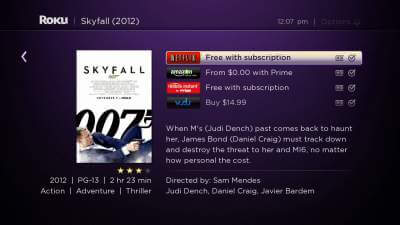 Ultimately, the function that sets Roku apart is its universal search capability. Now with voice search added in 2015, there is no question that Roku 3 leads the pack in this area.
Roku 3 voice recognition works just as well as the other devices on the market with voice search capability. It makes the occasional mistake, but is generally useful. What sets Roku 3 apart is how voice recognition is paired with Roku's existing search function.
Roku has crafted it's search to crawl 17 of the heavy hitting streaming services, including Netflix, Amazon Instant Video, Hulu Plus, Crackle, Fox Now, FXNow, HBO Go, M-Go, Time Warner Cable and Vudu. Simply speaking into the remote allows you to search all the content available in various channels for a specific show and the results are returned by price. While other devices attempted universal search, no one does it better than Roku.
For those uncomfortable with speaking into the remote, typing the search works just as well as it always has.
Roku Setup
The Roku 3 connects to the internet by both Ethernet and Wi-Fi. The device makes a USB port available to connect content stored on an external hard drive, allowing users to view personal videos and photos on the television.
Connecting a Roku 3 to your television requires and HDMI cable, which must be purchased separately. The Roku setup screens are user friendly and once connected, the onscreen guide walks users through the setup with ease. The Roku setup is so intuitive, that it truly requires no instruction.
Roku MicroSD Slot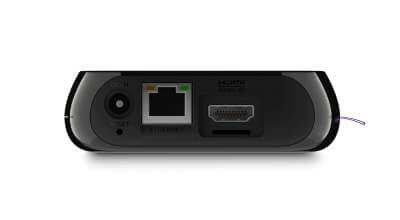 The Roku 3 contains a microSD slot.  This isn't for storage. It expands the memory of the Roku device. With so many channels currently available and new ones being created every day, this allows Roku owners to easily upgrade the Roku 3's internal memory.
If Roku owner installs enough channels, the channel information may consume a large portion of the device's memory causing the Roku 3 to become sluggish.  The microSD slot provides a means to increase the memory on the Roku 3, thus increasing the speed of the device for users with an extremely large number of installed channels.
Bottom Line
With the exception of folks heavily invested in the iTunes ecosystem, or mainly own iOS devices (for you I recommend reading this Apple TV review), I would recommend purchasing a Roku 3.
Roku's interface, remote, channel availability, and universal voice search put it ahead of any other device currently available. It's easily my favorite streaming device, and this is coming from iOS/Apple TV user.  If it wasn't my use of HBO Now, iTunes, and Airplay, Roku 3 would replace my Apple TV today.
Product: Roku 3 (2015 Edition)
Reviewer: Dennis Restauro on May 16, 2015
Purchase a Roku 3 through Amazon.
Using this purchase link helps support Grounded Reason as Amazon pays a small commission for purchases through this link.
Need More Information?
If this article didn't answer your specific question, head over to our Home Page! It will guide you to affordable internet providers, streaming services to meet your needs, information on antennas, and many more tools and resources to help you save money on TV and Internet access.
For tips and tricks on cutting the cord and other tech topics be sure to join our Facebook Page.
Join Millions of Cord Cutters
Disclosure: Grounded Reason is supported by a small commission for purchases made through some product links on this website. We do not accept compensation from companies attempting to sway our review of products.