Dennis is the editor in chief at Grounded Reason. Before writing about using technology to save you money he spent 20 years working in the tech sector as a sysadmin, an analyst, and an enterprise architect.

Latest posts by Dennis Restauro (see all)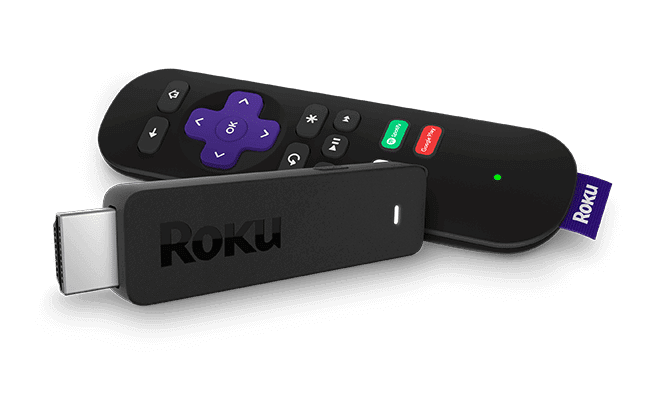 After releasing the
Roku 4
at the end of 2015, Roku has released a new Roku Streaming Stick for 2016. With the biggest app selection around compared to
other streaming devices
, the Roku Streaming stick is a great value for someone looking to
watch TV without cable
on the cheap.It's also a great device to purchase for adding Roku functionality to multiple televisions.  You can purchase two Roku streaming sticks for the price of just one Roku set top box. It's currently
available through Amazon
.
The Roku Stick Has A New Look
I was never a fan of the previous Roku stick's appearance. Purple just isn't my thing. However, Roku went with a more traditional look in its latest streaming stick iteration. The new stick is slim, black and weighs less then ½ an ounce.
It's less than 3.5 inches in length, with the official dimensions listed at 0.5 x 3.3 x 0.8 inches. That makes it a tad smaller than both the Amazon Fire TV stick and Google Chromecast. It is easily hidden from sight when hooked up to your TV's HDMI port.
The device is minimal in design.  There device only sports  a reset button and a micro-USB port, which powers the device from a power outlet or a powered USB port on your television.  The Roku Stick lacks an Ethernet connection, audio port, or SD card slot. Therefore, if you are looking for any of those functions you may want to look at the Roku 4.
The device also lacks the 4K video support offered by the Roku 4. Resolution on the Roku Streaming stick tops out at 1080p.
Another item  the Roku Streaming Stick lacks is a flexible HDMI dongle. While most TVs have HDMI port placement that will easily accommodate a device the size of the Roku Streaming Stick, not all televisions will. A flexible HDMI adapter is typically used in those situations.  While a flexible HDMI adapter isn't included with the Roku Streaming stick, Roku has offered to send one to customers who need them at no cost.
The Roku Interface
Unless you are asking, "What's a Roku", you are most likely familiar with the look and feel of navigating the Roku user interface. Like all other Roku models (stick or not), the Roku Streaming Stick uses the same Roku OS we all know and love. Therefore, if you used a Roku before, you will be intimately familiar with navigating the new Roku Streaming Stick.
For those not familiar, Roku sports an easy to navigate home screen that displays all the downloaded channels (also called apps) that you use.  You install apps like Sling TV, Netflix, etc. through the Roku Channel Store.
The Home page is fully customizable allowing you to order the channels how you see fit. There are a few pre-installed apps, but Roku allows you to remove them from the interface if you like.
Roku has thousands of channels available and every major streaming service is available.  Netflix, Amazon Instant Video, Sling TV, Hulu, and more are all there. In fact, if content availability is what you are looking for in a streaming device, I suggest Roku.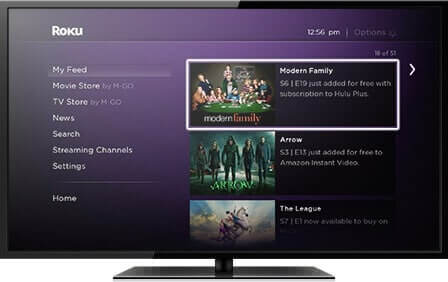 Roku OS provides a function called "My Feed", which allows you to set favorite shows on your subscription services. Roku will then let you know when new episodes of those shows are available.
Roku OS also provides one of the best search functions of any streaming device. When you search for an actor or title, Roku searches through over 30 major streaming services to provide results.
New Roku Remote
The Remote that comes with the New Roku Streaming Stick seems to be of higher quality compared with its predecessors.  Where those previous remotes were shiny and a bit bulky, this one is thinner with a matte finish.  It may be psychological but the buttons even feel better.  While that may sound odd, anyone who has used Roku will know what I'm talking about when comparing the remotes. Unlike the Roku 4 remote, there isn't a microphone for voice search, however you can use voice search using the Roku Mobile App.
The Roku App
You can use this same Roku App with any Roku device. It's not just for the Roku Streaming Stick. Download it from iTunes or Google Play store. I highly recommend trying it, or at least install it just in case you lose your Roku remote.
The Roku App allows use of your smart device keyboard. That alone, makes it worth using. Furthermore, it enables voice search on the Roku Streaming Stick, which works with Rokus cross app search feature.
The App also enables private listing, which is a feature only available in the Roku set top remotes. This feature allows you to use headphones or earbuds for the TV audio. The TV's audio is then muted.  To activate it simply plug headphones in while the App is open.
This is a great feature for watching TV when you don't want to disturb others in the house.  As of right now, the mobile app private listening only works for the new Streaming Stick. You still have to use the Roku Remote for that functionality on Roku set top boxes.
Installing the New Roku Streaming Stick
Installation of the Roku Streaming Stick is a breeze and the setup process doesn't deviate from any other Roku device. Just follow these simple steps:
Step 1: Plug the Roku Streaming Stick into and HDMI port on your TV.  Connect the micro-USB port to the TV's powered USB port, or the USB external adapter.  Not all USB ports supply power. If the Roku Stick doesn't power on when connecting to the TV's USB port, use the USB external power adapter.
Step 2: Turn on the TV and make sure it's on the correct HDMI input.
Step 3: Insert the two included double AA batteries into the remote.  If the LED starts blinking, it is pairing with the device.  Once the remote pairs, the LED will stop blinking.
Step 4: Follow the guided setup on your television to set up the device on your network.
Tech Specs
The new Roku Streaming Stick uses a quad-core processor. Roku boasts the new processor makes this version 8 times more powerful than the 2014 Roku Streaming Stick.
Networking – 802.11 (a/b/g/n) dual band wireless support with WEP, WPA, and WPA2 security. Unlike the Roku 4, there is no support for 802.11 ac
Video – 720p, 1080p
Audio – Digital Stereo over HDMI, DTS Digital Surround pass through over HDMI
Power Consumption – Under 3 watts when streaming
Power Input – 5-volt 1.5-amp USB power adapter
Should You Buy Roku Streaming Stick
It's no secret; Roku is my favorite brand of streaming device. I recently switched from Apple TV to the Roku 4, and I'm a Mac and iPhone user. However, if you already have a streaming device, there is no reason to run out and get a Roku Streaming Stick. Although, if you are looking  for an affordable way to add streaming functionality to your TV, then the Roku Streaming Stick is a great product to purchase.
The previous Roku Streaming Stick is still available and at a discounted price. However, we are unsure how long those will stay on the market.
Product: Roku Streaming Stick (3600R)
Rating:4 out of 5
Reviewer:Dennis Restauro on April 20, 2016
Need More Information?
If this article didn't answer your specific question, head over to our Home Page! It's designed as a guide to our most important articles to help you ditch pay TV.
For tips and tricks on cutting the cord and other tech topics be sure to join our Facebook Page and follow us on Twitter @Grounded Reason.
Grounded Reason Top Deals of The Month
When you subscribe to Verizon Fios Gigabit Internet you get a $100 Visa® Prepaid Card, your first month of YouTube TV covered, and an entire year of Disney+ on Verizon!!! Check out this Amazing Offer!
With 58 live channels and a cloud DVR for just $20 per month, Philo TV is one of the best deals you 'll find online. Try a Free Trial to Philo Now! No credit card required!
Join Millions of Cord Cutters
Disclosure: Grounded Reason is supported by a small commission for purchases made through some product links on this website. We do not accept compensation from companies attempting to sway our review of products.