I started Grounded Reason to help people save money by getting rid of cable. Unfortunately, cutting the cord includes start-up costs like purchasing a streaming device. I came across a unique service called "Butterfly Saves" looking for a way to save a bit of money when shopping online. Furthermore, this service works on thousands of retailers, which is a great way to save money on holiday purchases.
What is Butterfly Saves
Butterfly Saves is a service that not only gives you cash back for shopping at certain stores online but it also allows you to purchase eCodes which can save you 50% on online purchases in major stores. While it's similar to services like eBates and Honey, the eCodes enable users to save a lot more money when making purchases online.
How Butterfly Saves Works
First, you simply create an account on the Butterfly Saves website. They will then send an email with instructions on how to install an extension on your Chrome browser. It's really a simple matter of clicking a button to install it, and yes this service only works with Chrome and currently only works with the desktop/laptop version of Chrome.
Once it's installed you will see a butterfly icon in the upper right corner next to your address bar. Now simply go to your online store of choice and you will save a percentage of your purchases from stores partnered with Butterfly Saves. However, the real savings come with Butterfly Saves eCodes.
How Butterfly Saves eCodes Work
Not only are you saving a percentage of all online purchases with partnered stores store, but eCodes can enable ridiculous savings. To receive and eCode, simply browse the offers at the Butterfly Saves website and pick the one you like.
They will usually be advertised for a given online store as a "$5 for $10" eCode or a "$10 for $20" eCode. For instance, assume there is a "$10 for $20" eCode offer for BestBuy and you want to purchase a Roku Express.
You simply purchase the eCode from butterfly saves. Then, go to BestBuy.com using your Chrome browser and log in with your Best Buy account (obviously create one if you don't already have one.) If you have installed the Butterfly Saves extension, an orange "Activate Savings" button will appear in the lower left-hand corner of the screen. Once you click it, Butterfly Saves will log the purchase and apply the eCode to your Butterfly Saves account.
This means when you purchase your Roku Express from Best Buy online, Butterfly saves will credit $20.00 to your Butter Fly Saves account for the Best Buy eCode you purchased in addition to the basic percentage rebate you already get using the Butterfly Save extension. In the end, you just purchased a $29.99 Roku express for less than $20.
Is Butterfly Saves a Scam
Before I wrote an article explaining how to Butterfly Saves works, I wanted to make sure Butterfly Saves was legit. The best way to prove it was to test it out myself. So I went to the Butterfly Saves Website and made an account.
I needed to purchase a stocking stuffer for my wife, and we needed some pet supplies. So, I purchased a "$5 for $10" eCode for Target and a "$10 for $20" eCode for PetSmart. This totaled to a $15 purchase from Butterfly Saves. After purchasing the eCode, an email came with instructions on installing the ButterFly Saves Chrome extension.
I installed it and went to Target.com and PetSmart.com to make my online purchases. My PetSmart order was $27.80 and my Target order was $16.00. So far I've purchased $15 in eCodes and $43.80 in goods for a total of $58.80.
Below is a screenshot of my account at Butterfly Saves. Notice Butterfly saves paid $31.20 to my PayPal account, $30 in cashback from the eCodes and $1.2o rebate simply for shopping with the Butterfly Saves extension. So I paid $27.60 ($58.80 in purchases – $31.20 cash back) for $43.80 worth of goods. That's a saving of 37%! As you can see in the screenshot, Butterfly Saves is 100% legit.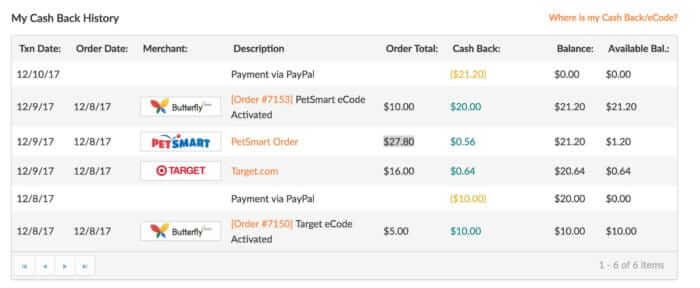 Butterfly Saves Lessons Learned
You can only redeem one eCode per day. However, I did make both my purchases on the same day. Butterfly Saves seemed to hold off on redeeming my second eCode until the next day. Be aware that their policy states, "You can only redeem one Butterfly eCode per day."
You must use a Chome Browser on your computer or laptop when shopping. While this isn't always ideal, I think it's worth the hassle to save over 30% on a purchase.
Your reimbursement payments seem pretty fast. I was paid same day for one eCode and the following day for the other. Butterfly Saves indicates they will pay you as soon as they are paid by the retailer.
You cannot use an eCode with other coupons or promo codes.That said, it's still tough to beat the 37% I saved using Butterfly Saves.
Butterfly Saves Review
I was a bit skeptical upon hearing the savings Butterfly Saves was claiming users could claim. However, I've tested it out myself and it works. Furthermore, I was paid much faster than I expected. I was curious how Butterfly Saves making money with the savings I reaped from their service. After some digging, I discovered that they make advertising partnership deals with retailers. A percentage of those deals is then passed on to those using Butterfly saves.
My wife and I have tried countless other online rebate services in the past and none of them have garnered the savings we've seen from Butterfly Saves. They are easily 5 stars out of 5 online rebate service.
Need More Information?
If this article didn't answer your specific question, head over to our Home Page! It will guide you to affordable internet providers, streaming services to meet your needs, information on antennas, and many more tools and resources to help you save money on TV and Internet access.
For the latest news tips and tricks on cutting the cord and other tech topics be sure to follow our Google News Feed, like our Facebook Page and Follow Us on Twitter.
Join Millions of Cord Cutters
*
Disclosure: Grounded Reason is supported by a small commission for purchases made through product links on this website. We do not accept compensation from companies attempting to sway our review of products.