The information provided on Grounded Reason, both blog and podcast, is provided 100% free. If you would like to support Grounded Reason you can do so by purchasing one of the items below. Proceeds go to funding Grounded Reason and are appreciated. Sizing and other information are below the products. Again, thank you for supporting Grounded Reason.
Grounded Reason T-Shirts
Be Sure to Pick the Right Size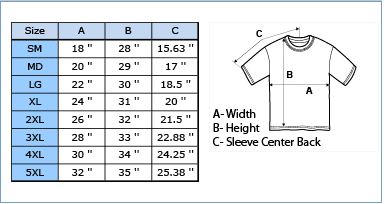 T-Shirts are custom printed on demand from Print Aura. Therefore, we are unable to take returns or exchanges if you purchase the wrong size. Use the sizing chart above to ensure you receive a proper fit.
Returns and Exchanges
Shirts are custom printed on demand by Print Aura. We follow their policy on returns and exchanges. Below are the only conditions in which a return or exchange is permitted.
Faulty Product – If the product has a hole, stains, or manufacturing defect.
Placement Issue – If a print is clearly crooked or off-center (> 1 inch).
Incorrect Image – If we printed the wrong image.
Wrong Item Sent – If we send you the wrong garment, color or size.
If your order meets one of the above conditions we do apologize. Print Aura has provided the following instructions in these cases. Please follow these instructions for an exchange:
Take a photo of the problem – If the problem is print size, please use a ruler.
Send an email with the subject line "Order # 'YourOrderNumber' Replacement Request" to [email protected]
Please include the following:
The photo(s)
A specific description of the issue
The Order Number
If there are multiple products in an order, identifying the product with the issue
The Print Aura support team will respond within 1-2 business days.