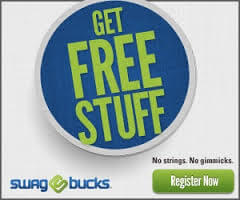 With two kids I'm always looking for a way to earn a little extra spending money.  There are tons of websites explaining how to make big money online.   I tend to find they are either a big scam, or take just as much effort as making money offline.  What is possible though is making a couple spare bucks online.  Swagbucks provides a means to do this.  You won't be able to buy your dream house with the amount of money you can make, but you can easily do something like fund a monthly date night with little to no effort.  This Swagbucks review will explain all you need to know to make a little extra spending money online.

Swagbucks Review – How it works?
Swagbucks is a company based in Los Angeles California that will pay you for doing things you normally do on the internet. You can watch videos, perform searches, and answer poll questions. In return you are rewarded in Swagbucks. You then can take the Swagbucks you accrued and trade them in for gift cards or other items. The website makes money because advertisers are paying them for the tasks you are earnings Swagbucks from.
Swagbucks Review – How to try it
The following referral link will take you to the page to sign up to use Swagbucks.
A few notes on my experience:
On signing up they want your name, an email, address, and birth year (but not the date).  I was initially worried about spam email or snail mail, but it hasn't happened to me.
You can click the standup comedy videos and not even watch them to earn Swagbucks.  This is easy to do while watching TV or doing some other mundane task that has to be done.
You can use their search bar for searching the web instead of Google or Bing.  This will randomly award you more Swagbucks. It appears to give decent results back but I'm sure advertisers pay Swagbucks to elevate their page rankings.
The daily poll is quick and easy and will award you a Swagbuck.
If you are bored and looking to kill time on the net, I find Swagbucks is one way to get paid doing it.  However this shouldn't be looked at as a major source of money.  If you look at what money you are making vs the time spent, you would be making well under minimum wage.  This is precisely why I do the tasks I can accomplish with no extra effort.
If you have a blog, a lot of friends, or an online presence with social media I recommend using their referral program. You can earn money by recommending others.
Swagbucks Review – How much money can I make?
You will not get rich, but most tasks take very little effort. I spent a night or two just clicking videos while watching Walking Dead and was able to get a $10 Amazon gift card. I didn't even have to watch the videos. It's possible, if you put in real time effort, to amass a ton of Swagbucks and generate some decent money. I know of a couple that essentially pays for the airfare for their yearly vacation to Disney World in  Swagbucks. I personally think they go a little overboard with it, and I only earn Swagbucks through the features that take no effort and allow me to do other things (like writing this Swagbucks review).
Need More Information?
If this article didn't answer your specific question, head over to our Home Page! It will guide you to affordable internet providers, streaming services to meet your needs, information on antennas, and many more tools and resources to help you save money on TV and Internet access.
For tips and tricks on cutting the cord and other tech topics be sure to join our Facebook Page.
Join Millions of Cord Cutters
Disclosure: Grounded Reason is supported by a small commission for purchases made through some product links on this website. We do not accept compensation from companies attempting to sway our review of products.