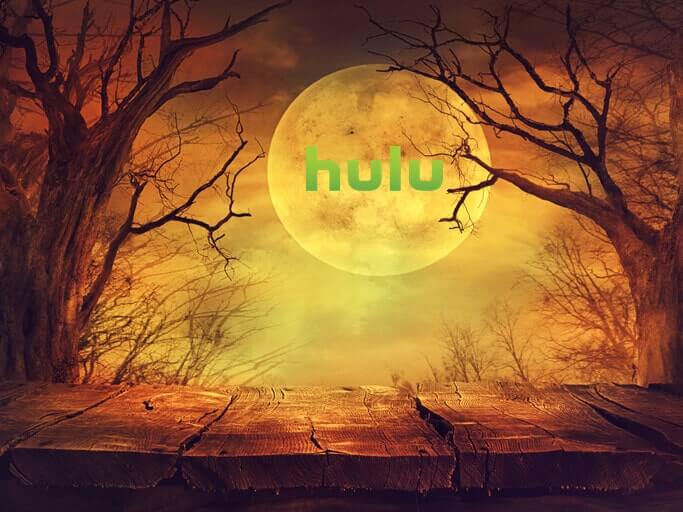 It's that time of year again. As the air gets colder, kids go back to school, and the artificial pumpkin spice scent hangs in the air, thoughts turn to autumn—and monsters. Halloween is around the corner, and what's a better way to prepare than some proper scary movies? Hulu has a great selection of great scares for your screaming streaming needs, from popular new titles to true classics.
Keep an eye out after October 1st. That's when Hulu will bring back its Huluween category, full of films and shows curated for this particular time of year. (The tag showed up briefly on their site in mid-September, so odds are it will be returning.)
In the meantime, use the Horror tag under Browse to see a bevy of scary categories to scroll through. Hulu offers selections from "Scary as Hell" to "Humorous Horror" and "Spooky not Scary," if your tastes lean more thrilling or funny than honestly gory. Furthermore, the site sorts the films (and TV shows) into favorite horror niches, such as vampires, zombies, and hauntings. These selections are our favorite titles that ranked high on Rotten Tomatoes' best horror movies list. (Look for the percentage rating near the title for the website aggregator's score if available.)
Best Horror Movies on Hulu
Rosemary's Baby (1968) – 99%
Easily one of the most famous psychological thrillers, Rosemary's Baby is still terrifying today—especially to expectant mothers. When the young Woodhouse couple moves into a New York apartment building with a questionable past, they are quickly befriended by an older couple next door. Before long, Rosemary (Mia Farrow) is expecting, but they Woodhouses find themselves wrapped in a supernatural horror of Satanism surrounding the baby. The film received multiple award nominations, and a Best Supporting Actress Oscar win for Ruth Gordon as the neighbor Minnie Castevet and is considered a culturally significant classic.
A Quiet Place (2018)- 95%
This post-apocalyptic thriller was one of the top movies of 2018, innovative and chilling in its near silence. Most of the life on Earth has been wiped out. Those who remain must maintain quiet to stay safe from the creatures who slaughtered society: sightless monsters with hypersensitive hearing that attack at any noise. A great flick for a quiet night at home.
Let the Right One In (2008) – 98%
Aesthetically beautiful and restrained in its storytelling, the Swedish film Let the Right One In takes a fresh approach to vampire stories. This film earns a place on numerous lists of top horror movies, and earned recognition as an artistic achievement beyond the horror genre. Lonely and bullied Oskar befriends the mysterious new girl next door, Eli, only to be drawn into a series of brutal deaths and secrets when he discovers her true nature. It's a surprisingly intimate story of friendship, childhood loneliness, and the darker side of human nature. Let the Right One In walks the line of being both brilliant horror and beautiful filmmaking.
The Evil Dead (1981) – 95% And Evil Dead 2: Dead by Dawn (1987) – 98%
These first two films in the Evil Dead humor-horror franchise introduced audiences to the weird and wacky brain of Sam Raimi. They also entered us to his charismatically silly leading actor Bruce Campbell. The Evil Dead is ranked as one of the top cult films of all time. It's also one of the most successful independent films and best horror films ever. The first film introduces a group of college students who discover the "Book of the Dead" in a secluded cabin in the woods. Demonic possession and gore follow, to ridiculous glee and mayhem.
The series goes on to the even more successful Evil Dead 2: Dead by Dawn, as well as a third film in the trilogy, Army of Darkness. While the third frequently stands alone as a cult favorite in its own right, it ranks lower on overall ratings (only 72% fresh.) Sadly, it is only available on Hulu if you have the Starz premium add-on. The franchise has also spawned later films, a spin-off TV series, and even Evil Dead: The Musical (likely playing at a local town theatre near you this fall).
Invasion of the Body Snatchers (1978) – 95%
It's not often that a remake of a classic film becomes as iconic as the original, but the 1978 remake of the hit 1956 thriller of the same name is one of the exceptions. Expanding on the themes of paranoia, conspiracy, and invasion of the "other" from the original film's McCarthy-era setting, the 1978 Invasion of the Body Snatchers stars such favorites as Donald Sutherland, Jeff Goldblum, and Leonard Nimoy. Set in San Francisco, the movie involves a group of health inspectors who discover that emotionless alien duplicates are slowly replacing their human counterparts. Both versions of the film are considered pinnacles of the science-fiction horror genre.
An American Werewolf in London (1981) – 87%
The story follows a pair of young American college students who were attacked by a werewolf while backpacking in England. An American Werewolf in London was a milestone film for horror movies. It walked the line perfectly between horror and comedy and is considered one of the best of its kind.
The film invested in high-quality makeup and transformative special effects and didn't depend on the burgeoning field of computers at the time. This film shaped a generation of horror filmmakers, and earned makeup artist Rick Barker the first ever Academy Award for Best Makeup.
Its humor-horror balance would inspire such films as Evil Dead 2 and the work of director Edgar Wright (Shaun of the Dead). Barker and director John Landis would be teamed up again shortly after the success of the film to work on Michael Jackson's Thriller video. See where it all started, and marvel at the incredible monster transformations that marked it as innovative before CGI took over.
Good Horror Movies on Hulu
Child's Play (1988) – 67%
Perhaps not good, Child's Play is iconic of a generation of classic horror movies from the late-'80s, and the classic plot devices of the era. A serial killer, cornered by the cops in a doll factory, uses a voodoo curse to put his soul into one of the dolls before he is killed.
Thus a terrifying tale of murder and mayhem ensues, with the blade-wielding Chucky doll at the center of the slash-fest. And like all good horror movie villains, Chucky would continue to haunt children and movie theatres for multiple sequels, including a recent 2019 remake.
Hellraiser (1987) – 69%
Already a promising writer of horror by the mid-1980s, Hellraiser marked Clive Barker's debut as a film director. In Hellraiser, Barker helmed what would be the first of his iconic horror franchise. Years after Frank opens a door to an alternate dimension, where his body was torn apart by Cenobites, his family accidentally triggers a series of events leading to his resurrection, and a confrontation with the now all-too-familiar face of horror, Pinhead.
While not a universal hit, Hellraiser was considered by many to be one of the greatest horror films out of Britain at the time. The film went on to spawn nine sequels and a massive cult following by fans.
Children of the Corn (1984) – 36%
Perhaps "so bad it's good" is a better way to describe Children of the Corn. The film is loosely based on a Stephen King story. However, after King's screenplay was rejected, it took a more violent and conventional direction than his original story. In the rural town of Gatlin, Nebraska, an evil spirit draws in children, urging them to rise up and slaughter the town's adults.
While the film itself received pretty poor reviews on release, it has maintained its place in pop culture. The film spawned nine sequels spreading over 30 years. What started as one short story, swelled into a massive cult franchise.
More Horror Favorites on Hulu
Sleepy Hollow (1999) – 68%
Tim Burton's unsurprisingly gothic take on the classic American story is lush and beautiful while being truly creepy. Starring Johnny Depp as the awkward constable Ichabod Crane, it centers on his investigation of a series of mysterious murders by the ghostly Headless Horseman (Christopher Walken).
Burton adds many of his own ideas and supernatural-leaning characters to the loose framework of Washington Irving's story. This caused many critics at the time to find the story less than satisfactory. However, visually, the film crafts an atmosphere of dreamy fog and creeping shadows that capture the essence of 19th century gothic ghost stories. The film earned high praise for style, and was nominated for several Academy Awards, winning Best Art Direction for Rick Heinrichs and Peter Young.
Final Destination franchise (2000-2011)
Beginning with the original Final Destination movie, Death has been on the tail of teens surviving horrible mass tragedies for nearly a decade. It chased them across five movies, four of which are available on Hulu right now. While none of the franchise rated particularly well until the slightly more successful fifth movie in 2011 (the only one not available on Hulu), they became a teenage horror juggernaut that can't be denied. The first film debuted in 2000, at a peak in the teen-flick resurgence.
It went on to build a legacy among young fans. Rather than a homicidal slasher or supernatural possession, the villain of the films is Death personified. Our antagonist manipulates the environment with more and more complicated methods to claim the lives of those who escaped tragedy in increasingly gruesome ways. The first four films are all on Hulu, including Final Destination 2 (2003), Final Destination 3 (2006), and 2009's The Final Destination.
Amityville Horror (1979) – 28%
While not overly well received, the 1979 Amityville Horror is a classic of horror films (if only for its name and subject.) The story is based on the supposedly true story of a family whose dream house turns into a nightmare when possessed by the spirits of the slaughtered past occupants. Hulu has both the original and the slightly better received 2005 remake. The original film (and the book and rumors it is based on) became the seed for nearly 20 more films, setting it out as a grandfather of a horror franchise that is worth checking out.
New Horror Movies on Hulu
Mother! (2017) – 69%
From the twisted and dream-like mind of Darren Aronofsky (Black Swan) comes this 2017 psychological horror film starring Jennifer Lawrence, Javier Bardem, Ed Harris, and Michelle Pfeiffer. Enough star power for you? The dark allegorical film follows a woman and man in their perfect solitary home, until a stranger, his wife, and eventually the outside world invade their space.
The intrusion results in the violent devouring of their home and tranquil existence. Like much of Aronofsky's work, the piece is both thought-provoking and shudder-inducing at times, and divisive for audiences and critics.
Body at Brighton Rock (2019) – 64%
For fans that like old-school suspense, this recent film is a great dive into tension-raising drama. When a young park ranger is ordered to stay at a potential crime scene deep on a remote trail, she must fight her darkest fears and desire to flee throughout the dark night alone.
This debut film from director Roxanne Benjamin has had comparisons to classics like Hitchcock and The Twilight Zone for its tense, solitary storytelling.
Jigsaw (2017) – 33%
On the other end of the spectrum you have today's popular gore and trauma with the eighth installment of one of the most successful horror franchise, Saw. While not overly successful, Jigsaw is one for the hardcore fans who continue to flock to this series of trauma-porn gorefests—and the only entry from the Saw movies currently available on Hulu.
Hulu Horror Originals
Wrapping up the list is the Into the Dark anthology series from Hulu Originals. Technically a television series, with 12 "episodes," each one is around 90-minutes and stand alone with a different plot and set of actors. Starting in October 2018, the twelfth film in the first series of "12 Months of Twisted Tales," Pure, tells the story of a group of girls participating in a purity retreat that turns to a supernatural terror.
Other plots have linked stories to issues of immigration, bullying, stalking, and grief. A second series of twelve films will kick off in October, leading up to Halloween.
Need more Hulu Horror?
With Hulu Live TV, the options get even better, with two recent top horror-thrillers becoming available with 2017's Get Out (considered the #1 horror movie of all time by Rotten Tomatoes) and 2016's Don't Breathe.
In addition, Hulu also includes multiple scary TV series throughout its Horror tag, especially if you're looking for zombies. Top pick? The lesser-known but brilliant British zombie horror-drama In the Flesh (97%, two seasons).
Also, if you subscribe to any premium add-ons, you'll find even more film options. Night of the Living Dead (1968), Pans' Labyrinth, A Nightmare on Elm Street, Shaun of the Dead, The Blair Witch Project, and 28 Days Later are available from among HBO, Starz, and Showtime.

Need More Information?
If this article didn't answer your specific question, head over to our Home Page! It will guide you to affordable internet providers, streaming services to meet your needs, information on antennas, and many more tools and resources to help you save money on TV and Internet access.
For tips and tricks on cutting the cord and other tech topics be sure to join our Facebook Page.
Join Millions of Cord Cutters
Disclosure: Grounded Reason is supported by a small commission for purchases made through some product links on this website. We do not accept compensation from companies attempting to sway our review of products.