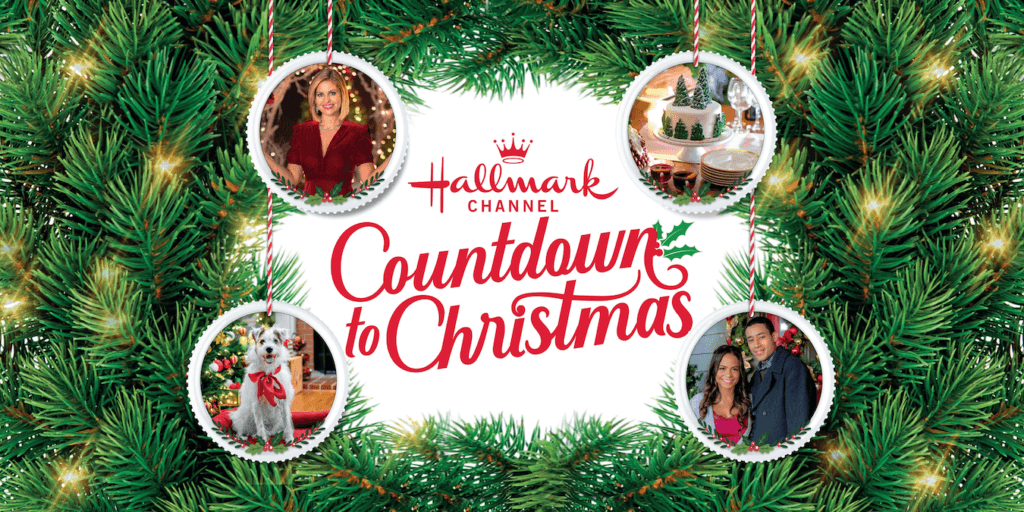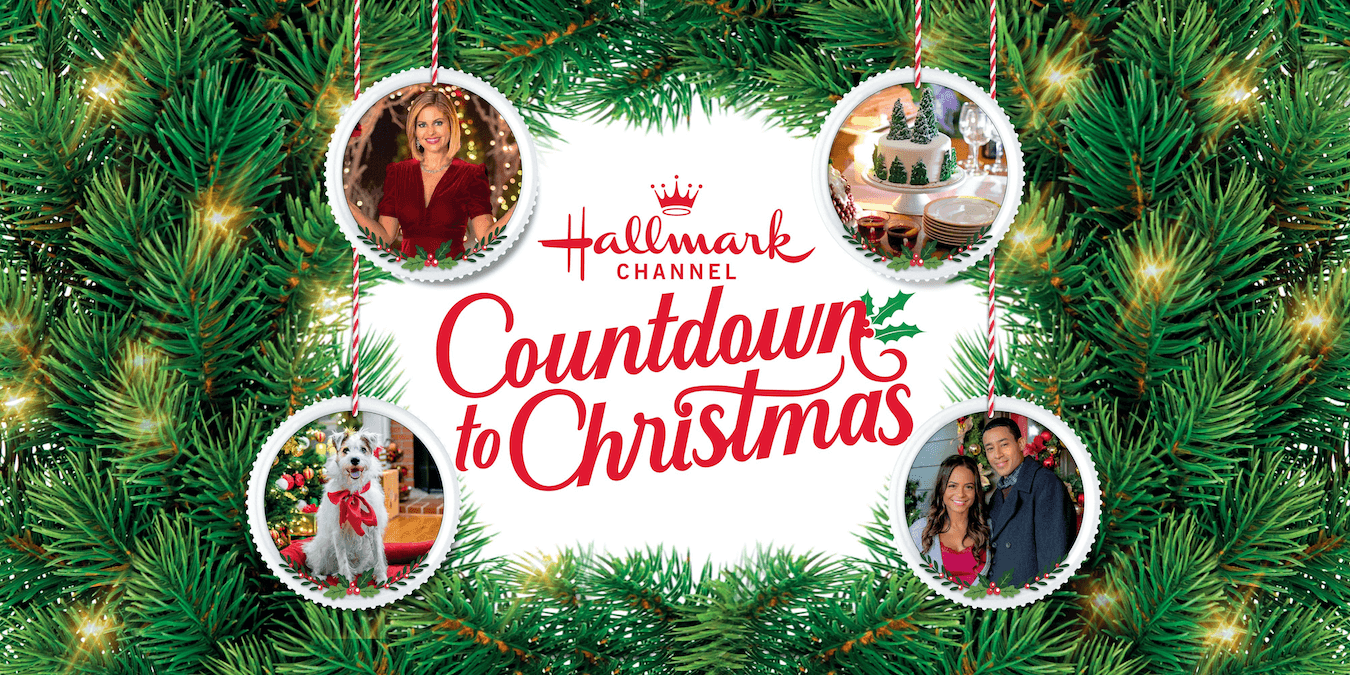 It's that time of year again. That's right, October 24 kicks off Hallmark's Countdown to Christmas. Hallmark will be airing 40 Hallmark Original Christmas movies on Hallmark Channel and Hallmark Movies & Mysteries between then and Christmas. While our recommended way to watch is through the streaming service Philo (try a 1-week free trial), you can check out our guide to Watching Hallmark Channel Without Cable for other options.
Hallmark Channels Christmas Movie Schedule
Below you will find the dates of Hallmark Channel Christmas Movies airing over October, November, and December. All premiere times are 8 pm Eastern / 7 pm Central. I've also provided a plot summary of each movie airing on Hallmark Channel for you to enjoy.
Saturday, October 24
Jingle Bell Bride
A celebrity client needs wedding planner Jessica to travel to a remote Alaskan town and track down a rare flower. Do you think the flower is all she finds? Nope! It's love (and Christmas!) She's charmed by one of the town locals during her botanist excursion. Does the flower make it back in time for the wedding, or will Jessica's love get in the way again?
Sunday, October 25
Chateau Christmas
A world-class pianist (Merritt Patterson) exhausted by laborious musician life returns home for a much-needed vacation. Does an old ex allow her this respite? NO! He does his best Coach Bobby Knight impression and reignites the piano ambition she had in her youth. Did I mention there's Christmas? There is, and a Chateau.
Saturday, October 31
One Royal Holiday
In this brand new Hallmark Original Christmas movie, Anna (Laura Osnes) takes in a mother and adult son during a blizzard. Surprise! They are part of the Royal Family of Galwick. She takes this opportunity to show the young prince how not to be a snooty royal and celebrate Christmas in the way we all do, like in a Hallmark Christmas movie. Folks, this one has a Christmas music video!
Sunday, November 1
On the 12th Date of Christmas
Two game designers (Mallory Jansen and Tyler Hynes) with vastly different outlooks on life use everything that the holidays bring — festive cheer, mistletoe moments, and more — to dream up a scavenger hunt throughout the city. It's National Treasure, meets When Harry Met Sally, meets Pokemon Go, meets Christmas.
Saturday, November 7
Never Kiss a Man in a Christmas Sweater
Maggie (Ashley Williams) is spending another Christmas on her own. But wait! Ding dong! It's an unexpected houseguest in a Christmas sweater Niall Matter at the door, and he needs a place to stay. I wonder where this is going?
Sunday, November 8
Christmas with the Darlings
Jessica (Katrina Law) is about to use her hard-earned law degree to take a promotion in her wealthy bosses company. <Record Scratch> Instead, Jessica, you can help the wealthy boss's younger brother raise his orphaned nieces and nephews. Don't worry, Jessica. It's the Hallmark Channel. I'm sure Christmas will make this all better.
Saturday, November 14
Christmas in Vienna
Instead of a Piano, Jess (Sarah Drew) plays Violin. Instead of a Chateau, Jess is performing in Vienna. And that's where new flame Brennan Elliott helps Jess rediscovers what made her fall in love with music in the first place. Is 3 weeks enough time for you to forget this is the plot of Chateau Christmas? Let's find out.
Sunday, November 15
A Timeless Christmas
Charles (Ryan Paevey) time travels from 1903 to 2020. After getting over the initial shock of woman voting and the effects of the civil rights movement, charming tour guide Erin Cahill, helps him experience a futuristic Hallmark Christmas.
Saturday, November 21
A Nashville Christmas Carol
Vivienne works hard, producing country music special for a local TV station. She's so good at her job she is offered a TV job in LA, the pinnacle of her industry. That can't happen! LA is where the devil lives! A ghost played by Wynonna Judd recruits The Spirit of Christmas Past and the Spirit of Christmas Present to convince her new experiences are scary and bad, and she'd be much happier staying in Nashville.
Sunday, November 22
The Christmas House
The Christmas House features a gay couple and their journey to adopt a child. Let's applaud Hallmark for featuring its first LGBTQ+ plotline. 50 years after Stonewall seems like the correct amount of time, right? I guess that's why Timeless Christmas aired last week. They wanted to give Charles from the year 1903 a little time to adjust.
Monday, November 23
Heart of The Holidays
Career-focused Sam returns home for the holidays and comes face to face with her high school sweetheart Noah. Together they rediscover what matters most in life. It's high school.
Tuesday, November 24
A Christmas Tree Grows in Colorado
The plot summary reads, "Firefighter Kevin (Mark Taylor) is the only thing standing in Erin's (Rochelle Aytes) way of planning the best Christmas celebration ever. That means it's up to her to win him over to get a celebration-worthy spruce tree from his property. "
Basically, Hallmark turned that part from the movie The Sandlot, where the ball goes into The Beast's yard, into a Christmas movie.
Wednesday, November 25
A Bright and Merry Christmas
Two rival TV hosts are sent to a small town high on raw uncut Christmas cheer. There is just too much Christmas in the air for them to maintain their mutual hatred for one another. In the end, they each realize the other is a real person and not the demon they envisioned in their minds. Christmas wins.
Thursday, November 26
Christmas by Starlight
Annie is a lawyer, and her family's The Starlight Café is about to be demolished by a development firm. But hold on! William, the Heir to the development firm, has a proposition. He will not demolish the restaurant if she poses as legal council to appease William's father, who is uneasy about William's costly mistakes. It's Tommy Boy without the comedy meets Indecent Proposal without the creepy (with a dash of Christmas.)
Friday, November 27
Five Star Christmas
Lisa moves back home to help her family get a 5-star rating on their grandparents' B&B from an incognito travel critic in their town. Meanwhile, Lisa starts falling for a guest at the B&B. Is this an M. Night Shyamalan film?
Saturday, November 28
Christmas Waltz
Lacey Chabert (The Meryl Streep of Hallmark Christmas Movies) plays Avery, a devastated woman whose fiancé breaks up with her a month before her storybook Christmas Wedding. To cope, she subjects herself to the weekly torture of continuing the lessons she was taking for her wedding dance. When life gives you lemons, juice them, and pour that juice into your eye. Don't worry. Will Kemp plays the dance instructor. He's hot. She'll be fine.
Sunday, November 29
If I Only Had Christmas
Candace Cameron Bure plays a bright and cheery publicist. Warren Christie plays a scrooge-like business owner. They have to work together to help a charity. Yada, yada, yada.
Saturday, December 5
Christmas in Evergreen: Bells Are Ringing
Michelle (Holly Robinson Peete) is planning a wedding, so she asks Hannah (Rukiya Bernard) to wrap up the new Evergreen museum's launch. All this extra free time causes reflection on whether or not her fiancé is a scrub.
Sunday, December 6
Christmas She Wrote
Kayleigh, played by noted mathematician and Wonder Years star Danica McKellar, writes a romance column which is canceled right before she heads home to her family the holidays. Neal, the guy who canceled the column, shows up at her house, fights to get her job back, and attempts to win her heart. While played as a nice holiday romance, it's obvious that this creep Neal engineered this whole situation to manipulate and trap Winnie Coop . . . I mean, Kayleigh. We all know there are no good Neals in movies.
Saturday, December 12
Cross Country Christmas
Lina (Rachael Leigh Cook) and Max (Greyson Holt) are former classmates that have their holiday potentially ruined when an unexpected storm hits. The two of them are forced to work together to figure out a way home. Will they overcome these obstacles and fall in love? Yes. You're welcome for the saved 2 hours.
Sunday, December 13
Christmas Comes Twice
By the looks of it, Emily (Mowry-Housley) has it all: She's a well-respected newscaster and loved by many. But in her eyes, she failed the thing that matters most — Her relationship with her first true love (and the Bechdel Test.) A ride on the carousel at the town's Christmas carnival brings her back in time, giving her a second chance at the love and life she deserves. Hopefully, Charles from A Timeless Christmas can use this technology to get home to 1903.
Saturday, December 19
Christmas Carousel
Lila (Rachel Boston) partners up with the Prince of Marcadia (Neal Bledsoe) to repair the Royal Family's carousel by Christmas. This carousel better turns out to be the one Emily uses to go back in time to get her man back and ultimately return Charles to the correct timeline. Otherwise, a huge opportunity is missed in the Hallmark Cinematic Universe (HCU)
Sunday, December 20
Love, Lights, and Hanukkah!
Christina (Mia Kirshner) is getting her restaurant ready for the busiest time of the year, and she gets back a DNA test and learns that she's actually Jewish. While that doesn't sound like enough plot to make a 2-hour movie, I'm sure Christina makes a whole thing of it.
Need More Information?
If this article didn't answer your specific question, head over to our Home Page! It will guide you to affordable internet providers, streaming services to meet your needs, information on antennas, and many more tools and resources to help you save money on TV and Internet access.
For tips and tricks on cutting the cord and other tech topics be sure to join our Facebook Page.
Join Millions of Cord Cutters
Disclosure: Grounded Reason is supported by a small commission for purchases made through some product links on this website. We do not accept compensation from companies attempting to sway our review of products.