Roku has just released an entirely new fleet of streaming devices. These five new Roku Streaming devices will replace the previous Roku 1, 2, 3, and 4.  The Roku Streaming Stick will continue to be the companies "portable offering."
The new Roku players are broken down into three tiers. The top tier device is the Roku Ultra. The middle-tier streamers consist of the Roku Premier and Premier+. Rounding out the new devices in the entry-level tier are the Roku Express and Express+.
Roku has not only unleashed a deluge of streaming devices, but also some new functionality available in the Roku operating System. Furthermore, two of the devices support High Dynamic Range (HDR) video on HDR compatible TVs. You can read about HDR video in this article. In a nutshell, it greatly improves picture quality through increased brightness and color ranges.
All new Roku devices are currently available for preorder on their website and are expected to ship on on October 7th.
New Roku OS Functions
The two new features available are "Night Listening" and improved search capabilities. Since they are an OS upgrade that will be available on all new Roku players.
Night Listening Mode
When you're watching an action film and others are sleeping, do constantly have to adjust the volume up during the dialogue and down during car chases and shootouts? Night Listening Mode will fix that. This feature balances out the audio in order to provide a more consistent listening experience.  This feature is perfect for watching television after putting the kids to bed
Improved Roku Search
Roku Search now covers over 100 channels. This is one of the most comprehensive universal search functions of any streaming device on the market today. Roku also knows which subscriptions you have and will list search results in order of price starting with the services that allow you to watch the TV show or movie free of charge.
Roku Ultra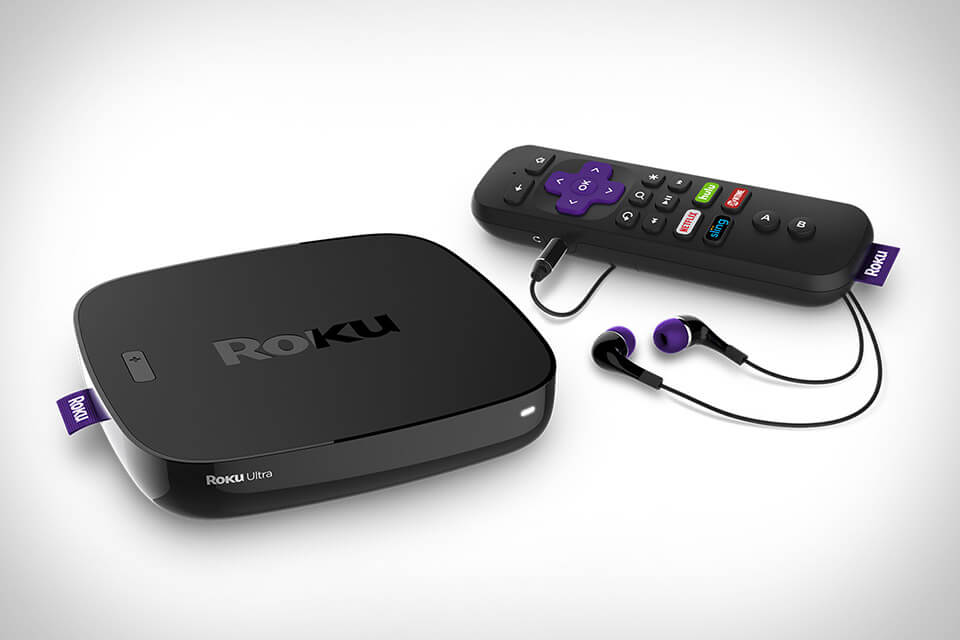 The Roku Ultra is the top tier Roku devices.  It has the most powerful processor of any of the new Roku devices. It also includes functionality not found on any other Roku Device.
Exclusive Functions
USB Storage – The Roku Ultra allows its USB port to play video from an external hard drive. Roku Ultra supports FAT16, FAT32, NTFS, and HFS+ drive formats.
Optical Audio – This will allow you to connect your Roku Ultra to your home audio system.
Voice Remote – Search for titles of your favorite TV shows and Movies without typing. Simply hit the voice search button and say the title.  While experimenting with voice search, Roku was able to find well-known movies and TV shows about 90% of the time.
Remote Finder – Press the button on top of the Roku Ultra and your remote will begin beeping alerting you to its location. This function is a necessity in my house.
Gaming Buttons – If you game with your Roku, the Remote that comes with the Ultra includes gaming buttons to use. Just turn the remote sideways
Roku Ultra Specifications
The Roku Ultra comes with the Roku Advanced remote with batteries, headphones for private listening, a USB cable, and power adapter. In addition to the exclusive functionality already mentioned, the Roku Ultra also does the following:
802.11ac MIMO dual-band wireless
10/100 Base-T Ethernet
720p, 1080p, and 4K UHD with HDR video at 60 frames per second
Night listening mode
microSD card slot for additional channel storage
Advanced point anywhere remote with voice search, headphone jack, and gaming buttons
IR receiver for universal remotes
Dolby Audio pass through via HDMI
Who Should Purchase the Roku Ultra
If you are looking for any of the exclusive functions offered by the Roku Ultra then it's the obvious choice. Those looking to upgrade your older Roku 3 should also look at the Roku Ultra.  Otherwise, unless you want the added processing power the Ultra offers, then you may want to consider the mid-grade Roku Premier.
Roku Premier and Premier+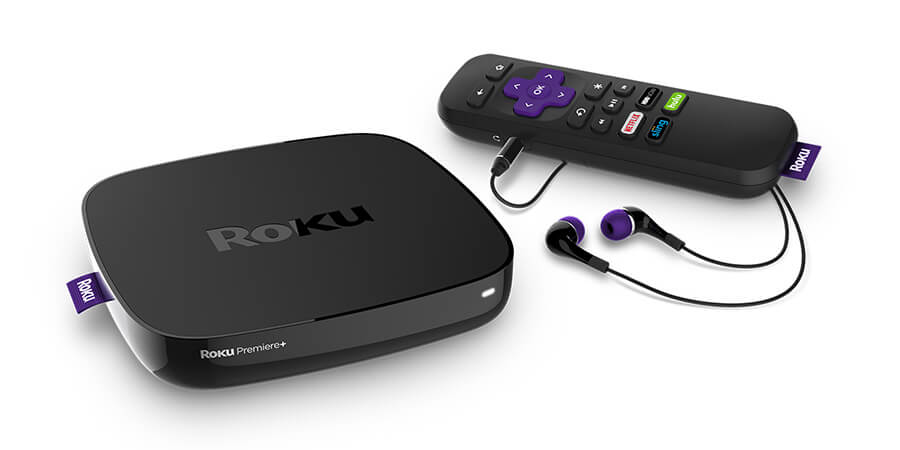 The Roku Premier devices represent the middle tier of new Roku players.  Both devices come with a Roku remote with batteries and power adapter. However, they do not include the required HDMI cable to connect the device to the TV. Both devices have the following features:
Both devices also support 802.11ac MIMO dual-band wireless
Both support 720p, 1080p, and 4K UHD video at 60 frames per second
Both have an IR receiver for universal remotes
Both have night listening mode
Both have Dolby Audio pass through via HDMI
Both have microSD card slot for additional channel storage
The major functionality differences offered by the Roku Premier+ over the Premier are as follows:
10/100 Base-T Ethernet support
a microSD card slot for additional channel storage
Support for the new HDR picture quality standard
Advanced point- anywhere remote with headphone jack for private listening
Roku Premiere+ retails at $99.99 due to the added functionality whereas the Premiere is $79.99
Who Should Purchase the Roku Premier or Premier+
The Roku Premier tier offer functionality not available in the entry-level Express tier. If you have a 4K UHD TV, an 802.11ac wireless router, or want to take advantage of night listening mode, then you will want to go with the Roku Premier.
Furthermore, if you want to connect your Roku to your network using Ethernet or have a TV that supports HDR then you will want the Premier+. In addition, if you want to take advantage of the point anywhere RF remote, private listening, or channel expansion through a microSD card, then the Premier+ is for you.
Roku Express and Express+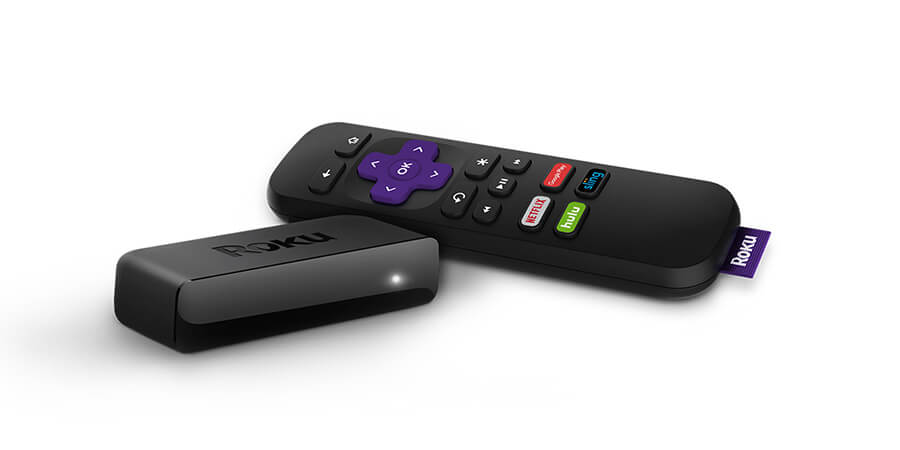 These new devices from Roku are the entry-level products from Roku. The only difference between these two devices is the Roku Express+ comes with composite A/V Cables for older televisions. Those are the older red, white, and yellow cables that were prevalent prior to the advent HDMI.
Therefore, the Roku Express+ supports the older 480i video standard. However, that backward compatibility will cost an extra $10 as the Roku Express retails at $29.99 and the Express+ at $39.99.
Both the Express and Express+ come with, the Roku Standard IR Remote with channel shortcut buttons, two AAA batteries, a removable adhesive strip for mounting, a High-Speed HDMI cable, a power adapter & micro USB cable (for power). The Express+ also includes a Composite A/V cable (red/white/yellow).
While the Express and Express+ do not support Ethernet, the do support the Wi-Fi and are b/g/n compatible.  They also support WEP, WPA, and WPA2 wireless security. Both support 720p and 1080p video and Dolby Audio pass-through via HDMI.
Who Should Purchase the Roku Express or Express+
If you have an older TV without an HDMI port, then the Roku Express+ is your only option as it supports the older component A/V cables. Otherwise, the Roku Express is perfect for those that want a wireless streaming device with no frills.
The Express works best as a stationary streaming device.  If you plan on moving your device around to multiple TV's or want to take your Roku with you when traveling, I would recommend the Roku Streaming Stick.
Keep in mind that these devices cap out at 1080p video resolution. If you want 4k Video, I'd recommend one of the higher tier Roku devices.
Bottom Line
While naming the various devices in the Roku stable makes more sense than the previous number system, there is little reason to upgrade from the Roku 3 or 4. I recommend to only purchase one of the new Roku devices if you are looking for a specific functionality upgrade met by one of the new Roku Players.  That said, it has been reported that all the Roku devices have a much quieter fan than the Roku 4.
Need More Information?
If this article didn't answer your specific question, head over to our Home Page! It will guide you to affordable internet providers, streaming services to meet your needs, information on antennas, and many more tools and resources to help you save money on TV and Internet access.
For tips and tricks on cutting the cord and other tech topics be sure to join our Facebook Page.
Join Millions of Cord Cutters
Disclosure: Grounded Reason is supported by a small commission for purchases made through some product links on this website. We do not accept compensation from companies attempting to sway our review of products.