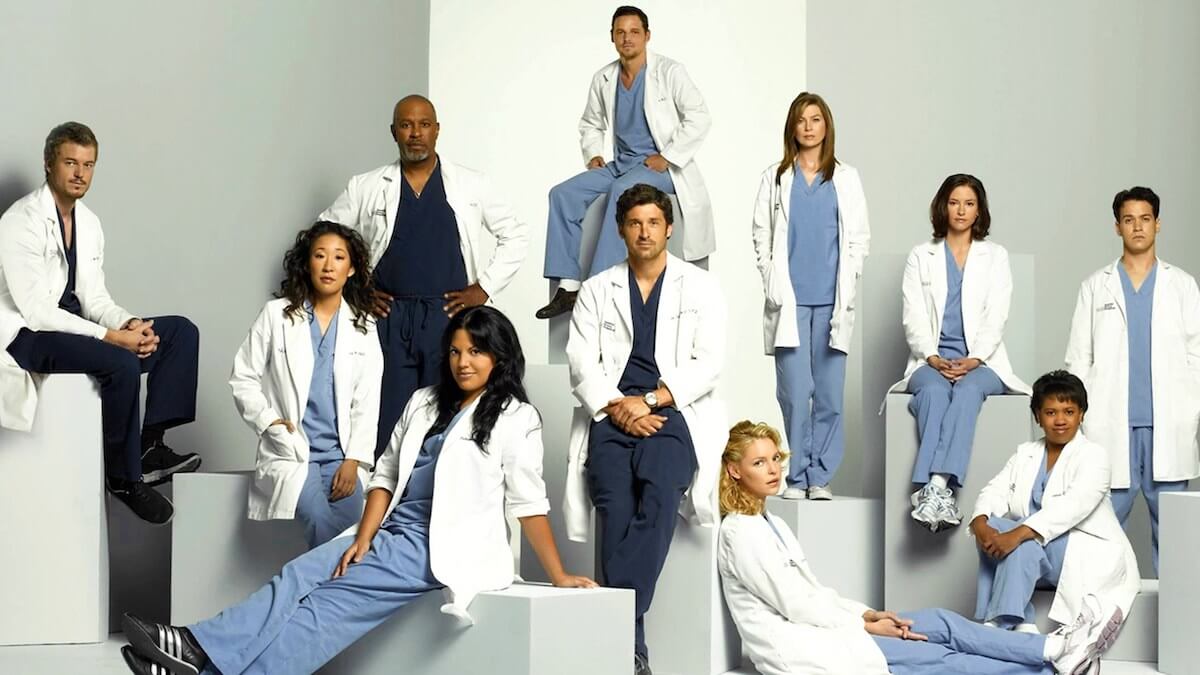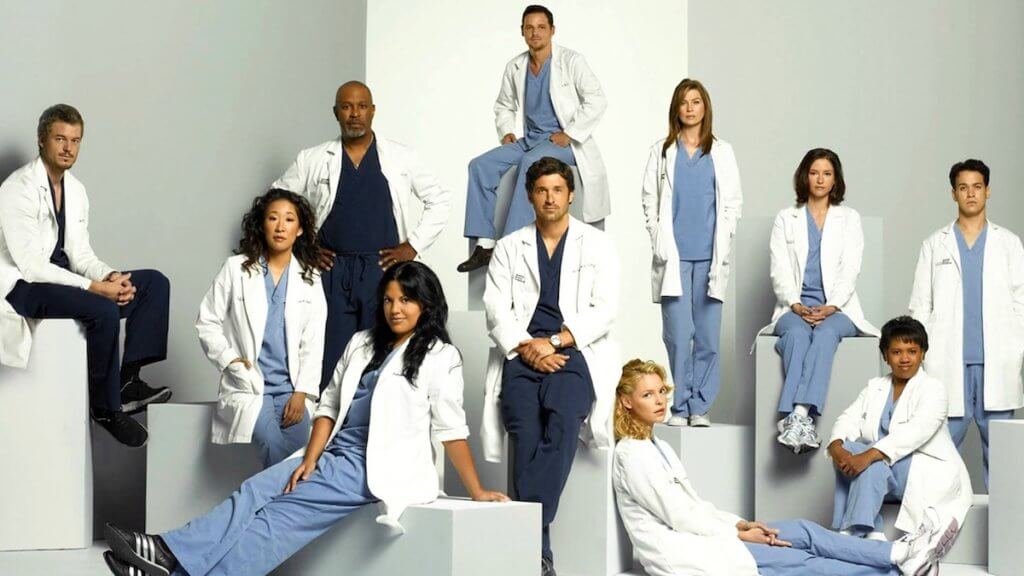 What's the fascination with prime-time medical dramas? Like its crime and legal siblings, there has been no shortage of medical procedurals since the debut of City Hospital in 1951. They have been set in hospitals across the United States, in international war zones, focused on emergency rooms, plastic surgery, brain surgery, and range from serious medicine to soapy love stories.
With Grey's Anatomy completing its 15th season this year (and already renewed for at least two more), it officially broke the record for the longest-running primetime medical drama in the U.S., outstripping its predecessor, E.R. In those 15 years the show has been a pop culture juggernaut and created a new era of must-see T.V.
In tribute to that legacy, we're digging into a few of the reasons to watch Grey's Anatomy and summing up some of the best American medical dramas available to watch online, from what's currently running to how to catch old favorites.
*Percentages next to titles are the average score, either combined or critic/audience the show carries on the aggregator site Rotten Tomatoes.
Where to Watch Greys Anatomy Online
Grey's Anatomy, 80%
ABC, 15 seasons, renewed
Since its premiere in 2005 Grey's Anatomy has carved out its role as a staple of pop culture from its first "McDreamy." Characters have survived (or not) train wrecks, ferry crashes, plane crashes, bombs, shootings, fires, earthquakes, super storms, not to mention general angst, love, and loss. From day one, central character Meredith Grey (Ellen Pompeo) was young, messy, and complicated and audiences fell head over heels for her and Derek Shepherd's (Patrick Dempsey) messy, complicated, and grand romance. Each episode was bookended by voiceovers from Meredith or other series regulars, philosophizing on a theme that would play into the story.
When Shonda Rhimes created the show it also became the start of an empire and the dawn of her must-see appointment television on ABC. Soapy, sexy, and frequently over the top, her shows still land with a strong one-two emotional punch that keeps fans sucked in. Grey's Anatomy is driven by a talented and diverse cast, as Rhimes built it with color blind casting to reflect the world as she really lived it, with people from a variety of racial, social, cultural, and religious backgrounds. Whether an episode hit hard on an important issue, or simply had the family of a sick patient happen to be a same-sex or biracial couple, her world reflected the diverse complexities of humanity. Among other things, the show has been praised for regularly featuring LGBTQ characters and issues within its central and supporting cast since early on.
While the show still maintains its fair share of soap opera storylines and steamy hook ups, and keep it fresh with a handful of young interns to shake things up each season, in many ways it has matured as Meredith Grey has. Over the years, the central ensemble has ebbed and flowed, with only four of the original nine still on the series—an original nine that included such names as Sandra Oh (Killing Eve) and Katherine Heigl (27 Dresses, Suits).
Considered a phenomenon by television critics and pop culture observers, the series has rarely dropped lower than the top 25 shows in the regular network seasons, and always ranks in the top 15 among the18-49 age group. In 15 years the show hasn't shied away from much, tackling grief and loss, alcoholism, abuse, immigration struggles, trans rights, PTSD, and a bevvy of challenges that people face due to medical and insurance bureaucracy. The drama may be crazy and over top, but often the day-to-day struggles seem very real.
Availability: Hulu, Netflix, with recent episodes on ABC.com; purchase or rent on Amazon Prime, iTunes, YouTube
Other Medical Dramas Online
Private Practice (52%/80%)
ABC, 6 seasons, ended
Before diving into the other current medical dramas, it would be remiss to not hit on the first Grey's spin-off, which followed Derek's ex, Dr. Addison Montgomery (Kate Walsh), as she moved from foggy Seattle to sunny Los Angles, and joined a prestigious private wellness center. The show co-starred Taye Diggs, Amy Brenneman, Audra McDonald, and Tim Daly. The second Shondaland property and it survived a respectable six seasons, crossing over several times to Grey's Anatomy.
Availability: Hulu, purchase or rent on Amazon Prime, iTunes, Vudu, YouTube, Google Play
Current Medical Dramas
The Good Doctor (87%)
ABC, 2 seasons, renewed
The Good Doctor is based on a highly successful Korean drama of the same name and focuses on Dr. Shaun Murphy (Freddie Highmore), a talented young surgical resident with autism who struggles to fit into his new job in San Jose, California. The show is produced by actor Daniel Dae Kim (Lost, Hawaii Five-O), who pushed to bring the series to American television, and appears in the second season. The show also stars Richard Shiff (The West Wing) as Shaun's mentor and friend Dr. Aaron Glassman, plus a highly diverse cast as the other doctors and hospital board members. The Good Doctor received mixed reviews from critics, who did agree on the strength of Highmore's performance. Advocates in the autism community have both praised and critiqued the show as well, arguing on both sides of the challenges of having a neurotypical actor in the role, as well as representation, given how broad the spectrum of autism is. At the end of the day, however, the caliber of the cast and emotionally compelling storylines have maintained a strong fan base and viewership.
Availability: Hulu, recent episodes on ABC, purchase or rent on Amazon Prime, iTunes, Vudu, YouTube, Google Play
The Resident (85%)
Fox, 2 seasons, renewed
Only in season two, The Resident is still finding its footing, but so far has a pretty strong following. The series stars Matt Czuchry (The Good Wife, Gilmore Girls) as brash third-year resident Conrad Hawkins. Both cocky and talented (in the vein of several other medical drama heroes), he frequently fights against hospital rules and tradition in his quest to aid his patients at Chastain Park Memorial Hospital in Atlanta, Georgia. Focusing more heavily on the red tape of the hospital industry than other series, it often deals with issues of medical malpractice, violations of medical ethics, and the bureaucracy of the health care industry.
Availability: Hulu, rent or purchase on Amazon, Vudu, YouTube, Google Play
Chicago Med(69%)
NBC, 4 seasons, ongoing
Launched in 2015, Chicago Med is the third show to make up the triad of creator Dick Wolf's (Law & Order) Chicago shows, joining Chicago Fire and Chicago P.D. While many of the characters cross over or have connections to characters in the other two series, the show is primarily focused on the emergency teams of doctors and nurses at the fictional Gaffney Chicago Medical Center in Chicago, similar to other shows, balancing plotlines of medical mystery and personal relationships.
Availability: NBC, Hulu, rent or purchase on Amazon, iTunes, YouTube, Google Play, and iTunes
New Amsterdam (34%/80%)
NBC, 1 season, renewed
The newest entry in the primetime medical drama, New Amsterdam is based on the nonfiction book Twelve Patients: Life and Death at Bellevue Hospital by Eric Manheimer. The series stars Ryan Eggold as Dr. Max Goodwin, the new medical director at the titular New Amsterdam, America's oldest public hospital, suffering from underfunding and understaffing. He is set on tearing down the hospital bureaucracy (notice a theme here?) and disrupt the status quo.
Availability: NBC, Hulu, rent or purchase on Amazon, YouTube, Google Play, and Vudu
Classic Medical Dramas
CBS, 11 seasons, ended
No list of top medical dramas would be complete without M*A*S*H. While often comedic, the show squarely lands in the comedy-drama department with its wartime setting and often-sudden serious turns. Focused on a team of Army surgeons in a mobile unit during the Korean War, the show dealt with the tragedy of war and life and death on a regular basis, despite its overall positive outlook. The beloved characters became icons of American television, and several went on to spin-off series, the most successful being another medical drama, Trapper John, M.D. M*A*S*H is still being syndicated, more than 45 years after its initial airing.
Availability: Hulu, rent or purchase on Amazon, YouTube, and Google Play
NBC, 6 seasons, ended
One of the most popular shows of the 80s, St. Elsewhere still regularly appears on top lists of the greatest TV shows of all time. In its day it earned critical acclaim and received 13 Emmy Awards out of 62 nominations. The series featured an ensemble cast, focused on teaching doctors and interns at an underrated Boston hospital, St. Eligius, nicknamed St. Elsewhere for its thin resources and low status among the hospital community. Known for its realistic and gritty visual style—not to mention infamous finale—St. Elsewhere held a small but loyal following in its day, led by the soon-to-be envied 18-49 age demographic.
Availability: Hulu, rent or purchase on Amazon, iTunes, YouTube, Google Play, and iTunes
ER (85%)
NBC, 15 seasons, ended
ER basically set the standard for the modern medical drama in the mid-1990s, building on the legacy of St. Elsewhere and running with it. Created by novelist and medical doctor Michael Crichton, it took NBC by storm in 1994, ER followed the critical cases and dramatic lives of the emergency room staff of County General Hospital in Chicago. It won 23 Primetime Emmy Awards, the Screen Actors Guild Awards for Outstanding Ensemble, and featured a few soon-to-be familiar faces including Maura Tierney, Noah Wyle, Julianna Margulies, Ming-Na Wen, and a little guy named George Clooney. ER made landmark television for a network drama in its fourth season when it aired an entire episode live.
Availability: Hulu, rent or purchase on Amazon, iTunes, YouTube, Google Play, and iTunes
CBS, 6 seasons, ended
Debuting the same week in 1994 as ER, David E. Kelley's Chicago Hope never quite reached the same level of success as its competition, but still received a steady stream of acclaim and a steadfastly loyal fan base. The edgy ensemble series was led by Mandy Patinkin (Homeland, The Princess Bride) as a hot-shot surgeon with a challenging family life, and Adam Arkin as his best friend and fellow surgeon, as well Hector Elizondo and Christine Lahti. The show embraced the talents of its cast when it took its own gamble and had a musical number (a similar gimmick was later used on Grey's Anatomy).
While Chicago Hope has previously been available on Hulu, it is currently not available through most streaming sites, but hopefully will return. In the meantime, the classic show can be acquired via DVD.
House (91%/96%)
Fox, 8 seasons, ended
In 2004, Fox brought the epitome of the cocky, abrasive, but brilliant doctor to the fore with House, starring Hugh Laurie. A medical genius with unconventional means and a dependency on pain meds, House leads his team of diagnosticians through a myriad of medical mysteries set in the fictional Princeton-Plainsboro Hospital in New Jersey while dealing with his exasperated hospital administrator (Lisa Edelstein) and beleaguered best friend (Robert Sean Leonard). Based loosely on Sherlock Holmes, House consistently ranked among the top 10 series for much of its time on the air, hitting the number one slot in the world in 2008, and garnering numerous awards along the way.
Availability: free streaming on NBC, iTunes, Amazon Prime, and Vudu; rent or purchase on YouTube and GooglePlay
Nurse Jackie(81%/86%)
Showtime, 7 seasons, ended
Edie Falco (The Sopranos) stars as Jackie Peyton, a New York City emergency room nurse fighting for quality care for her patients, all while dealing with her own dependency on Adderall and Vicodin. The darkly comedic drama deals with challenges of the health care system, as well as Jackie's own personal struggles, both at home, with medication, and fighting the red tape of medical bureaucracy. The series was a top favorite for its entire run, garnering over 20 Emmy Award and Golden Globe nominations.
Availability: Netflix, rent or purchase on Amazon, iTunes, YouTube, Google Play, and iTunes
Royal Pains (92%/70%)
USA, 8 seasons, ended
A young emergency room doctor is blacklisted from the hospital after being falsely blamed for a patient's death and finds himself a reluctant concierge physician to the wealthy Hampton set. Starring Mark Feuerstein (The West Wing, Prison Break) as Dr. Hank Lawson, the series looks at the world of doctors-for-hire to the rich and famous, and Lawson's struggle to find a balance between doing well for others, and well for himself. One of the highest rated shows on cable television, Royal Pains was the strongest show the USA network had since the popular favorite mystery series Psych.
Availability: Netflix, rent or purchase on Amazon, iTunes, YouTube, Google Play, and iTunes
Nip/Tuck (75%/81%)
FX, 6 seasons, ended
Ryan Murphy's Nip/Tuck took the medical drama in a much different direction than many of its predecessors. Incorporating elements of crime, black comedy, and psychological thriller, instead of medical mysteries and life or death in the emergency room, it focused on the goings on of a controversial and cutting-edge plastic surgery center run by doctors Sean McNamara (Dylan Walsh) and Christian Troy (Julian McMahon). Like much of Murphy's series, the show doesn't shy away from gore or camp, but still always delivers his shows with style, and dark and sexy Nip/Tuck was no exception.
Availability: rent or buy on Amazon Prime, as well as YouTube, iTunes, GooglePlay, and Vudu
Trailer: https://www.youtube.com/watch?v=J5j7aSh0UUQ
ABC, 4 seasons, ended
Okay, this series isn't actually available to stream (I know….) but it is worth a mention as a show that was critically lauded and still has a following among fans. Its unique perspective from the military women and civilians during the Vietnam War made it well loved, and perhaps some of the heart is because it is based on real experiences, from the book Home Before Morning, written by former U.S. Army Nurse Lynda Van Devanter. The series focuses on the Army doctors and nurses as well as Red Cross volunteers and civilians from several countries working in an Evacuation Hospital in Vietnam, and also follows many of the characters as they return to the U.S. It deals with the gritty, brutality of war and the struggles many have with PTSD upon reentry to civilian life.
ABC, 4 seasons, ended
Not all medical dramas are dark and gritty, as proven by the popular early 1990s show, Doogie Howser, M.D. Starring Neil Patrick Harris as a boy-genius-turned-physician, the series was never a critical hit, but dealt with big societal issues of the time, including AIDS, racism, and homophobia, through the lens of a teenage protagonist.
Availability: Hulu
Scrubs (85%)
NBC/ABC, 9 seasons, ended
Another entry in the comedy-drama category of medical shows, Scrubs had a unique first-person focus, with the running interior narration of Dr. John "J.D." Dorian (played by Zach Braff) for the majority of the show. His quirky, often comical daydreams and wacky adventures with best friend Turk (Donald Faison) lent a lighter air to the show most of the time, as did the dry and grumbling humor of costars Ken Jenkins and John C. McGinley. While the show often veered towards slapstick and comedic vignettes, it still frequently took a serious bent to deal with life and death situations with surprisingly somber finesse.
Availability: Hulu, rent or purchase on Amazon, iTunes, YouTube, Google Play, and iTunes
Honorary Mentions
If you've conquered all the classics and still need a little more binging, here are a few more options available streaming.
Marcus Welby, M.D. ABC, 1969-1976
This popular and Emmy Award-winning drama looked at a wise, kind-hearted family practitioner and his progressive young partner.
Availably: rent or buy on Amazon
Crossing Jordan, NBC, 2001-2007
A medical-crime hybrid, Crossing Jordan starred Jill Hennessy as Dr. Jordan Cavanaugh, a crime-solving forensic pathologist.
Availably: Amazon Prime
The Night Shift, NBC, 2014-2017
The title basically sets it up, with The Night Shift focusing on the doctors working the overnight shift in an emergency room in San Antonio.
Availability: Netflix
The Knick, Cinemax, 2014-2015
Technically more of a period piece, The Knick is a premium cable show set in 1900s New York City, at the innovative Knickerbocker Hospital, and deals with the struggles between the limitations of medical knowledge and practice and burgeoning medical innovation and discovery.
Availability: through Cinemax subscription, or Hulu or Amazon add-on option
Dr. Quinn, Medicine Woman, CBS, 1993-1998
Beloved by families, Dr. Quinn was a mid-1990s series focused on a female physician who leaves Boston to practice medicine in the Old American West, where she discovers adventure, love, and a family. A staple of the Hallmark Channel syndication.
Availability: Amazon
Need More Information?
If this article didn't answer your specific question, head over to our Home Page! It will guide you to affordable internet providers, streaming services to meet your needs, information on antennas, and many more tools and resources to help you save money on TV and Internet access.
For tips and tricks on cutting the cord and other tech topics be sure to join our Facebook Page.
Join Millions of Cord Cutters
Disclosure: Grounded Reason is supported by a small commission for purchases made through some product links on this website. We do not accept compensation from companies attempting to sway our review of products.