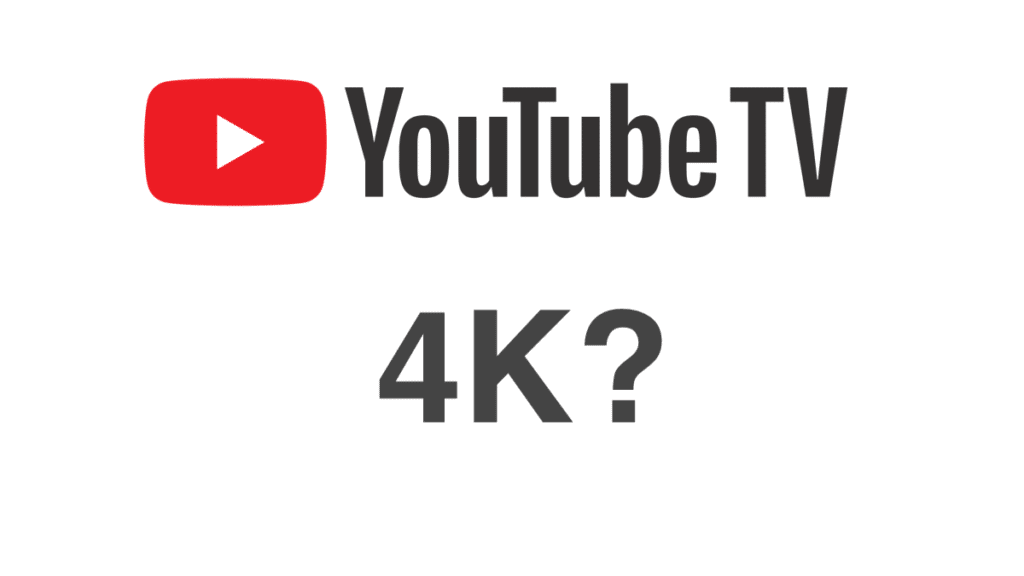 The basic YouTube TV package streams video in HD. Some content is streamed in 720p HD (high-definition), and some are streamed in 1080p HD. However, they now offer some 4K Ultra HD content through their new 4K PLUS ADD-ON feature. The new add-on provides the following features:
4K viewing on available content
Unlimited concurrent streams at home. See watching YouTube TV from multiple locations for clarification.
Ability to view DVR recordings offline for available content on mobile devices
The add-on costs an additional $9.99/month on top of your monthly YouTube TV subscription. You can sign up for YouTube TV on their website for a 1-week free trial.
Finding 4K Content on YouTube TV
To find programs offered in 4K quality, look out for the "4K" icon when browsing for programs on YouTube TV. You can also search for "4K" to view all available 4K programs. If you aren't subscribed to the 4K add-on package, you will be locked out of viewing the 4K content. If a program is offered in 4K, it will indicate "4K" availability when expanding the video info panel. You can also look for a specific Networks 4K offering on YouTube TV by looking to see if there is a 4K branded channel like "NBC Sports 4K," "ESPN 4K," and NASA 4K."
The following Networks will also have live and on-demand playback fo some content on YouTube TV
Discovery
ESPN
FOX Sports
FX
Nat Geo
NBC Sports
Tastemade
Devices Supported By YouTube TV in 4K
At the moment YouTube TV is supporting 4K resolution on the following devices
4K Smart TVs
4K Android TV models like Sony Bravia
Samsung, LG and HiSense 4K Smart TVs (2016 or later)
4K Streaming Devices connected to a 4K TV
Chromecast with Google TV
4K Roku Streaming Devices (Through the YouTube app)
Apple TV 4K (2021)
PS4 Pro
Nvidia Shield
Amazon Fire 4k Stick (1st Gen – 2018)
Note: 4K is only available on select content for Apple TV and PS4 Pro. Some programs may have lower resolution.
What is 4K
These HD standards (720p, 1080p, and 4K) measure the number of pixels in a video image. 720p and 1080p are the pixel height of the image in a 16:9 aspect ratio. 720p HD is a 1280 x 720 image resolution, while 1080p is 1920 x 1080 image resolution. However, the terminology changed with 4K. An image in 4K resolution is really 3840 x 2160, so you would think we would say 2160p. However, the term changed to 4K due to marketing purposes. "Twenty-one-sixty-p" doesn't really roll off the tongue, so they went with "4K," which refers to the pixel height being close to 4,000. Not only is "4K" a reference to the image's width instead of the height, but it's rounded to the nearest thousand instead of being a precise measure of the number of pixels. This is what happens when marketing makes the call.
Also note, while you will often see video content boasting "4K HDR", the terms are not synonymous. 4K is about the screen resolution, and HDR is a standard governing the number of colors your screen can render. See our article What is HDR for more information.