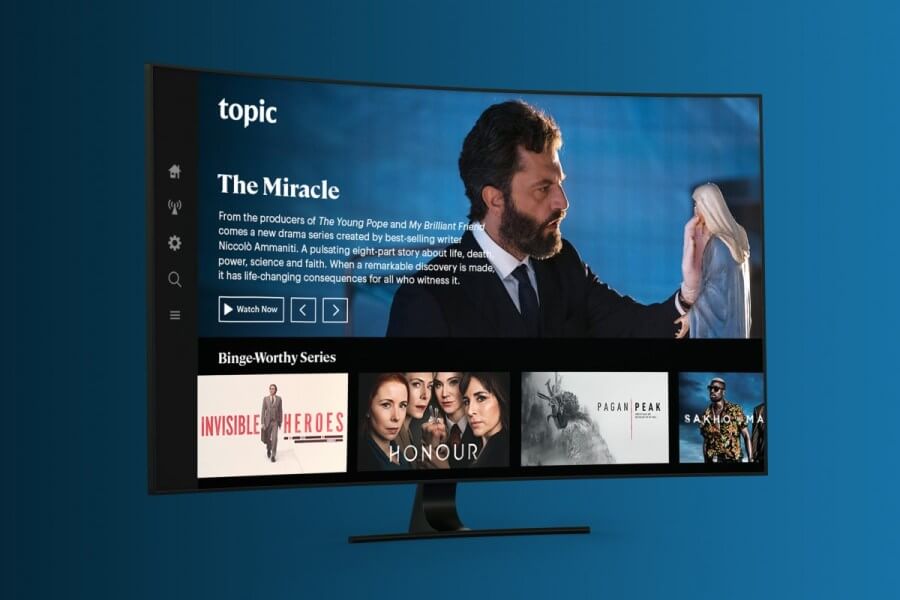 Can there be enough streaming options? In today's market, more and more niche streaming services are coming to the field, each trying to make its unique mark. And with the amount of content created continuously, there are plenty of media not picked up by the big names to give new services plenty to work with. Enter Topic, a new streaming service focused on international, art, and independent film and television series, which launched in November 2019.
Topic, developed by First Look Media, aims to be an ambitious name in unique storytelling and independent journalism. Originally launched as a photo and video site in 2017, Topic has evolved into a media streaming site. Among its menu of options are provocative specials, international indie films and series, and award-winning documentaries, as well as Topic Original productions.
How to get Topic
Topic costs $5.99 a month (after a 7-day free trial), or a discounted annual fee of $59.99, and viewers can sign up at Topic.com. Topic is also available as an add-on channel through Amazon Prime, which offers a 30-day free trial rather than the traditional 7-day.
In addition to the free trial, Topic is offering several series and movies from its collection for free without even signing up for the trial, so that viewers can try out the type of content they will get with their membership. Topic can be watched via an app for iOS, Apple TV, Android, Roku, or Amazon Fire TV, or via the website at https://watch.topic.com. With Topic, subscribers can watch all the content ad-free, and the service will soon be adding the ability to create multiple profiles and download and watch content offline.
Why try Topic
Topic's thought-provoking collection pulls from a truly international array of titles, with series and films from over 35 countries. Among the titles that are Topic Originals is the Swedish thriller Honour, in which a group of female lawyers fight to help victims of sex crimes. Comedies include Monogamishand Down from London, as well as several nonfiction art specials from comedian Hannah Gadsby.
Popular familiar titles from the United States include several leading documentaries such as I Am Big Bird and 12 O'Clock Boys, and the 2011 drama We Need to Talk About Kevin. Miss Jamie Oliver, the hot young British television chef of the early 2000s? Three of his cooking series can be found on Topic among the extensive collection of British titles.
In addition to searching by country or title, Topic offers numerous smart themed collections to help find exactly the niche you want. Collections range from Turning Points in History, Coming of Age, and It's Witchcraft! to Dreamers, The System, and Women Who Get S**t Done. This range of eccentric themes promises to help you find just the right watch.