Dennis is the editor in chief at Grounded Reason. Before writing about using technology to save you money he spent 20 years working in the tech sector as a sysadmin, an analyst, and an enterprise architect.

Latest posts by Dennis Restauro (see all)
It's exactly 2 months before the launch date of Disney's new TV streaming service, Disney+. (pronounced "Disney Plus") This article will cover what Disney+ will offer subscribers, what to expect as far as pricing, and what shows and movies Disney streaming fans will see on the service on the services' November 12th launch date and beyond.
What is Disney Plus
Disney+ is a Disney owned OTT (over the top) subscription-based streaming service. The service will provide video-on-demand content from Pixar, Marvel, Lucasfilm, National Geographic, and the recently acquired 20th Century Fox.
The name of the service it's pronounced "Disney Plus," but will be displayed "Disney+" on your streaming devices channel guide. Here are some of the important details about Disney's upcoming Disney+ streaming.
Disney+ Content at Glance
While we will go little more in-depth later in the article, here are some highlights of the exciting content coming to Disney+:
The entire Disney Movie Vault
Every Pixar Movie and shorts
All of Disney's Star Wars movies and TV shows will be moving to Disney+ within its first year of launch
All 30 seasons of The Simpsons
Over 5,000 episodes of Disney Channel shows (Includes Disney Jr, Disney XD, etc.)
A ton of Muppets Content
Original Shows and more which we will cover later in this article
Shows on Disney+ will be available in 4K HDR and ad-free. Subscribers will have the ability to create multiple profiles and download shows and movies to their devices to watch offline.
Disney+ Release Date and Price
Disney+ will launch on November 12th, 2019. It will offer direct-to-consumer streaming so you will not need a cable TV or satellite subscription to purchase. The service will cost only $6.99 per month. However, Disney+ will also have year-long subscriptions at the discounted price of $69.99.
Disney is also allow subscribers to bundle Disney+ with Hulu's streaming library and Disney's ESPN+ streaming service for just $12.99 /month.
Disney+ Supported Devices
Disney+ will be available to stream through smart TVs, web browsers, mobile devices, and game consoles. Disney has already secured deals with Roku and Sony for availability on Roku streaming devices and PlayStation game consoles. Here are all the devices Disney+ will support on its November 12th launch date.
iPhone, iPad, iPod touch and Apple TV
Android phones and TV devices
Playstation 4
Xbox One
Sony Smart TVs (Android based)
What Will Be On Disney+
Disney announced loads of original content being developed for the Disney+ streaming service. Here is a breakdown of when and what to expect from Disney+ when it comes to TV shows and movies.
Disney+ Newly Released Movies
Disney announced that once a Disney, Star Wars, or Marvel movie runs its course in the theater, it will exclusively be available on Disney+.
That means, you may want to consider subscribing to Disney+ if you want to watch any of the following once they go into their streaming release phase:
Captain Marvel
Dumbo
Avengers: Endgame
Aladdin
Toy Story 4
The Lion King
Maleficent: Mistress of Evil
Frozen 2
Star Wars: Episode IX
Original TV Shows
Disney has an entire slate of TV shows it's looking to release on Disney+ when it launches on November 12th. Here are some of the highlights.
The Mandalorian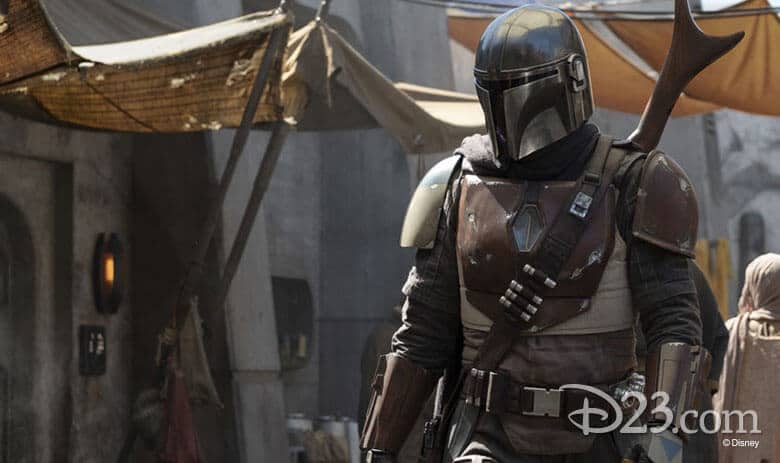 I've been craving a Star Wars Bounty Hunter movie since I first saw Boba Fett in Empire Strikes Back when I was a kid. The Mandalorian TV series may be better than I imagined.
The 8 episode series will focus on a Mandalorian bounty hunter similar to Boba Fett. The timeline will take place about five years after the fall of The Empire in Return of the Jedi. It will be the first time we see this period of the Star Wars universe on screen.
The Mandalorian will be the first live-action Star Wars series and it is written and produced by Iron Man director Jon Favreau. This series will be available on launch of the Disney+ streaming service in November.
Disney could take my $6.99 per month on the movies and this series alone, but there is so much more that will be available.
Mandalorian Trailer
The Falcon and The Winter Soldier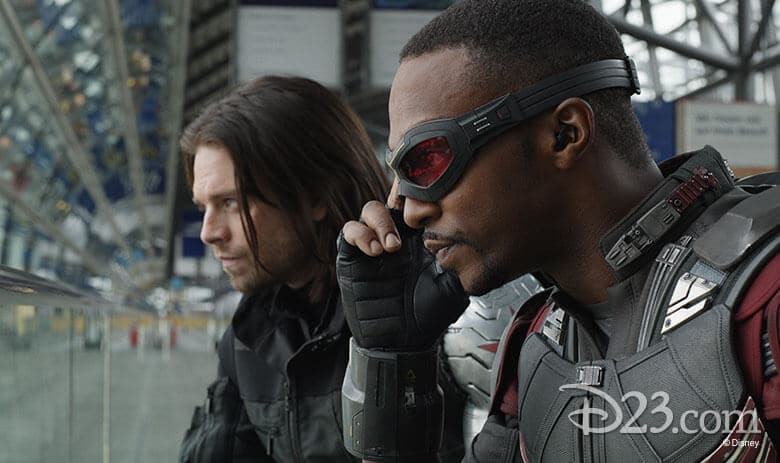 Anthony Mackie will return as Falcon and Sebastian Stan will reprise his role as Winter Soldier in the new Marvel Studios series. This show is planned to be released sometime in the first year after the service launches in November.
Untitled Cassian Andor Series
Diego Luna will reprise his role of rebel spy Cassian Andor from Rogue One: A Star Wars Story. The intended spy-thriller series will be set during the formative years of the Rebellion before the events of Rogue One.
The show will explore tales filled with espionage and daring missions to restore hope to a galaxy in the grip of a ruthless Empire. The best part about this series is Alan Tudyk will reprise his role as K-2SO.
Expect to see this series released within the first 2 years of the launch of Disney+.
Other Planned Series
There are loads of top-notch talent set to helm shows on the upcoming Disney+ service. Including:
Loki: Within two years of the launch of Disney+ Tom Hiddleston will reprise his role as Loki in a new Loki series.
WandaVision: Elizabeth Olsen will return as Wanda Maximoff and Paul Bettany will reprise his role as The Vision in the new Marvel Studios series. The Wanda and Vision series is expected within the first two years of the Disney+ service.
Monsters at Work: This animated series is set in Monsters Inc. and will follow Tylor Tuskmon, a monster mechanic working his way up the within the company. This is set to release in the first year.
Marvel's What If…? This animated series slated for year 1 takes inspiration from the comic books of the same name. Each episode will explore a moment from the Marvel Cinematic Universe ask the question, "What if something else happened" and leading the audience into a Marvel reality they've never seen.
Disney+ Movie and TV Library
In addition to new move releases and original TV shows, Disney plans to have an on-demand streaming library of movies and TV Shows. This will include Disney owned and licensed content like The Simpsons.
By the end of year one, Disney+ will house more than 7,500 episodes of television and 500 movies. Below is a sampling of content available at launch:
FILMS:
101 Dalmatians
A Bug's Life
A Goofy Movie
An Extremely Goofy Movie
Bambi
Bao
Big Hero 6
Born in China
Cars
Fantasia
Finding Dory
Finding Nemo
Free Solo
Frozen
Fun and Fancy Free
Hercules
High School Musical
Honey, I Shrunk the Kids
Inside Out
Iron Man
Lady and the Tramp
Lilo & Stitch
Mary Poppins
Mickey, Donald, Goofy: The Three Musketeers
Mickey's Once Upon a Christmas
Moana
Monsters University
Pirates of the Caribbean: The Curse of the Black Pearl
Pixar Short Films Collection Vol 1
Ratatouille
Remember the Titans
Rogue One: A Star Wars Story
Sleeping Beauty
Snow White and the Seven Dwarfs
Star Wars: Episode I: The Phantom Menace
Star Wars: Episode II: Attack of the Clones
Star Wars: Episode III: Revenge of the Sith
Star Wars: Episode IV: A New Hope
Star Wars: Episode V: The Empire Strikes Back
Star Wars: Episode VI: Return of the Jedi
Star Wars: Episode VII: The Force Awakens
Star Wars: The Clone Wars (2008 film)
Steamboat Willie
The Good Dinosaur
The Incredibles
The Little Mermaid
The Parent Trap (1961)
The Prince & The Pauper (1990)
The Princess Diaries
The Rocketeer
The Sorcerer's Apprentice (short)
The Sword in the Stone
The Three Caballeros
Thor: The Dark World
Toy Story
Tron (1982)
Up
Wall-E
Zootopia
TELEVISION SERIES:
Amazing Planet
Andi Mack (seasons one–three)
Boy Meets World
Brain Games
Dog Whisperer with Cesar Millan
Dr. K's Exotic Animals
Dr. Oakley Yukon Vet
Drain the Ocean
DuckTales (1987)
DuckTales (2016, season one)
Earth Live
Goof Troop
Great Migrations
Howie Mandel's Animals Doing Things
Kim Possible
Malcolm in the Middle
Marvel's Guardians of the Galaxy (animated series)
Marvel's Ultimate Spider-Man (animated series)
Mickey and the Roadster Racers (seasons one and two)
Mickey Mouse Clubhouse
Mickey Mouse Shorts
One Strange Rock
Raven's Home
Rocky Mountain Animal Rescue
Star Wars Rebels
Star Wars: The Clone Wars (2008 series)
That's So Raven
The Incredible Dr. Pol
The Simpsons
Unlikely Animal Friends
Wicked Tuna
For everything announced on Disney+, check out this D23 guide.
Need More Information?
If this article didn't answer your specific question, head over to our Home Page! It's designed as a guide to our most important articles to help you ditch pay TV.
For tips and tricks on cutting the cord and other tech topics be sure to join our Facebook Page and follow us on Twitter @Grounded Reason.
Grounded Reason Top Deals of The Month
With 58 live channels and a cloud DVR for just $20 per month, Philo TV is one of the best deals you 'll find online. Try a Free Trial to Philo Now! No credit card required!
With online threats on everyone 's mind, you need access to a quality VPN to keep your identity anonymous, protect your online privacy, and open up content online. This 70%-off deal from NordVPN sets you up with a quality VPN for only $3.49 per month!
Join Millions of Cord Cutters
Disclosure: Grounded Reason is supported by a small commission for purchases made through some product links on this website. We do not accept compensation from companies attempting to sway our review of products.