While I've mentioned Hulu in my articles on cable TV alternatives,  today I'm going to provide you with everything you need to know about Hulu. I'll provide details on Hulu's Live TV service and the original On Demand streaming library. Ultimately this will help you determine if the content available through Hulu is worth the monthly cost.
What is Hulu TV
Hulu is an internet based TV streaming service that boasts one of the largest TV show library available online today. Hulu also offers a Live TV service that combines with their immense streaming library of shows.
Hulu is a joint venture between Fox, NBCUniversal, and Disney that provides online TV shows and movies to Internet-connected devices. Most shows on ABC, Fox, NBC, and The CW are available one day after they air their national broadcast. If you purchase the Hulu Live TV option you can watch shows as they air.
While Hulu is ad-supported, there are options that will allow subscribers to completely avoid watching commercials when streaming on demand. Hulu also offers a back catalog of movies and TV shows originating on cable and network television. They have also recently developed a strong stable of original content, including their newest hit, The Handmaid's Tale.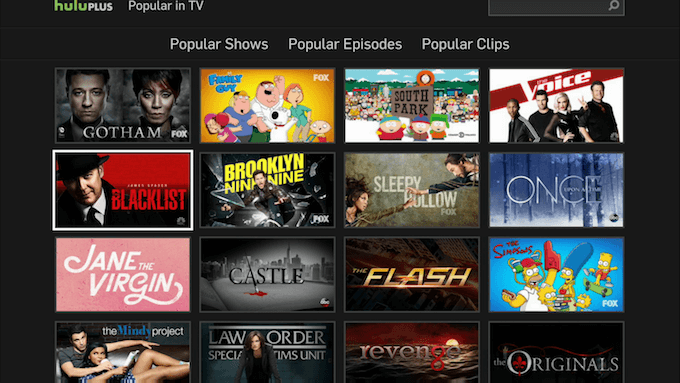 How Much Does Hulu Cost
Customers have a few choices when it comes to services. The decision depends whether you want live TV along with streaming and if you want to watch on-demand content "ad-free." The first plan costs $7.99 per month and includes "limited commercials". The other option costs subscribers $11.99 per month and provides users with an "ad-free" experience.
New customers can sign up for a 1 month free trial for their on demand service.
The price of the Hulu live service is $39.99 a month. However, that includes the original Hulu service with commercials. If you want "ad-free viewing" on the original Hulu library, the cost of the live service is $43.99
I've put "ad-free" in quotes as there are some shows that air commercials before and after the show. Otherwise, the show streams uninterrupted. This is due to licensing agreements with the content providers. The following shows fall into this category: Grey's Anatomy, Once Upon A Time, Marvel's Agents of S.H.I.E.L.D., Scandal, New Girl, Grimm, and How To Get Away With Murder.
The price of the Hulu live service is $39.99 a month. However, that includes the original Hulu streaming service (the on-demand library) with commercials. If you want commercial free viewing on the original Hulu library, the cost of the live service is $43.99
Hulu also provides a way to watch Showtime without cable. Subscribing to the Showtime add-on service through Hulu provides everything Showtime offers to its pay TV subscribers without having to carry the weight of a cable TV subscription. It's available with both the Hulu Streaming Library and the Hulu Live TV Service.
Once signed on to the on-demand service, you can upgrade to Live TV and other add-ons. The table below shows how much Hulu costs per month for each service.
| Monthly Price | Simultaneous Streams | Service Description |
| --- | --- | --- |
| $7.99 | 1 | Hulu On Demand with ads |
| $11.99 | 1 | Hulu On Demand without ads |
| $39.99 | 2 | Hulu Live TV and On Demand with ads |
| $43.99 | 2 | Hulu Live TV and On Demand without ads |
| add $14.99 | 2 | Hulu Live TV – add Enhanced DVR |
| add $14.99 | Unlimited | Hulu Live TV – add Unlimited Streams |
Hulu Streaming Library
While Hulu just released their Live TV service in 2017, their original streaming library is still available to customers. The streaming library airs the current season of most hit shows airing on ABC, NBC, Fox, CBS and The CW. New episodes are typically available for streaming one day after they air on their respective networks. This means you can watch the latest seasons of shows like "Empire", "Brooklyn Nine-Nine, "The Flash", "Modern Family", "The New Girl", "Once Upon a Time", and more.
In addition to the latest episodes of network TV, Hulu provides thousands of episodes of hit TV shows on cable. Granted, many are on a one season delay. Meaning Hulu won't provide a season until it's roughly a year old. However, there are a few exceptions. If this is a concern, you may want to look into the Hulu Live TV service which I'll get to in a moment. It includes a cloud DVR for recording shows.
Hulu also has a fairly decent arsenal of original programming. Shows like "The Handmaid's Tale", "The Path", "Difficult People",  and "The Mindy Project" are only available on Hulu, adding additional value to the service.
In addition to a vast library of TV shows, Hulu also offers a decent selection of movies.
Hulu Live TV Service
Hulu live TV is available on Android, iOS, Xbox One, 4th Gen Apple TV, Chromecast. Hulu provides a 1-week free trial for you to test drive the service. The free trial includes the upgraded DVR and Unlimited screens upgrade explained in the "Hulu Live TV Features" section below.
What Channels are On Hulu
Hulu will offer the following cable channels on its live TV service: A&E, Boomerang, Bravo, BTN, Cartoon Network, CBS Sports Network, Chiller, CNBC, CNN, CNNi, Disney, Disney Junior, Disney XD, E!, ESPN, ESPN2, ESPNEWS, ESPN-U, Food Network, Fox Business, Fox News, FreeForm, FS1, FS2, FX, FXM, FXX, FYI, Golf, HGTV, HLN, Lifetime, Lifetime Movie Network, MSNBC, National Geographic, Nat GEO Wild, NBCSN, Oxygen, Pop, SEC Espn, Sprout, Syfy, TBS, History, Travel, TNT, TruTV, Turner Classic Movies, USA, Viceland.
Hulu will offer live local CBS, NBC, ABC, and FOX where they have deals with the local affiliate. They will also have On-Demand offerings. They have a great tool on their page that explains the channels you will receive in your zip code.
Hulu Live-TV Features
The basic package comes with 50 hours of cloud DVR storage. You can upgrade to 200 hours and gain the ability to fast-forward through recorded commercials for an additional $14.99 per month.
Watch on 2 screens at once. You can upgrade to unlimited screens for $14.99 per month. This upgrade also gives you 3 screens while away from your home network.
Comes with 6 customizable profiles
Includes entire Hulu streaming library
How to Watch Hulu On TV
Hulu's Live TV service is currently supported on Android, iOS, Xbox One, 4th Gen Apple TV, Chromecast. Hulu announced more devices will be supported in the future. However, Hulu's streaming library is supported by the following popular streaming devices
iOS, Android, and Windows Smartphones and Tablets
Xbox 360, Xbox One, Playstation 3 and 4, Wii and Wii U
and much more
Here is a full listing of devices supported by Hulu. If you do not have one of these streaming devices, Hulu is supported by the major computer browsers. Therefore, you can simply hook your laptop or PC to your television and use your TV as a monitor. I explain how to do this in my guide on How to watch Netflix on your TV. Hulu is supported on the following browsers: Internet Explorer 10 or above, Firefox 15 or above, Safari 5 or above, Chrome, or Edge.
How Does Hulu Work
Once you subscribe to Hulu, you are provided with a one-week free trial.  If you cancel your subscription in the trial period you will not be charged a subscription. After that, you are charged monthly and can cancel at any time with no penalty.
Depending on the device you are using, setting up Hulu may vary. However, in all cases, it's very straightforward. Setup typically involves downloading an app to the device and simply logging in with the username and password you used when you signed up for Hulu.
The service itself is extremely stable. I've been a subscriber for over 2 years and have never had an issue. I can't even remember ever having an instance when a show was dropped or even buffered. Hulu is one of the most dependable streaming services I have ever used.
Content on Hulu is 720p HD when available. In other words, if the show has availability in 720p high definition, Hulu will offer it in that resolution. To stream Hulu in 720p HD it's recommended you have an internet connection speed of at least 3 Mbps. However, you can stream in standard definition with just 1.5 Mbps without much buffering.
I'm a Hulu Subscriber and find the service to be well worth the money. I currently have the $11.99 per month ad-free streaming subscription. With that said the quality of service and content available make Hulu On Demand a great value at either price. If Hulu has the content you want, it's well worth the price. Hulu is easily a top-notch 5-star streaming service.
Overall, Hulu Live-TV offers all the bells and whistles you would get with a Multi-room HD\DVR cable subscription. However, that price tag comes to around $75. I see this option as less for cord cutters, and more for those looking to not have a year long contract with a cable provider. I personally find it a much better deal than cable TV
Hulu Frequently Asked Questions
Being a popular service, I get a ton of questions about Hulu. You can find the answer to all of them below.
Does Hulu Offer a Free Trial
Yes, You can try the Hulu On Demand service free for 1 month. The Hulu Live TV service offers a 1-week free trial.
What Shows Are On Hulu?
Readers want to know what's on Hulu. Of course, the Hulu Live TV service will offer all the shows on the networks the service carries. As for their streaming library, there are a ton. There are original shows like  "The Handmaid's Tale", "The Path", "Difficult People",  and "Chance."
There are network and cable TV hits like "This is Us", "Empire", "Brooklyn Nine-Nine, "Inside Amy Schumer", and "Fargo"
There are also a ton of classic TV shows available like "Seinfeld", "Arrested Development", "Cheers", "Twin Peaks", and more.
There are too many shows available to list here. If you want to know what to watch on Hulu, this website does a great job of keeping track of new movies available on Hulu.
What is Hulu Plus?
Hulu Plus or (Hulu+) no longer exists. When Hulu first started, they would offer a free version that you could watch online. The Hulu Plus version was a paid version of Hulu that opened up more content and provided customers with the ability to use mobile and streaming devices.
How Many Devices Can you Have On Hulu?
Hulu's on demand service only allows one stream at a time. However, that stream can be on any supported device you choose.
The Live TV service allows 2 simultaneous streams. The Live TV service also allows you to upgrade to unlimited screens for an extra $14.99 per month.
How Many People Can Watch Hulu at the Same Time?
The Hulu Live TV service allows for 2 simultaneous streams per account, while the on-demand service allows one stream. To clarify, this does not mean you can watch 2 live streams and 1 on-demand stream at the same time. Customers with the live service are capped at 2 simultaneous streams. However, those with Hulu Live TV service opting for the unlimited screens feature (+$14.99 per month) can have as many people watching at the same time as long as they are part of the same household.
Why Does Hulu Have Commercials?
Hulu provides an ad-free option to On-Demand streaming. However, the live service will include ads. Even with the ad-free service, a few shows will have an ad at the beginning of the show. This is due to licensing agreements with the owner of the show.
How Do You Cancel Hulu?
It's extremely easy to cancel Hulu. Simply follow these steps.
Log in to your Hulu account.
Click on your profile name in the top right-hand corner of the page.
Under Your Subscription, click "Cancel Subscription."
Provide a reason for canceling
Finalize your cancellation.
It will cancel at the end this billing cycle. (Usually within 30 days at most.)
For tips and tricks on cutting the cord and other tech topics follow Dennis on Twitter @GroundedReason. You can also join the conversation on our Facebook Page
.
Disclosure: Grounded Reason is supported by a small commission for purchases made through some links on this website. I only accept compensation from companies for products I support. I will not accept compensation from companies attempting to sway my review of products. All thoughts and opinions expressed are my own.
If you enjoyed this article, please subscribe in the sidebar to the right and we will notify you when new articles are published. If you are using a mobile device, click subscribe to Grounded Reason to get to the sign-up.