Latest posts by Dennis Restauro (see all)
Lately, I have been getting questions regarding the fundamentals of cord-cutting. People don't have the time to dig through tech articles looking for a way to watch TV without cable. With that in mind, I decided to put together a post covering every facet of every version of the Roku streaming device.
Contents
What is Roku?
Simply put, Roku allows you to watch free and paid video content on your TV via the Internet. TV and movie streaming services like Netflix, Amazon,  Hulu, Sling TV, YouTube, and others download on to Roku devices, similar to how apps load onto a smartphone. While the majority of the content is prerecorded, services like Hulu allow a lot of content to be viewed just one day after its initial airing on television. Furthermore, apps like Sling TV enable content to be watched live as it airs.
While it sounds like something to replace Zumba as the latest exercise craze, the "Roku box" (as some call it) is the easiest way to stream video to your television. Roku is a small square device for your television used to watch movies and TV shows through apps (also called channels.) For those looking to buy a new TV, a Roku TV has all the functionality of a Roku built into a quality TV.
When Roku came out in 2008, the only streaming service available was Netflix. Now, streaming internet TV has enjoyed widespread adoption. Today, there is very little content available on cable TV that you can't stream with a Roku and watch on your TV.
Roku offers the following seven streaming devices. There are five set-top streaming boxes, the Roku Ultra, Roku Premiere, Roku Premire+, Roku Express, and Express+. Then there are two sticks, the Roku Streaming Stick and Roku Streaming Stick Plus.
Roku has unleashed not only a deluge of streaming devices but new functionality available in the Roku operating system. Furthermore, two of the devices support High Dynamic Range (HDR) video on HDR-compatible TVs. In a nutshell, it greatly improves picture quality through increased brightness and color ranges.
All new Roku devices are currently available on Amazon. Let's go over the differences between each version so you can see which one is right for you.
Back to top
Roku Comparison
Before I compare the differences between each Roku streaming device, let's cover what they have in common. The most important of which is the Roku OS software on each Roku box is the same. This means you will have the same channel availability and user experience no matter which Roku device you choose. I'll cover the Roku OS features later in the article.
In addition to the Roku OS user interface, Roku boxes have the following features in common:
Each Roku version has access to over 3,000 channels
All Roku boxes can connect to the TV via an HDMI cable (not included)
All Roku devices fully support 1080p HD video.
Control all Roku devices with the free Roku Mobile App
Each Roku also supports wireless internet connections in 802.11 (b/g/n)
Each Roku comes with a remote control.
I'll cover these features in more detail in a moment, but first, let me describe the differences between each Roku version.
New Roku Streaming Stick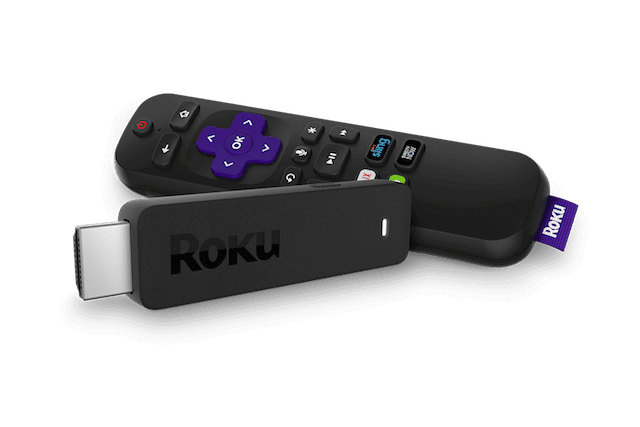 While Roku is known for their boxes, the company also has a line of Roku Streaming Sticks. They weigh less than an ounce and simply plug into the back of your TV's HDMI port.
The standard Roku Stick is priced at $49.99 and offers all the functionality above. Furthermore, it includes a voice search enabled remote that has power and volume control that will work with your TV. This stick also adds support for 802.11ac wireless.
The Roku Streaming Stick Plus is available for $69.99 and offers HDR and 4K  video at 60 frames per second. It also boasts more Wi-Fi range. These functions are in addition to what you will receive with a standard Roku Streaming Stick. Check out my Roku Streaming Stick Review for details.
Why should you get the Roku Streaming Stick?
If you want to stream at a good value, then the Roku Streaming Stick is a good choice.
Roku Ultra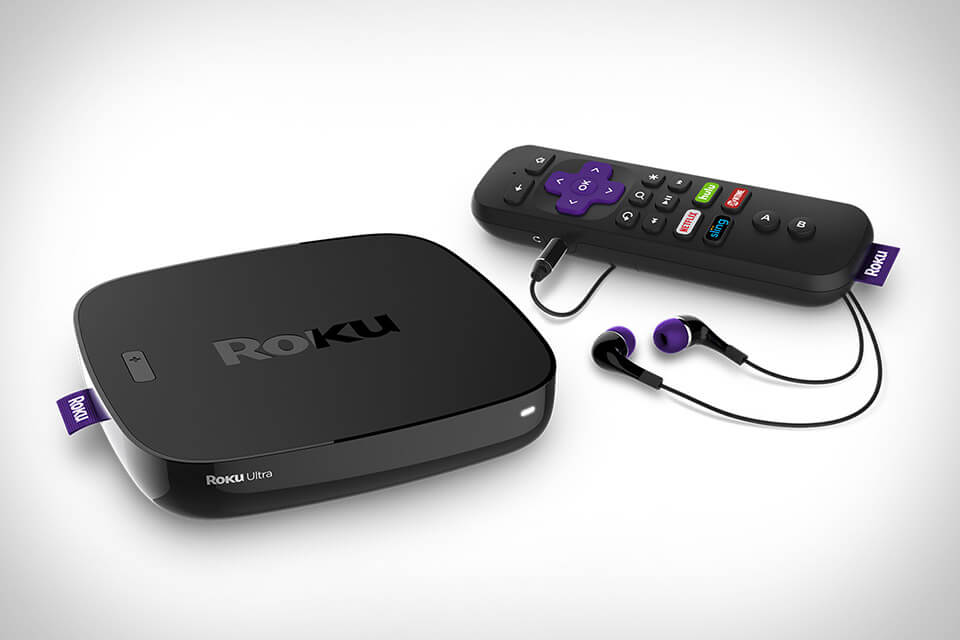 The Roku Ultra is priced at $99 and is the top tier Roku devices. The 2019 Roku Ultra (release date of 10/11/19) boasts more internet memory and an enhanced processor. It has the most powerful processor of any of the new Roku devices. It also includes the following functionality:
USB Storage – The Roku Ultra allows its USB port to play video from an external hard drive. Roku Ultra supports FAT16, FAT32, NTFS, and HFS+ drive formats.
Optical Audio – This will allow you to connect your Roku Ultra to your home audio system.
Enhanced Voice Remote – Want to search for your favorite TV shows and movies without typing? Then press the voice search button and say the title. While experimenting with voice search, Roku was able to find well-known movies and TV shows about 90% of the time. The 2019 Ultra remote has the following features:
Two shortcut buttons you can personalize to launch your favorite streaming apps.
headphone jack for private listening
voice search button
control your TV with volume and mute buttons
an instant replay button to rewind and play the last 20 seconds
Premium JBL Headphones – The Ultra includes top of the line JBL headphones to use with your Roku Enhanced Voice Remote.
Remote Finder – Press the button on top of the Roku Ultra, and your remote will begin beeping alerting you to its location. This function is a necessity in my house.
Roku Ultra Specifications
The Roku Ultra comes with the Roku Advanced remote with batteries, headphones for private listening, a USB cable, and a power adapter. In addition to the exclusive functionality already mentioned, the Roku Ultra also does the following:
802.11ac MIMO dual-band wireless
10/100 Base-T Ethernet
720p, 1080p, and 4K UHD with HDR video at 60 frames per second
Night listening mode
MicroSD card slot for additional channel storage
Advanced point anywhere remote with voice search, headphone jack, and gaming buttons
IR receiver for universal remotes
Dolby Audio pass-through via HDMI
Who Should Purchase the Roku Ultra
If you are looking for any of the exclusive functions offered by the Roku Ultra, then it's the obvious choice. Those looking to upgrade your older Roku should also look at the Roku Ultra.  Otherwise, unless you want the added processing power the Ultra offers, then you may want to consider a Roku Streaming Stick.
Roku Premiere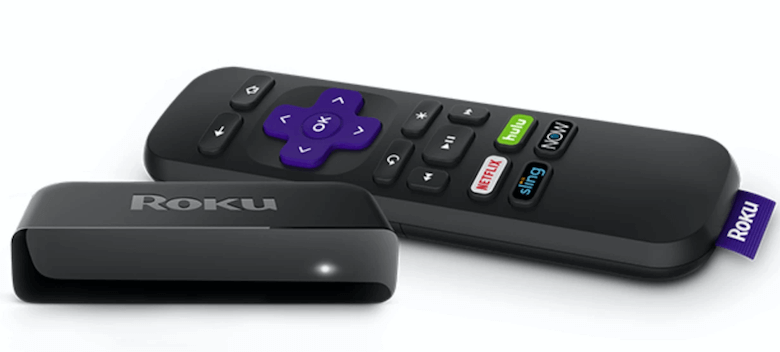 The Roku Premiere features HDR and 4K video at a fantastic price point of $39.99. You may be able to find a Premiere+ that retails at $49.99. The only difference between the two is the remote. The Premiere+ comes with the advanced remote with voice search and volume control buttons for your TV. I recently did a review of the Roku Premiere line, so check it out for more detail.
Who Should Purchase the Premiere or Premiere+
People looking for an affordable lightweight streaming device that handle 4K UHD resolution and HDR should purchase the Premiere+. No one should purchase the Premiere because the advanced remote you get with the Premiere+ is well worth the extra $10. You can check out these products on the Roku Website.
Roku Express and Express+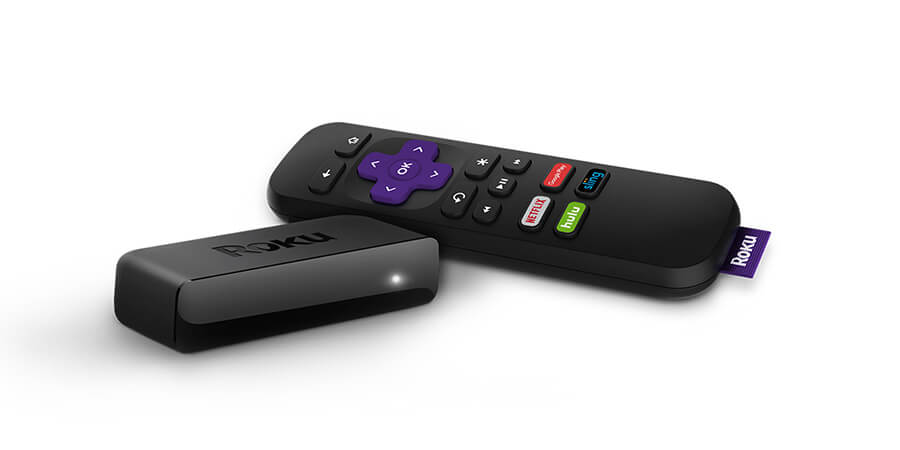 These devices from Roku are the entry-level products from Roku. The only difference between these two devices is the Roku Express+ comes with composite A/V Cables for older televisions. Those are the older red, white, and yellow cables that were prevalent before the advent of HDMI.
Therefore, the Roku Express+ supports the older 480i video standard. However, that backward compatibility will cost an extra $10 as the Roku Express retails at $29.99 and the Express+ for $39.99.
The 2019 Roku Express (released on 10/11/2019) boasts more memory and faster memory than the 2018 devices. Roku is yet to announce a 2019 Express+.
Both the Express and Express+ come with, the Roku Standard IR Remote with channel shortcut buttons, two AAA batteries, a removable adhesive strip for mounting, a High-Speed HDMI cable, a power adapter & micro USB cable (for power). The Express+ also includes a Composite A/V cable (red/white/yellow).
While the Express and Express+ do not support Ethernet, they do support the Wi-Fi and are b/g/n compatible.  They also support WEP, WPA, and WPA2 wireless security. Both support 720p and 1080p video and Dolby Audio pass-through via HDMI.
Who Should Purchase the Roku Express or Express+
If you have an older TV without an HDMI port, then the Roku Express+ is your only option as it supports component A/V cables. Otherwise, the Roku Express is perfect for those that want a wireless streaming device with no frills.
The Express works best as a stationary streaming device.  If you plan on moving your device around to multiple TV's or want to take your Roku with you when traveling, I would recommend the Roku Streaming Stick.
Keep in mind that these devices cap out at 1080p video resolution. If you want 4k video, I'd recommend one of the higher tier Roku devices.
How Roku Works
Roku plugs into your TV using an HDMI cable, connected from your TV to the Roku device. Roku connects to the internet via a wired or wireless connection to your home network.
Roku works by downloading video from the internet, you then watch on your TV. The video isn't saved as it's watched while Roku downloads or "streams" the video. Apps or "channels" are programs you load onto your Roku device that provide you with various movies and TV shows. This works much like installing apps on a smartphone or tablet.
While majority of channels on Roku stream on demand, there are now quite a few live streaming services available.
In most cases, the shows are recorded, stored by the channel provider, and streamed to your Roku. This differs from the live TV experience you receive with cable TV. However, with a Roku and the right channels, you can watch a majority of your favorite shows. You just watch one day later.
Roku gives you the power to decide what shows you want to watch, and when you want to watch them. It's like watching TV as if everything is on-demand. Since Roku greatly expands your on-demand options, you may even want one to supplement your cable subscription instead of replacing it. I'll go into more detail on that later in the guide. .
What Channels Does Roku Have?
They have come a long way in 7 years. Since 2008, Roku has gone from one channel to over 3000 channels. Broadcast networks like Fox, ABC, CBS, and NBC can be seen on Roku through Hulu Live TV or CBS All Access channels.
If you are looking to watch live cable TV networks like AMC, ESPN, TBS, HGTV, HBO, and others, then check out our comparison of live TV streaming services. It covers all the following live TV streaming apps:
On September 6th, 2017, Roku released The Roku Channel, which offers movies and TV for free.
At first, I thought these many options would be overwhelming, but that isn't the case. You choose which channels are available on Roku. Only a handful of the most popular channels come already installed on the device.
Here are some other examples of other top Channels available on Roku:
Movies and TV: Netflix, Hulu TV, Amazon Instant Video, Sling TV, VUDU, M-GO, Disney, PBS, HBO GO, Crackle TV, PBS, Google Play Store and more
News: CBS News, Fox News, Sky News, The Blaze, Weather Nation, and more
Sports: ESPN+, MLB.TV, NBA League Pass, NHL Game Center, NFL Now, WatchESPN, WWE Network, UFC Online, and more
Internet: YouTube, Break, Vimeo and countless niche channels
Plex: Roku supports Plex Media Server with an official Plex channel. I recommend picking it up if you are interested in streaming your private media. It's easily the best way to view personal content on a Roku device.
Aside from video content, there is a plethora of music Roku channels to choose from, like Pandora, Spotify, and Slacker. There aren't enough hours in the day to enjoy all the available content on Roku's numerous channels. Check out this link for more information on the top Roku channels.
How To Add Channels To Roku
Installing channels on Roku is easy. From the "Home Menu" scroll down to "Streaming Channels" and click the purple "OK" button on the remote.
This navigates you to the Roku Channel Store (don't worry, most are free to install). As you can see by the picture below; there are numerous options to find channels.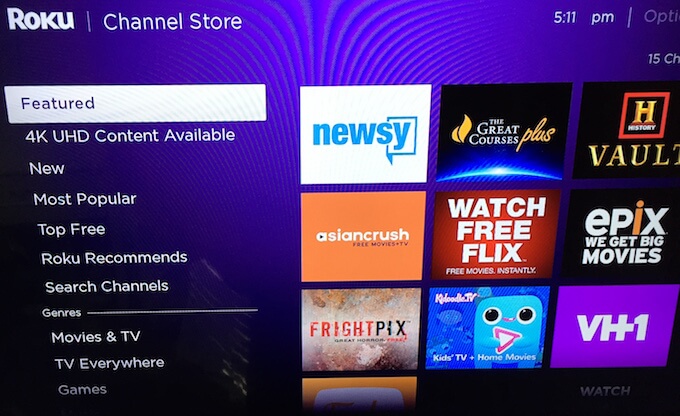 You can use "Search Channels" to search by typing in a search term or use any of the other search options available. Once you find a channel navigate to it with the arrow keys on the remote and press the purple "OK" button. From there, the channel will install and be available on your home screen.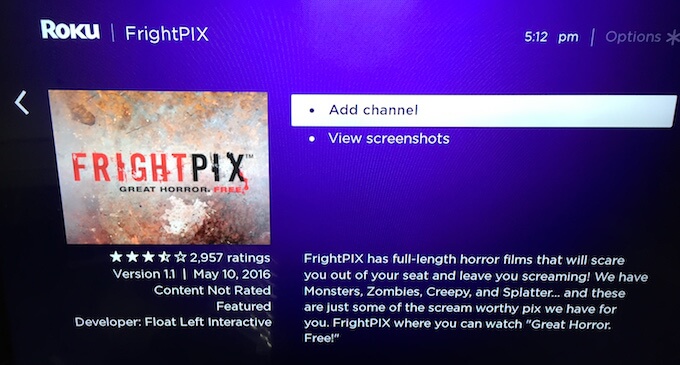 It's as easy as installing an app on a smartphone.
Roku OS Features
Roku OS is the user interface available on all Roku versions. Some of the following functions are not available on all versions. I'll let you know when that is the case. Roku OS provides cross-platform search, voice search, and other software features.
New Roku OS Features
If you have Roku OS 9.2 (released October 2019) or greater, your Roku can do the following:
You can now control multiple Roku TVs and Devices through Amazon Alexa and Google Assistant
Search for 4K by either saying or typing "4K" with your search query
Search movies by using a famous quote from the movie
Roku TVs now have a sleep timer to turn off your TV at a stated time
Voice Search now works to find and control personally stored music, movies, and photos through the Roku Media Player
Cross-Platform Search
This feature is available on all versions. When you search for an actor or title, it searches about 20 apps and tells you which apps have the show available. Furthermore, Roku indicates whether you have free access to it through a subscription or have to rent or purchase the program.
As of this post Roku cross-platform search supports Acorn TV, Amazon Video, Blockbuster On Demand, CBS All Access, CinemaNow, Crackle, Fox Now, FX Now, HBO Now, Hulu, M-GO, Met Opera On Demand, Nat Geo TV, Netflix, Popcorn Flix, SnagFilms, STARZ PLAY, Time Warner Cable, Tubi, and Vudu.
Voice Search
The voice search functionality is top-notch. It's only available through the remote that comes with the Roku Premiere+ and  Ultra. While experimenting with voice search, my Roku was able to find well-known movies and TV shows about 90% of the time.
I found when issues occurred; it was due to the way the movie is titled as opposed to Roku understanding my voice. For example, I would say "The Avengers", but the live-action blockbuster could not be found. However, if I said "Marvel's The Avengers", Roku knew exactly what I wanted.
If you have Roku OS 9.2 (released October 2019) or greater
Roku My Feed
Available on all Roku versions, "My Feed" is a feature that allows you to organize the content you watch on your Roku. Simply follow your favorite show and Roku will let you know when a new episode is available. Say goodbye to having to check various apps to see if the new episode of your favorite TV show is now available.
The Roku App
The free Roku mobile app is a great app that I recommend every Roku owner downloads from iTunes or Google Play Store. All the power of the Roku operating system is available in the app.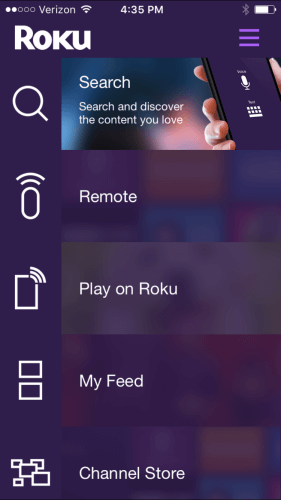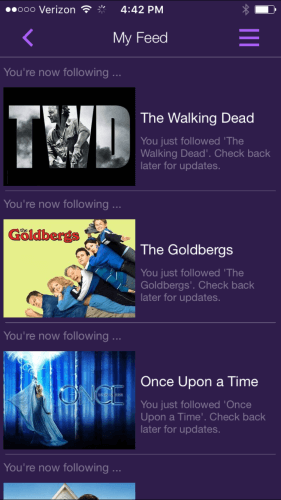 You can search by voice or text, access "My Feed", and install apps on your Roku by using the new Roku app. Voice search is possible through the app on all versions. If you aren't a fan of the voice search or typing long search strings with the remote, the Roku app gives you access to a full keyboard.
Currently, your mobile device needs to be in proximity to the Roku to access "My Feed." However, Roku has indicated that they are looking to make the functionality available when you are away from home.
Roku Cost Per Month
Technically, Roku costs nothing per month. You can enjoy free content from channels like YouTube, Pandora, PBS, PBS Kids, Hasbro, Crackle TV, VEVO, Crunchyroll, Popcornflix, Smithsonian, and many others. However, premium content like Netflix, HBO, and Sling TV require a subscription.
To truly replace cable TV, one would need to purchase one or two paid subscriptions to enjoy current TV shows, but it's not mandatory. To get an idea of what the paid subscriptions offer, I put together an article on which streaming services are best for you.
It's entirely possible to purchase a Roku, and just watch free content and not pay anything per month. There are even free special interest channels. For instance, "Allrecipes" features instructional videos on cooking various recipes. Netfit provides just about any workout video you would need.
Then there is everyone's favorite free channel, Crackle. Crackle provides quality TV and movies for free. Currently, you can watch seasons of Chosen, Seinfeld, The Shield, and many other amazing shows. You could also kick back and watch a movie.
Crackle is another good source for content. Crackle is continuously cycling TV shows and movies, providing fresh content for viewers. For more information, check out my review of Crackle TV.
Smart TV vs Roku
Not a week goes by where someone doesn't ask me, "Do I need a smart TV to cut the cord?" Unless you are talking about purchasing a Roku TV, then I would say No.  Roku is specifically designed to stream TV and Movies from the Internet to your TV. That's where the people who make Roku focus 100% of their efforts. Streaming is a secondary feature for most TV manufacturers.
This is apparent in almost every Smart TV I've looked at. The "smart" interface always feels clunky when compared to a streaming device, and none have the amount of content available with a Roku device.
Furthermore, it's much cheaper to upgrade a Roku than it would be a smart TV. If streaming technology were to change in the next few years, getting a next generation Roku device would be much cheaper than buying a new television.
Roku Vs Cable TV
While Roku can replace cable TV, it's a different viewing experience. Cable TV is a passive viewing activity. You sit down and flip channels until something grabs your attention. It's almost as cable convinces you to watch something.
The Roku experience is much different. It's an active viewing experience. The content is on individual channels that you've selected to be on your Roku. It's a much more personalized way to watch TV and movies.
You seek out what you want to watch. Never again will you have the awful realization that hours of your life are now missing due to stumbling upon an "I love the 90's" marathon.
Granted, there are some things you will need to research a bit if you want to replace them on Roku. For example, you can watch ESPN without cable. However, it will involve a subscription to Sling TV. Mostly all the quality TV you can watch on cable is available with Roku.
When we had Comcast, we would typically watch the major TV networks like Fox, NBC, ABC, CBS along with shows on AMC and FX. Roku can provide all this content and more half the cost of our cable bill.
Does Roku Require Internet?
This is one of the many questions I receive regarding internet access from people interested in getting rid of cable. To stream any content, you will need an internet connection. Internal storage for movies and TV isn't included with Roku or any of the other top streaming devices like Apple TV, Amazon Fire, or Chromecast.
These devices require an internet connection to operate. Unfortunately, that's still going to require your existing cable TV provider. However, it's much cheaper to have an internet only plan once you factor in all the hidden fees that come with a cable bundle. We were able to get a high-speed connection at 50 Mbps for a little over $50 per month.
As for how fast your internet needs to be, the following is a decent guide for various content:
Standard Definition – 2-3 Mbps
High Definition in 720p – 5 Mbps
High Definition in 1080p – 9 Mbps
Ultra High Definition 4K – 16 Mbps
If you are interested in knowing more about the bandwidth needed for your internet connection, check out this section in my main guided entitled Internet Speed to Stream TV.
How Does Roku Work with Cable
Roku also packs a lot of benefits for those looking to keep their cable subscription. Almost every major cable network has its channels available on Roku. If you subscribe to a cable provider, these channels will allow you to log in with your cable provider username and password and provide you with loads of content online.
To me, having a Roku with your cable subscription seems odd. In most cases the cable subscription is just for the access to the networks. Why use the clunky on-demand the cable company offers when you can simply watch networks like HGTV on Roku.
The Roku version of the cable channels typically has more content available, and it's better organized. The majority of the people I know that have a Roku and a cable subscription to 90% of their TV viewing through Roku while the cable box sits and collects dust.
In many cases, a Roku negates the DVR portion of your cable subscription. You can simply stream these shows whenever you want through your Roku. When I had cable, my DVR was costing us about $20 per month. This alone makes the Roku pay for itself in about 4-5 months. You can use that time to see if the Roku can replace your cable subscription entirely.
Roku + DVR + Antenna = No Cable Bill
This combination is cord-cutter utopia. Roku provides a way to watch most of the shows you will find on cable (along with a lot more). However, unless you subscribe to a streaming services that provides local networks in your area,  you may have to wait up to a week to watch the latest network shows on NBC, Fox, ABC, and CBS etc. This is where adding an Antenna and DVR will fill in any gaps you may have.
Over the Air DVR or OTA DVR, allow you to connect a TV antenna to record any content you want. While a TV antenna may seem archaic, I can guarantee that modern digital TV has a higher quality picture with an antenna. I installed a Mohu Sky, and the NFL has never looked better.
Once you receive all your local broadcast networks through an antenna, the OTA DVR can record all the shows you want to watch. Now you have your own on-demand system in your own home. DVRs like Tablo, allow you to watch those shows on mobile devices even when you are away from home.
The best OTA DVR with full guide functionality can cost around $400. While the DVR is pricey, it's typically no more than 2-3 cable bills. It will easily save you money in the long run. Keep in mind; this is a fully loaded cord-cutting solution. Most people, including myself, get by with simply a streaming device and a TV antenna.
Other Frequently Asked Questions
Here are the answers to other questions people usually ask about Roku.
How to Jailbreak Roku?
This question comes up often. I even covered it in my article that explains what jailbreaking is. This is due to the buzz around the topic of jailbreaking an Amazon Fire TV Stick. First, there is really no such thing as jailbreaking a Fire TV Stick (read the article to see why.)  Second, when people talk about jailbreaking and streaming devices, they usually mean installing a product like Kodi to add a lot of flexibility to their streaming device. Unfortunately, Kodi isn't supported on Roku.
What Channels are Free on Roku?
There are thousands of channels on Roku, way too many to list here. However, check out this post on my favorite free Roku Channels.
Back to top
Need More Information?
If this article didn't answer your specific question, head over to our Home Page! It's designed as a guide to our most important articles to help you ditch pay TV.
For tips and tricks on cutting the cord and other tech topics be sure to join our Facebook Page.
Join Millions of Cord Cutters
Disclosure: Grounded Reason is supported by a small commission for purchases made through some product links on this website. We do not accept compensation from companies attempting to sway our review of products.