This article is going to explain how to watch the latest seasons of your favorite shows using a live streaming service and TV everywhere apps.
You subscribe to a live streaming service like Hulu, FuboTV, or Philo. They even carry your favorite cable channel. But what do you do if you want to watch the entire last season of Killing Eve or other favorite shows? Your streaming service may have it on-demand, but often there are just a few episodes available. This is when you should check that channel's "TV Everywhere App."
What Are TV Everywhere Apps
TV Everywhere apps are authenticated video-on-demand apps that provide streaming video content from a specific channel. To access them, you need to use an account from a participating pay-TV provider. Most TV Everywhere apps will provide the current season of a TV show on-demand, and sometimes even previous seasons. They are a great resource for finding episodes of TV shows currently airing their season.
These apps were initially only accessible to cable TV subscribers. However, that has all changed. Today, the credentials from live streaming services like Philo, and Hulu work with supported TV everywhere apps. So let's get into how to use these TV everywhere apps and which streaming service credentials work in each app.
Using TV Everywhere Apps
To use a TV everywhere app, all you need is a supported device and valid credentials from a supported streaming service. Later in this article, I'll show a list of each channel and the live streaming services that support each app. A supported device can be a Roku, Amazon Fire TV Stick, Android or iOS smartphone or tablet, or other devices that supports the TV everywhere app. As an example, I'll show you how to watch the current and last season of Killing Eve using a TV everywhere app on a Roku.
An Example: AMC's TV Everywhere App on Roku
For our example, let's assume we have a Philo TV subscription and a Roku. The show we want to watch, Killing Eve, airs on AMC (It also airs on BBC America which is owned by the same company.) So to watch the show, I'll need to install the AMC app on my Roku. Then, I'll use my Philo credentials to prove to AMC that I subscribe to a TV provider that offers AMC.
Here are the steps I followed to get this working. While the steps below are for AMC on Roku, other streaming devices and TV everywhere apps have a very similar process.
Go the channel store or app store on your device. On Roku, it's called the "Channel Store."
Search for the TV Everywhere app you want to use. In this case, it's AMC.
Add the AMC App to your device and then open it.
Your Roku device will then show you an activation code and a URL.
Using a computer or mobile web browser, you go to the URL. For our example, it will be www.amc.com/activate.
You will then be asked for a TV provider and a username/password. I'm entering the username and password I use for Philo. I'll supply a full list of TV everywhere apps and supported streaming TV providers in the next section.
Once you sign in on AMC's website, your TV screen will refresh. You should now have access to all the video content the app provides.
Now we should be able to watch the current season and whatever else is available. Notice the image of the AMC app below. The "Philo" in the upper right-hand corner indicates that I'm logged in using my Philo account. See the list below of TV everywhere apps and their supported streaming services.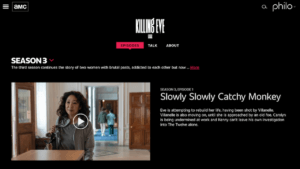 TV Everywhere App List with Supported Streaming Providers
The following list shows TV channels followed by a list of live TV streaming services that are supported by the channels TV Everywhere app: