After the release of the well-reviewed Fire TV, Amazon launched its Fire TV Stick in late 2014 to compete against the Roku Streaming Stick and Google Chromecast.  This new Fire TV Stick has promise as a more affordable alternative to the Fire TV, but what are the notable differences between the two devices?
Device Hardware
Amazon Fire TV Specs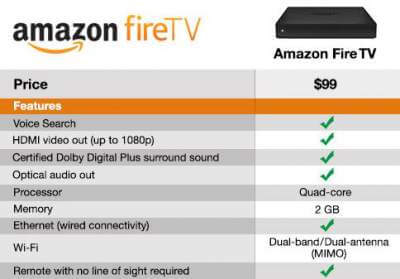 The Fire TV is 4.5" by 4.5" making it slightly larger than an Apple TV or Roku. The Amazon Fire TV connects to your television via an HDMI cable. It can also be connected to a home audio system via it's audio optical port. The device connects to the internet either by wired Ethernet or Wi-Fi.

The internal specs are impressive.  Amazon Fire TV boasts Qualcom's  1.7 GHz Krait 300 quad core processor  and Adreno 320 GPU. This streamer also comes with 2GB of RAM and 8GB of internal storage. However, only 5.5 GB is available for use.
All this firepower is noticeable, as there is very little lag or buffering when loading apps or watching videos. Furthermore, these specs allow the Fire TV to function as a fairly adequate gaming system, which I'll get to later.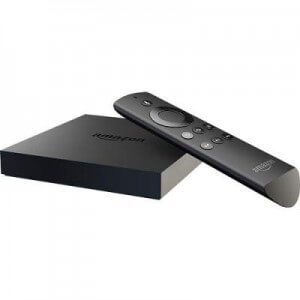 The Fire TV also includes a Bluetooth remote that supports voice search. The Bluetooth functionality is nice as it eliminates the need to have line of sight between the remote and the device.

Amazon Fire TV Stick Specs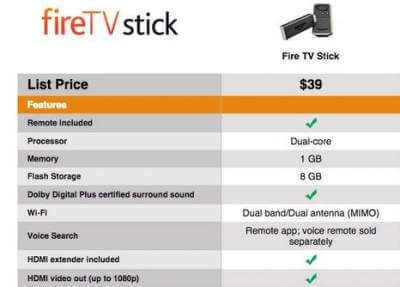 The Fire TV Stick is the size of a thumb drive and weighs less than an ounce.  It uses a Broadcom Capri 28155 dual core processor and a VideoCore4 GPU.  It ships with 1 GB of RAM and also has 8GB internal storage.
The device plugs right into your TV's HDMI port, which eliminates the need to purchase a cable. There is a Micro USB port. However, that is used to power the Fire TV Stick. Amazon recommends powering the USB port from a wall outlet as opposed to a TVs powered USB port.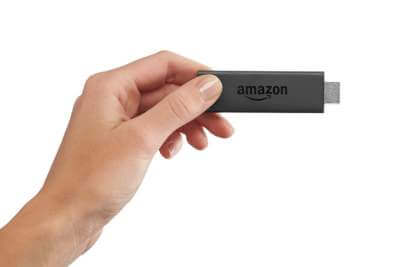 There is no room on the Fire TV Stick for an Ethernet port, which means Wi-Fi is the only option for connecting to the internet. The Fire TV Stick also includes a Bluetooth remote. However, unlike the Fire TV's remote,  this remote doesn't support voice search. Instead, a voice search app can be downloaded and used on iOS, Android, or Fire tablets and smartphones.
Device Set Up
Setup of both devices is nearly identical once you have the Fire TV Stick or Fire TV powered and connected to the television. Again, ensure you are powering the Fire TV Stick with the included USB wall adapter. The steps to set up both the Fire TV and Fire TV Stick are extremely simple.
Put the batteries in the included remote control.
Power on the Fire TV or Fire TV Stick
Select your network and enter your network password if using Wi-Fi
Watch the instructional video that plays on how to use the device
Functional Comparison
Streaming Content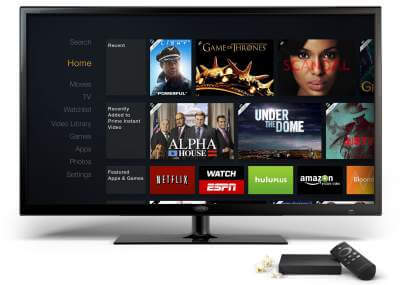 Amazon Fire TV Stick and Fire TV have exactly the same content.  They both support Netflix, Hulu Plus, Crackle TV, Pandora, and much more.  Due to its top of the line hardware, the Fire TV loads apps and videos noticeably faster than the Fire TV Stick.
Both devices also nudge you toward Amazon Instant Video and an Amazon Prime subscription. While branded as "Universal Search", it only returns results from Amazon, so an Amazon Prime subscription will maximize Fire TV Stick and Fire TV functionality. To find specific programming outside of Amazon will require accessing the search function within specific apps.
Voice Search
Voice search is pretty spectacular once you begin using it.  Amazon has done a great job with the word recognition.  If you're the type of person that uses  voice activated devices, then you will love it.
Voice search control isn't included with the Fire TV Stick's remote. Using this function on the Fire TV Stick requires downloading an app, or buying the $30 remote that comes with the Fire TV.
Aside from that minor difference, search works exactly the same on both devices.  The Fire TV returns results faster, but that's expected due to the superior hardware.
Gaming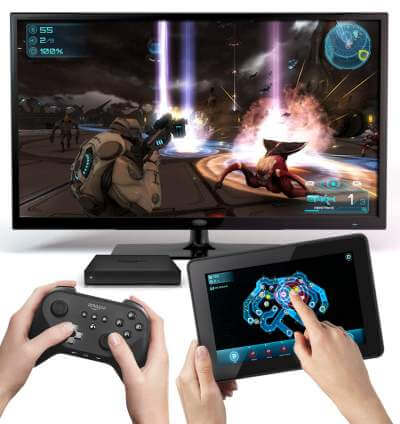 For a system primarily built as a video streaming platform, Amazon Fire TV does a decent job as a low end game console.  It won't satisfy people that game regularly, but it's plenty for your everyday cell phone gamer.
There are currently over 300 games available, including great titles such as "The Walking Dead", "The Wolf Among Us", and "Grand Theft Auto: San Andreas."  Games of higher complexity require a game controller that costs an additional $40.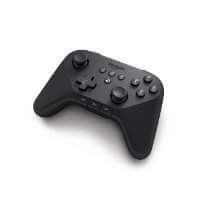 This is all made possible due to the Fire TV's awesome hardware.  While the Fire TV Stick runs the same games as the Fire TV, the higher end titles feel much less responsive in comparison.
Bottom Line
If you are looking for an affordable device to stream content to your television, the Amazon Fire TV Stick performs the function of  Amazon Fire TV  at half the Price.  The Fire TV is for consumers that see value in the added video and gaming performance  provided by the higher end hardware.
The Price of the Amazon Fire TV is $99 while Amazon Fire TV Stick is $39.
If this article didn't answer your specific question, check out the Cord Cutting Guide. It provides links to the most important articles in our over 200 pages of content to help you ditch pay TV.
You can also get help online with any technical questions you may have. Just check out this Online Tech Support Chat Tool
If you enjoyed this article, please Subscribe to our weekly newsletter. It goes out every Thursday and keeps you up to date on information relevant to cord cutters. Subscribing will also inform you on the latest deals out there for internet, streaming, and more.
For tips and tricks on cutting the cord and other tech topics follow Dennis on Twitter @GroundedReason. You can also join the conversation on our Facebook Page
.