Latest posts by Dennis Restauro (see all)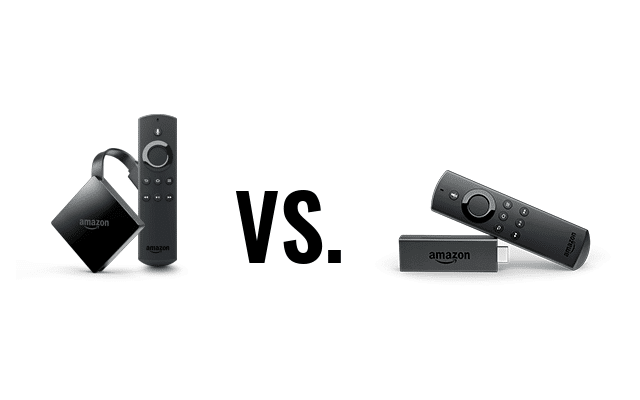 Availability:  the Fire Stick is available on Amazon for $29.99 while the Fire TV is priced at $49.99.
In the past, the Amazon Fire TV was Amazon's streaming box while the fire stick was it's more portable streaming device. However, since their initial launch in 2014, these devices have become closer in size and in price. Furthermore, due to the low price point, these devices are a hot commodity among those looking to "jailbreak a firestick."
In this article, I'll explain the major differences between the latest Fire TV and Fire TV Stick and which one is right for you.  I've done full reviews of both devices for those looking for a deeper dive:
Differences Between Fire TV and Fire Stick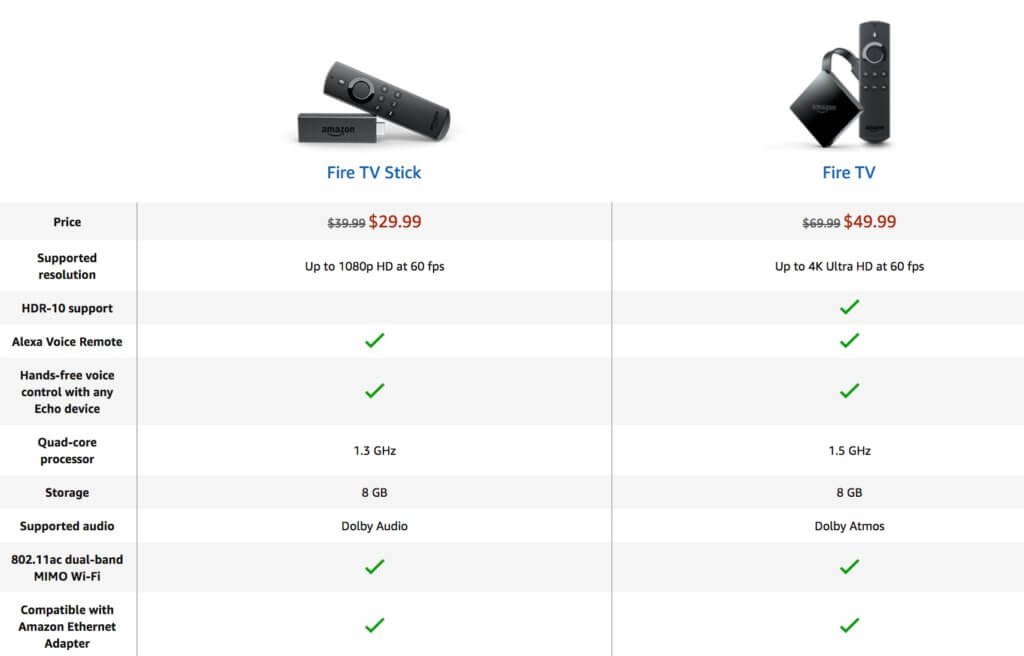 The Fire TV and Fire Stick provide all the same apps and streaming services. Any service, TV, or movie you can access with one, you can access with the other. In fact, the following features are the same on both devices
Both come with the Alexa Voice Remote which provides all the power of Alexa without buying an Echo or Dot. You can search, pause, rewind and much more using voice commands.
Both integrate and can be controlled using any Amazon Echo device
Both come with 8GB of internal storage
Both support 802.11ac dual-band MIMO Wi-Fi (backward compatible with n/g/a/b)
Both can use Ethernet with the Fire TV Ethernet Dongle
The only differences between the devices are size, processor speed, resolution, and audio.
Video Resolution
I find the video resolution and quality to be the biggest difference between the Fire TV and Fire Stick. While the Fire Stick shows up to 1080p HD at 60 fps (frames per second), the Amazon Fire TV provides 4K Ultra HD at 60 fps. Most importantly, it adds HDR or High Dynamic Range which broadens the range of viewable colors in a video. Check out my article "What is HDR" for more information.
Processor Speed
The Fire Stick provides a 1.3 GHz quad-core processor which is more than enough to handle most streaming needs. The Fire TV provides a bit of an upgrade with a 1.5 GHz quad-core processor. While faster, there is no detectable difference in video streaming.
However, both Fire TV and Fire TV Stick allow you to play games available in Amazon's digital marketplace. The Fire Stick may not meet the minimum requirements, where the Fire TV would.
Audio
Fire TV Stick – Dolby Audio, 5.1 surround sound, 2ch stereo, and HDMI audio pass through up to 7.1
Fire TV – Supports Dolby Atmos, Dolby Digital Plus, and Dolby Digital.
The major difference here is Fire TV adding support for Dolby Atmos. With the right hardware and content that supports the audio standard, you can duplicate theatre quality sound.
Size
While the size of these devices used to be vastly different, the latest 3rd Gen Fire TV is only twice the size of a Fire Stick. That may seem like a lot, but the Fire Stick is only 3.4" x 1.2" x 0.5". You can see the size difference in the picture at the top of the article. The Alexa Voice Remote in the picture provides scale.
Fire TV or Fire Stick
The major difference for most will be the video quality. Fire TV offers 4K UHD video with HDR at 60 fps, while the Fire Stick caps resolution at 1080p HD. Audiophiles should opt for the Fire TV due to the addition of Dolby Atmos support. The few folks out there concerned with gaming on their Amazon device should also opt for the Fire TV over the Fire Stick as the formers upgraded processor will meet the minimum device requirements for more games.
If none of those issues are of concern, save yourself some money and purchase the Fire TV Stick. As of the publish date of this article, the Fire Stick is available on Amazon for $29.99 while the Fire TV is priced at $49.99.
Those looking to experiment with cord cutting should look to grab the Fire Stick. The low price makes it an easy investment. Most people have more than one TV, so if you like cord-cutting, you can always pick up the Fire TV for your main TV at a later date.
Need More Information?
If this article didn't answer your specific question, head over to our Home Page! It's designed as a guide to our most important articles to help you ditch pay TV.
For tips and tricks on cutting the cord and other tech topics be sure to join our Facebook Page.
Join Millions of Cord Cutters
Disclosure: Grounded Reason is supported by a small commission for purchases made through some product links on this website. We do not accept compensation from companies attempting to sway our review of products.