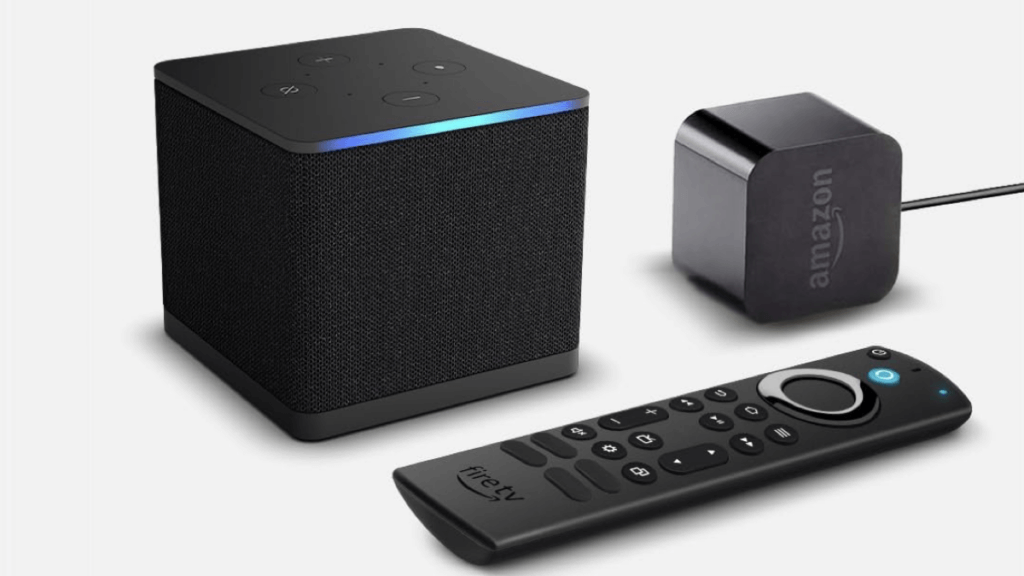 The Amazon Fire TV Cube is more than just a streaming device. It combines Fire TV technology with Alexa to create a virtual assistant/streaming device/smart home control hub. If someone is looking for just a way to stream to their TV, I would direct them to the much more affordable Fire TV Stick 4K Max or a Roku device. For those looking for a virtual assistant or want to experiment with smart home technology and upgrade a TV to use just about any streaming service, then you want the Fire TV Cube.
Amazon Fire TV Cube 3rd Gen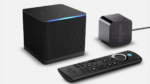 The fastest, most powerful Fire TV
Acts as Alexa Device With the built-in speaker
Supports 4K Ultra HD, Dolby Vision, plus HDR, HDR 10, HDR10+, HLG with Dolby Atmos audio
It's More Than a Streaming Device
In terms of streaming, the Amazon Fire TV Cube offers little additional functionality to the Amazon Fire TV Stick 4K Max. The Fire TV Stick 4K max was released last month. While the Fire TV Cube was released about a year ago. Both support the latest Wi-Fi 6e standard. Both have 4K video and HDR. Both also support Dolby Vision and Dolby Atmos Audio. They even both have 16 GB of storage to hold about as many apps as one could use. Both support tri-band routing, which will allow it to work optimally with a tri-band router.
You'll see a bit better menu response and slightly quicker loads due to the more powerful 8-core processor, and the 3rd Generation cube has a built-in Ethernet port. However, from a streaming perspective, there isn't much of a reason to purchase the Fire TV Cube over the Fire TV Stick 4K Max. The value of the Fire TV Cube over the Fire TV Stick 4K Max is the built-in Alexa functionality.
The Cube is also an Echo
The Fire TV Cube combines all the functions of an Amazon Echo with a Fire TV. The Cube's built-in speaker allows you to use Alexa features without powering on your TV or entertainment center. This allows for hands-free Alexa with the Cubes built-in mic and speakers – Control your compatible TV, soundbar, and receivers with your voice from anywhere in the room.
You can walk into the room and say "Alexa, turn on the TV," and the TV comes on. Then, you can say, "Alexa, play Loki," it will play your latest unwatched episode of the show. While the Fire TV voice remote will allow this, the Cube eliminates the need for a remote, even though it comes with one.
Additionally, if you are into the idea of a smart home, the Fire TV Cube can act as the brain of your operation, controlling lights, cameras, and other smart devices. For example, I built a lighting profile with smart bulbs in my TV room called "TV Time." When I say "Alexa, TV Time" the lights dim to my optimal viewing brightness, and the TV turns on and adjusts to the optimal volume. You can control any number of devices using the cube. There are too many to list here, but check out all the various smart devices you can control with your Fire TV Cube.
Ultimately, the device you use to watch TV can also be the device that adjusts your home heating, shows you your front door camera, displays your baby monitor, adjusts your lights, and a whole host of other features.
Amazon Fire TV Cube Tech Specs
Processor – Octa-core 4x 2.2GHz 4x 2.0GHz
GPU – ARM Mali G52-MP8 (3EE), 800MHz
Storage -16 GB internal
Memory – 2 GB
Wi-Fi Connectivity – Tri-band Wi-Fi 6E, supports 802.11 a/b/g/n/ac/ax
2×2 MIMO Wi-Fi networks.
Ethernet – Built-in 10/100 Ethernet Port
Bluetooth – Bluetooth 5.0 + LE.
Ports – HDMI, power, micro-USB, wired infrared support
Audio Support – Dolby Atmos, 7.1 surround sound, 2ch stereo, and HDMI audio pass-through up to 5.1.
Video Format Support: Dolby Vision, plus HDR, HDR 10, HDR10+, HLG
Audio Format Support: Supports Dolby Atmos
What's In The Box
The 3rd Gen Fire TV Cube includes
The Fire TV Cube
Alexa Voice Remote Enhanced with 4 pre-programmed app buttons, including Netflix and Prime Video; the other two app buttons will vary. The remote control has TV buttons allowing you to control the power and volume on your TV.
A Power Adapter
2 AAA batteries for the remote control
Should You Buy The Cube
If you are only looking for a streaming device, save some money with the Fire TV Stick 4K Max. However, if you want to centralize your smart home with a quality streaming device, then the Amazon Fire TV Cube is an excellent choice.