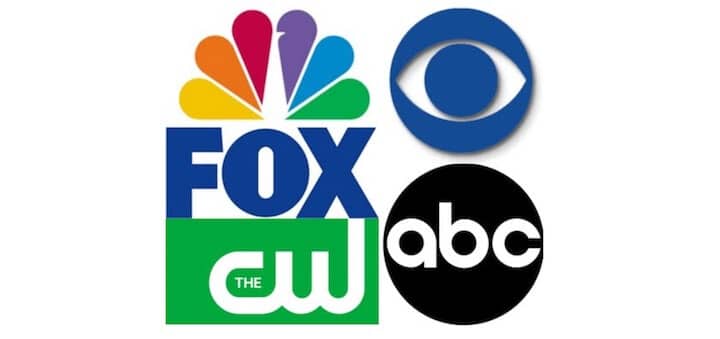 This guide covers watching broadcast networks without a pay TV subscription. For information on watching cable shows as well, check out my complete cord cutting guide.
When it comes to watching TV without cable, the majority of TV shows people watch are on broadcast TV networks like CBS, ABC, FOX, NBC, etc. TV shows on those networks are consistently in the Nielsen ratings top 10.
I looked at the top 25 Network and Cable TV viewership numbers for last week on TVbytheNumbers. Aside from sporting events (like the NCAA Final Four), only one cable TV show was in the top 25, and that was the season finale of The Walking Dead.
Ultimately, when it comes to saying good-bye to cable, getting access to your local networks and the prime time shows are a priority for many. Today, I'm going to let you know how to get those local network channels over the air (OTA TV), and a few ways to stream them over the internet.
Watch Prime Time Network TV Online
While a TV antenna is the best solution for having access to local stations, there are places that lack strong OTA TV signals.  If you are just looking to catch prime time network television the combination of Hulu and CBS All Access will provide almost every hit prime time show on CBS, ABC, NBC, FOX, and CW.
PBS shows can be accessed through the PBS app, which is available on almost any device. You can try a one week free trial from Hulu to see if you like the service.
While CBS All Access, Hulu, and the PBS app is supported on most browsers, tablets, and smartphones, you probably want to watch these shows on a television. To do that, all you need is an over the top streaming device. My personal favorite and the one I use is the Roku.
These devices connect to various video services over the internet using apps (also known as channels.) They then stream the video directly to your TV.
You may not require a streaming device if you are content watching on your Mac, PC, or laptop. In that case, the following websites will allow you to stream recent episodes from your favorite network TV shows.
| | |
| --- | --- |
| | NBC – Click to watch full-length episodes of NBC TV shows such as "The Blacklist", "Grimm", "Hannibal", and more. They are all free and available without a cable TV subscription. |
| | ABC – Catch hit ABC shows like "Marvel's Agents of Shield", "Castle", "Modern Family" and more for free and without a cable or satellite subscription. They make you wait about a week before watching the most current episode, but the full-length episodes are available for the current season of shows. |
| | CBS – Want to watch "Big Bang Theory", "Mike and Molly", "The Good Wife", and more hit CBS shows online. Then check out their website. |
| | FOX – Fox does have a lot of programming online for free, but it appears they delay current episodes if you don't have a valid cable or satellite TV account. Some shows seem that they are on more of a delay than others. However, if you don't mind waiting, you can watch FOX broadcast shows on their website. |
| | The CW – The CW is great when it comes to watching broadcast TV online. They have up to date full-length episodes of "Arrow", "iZombie", "The Flash", and more. All their shows seem to be available very soon after airing. |
| | PBS – PBS also does a great job of providing online content. Full-length episodes of every PBS show I'm interested in watching seems to be available for free without a cable TV subscription. |
Watch Local TV Online
If you are only interested in prime time Network TV shows, then this will cover it. However, If you truly want your local affiliate network feed, there are currently sparse solutions available. Here is what we have so far.
FuboTV – FuboTV offers live local Fox, NBC, and CBS is select markets. This service also includes networks known for sports like FS1, FS2, beIN Sports, NBCSN, BTN,  and more. You can see what's available at FuboTV through this 1-week free trial.
CBS All Access – This service provides the local live CBS broadcast in a number of markets across the U.S. Check the link to see if the live local feed is available in your area. If interested you can check out this free trial to CBS All Access.
ABC on Sling TV – Sling TV offers a Broadcast Extra package that delivers ABC in select markets. Check the Sling TV link for details.
FOX and NBC on SlingTV – Sling TV offers live local FOX and NBC broadcasts to Sling TV, albeit in select markets.
If interested in Sling TV, you can get a free trial to check it out.
PlayStation Vue and DIRECTV NOW have negotiated the live local affiliate broadcast for ABC, NBC, and FOX. CBS is recently available in select markets. They also allow you to try their service for free.
Local Channels Over the Air (OTA)
Cable TV doesn't want you to know this, but local broadcast TV networks are available over the air simply using a TV antenna. In fact, today's antenna TV has a better picture than cable. TV signals these days are digital, so you need a TV that was made after 2007 with a digital tuner.
Typically, you can find out if your television is equipped with a digital tuner in the user manual or on the TV manufacturer's website. However, an easy way to see if your TV is digital is to look at the antenna coaxial port. It looks like a fat threaded screw somewhere on the back of the TV.
If your TV is digital, then there will be a label with the letters "HD", "ATSC", "HDTV", or other words indicating the TV has a digital tuner.  If your TV is not digital, you can convert it using a digital converter box.
Once you have a TV that is "digital ready", all you need to do is install a TV antenna. I installed the Mohu Sky 60 outdoor antenna on my roof and now I receive all the major local broadcast networks. Mohu also makes quality indoor antennas like The Mohu Curve and Mohu Leaf. If you are interested in purchasing a Mohu antenna, check my Mohu promo page for a big discount.
Update: If you want to hear my account of what using a TV antenna entails, check out our TV Antenna episode of the Grounded Reason Podcast. It's free! Click this link to listen on iTunes. If you don't have an iOS device or iTunes installed on your PC check this show notes page for other options.
If you want to learn more about using an antenna for free local TV, then check out the following instructional guides.
How To Get Free TV
With so many local affiliates in the U.S. it's difficult to negotiate all of them into one streaming service. Therefore, a TV Antenna is the best legal solution for free TV. I've had many ask in the comments about getting free TV through jailbroken streaming devices or getting a jailbroken Fire Stick. I'd advise against it.
While there isn't an explicit law against it, it is a legal gray area that I feel will make an example out of some in the future. Furthermore, it violates the terms of service of many streaming services, and some are starting to deny services on these devices.
If this article didn't answer your specific question, check out the Cord Cutting Guide. It provides links to the most important articles in our over 200 pages of content to help you ditch pay TV.
For tips and tricks on cutting the cord and other tech topics follow Dennis on Twitter @GroundedReason. You can also join the conversation on our Facebook Page
.
If you enjoyed this article, please subscribe in the sidebar to the right and we will notify you when new articles are published. If you are using a mobile device, click subscribe to Grounded Reason to get to the sign-up.