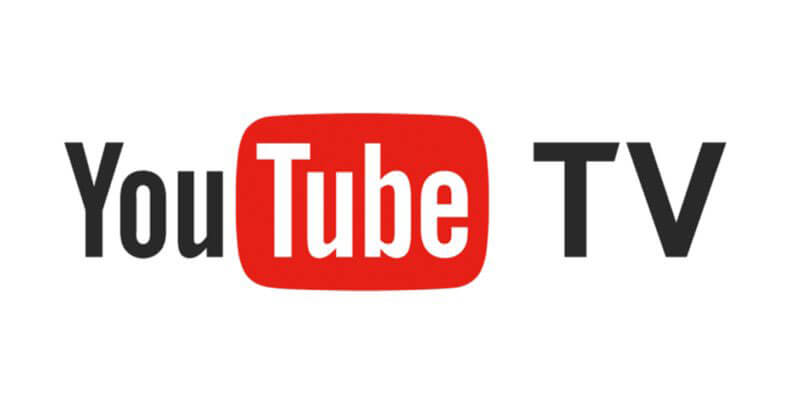 UPDATE: As of February 1st, YouTube TV is now available on Roku devices. As of February 14th, YouTube TV has added TBS, TNT, CNN and more to their channel lineup.
Google has entered the Live TV over Internet foray with this week's launch of their new service, YouTube TV. Thus far, the service looks like it will give DirecTV Now, Sling TV, and PlayStation VUE a run for their money.
YouTube TV offers nearly all your favorite pay TV networks. Subscribers will have access to channels like AMC, USA, Bravo, and much more. All you will need is stand-alone home internet service and you can watch TV over your internet connection.
Furthermore, subscribers will have major broadcast networks (ABC, FOX, NBC, CBS, and CW) live through the service. While all these local networks are available. A few locations may offer certain networks "on-demand only." This Google Help page outlines what to expect for each channel in a given area.
In addition to broadcast numerous cable TV networks, YouTube TV includes a Personal Cloud DVR and YouTube Red original series. All this costs subscribers just $35 a month for six accounts.
A single subscription can be used by six Google accounts, but will only provide three simultaneous streams. This comes with the benefit of hiding your viewing habits from others that share your subscription.
YouTube TV Channels
As previously stated, the service will provide live access to ABC, NBC, FOX, and CBS. The CW will also come with the service. However, the service really starts to shine when it comes to sports.
Having the local broadcast networks will already provide plenty of live sports. Furthermore YouTube TV provides the following channels: AMC, BBC America , BBC World News, Big Ten Network, Bravo, CBS Sports Network, CNBC, Disney Channel, Disney Junior, Disney XD, E!, ESPN, ESPN2, ESPNU, ESPNews, FOX Business, FOX News, Freeform, Fox Sports 1, Fox Sports 2, FX, FXM, FXX, Golf Channel, IFC, MSNBC, NBCSN, Nat Geo, Nat Geo Wild, Newsy, Olympic Channel, Oxygen, Pop, SEC Network, Sundance TV, Syfy, Telemundo, Tennis Channel, Universal Kids, Universo , USA, YouTube Red Originals, and WE tv.
As of 2/14/2018, YouTube TV has added Adult Swim, Cartoon Network, CNN, Comet, HLN,  TBS, TCM, TNT, truTV, and Turner Classic Movies. If you sign up for YouTube TV before March 13, you will be grandfathered in to the $35 per month cost along with current subscribers. However, due to the additional channels, the price is going up to $40 for new subscribers after that March 13 date.
As of 3/7/2018 YouTube has also added MLB Network and NBA TV.
Local broadcast networks are live in most areas. Here are some exceptions:
ABC – Video-on-demand only in Albany, Cedar Rapids, Fresno, Madison, New Orleans, South Bend, Springfield (Missouri), Paducah, Providence. Live elsewhere.
CBS – Video-on-demand only in Flint, Ft. Myers, Jackson, Knoxville (Missouri), Roanoke. Live elsewhere.
FOX – Video-on-demand only in Albany, Buffalo, Colorado Springs, Madison, Raleigh, Shreveport, Waco. Fox is live in other markets. However, when it comes to the NFL FOX has not secured the rights to NFL games on its national feed. Subscribers in Albuquerque, Austin, Birmingham, Cincinnati, Cleveland, Denver, Grand Rapids, Greensboro, Greenville (South Carolina), Harrisburg, Hartford, Indianapolis, Kansas City, Milwaukee, Norfolk, Portland, Raleigh, Sacramento, Salt Lake City, San Diego, Seattle, St. Louis, and West Palm Beach will not see NFL games on FOX.
NBC – Video-on-demand only in Austin, Cedar Rapids, Colorado Springs, Baton Rouge, Columbus, Des Moines, Fresno, Ft. Smith, Grand Rapids, Greenville (North Carolina), Little Rock, New Orleans, Norfolk, Oklahoma City, Savannah, Shreveport, Springfield (Missouri), Tampa. NBC is live Elsewhere
CW – Video-on-demand only in Albuquerque, Austin, Baton Rouge, Buffalo, Cedar Rapids, Chattanooga, Cincinnati, Cleveland, Colorado Springs, Columbus, Dallas-Fort Worth, Denver, Des Moines, Ft. Myers-Naples, Ft. Smith-Fayetteville-Springdale-Rogers (Arkansas), Greensboro, Greenville (North Carolina), Greenville (South Carolina), Harrisburg, Hartford, Huntsville-Decatur (Alabama), Indianapolis, Jackson (Mississippi), Kansas City, Knoxville, Little Rock, Los Angeles, Madison, Memphis, Nashville, New Orleans, New York, Norfolk, Omaha, Orlando, Paducah-Cape Girardeau-Harrisburg, Phoenix, Portland, Portland-Auburn (Maine), Providence, Roanoke-Lynchburg (Virginia), Rochester, Salt Lake City, San Antonio, San Diego, Savannah, Shreveport, South Bend-Elkhart (Indiana), Spokane, Springfield (Missouri), St. Louis, Toledo Tucson, Tulsa, Waco, Washington DC. Live Elsewhere
Telemundo – Video-on-demand only in Albuquerque, Austin, Baltimore, Birmingham, Cincinnati, Columbus, Greenville (South Carolina), Jacksonville, Louisville, Memphis, Nashville, Norfolk, Pittsburgh, Portland, Raleigh, Sacramento, Salt Lake City, Seattle, Tampa, West Palm Beach.
The image below shows all the channels available. However, some regional channels will only be available if you live in that market.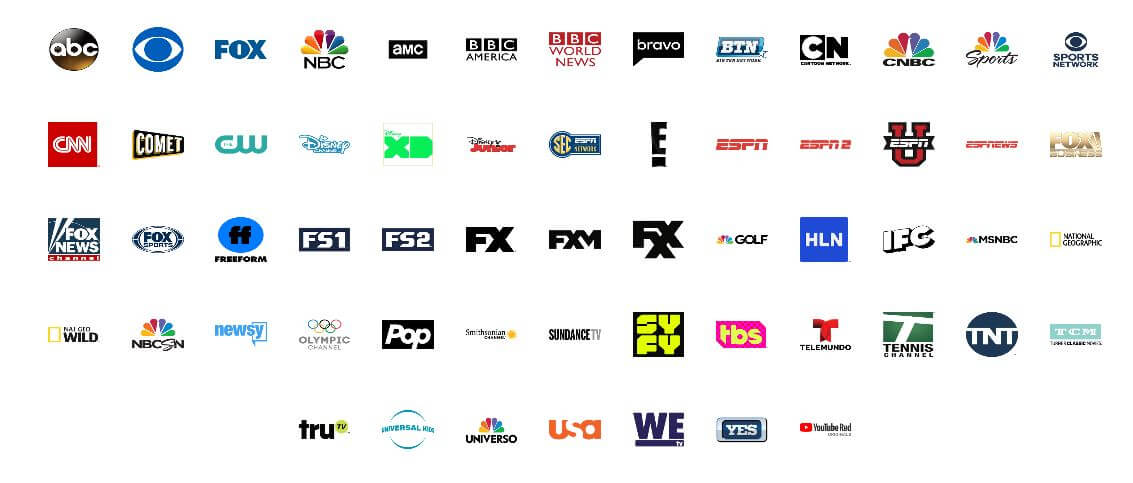 YouTube TV also offers Fox Soccer Plus and Showtime as add-on channels. The image below shows the full channel lineup. YouTube TV will also soon provide access to Shudder and Sundance Now. All this will come at no additional charge.
Where YouTube TV is Available
YouTube TV isn't available everywhere. Google is trying to ensure as many local live networks affiliates as possible are signed onto the service before releasing in that area. Below is a list of current cities offering YouTube TV:
Albuquerque
Albany
Atlanta
Austin
Baltimore
Baton Rouge
Birmingham
Boston
Buffalo
Cedar Rapids
Charlotte
Chattanooga
Chicago
Cincinnati
Cleveland
Colorado Springs
Columbus
Dallas-Fort Worth
Dayton (Ohio)
Denver
Des Moines
Detroit
El Paso
Flint
Fresno-Visalia
Ft. Myers-Naples
Ft. Smith-Fayetteville-Springdale-Rogers (Arkansas)
Grand Rapids
Green Bay
Greensboro
Greenville NC
Greenville SC
Harrisburg
Hartford
Honolulu
Houston
Huntsville-Decatur (Florida)
Indianapolis
Jackson (Mississippi)
Jacksonville
Kansas City
Knoxville
Las Vegas
Lexington
Little Rock
Los Angeles
Louisville
Madison
Memphis
Miami-Fort Lauderdale
Milwaukee
Minneapolis-Saint Paul
Mobile
Nashville
New Orleans
New York City
Norfolk
Oklahoma City
Omaha
Orlando-Daytona Beach-Melbourne
Paducah-Cape Girardeau-Harrisburg
Philadelphia
Phoenix
Pittsburgh
Portland
Portland-Auburn (Maine)
Providence
Raleigh
Richmond
Roanoke-Lynchburg (Virginia)
Rochester
Sacramento
Salt Lake City
San Antonio
San Diego
San Francisco Bay Area
Savannah
Seattle
Shreveport
South Bend-Elkhart (Indiana)
Spokane
Springfield (Missouri)
Syracuse
St Louis
Tampa
Toledo
Tucson
Tulsa
Waco
Washington DC
West Palm Beach
To find out if YouTube TV is available in your area, you can attempt to sign up for a  free trial on their website. The process will also let you know which channels are available in your area.
Other Features
YouTube has already been delivering video over the internet for years, so I would expect YouTube TV to have quality at launch. However, Google will support users through text and voice chat over the YouTube TV app.
Subscribers will be able to watch three streams simultaneously. The service also includes a personal cloud-based DVR for each of the subscription's 6 account profiles. In addition, the DVR provides unlimited storage and simultaneous recordings. Furthermore, your recordings are available for nine months.
YouTube TV Device Support
YouTube TV is available on Roku, Android, iOS (includes AirPlay to Apple TV), and Chromecasts/Chromecast-compatible TVs. Therefore, if you want to watch YouTube TV on an actual TV, you will need a Chromecast device.
Check Out An Internet Only Deal for Cordcutters (sponsored)
If this article didn't answer your specific question, check out the Cord Cutting Guide. It provides links to the most important articles in our over 200 pages of content to help you ditch pay TV.
You can also get help online with any technical questions you may have. Just check out this Online Tech Support Chat Tool
If you enjoyed this article, please Subscribe to our weekly newsletter. It goes out every Thursday and keeps you up to date on information relevant to cord cutters. Subscribing will also inform you on the latest deals out there for internet, streaming, and more.
For tips and tricks on cutting the cord and other tech topics follow Dennis on Twitter @Dennis_Restauro. You can also join the conversation on our Facebook Page
.