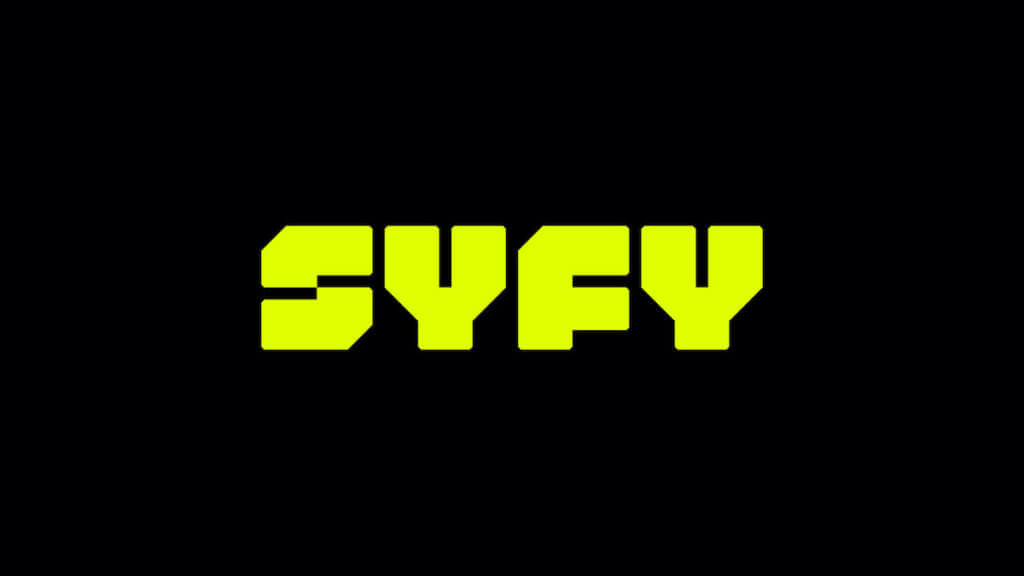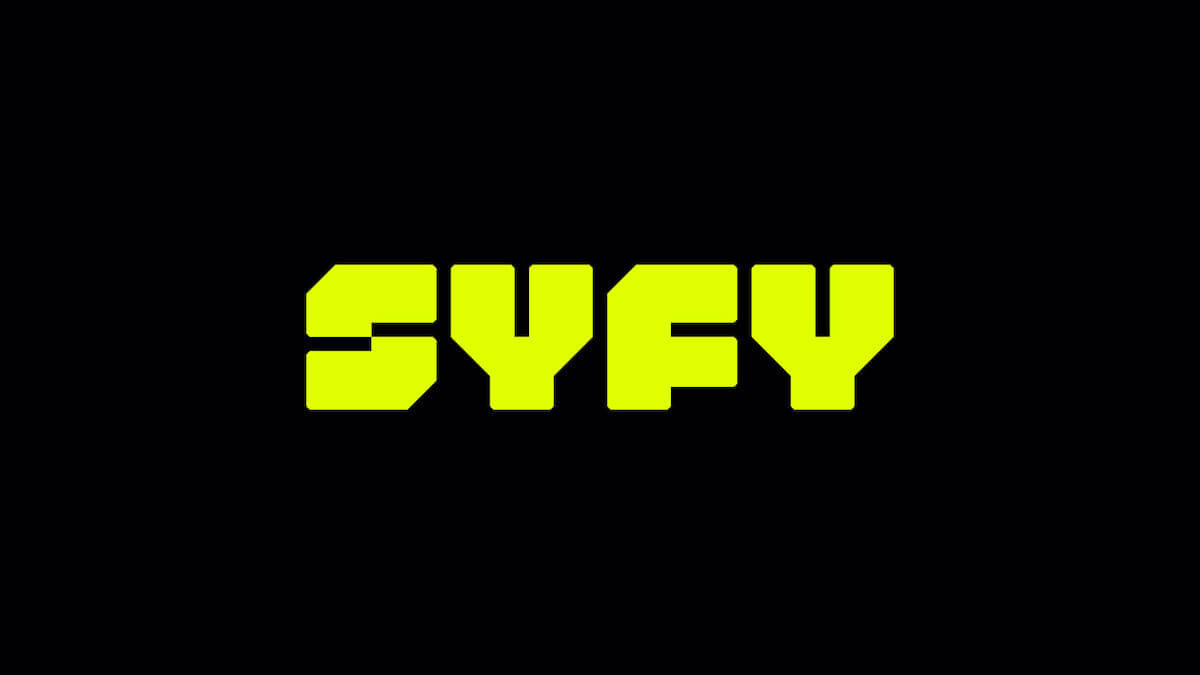 Syfy (formerly Sci-Fi Channel and Sci-Fi) is the "go-to" channel for TV shows about science fiction, fantasy, horror, supernatural, and the paranormal. Sling TV's Blue plan is the most affordable way to watch Syfy at $40/month. Hulu + Live TV, fuboTV, DIRECTV STREAM, or YouTube TV also carry Syfy in their channel lineups, but only DIRECTV STREAM, fubo, and YouTube TV provide a free trial to try the service.
Syfy is also currently airing The Hunger Games films, so the films should be available on demand with any streaming service that carries Syfy. Read on for a little more information on these streaming services, and a status on some of your favorite Syfy shows.
Streaming Services that Carry Syfy
Below are more details and links to more information on the streaming services that enable you to stream the Syfy channel online without needing a cable subscription.
Sling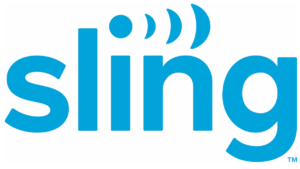 Your cheapest option is Sling TV. You can subscribe to Sling TV's Blue package for $40/month, which gives you Syfy and over 40 other channels.
Sling TV provides a live stream of Syfy, so you can watch exactly what would be airing on Syfy just as if you had cable. Sling also includes Cloud DVR a cloud DVR so that you can record Syfy shows and watch them later.
All Sling TV Channel options work on Windows and Mac PCs and laptops, Android and iOS devices, Roku, Amazon Fire TV, Xbox, Apple TV, Chromecast, and more. To find out more about what Sling TV has to offer and more information about Sling TV device compatibility, check out this detailed review of Sling TV.
Hulu + Live TV
Hulu Live TV offers Syfy and many other live channels for $76.99/month. The Hulu Live TV service is $76.99 a month and includes the following features:
60+ other channels, including local network channels.
Unlimited cloud DVR storage. (Recordings save for 9 months)
Watch on 2 screens at once. (Upgrades available)
It comes with 6 customizable profiles
Includes entire Hulu streaming library
Supports iOS, Android, Fire TV, Apple TV, Roku, Chromecast, and more.
Hulu's streaming library is also the home of past seasons of Syfy shows like Reginald the Vampire and Surreal Estate. Hulu + Live TV supports Roku, Amazon Fire TV, Apple TV (4th generation or later), Google Chromecast, and more. Check out our full review of Hulu Live TV for more details.
Check out Hulu + Live TV here.
Fubo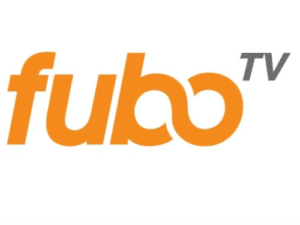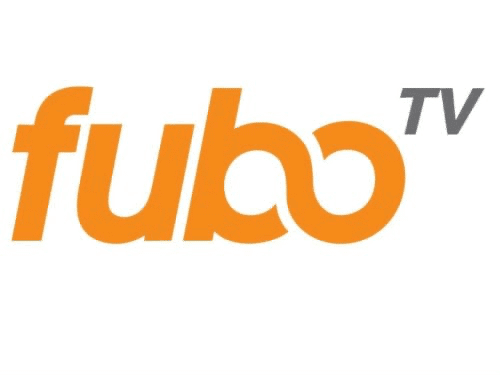 FuboTV is a good place to go for sports, but it also offers many other general channels, including Syfy. You can watch SYFY and 90+ others in its Pro Plan for $74.99. The service includes a 1-week free trial when signing up.
Here are some of fuboTV's features:
Watch Syfy and many other channels are available in fuboTV's channel lineup
You can watch on three screens at the same time
250 hours of cloud DVR storage
The FuboTV app is available on major platforms, including Apple TV, AndroidTV, Roku, and Amazon FireTV.
You can sign up for fuboTV or check out our review of FuboTV for more details.
YouTube TV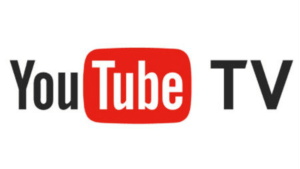 YouTube TV also streams Syfy live. YouTube TV includes a cloud DVR with limitless storage space for recording your shows. Your library of recorded shows can be streamed anywhere. YouTube TV costs $72.99 a month.
YouTube TV provides:
Check our review of YouTube TV for more details. They also offer a 1-week free trial.
DIRECTV STREAM
The DIRECTV STREAM streaming service is one way you can watch Syfy. It's offered as part of their "Entertainment" package. At $79.99 per month, you get Syfy and several other channels, and DIRECTV STREAM provides a 5-day free trial when first signing up. A subscription to DIRECTV STREAM includes:
watch unlimited streams simultaneously per subscription on your home network and up to three on the go.
a cloud-based DVR
channels like Syfy and many more
supported on Apple TV, Android TV, Roku, Amazon FireTV, and more
You can check out everything this service offers on this promo page or read about it in our DIRECTV STREAM review.
What's On Syfy
Below is information on some of your favorite Sci-Fi shows.
Resident Alien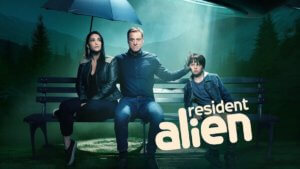 Resident Alien stars Alan Tudyk as an alien named Max tasked with wiping out all human life on Earth. (Yes, I said "funniest new show.") However, he crashes lands in a Colorado mountain town, becomes curious about human life's simplicity, and questions his missions. The "fish out of water" setting is the perfect premise for Tudyk's comedy style and makes Resident Alien a show you have to try. Seasons 1 and 2 are streaming on-demand through Peacock. Season 3 has been green-lit and can be expected sometime in 2024.
The Ark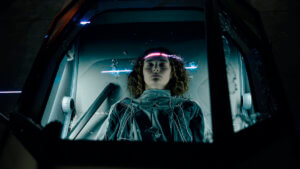 The Ark follows a planetary colonization mission sending a ship out into space to help save the human race 100 years in our future. While still a year of travel from their new planet, the crew and passengers of Ark One find themselves without leadership or life-sustaining supplies after a catastrophic event. The remaining survivors must act fast and take control of the situation to make it to their destination. The first season is available to watch on Peacock. This show has been renewed for season 2 and will hit Syfy in 2024.
Reginald the Vampire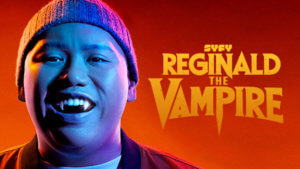 Reginald the Vampire, premieres is a Syfy comedy/drama stars Jacob Batalon (Spider-Man: No Way Home) as Reginald, a newly turned vampire who is everything a vampire usually isn't: chubby, awkward, and short. But he's about to turn the tables on the trope of sexy, fit vampires (and modern beauty standards) and face off against all of his day-life problems. From a bully of a boss, a dead-end job, and a crush on a pretty human girl, he has enough on his plate before dealing with a vampire clan that thinks he doesn't belong. The show is based on Johnny B. Truant's Fat Vampire novels. There will be a season 2 coming to Syfy as production has already started on the show's second season. You can watch season 1 of Reginald the Vampire on hulu.
How To Stream Syfy
To watch Syfy on devices like Roku, Fire TV, and Apple TV follow the instructions below. This example is for Roku, but the process is similar for all devices.
Subscribe to a streaming service that carries Syfy (Sling TV, FuboTV, Hulu + Live TV, DIRECTV STREAM, YouTube TV, etc)
On your Roku Menu, navigate to "Search" and press "OK" on your remote
Enter the name of the streaming service you subscribe to in the search bar
Select the streaming service and press "OK."
Select "Add Channel" press "OK" on your remote. If the channel is already installed, "Go To Channel" will be an option.
The App is now installed on your Roku. Open the app, and log in with the credentials you used to subscribe to the service. Syfy will be a channel available through the app's live TV guide.