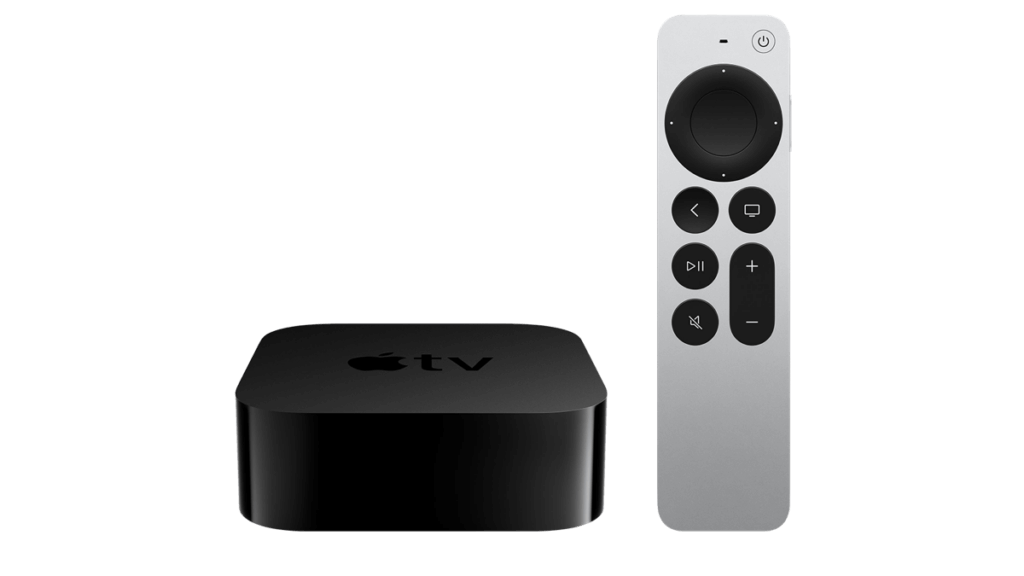 It's been a while since we've revisited Apple TV to see if it holds an advantage over Roku or Amazon Fire TV. This is mainly due to its high price point relative to other streaming devices. However, we thought it was time to take a look at what Apple has to offer from its streaming devices.
The Different Apple TV 4K Options
Apple currently sells two versions of its Apple TV 4K streaming device, the Apple TV 4K Wi-Fi and the Apple TV 4K Wi-Fi + Internet. Before I get into the general specs of both devices, I wanted to go over the main three differences between these two options. The devices are nearly identical except that the Apple TV 4K Wi-Fi + Internet has more storage, thread networking support, and the inclusion of a Gigabit Ethernet port.
The Apple TV 4K Wi-Fi is priced at $129 and includes 64 GB of storage for streaming apps and games, while the Apple TV 4K Wi-Fi + Internet costs $149 and ups the storage to 128 GB. The other obvious difference is the inclusion of an on-board Gigabit Ethernet port. The not-so-obvious feature is the inclusion of thread networking support.
What's Thread Networking Support
In the age of smart homes, more and more "internet-of-things" or IoT devices are communicating with each other in our homes. Anyone who has a smart home likely has a hub that connects various devices using various IoT protocols like Zigbee or Z-Wave. Those hubs are then connected to your Wi-Fi network and controlled by an app. You may even have one hub for your smart bulbs, and another hub for smart camera technology, with both hubs controlled through a command hub. Thread is another IoT protocol, but more efficient and secure than Zigbee or Z-Wave. Furthermore, Amazon, Google, Apple, and Samsung are working on Matter, an interoperability standard that will leverage thread and other IoT protocols to bring more cohesion to your smart home. Check out this explainer on Thread and Matter for more information.
Other Apple TV 4K Specs
Whether you get the Apple TV 4K Wi-Fi or the $149 Apple TV 4K Wi-Fi + Internet, the other specs are the same.
Video: supports up to 4K UHD video with Dolby Vision, HDR10, or HDR10+
Audio: Supports Dolby Digital Plus and Dolby Atmos
Wi-Fi: Wi-Fi 6 (802.11 ax) with MIMO
HDMI: 2.1
Processor: 2.93 GHz Apple A15 Bionic with 5-core GPU
Memory: 4GB LP DDR4
Apple TV Features
Let's look at the features you get at the expense of an Apple TV 4K.
Siri Remote: Has a touch clickpad but also supports gesture swiping to scroll through menus. The remote is also a microphone, so you can ask Siri to play a movie, TV show, or song. You can also use the Find My app on your iPhone to locate your lost Siri Remote.
Private Listening: Apple TV users can pair their AirPods via Bluetooth to engage in private listening. This is a nice feature for watching TV and not disturbing others nearby.
App Store: With thousands of apps available, you can install just about any streaming service.
Voice Control: Using the microphone button on the included remote, you can ask Siri to play a movie, TV show, or song.
Picture in Picture – watch a movie or TV show while you keep an eye on the game, or check the weather.
AirPlay – You can share videos from streaming apps on your iPhone or iPad to your Apple TV 4K in their full resolution.
Is Apple TV 4K Worth the Price
The Apple TV 4K is judged by many as overpriced as a streaming device. However, it's more than just a streaming device. The Apple TV 4K is usually compared to devices like a Roku or Fire TV stick when it more closely resembles the Fire TV Cube. Just as the Cube is more of a virtual assistant and smart home hub, the same is true of the Apple TV 4K. It uses Siri as the virtual assistant, and HomeKit to act as the Hub for smart home devices. So if you are just looking for a streaming device, then I would go with a Roku or Fire TV Stick. The Fire TV Stick 4K Max will stream video just as well as an Apple TV, and has the latest Wi-Fi 6E standard, and you can usually find it on Amazon for under $50.
However, if you want a device that can do everything a Roku can do while acting as a hub for your smartphone, and helping you find a substitute for corn starch in a recipe, then I would take a look at the Apple TV. Furthermore, if getting a hub for your smart home is a priority, then the extra $20 for the Apple TV 4K Wi-Fi + Internet is worth it for the Thread Mesh network support.