Dennis is the editor in chief at Grounded Reason. Before writing about using technology to save you money he spent 20 years working in the tech sector as a sysadmin, an analyst, and an enterprise architect.

Latest posts by Dennis Restauro (see all)

With Sacha Baron Cohen's new show "Who Is America" launching this year, many are asking me how to watch Showtime if they don't have cable. Well, Showtime is not only available as a standalone streaming service, but it's also available with with many cable TV alternatives and even live TV streaming services. Following in the footsteps of HBO Now, Showtime is now available to those without a cable TV subscription.
As of right now, Showtime's standalone app is available on Apple TV, iPad, iPhone, Fire TV, Roku, and PlayStation Vue. Currently, it's available to watch free for 30 days. After the 1-month trial is up, you can choose to keep the Showtime streaming service for $10.99 per month, 4 bucks less than the similar HBO streaming service.
However, there is even a cheaper way to enjoy the new Showtime streaming service. Hulu is offering it as an add-on package to its premium service. Showtime can be added to your Hulu service for $8.99 per month, in addition to the $7.99 per month for Hulu Premium (formerly Hulu Plus). You can sign up at the link below.
You can sign up for Hulu and add Showtime here.
Furthermore, Amazon Prime just made Showtime available as an $8.99 per month add-on package. Here is a breakdown of all the ways you can watch Showtime without cable.

How to Watch Showtime without Cable
Below are the ways to set up and watch the new Showtime on the various devices and channels. If you chose to take advantage of the 30-day free trial, be aware that if you don't cancel during the 30-day trial you will be charged $10.99 per month until you cancel.
Showtime on Amazon Prime
Amazon Prime is a fantastic streaming service, offers many other benefits aside from streaming. But, they have just jumped way ahead of Netflix in my book as you can now have Showtime and Starz as add-on packages to prime. You can enjoy every show those networks have to offer without cable for just $8.99 per month, per network.
Showtime on Hulu
Once subscribing to Hulu Premium, Signing up for Showtime is possible through the Hulu channel on your device. You can get Showtime with Hulu live and Hulu on demand. See our review of Hulu for more details.
Showtime on Roku
If you have a Roku device you can simply add the Showtime Channel to your Roku account or simply install it from the channel store on your Roku device.
Showtime on iPad, iPhone, and Apple TV
Apple TV has already installed it on your Apple TV. It should be available for you to simply start the channel and sign up. iPad and iPhone users can simply download the new App from the iTunes store.
Showtime on PlayStation Vue
You can watch Showtime on your PS4 or PS3 though PlayStation Vue. It's a great service that offers what is essentially a cable TV replacement over the internet. Simply sign up for your Showtime 30 day free trial and start binge-watching today.
Other Ways to Watch Showtime Online
Showtime is also available through YouTube TV for $11 per month. You can also watch Showtime through DirecTV Now for just $8 per month.
Showtime For Cord Cutters
When cutting the cord a few years back, one of the sacrifices we made was Showtime. My wife an I are big fans of Homeland. We decided it wasn't worth keeping cable just for a single show when we could simply wait for the season to be available on Netflix.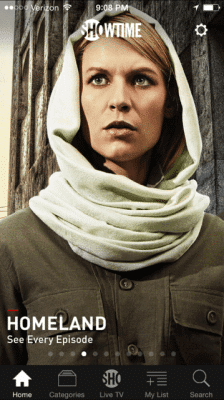 Fans of Showtime Originals like "Homeland" and "Ray Donavan" no longer have the need to hang on to their cable TV subscriptions. Showtime has made all episodes from every season available to their subscribers. My wife and I have already started binge watching the last season of "Homeland" and I'm blazing through episodes of "Penny Dreadful."
Not only can you watch these shows whenever you want, but Showtime also provides the live feeds from both the East and West coast. This means you will also have access to any Showtime specials live events.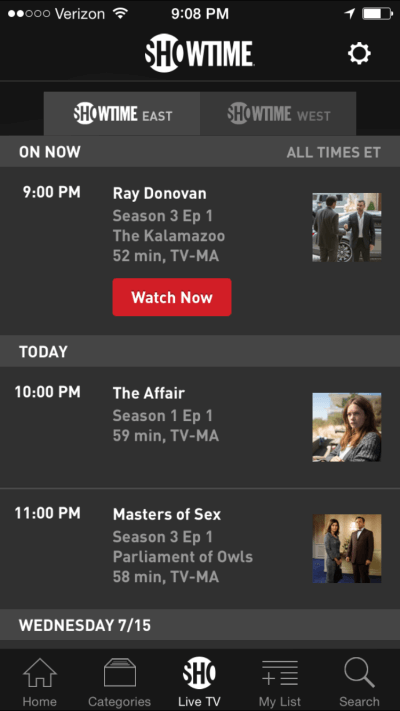 Sure, it seems that the number of services available to cord cutters is out of control. However, even though carrying multiple subscriptions increases your costs, it's still a much better deal than most cable TV subscriptions.
For example, if you carry Amazon Prime, Sling TV, Hulu, Showtime, and HBO you're looking at a monthly cost of around $60 per month for content. Add another $50 for internet and your monthly costs are about $110 per month.
But streaming services simulates a cable package that would give you DVR/ On Demand functionality, the top cable and broadcast networks, and the 2 most popular Premium channels. Not only is streaming about $40 cheaper after considering device fees and taxes, but you can cancel any service at any time.
That's the key. There is no contract with these streaming solutions. You could even save more by juggling subscriptions based on what programming is airing at various points of the year.
For instance, carry HBO during Game of Thrones and then drop it for Showtime when you're ready to watch Homeland. The flexibility of streaming is big positive for cutting the cord, and waving that big cable bills goodbye.
A la carte cable TV has finally arrived. It's just in the much more accessible form of Internet based TV.
Need More Information?
If this article didn't answer your specific question, head over to our Home Page! It's designed as a guide to our most important articles to help you ditch pay TV.
For tips and tricks on cutting the cord and other tech topics be sure to join our Facebook Page and follow us on Twitter @Grounded Reason.
Join Millions of Cord Cutters
Disclosure: Grounded Reason is supported by a small commission for purchases made through some product links on this website. We do not accept compensation from companies attempting to sway our review of products.