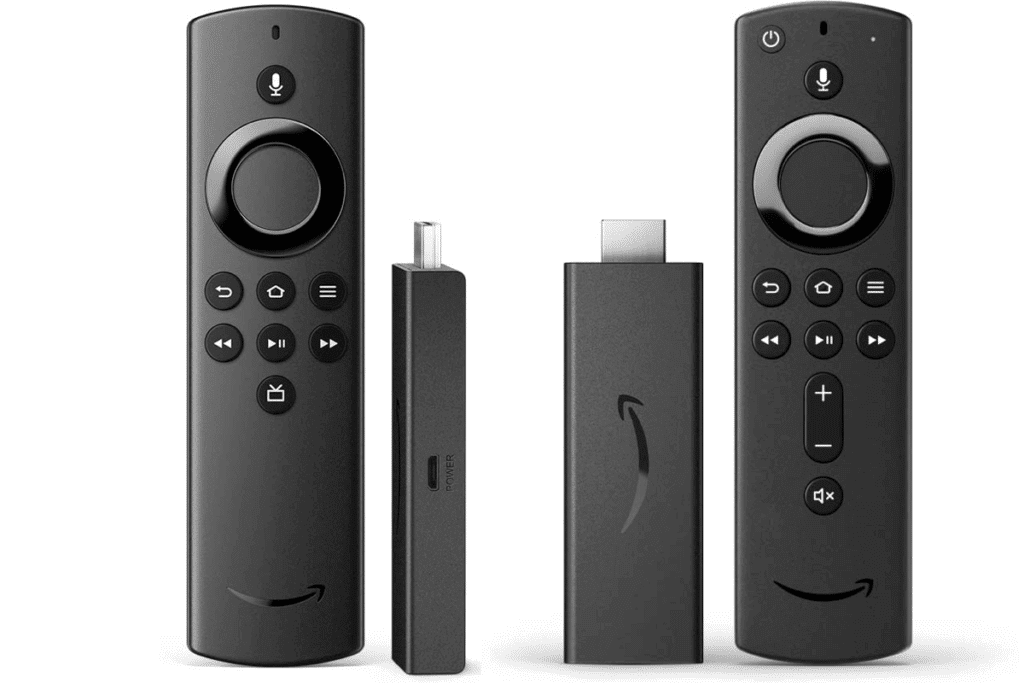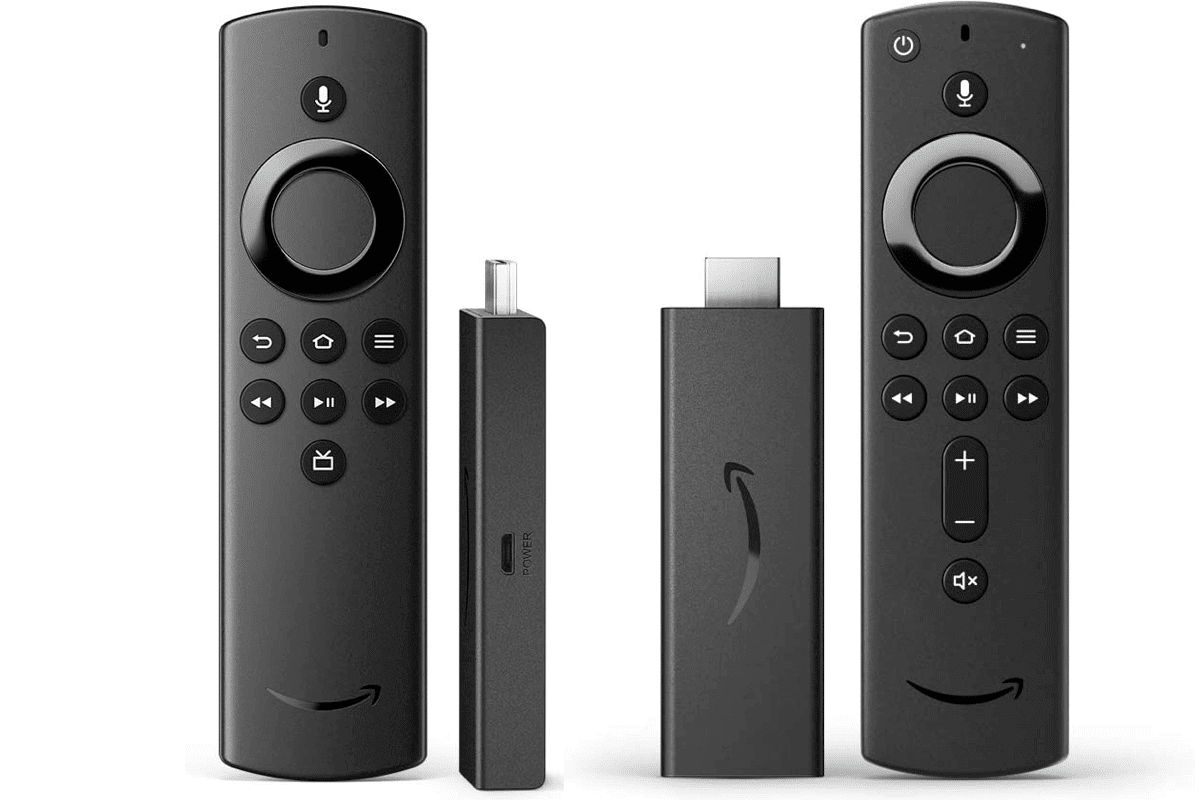 Amazon unveiled its new Fire Stick and Fire Stick Lite in their September 24th announcement. Both of these devices support Alexa Voice controls and allow you to stream video live and on-demand from various streaming apps and services. Both of these devices have a maximum video resolution of 1080p, so if you want to stream in 4K you should look at the Amazon Fire Stick 4K.
The official release date is September 30, 2020. You order both versions now from the links below.
Amazon Fire Stick – Order for $39.99
Amazon Fire Stick Lite – Order For $29.99
Let's look at the details and differences between the new Fire Stick and Fire Stick Lite.
Differences Between Fire Stick and Fire Stick Lite
While the branding may lead you to think these devices are vastly different in speed and performance, for the most part, they are the same device. The only differences between the two are:
The remote control that comes with the Fire Stick has TV buttons allowing you to control the power and volume on your TV while the Fire Stick Lite does not.
The Amazon Fire Stick supports Dolby Atmos, Dolby Digital, and Dolby Digital+ surround sound while the Lite version only supports those features via HDMI audio passthrough.
Technical Specifications
All other specifications on these two devices are the same. Both the Fire Stick and Fire Stick Lite
Video Formats Supported: HDR 10, HDR10+, HLG, H.265, H.264, Vp9
Video Resolution: 1080p and 720p up to 60 fps
Size: 3.4" x 1.2" x 0.5" (86 x 30 x 13 mm)
Weight: 1.1 oz (32.0 g)
Processor: Quad-core 1.7 GHz
Storage: 8 GB internal
Wi-Fi: Dual-band, dual-antenna Wi-Fi (MIMO) Supports 802.11a/b/g/n/ac Wi-Fi networks.
Bluetooth: Bluetooth 5.0 and Bluetooth Low Energy.
Ports: HDMI output, micro-USB for power only
Both devices support several live and on-demand streaming services, including Netflix, YouTube, Prime Video, Disney+, Apple TV, STARZ, SHOWTIME, CBS All Access, Hulu+ Live TV, SLING TV, YouTube TV, Philo, FuboTV, Vidgo, and more.
What's in the Box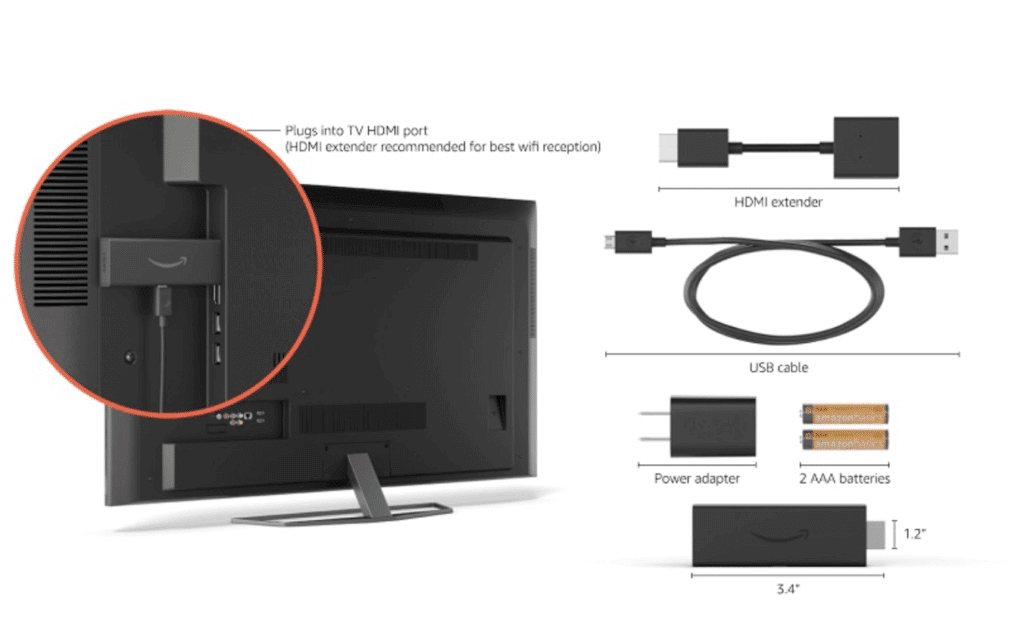 Amazon Fire Stick and Fire Stick Lite include the following:
Fire TV Stick (3rd Gen)
Alexa Voice Remote 2nd Gen
USB cable and power adapter
HDMI extender
2 AAA batteries
Installing Your Fire Stick
The Fire Stick and Fire Stick Lite both install the same way. Plug the device into the HDMI port on your television. Then, attach the included power adapter to your Fire Stick to provide power to the device. The Fire TV Stick comes with an HDMI extender dongle if the Fire Stick juts out of your TV at an odd angle. From there, stick the included AAA batteries into the remote. Once the Fire Stick automatically pairs with the remote, follow the following steps.
The Fire Stick should locate a list of WiFi networks. Chose yours and enter the password.
The Fire Stick will then install any updates.
Next, supply your Amazon account login information. If you purchased the device through Amazon, this is already configured.
A Short tutorial should begin. After that, you are free to use your Fire Stick.