Released in September 2021, The Roku Streaming Stick 4K is the latest streaming device from Roku. The most significant improvements over 2019's Roku Streaming Stick+ come in the way of support for more HDR standards and eight times more channel storage. It has all the functionality a cord-cutter needs starting at around $49.99. Roku has also released the Roku Streaming Stick 4K+, which includes the same streaming stick as the Roku Stick 4K but includes the Roku Voice Remote Pro instead of the standard Roku remote. The Roku Streaming Stick 4K+ is priced at $69.99. Let's take a look at Roku's latest streaming device.
Roku Streaming Stick 4K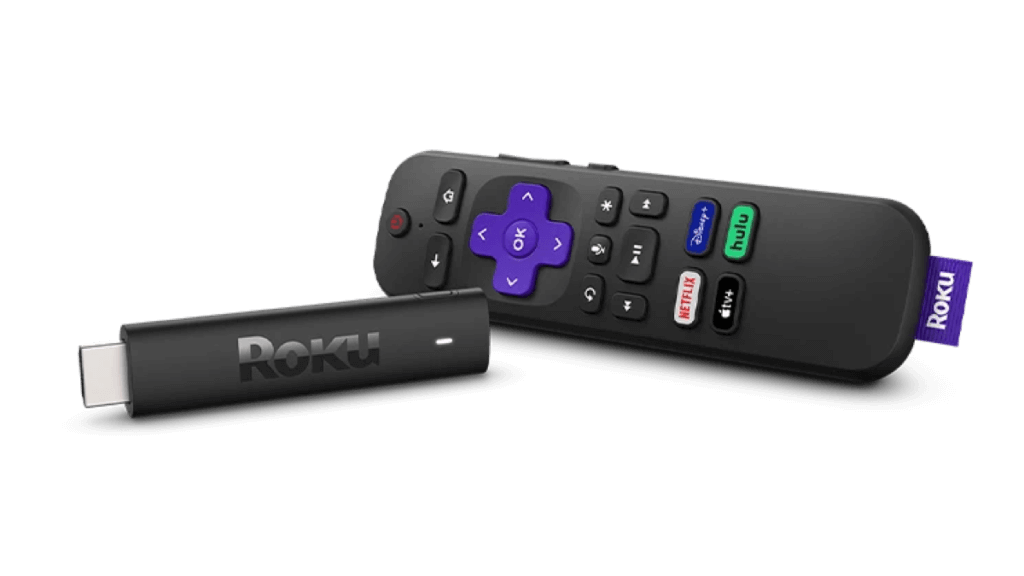 The Roku Streaming Stick 4K provides all the streaming functionality a cord-cutter needs at a great price. Video streams, at 720p, 1080p, and 4K at 60 frames per second. The Roku Streaming stick also supports HDR10+ and Dolby Vision. Believe me. If you want one feature in a streaming device, it's HDR. The real-world color it provides sets it apart from non-HDR video. Roku streaming service support is unrivaled by the competition. Roku supports thousands of apps, including Disney+, Hulu, and Apple TV+.
The Roku Streaming Stick 4K significantly boosts network communication capacity by now, including support for MIMO, which allows the Roku Streaming Stick 4K to communicate on multiple signals simultaneously. It also retains its predecessor's improvement of putting the Wi-Fi module on the power dongle instead of being built into the stick to limit interference from your TV and improve the Wi-Fi signal quality.
Another considerable improvement made by the Roku Streaming Stick 4K is the 4 GB of internal app storage space. This is eight times more space for apps compared to the previous Roku Streaming Stick. Roku also upgraded the onboard processor to provide a performance boost in menu response and load times. Another improvement is support for HDMI 2.0b, which extends HDR support to the Hybrid Log Gamma format required for 4K Ultra HD TV broadcasting over the air.
Check out the full specs below.
Tech Specs
Networking – 802.11ac MIMO dual-band Wi-Fi® support.
Storage: 4 GB for channels and apps
Video – HD, 4K, HDR10+, Dolby Vision
Audio – Supports Digital stereo over HDMI® / DTS Digital Surround™ pass through over HDMI / pass-through of Dolby-encoded audio over HDMI
Processor – ARM Cortex A55 with 1 GB of Ram
Power Consumption – 3.5W (typical) when streaming 4K UHD video
Power Input – 5-volt 1-amp USB power adapter
What's Included In Roku Streaming Stick 4K
You'll find all of the following when you unbox your new Roku Streaming Stick 4K
Roku Streaming Stick 4K
Voice remote with TV power, volume, and mute buttons
Two AAA batteries
USB power cable with long-range wireless receiver
Power adaptor & extender cable
Roku Streaming Stick 4K+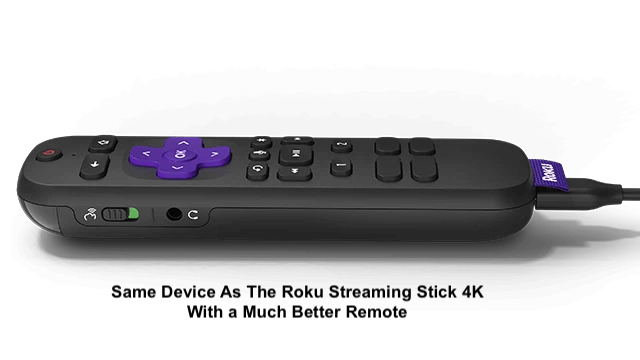 The Roku Streaming Stick 4K+ includes the same streaming device as the Roku Streaming Stick 4K. The $20 increase in price is due to the inclusion of Roku's top-of-the-line remote, the Roku Voice Remote Pro. This new remote from Roku has a rechargeable battery allowing you to keep your remote charged with a USB charger and included Micro-USB charging cable. The remote also includes Hands-free & push-to-talk voice controls and supports Remote Finder functionality. Just say, "Hey Roku, where's my remote," and your remote will audibly chime for you to find it. You can also use the "Hey Roku" voice commands to play and pause what you're watching, turn your TV on*, adjust the volume, control playback, and more. The Roku Voice Remote Pro also supports private listening but doesn't include headphones.
The Roku Interface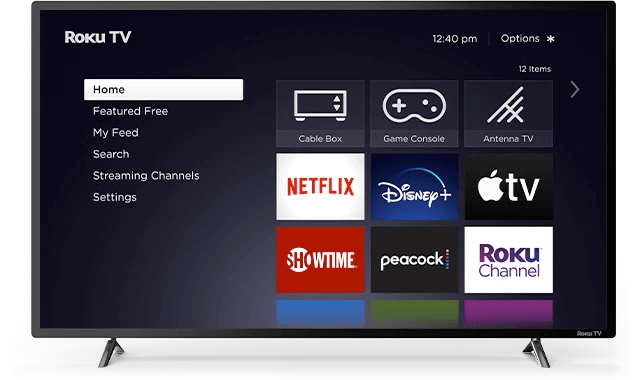 Unless you are asking, "What's a Roku," you are most likely familiar with the look and feel of navigating the Roku user interface. Like all other Roku models (stick or not), the Roku Streaming Stick uses the same Roku OS we all know and love. If you used a Roku before, you will be intimately familiar with navigating the new Roku Streaming Stick.
For those not familiar, Roku sports an easy-to-navigate home screen that displays all the downloaded channels (also called apps) that you use. You install apps like Sling TV, Netflix, and more through the Roku Channel Store.
The homepage is fully customizable, allowing you to order the channels how you see fit. There are a few pre-installed apps, but Roku allows you to remove them from the interface if you like.
Roku has thousands of channels available, and every major streaming service is available. Disney+, Netflix, Amazon Prime Video, Sling TV, Hulu, and more are all there. In fact, if content availability is what you are looking for in a streaming device, I suggest Roku. They even have "The Roku Channel" which shows free movies and TV.
Roku OS provides a function called "My Feed," which allows you to set your favorite shows on your subscription services. Roku will then let you know when new episodes of those shows are available.
Roku OS also provides one of the best search functions of any streaming device. When you search for an actor or title, Roku searches through most major streaming services to provide results. Furthermore, Roku integrates Live over the air TV with Roku search results. Roku has some of the best voice search functionality in its class.
Roku OS supports both Amazon Alexa and Google Assistant, allowing you to integrate voice commands between your digital assistance and Roku.
Installing the New Roku Streaming Stick 4K
Installation of the Roku Streaming Stick 4K is a breeze, and the setup process doesn't deviate from any other Roku device. Just follow these simple steps:
Step 1: Plug the Roku Streaming Stick into an HDMI port on your TV. Connect the micro-USB port to the TV's powered USB port or the USB external adapter. Not all USB ports supply power. If the Roku Stick doesn't power on when connecting to the TV's USB port, use the USB external power adapter.
Step 2: Turn on the TV and make sure it's on the correct HDMI input.
Step 3: Insert the two included AAA batteries into the remote. If the LED starts blinking, it is paired with the device. Once the remote pairs, the LED will stop flashing.
Step 4: Follow the guided setup on your television to set up the device on your network.
Should You Buy Roku Streaming Stick 4K
If you already have a streaming device and are happy, there is no reason to run out and get a Roku Streaming Stick 4K. However, if you are looking for an affordable way to add streaming functionality to your TV, the Roku Streaming Stick 4K is a great product to purchase. Furthermore, if you're looking for an affordable way to add Dolby Vision HDR in 4K video or need more storage for many streaming apps, then the Roku Streaming Stick 4K is a good solution at a great price.