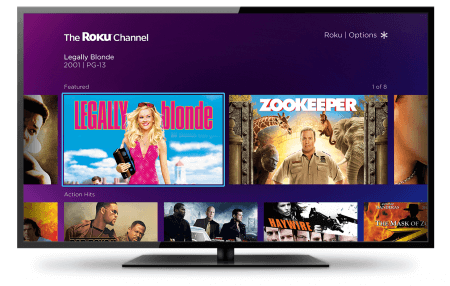 Roku announced they are launching a new channel called "The Roku Channel." The channel will offer top films and other content that viewers can watch free. You won't even need to log in. those interested in checking out the new channel simply need to download the new channel to their Roku device through the Roku Store.
The channel is ad supported. However, Roku expects there to be about half the ads view experience on traditional cable TV. Given that an hour of TV on most networks comes with roughly 16 minutes of commercials, we can expect around 8 minutes of commercials on the "The Roku Channel."
I was able to install "The Roku Channel" on my TCL Roku TV and it worked like a charm. The menu was responsive, and movies streamed with no buffering.  The channel offered movies like Ali, Legally Blond, Snatch, Nacho Libre, every Karate Kid movie, and more. There were also a few TV shows available.
According to their press release, The Roku Channel will feature quality films from leading studios including Lionsgate, Metro-Goldwyn-Mayer (MGM), Sony Pictures Entertainment and Warner Brothers among others.
The channel will also feature content from American Classics, Fandor, FilmRise, Nosey, OVGuide, Popcornflix, Vidmark, and YuYu. The intent is for the channel to drive viewership to these services. More streaming services are expected to join in the near future.
The Roku Channel will be part of a phased rollout over the next few weeks. Feel free to check the Roku Store on your device to see if it's available. It already was on my Roku TV, and Roku Ultra. Once it's available on your device you can simply add the channel from the Roku Store.
Good content aggregation channels are exactly what cord cutters need. While this channel is currently small, Roku seems to have every intention of growing the content available on it. I for one am excited about the potential of this free channel from Roku.
Check Out How To Get Gigabit Internet and Free Netflix
If you enjoyed this article, please Subscribe to our weekly newsletter. It goes out every week and keeps you up to date on information relevant to cord cutters. Subscribing will also inform you on the latest deals out there for internet, streaming, and more.
If this article didn't answer your specific question, check out the Cord Cutting Guide. It provides links to the most important articles in our over 200 pages of content to help you ditch pay TV.
For tips and tricks on cutting the cord and other tech topics be sure to join our Facebook Page and follow us on Twitter @Grounded Reason
.