If you have a Roku TV like my TCL Roku TV, it has a feature other Roku's like the Roku Ultra and Roku Streaming Stick+ don't have, the ability to hook up a TV antenna to receive local broadcast networks. If you have a Roku TV, read on to learn how to use it with a TV antenna to watch local broadcast TV. If you don't have a Roku TV, see our guide to streaming local broadcast channels for another solution.
Adding an Antenna to Roku TV
Before we start, we need to connect an antenna to our Roku TV. Depending on where you live, receiving channels over the air with an antenna can be as easy as just connecting the antenna or one of the most frustrating tasks you've ever undertaken. If you want to try an indoor antenna and see what channels are available in your area, I recommend the GE Ultra Edge Indoor Antenna. 
This indoor TV antenna costs under $25, and if you don't get the channels you expect, you can return it for a full refund for ANY reason. GE also sells a version with an amplifier. I don't recommend buying that one, as indoor antenna amplifiers aren't needed in most cases. We also have a guide to help you choose a TV antenna if you want help deciding which type of antenna (indoor, outdoor, multi-directional, etc.) to use.
Installing the Antenna for Your Roku TV
Regardless of the antenna you chose, make sure you put it in the right location to make sure you are getting good TV antenna reception. Ideally, you will want it in the window, facing nearby TV towers. You will hook it up to your Roku TV using a Coaxial cable. We recommend an RG6 coaxial cable for the best reception. However, many indoor antennas come with a built-in coaxial cable. Connect the antenna to the TV by attaching the coaxial cable to the "Cable/ANT" port on your TV. It will screw in by hand.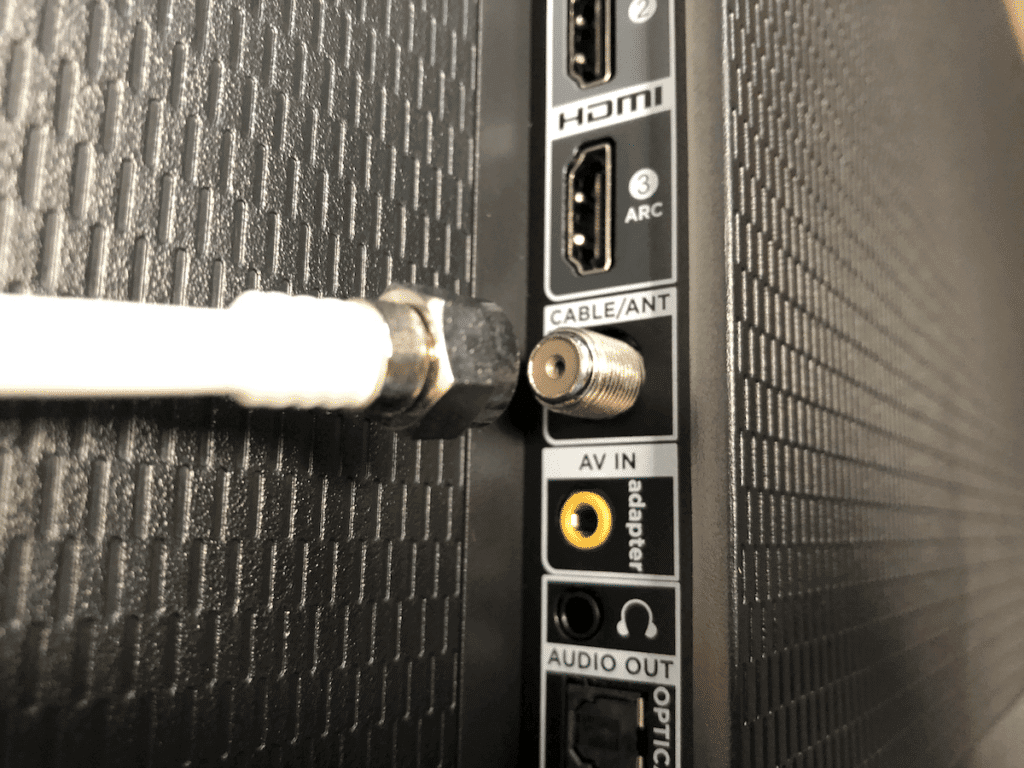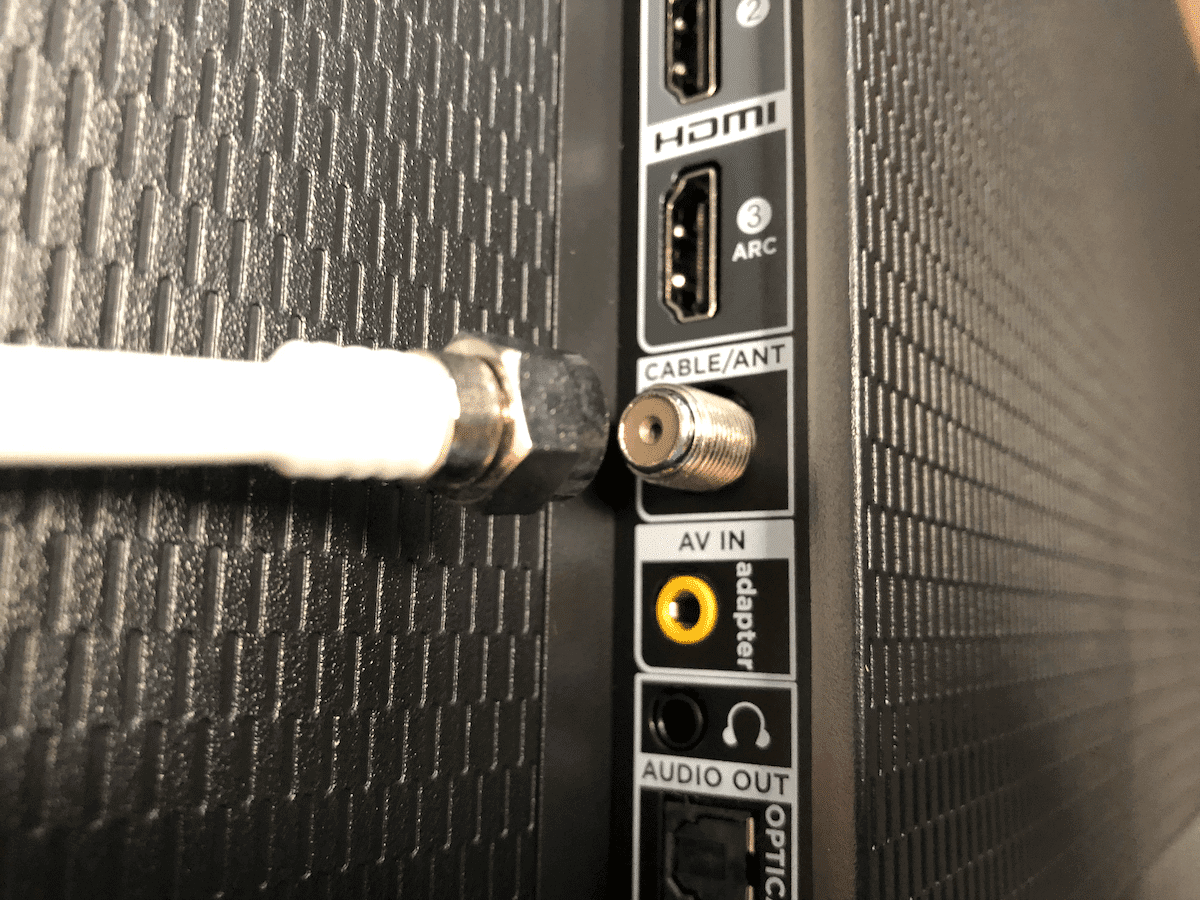 On your Roku TV, you will notice that the home menu has an app preloaded that's labeled "Live TV." The app, shown below, has the image of an antenna on it. The "Live TV" app is only on Roku TV's and not other Roku devices. Click the "OK" button on your remote to scan your antenna for channels.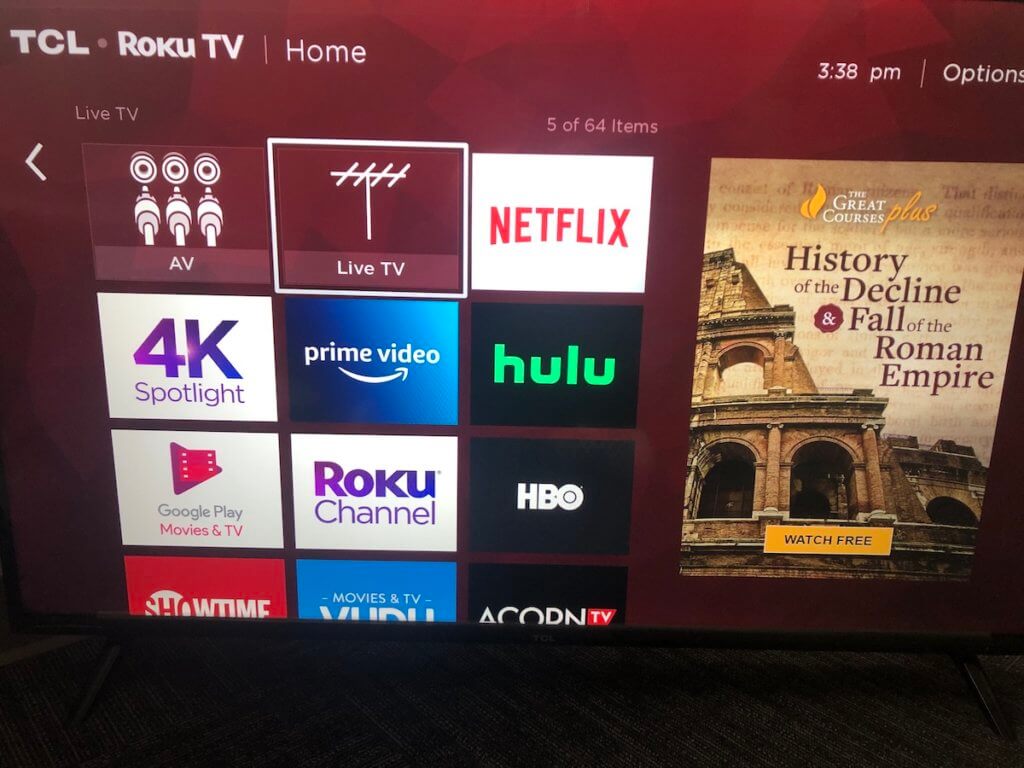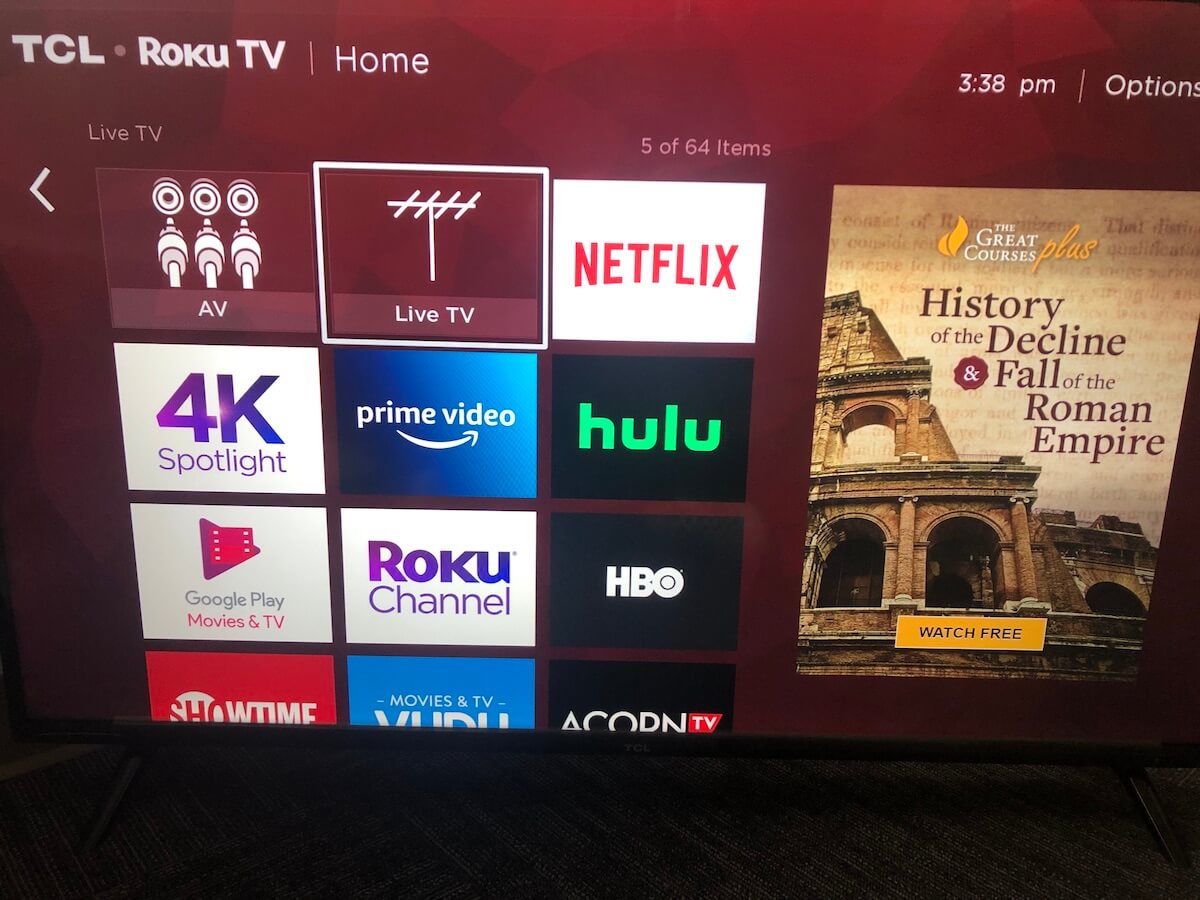 Automatic Content Recognition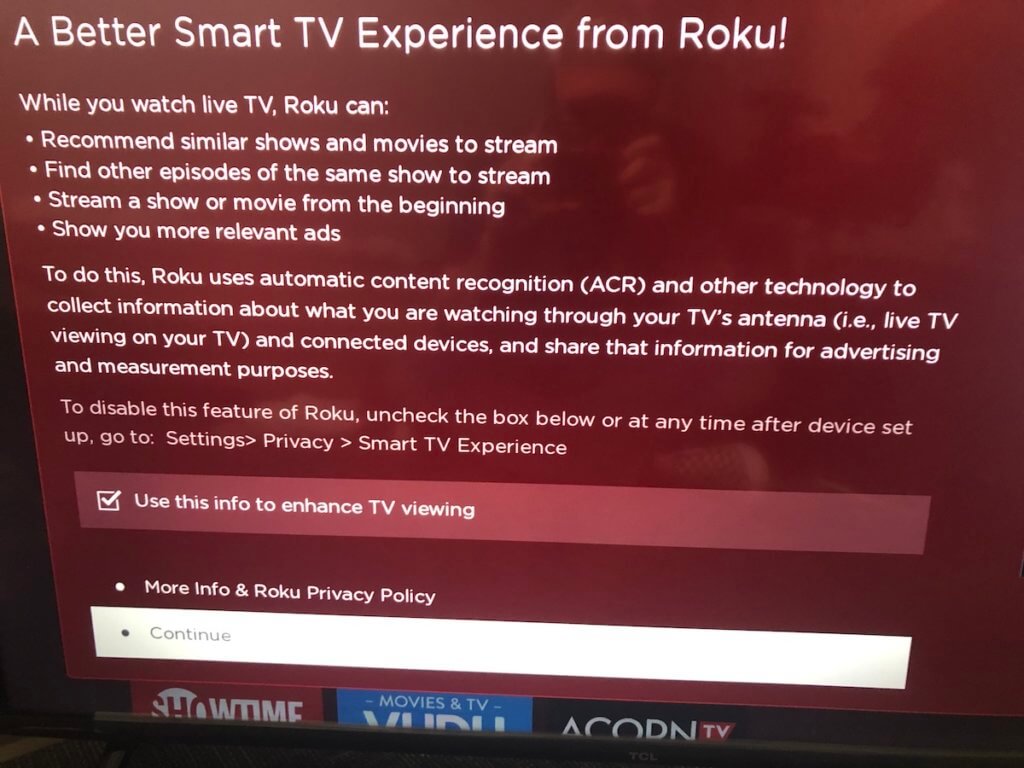 The first time you open the live TV app, you will see a privacy screen asking if you want to use "Automatic Content Recognition." This is a cool feature on Roku TVs. It takes data from what you watch on Live TV and then feeds that into streaming apps you use on the Roku TV to suggest and recommend TV shows and movies for you to watch. It also enables some other neat features like letting you know other episodes of a show you are watching on Live TV are available on a streaming service you subscribe to.
However, they aren't doing this out of the goodness of their hearts. That data is also used for 3rd party advertising. Ultimately, it's up to you to decide if the benefits of recommendation are worth allowing this data collection. This feature can be enabled or disabled on your Roku TV from the Home screen by navigating to Settings > Privacy > Smart TV Experience.
Scanning your Roku TV For Channels
Now you are ready to scan your TV antenna for channels. You will see the screen in the image below. While it says it could take up to 30 minutes, my scan was done in less than 5 minutes. Click "OK" on "Start Finding Channels."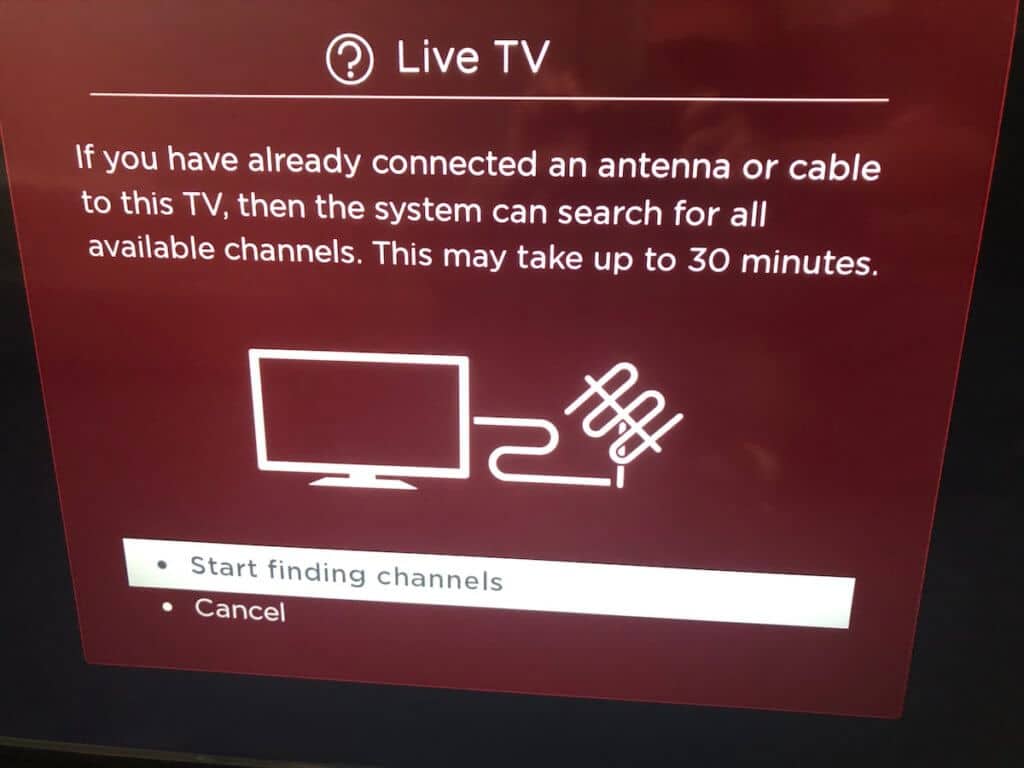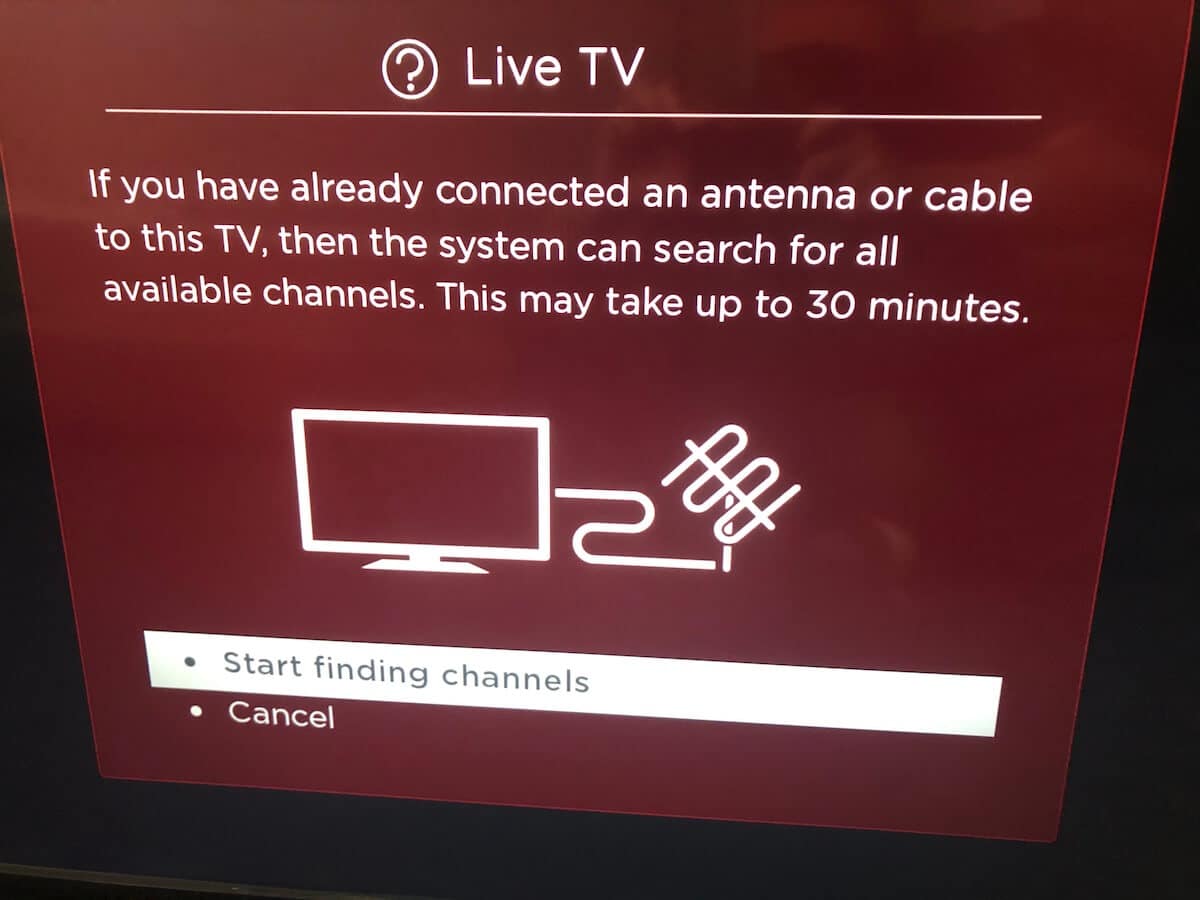 Next, Your Roku TV will ask if you need to reserve channels 3 or channel 4 for a device like a VCR that connects to your Roku TV Video port. This yellow port says "Adapter" in the TV/Cable port image earlier in the article. Depending on your Roku TV, you may have a red audio port or other ways to connect a VCR. Most can skip this part as it's not required for live TV.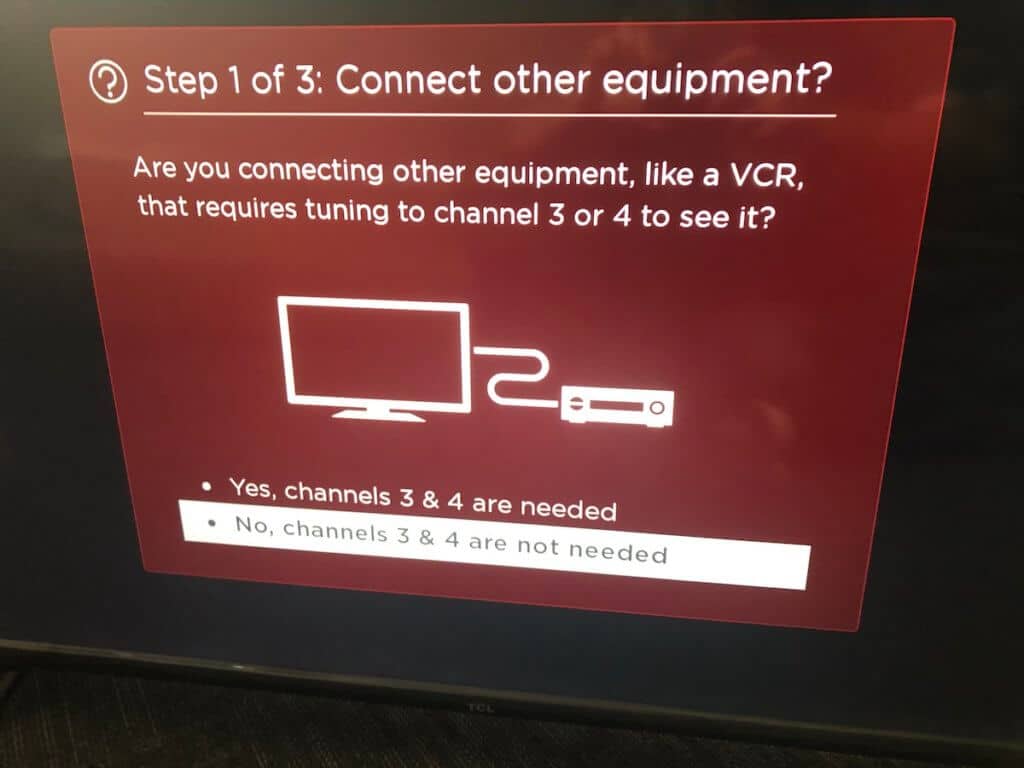 Now, your Roku TV will find all the channels in your area. It shouldn't take too long. The screen below shows step 2 of 3 with a progress bar.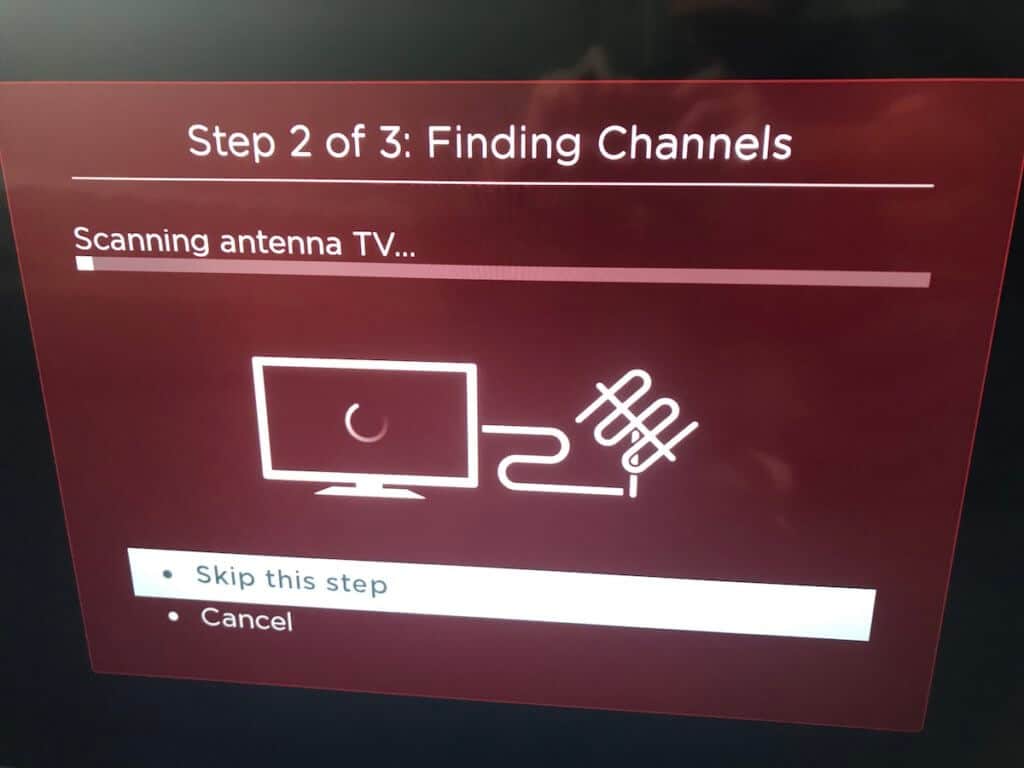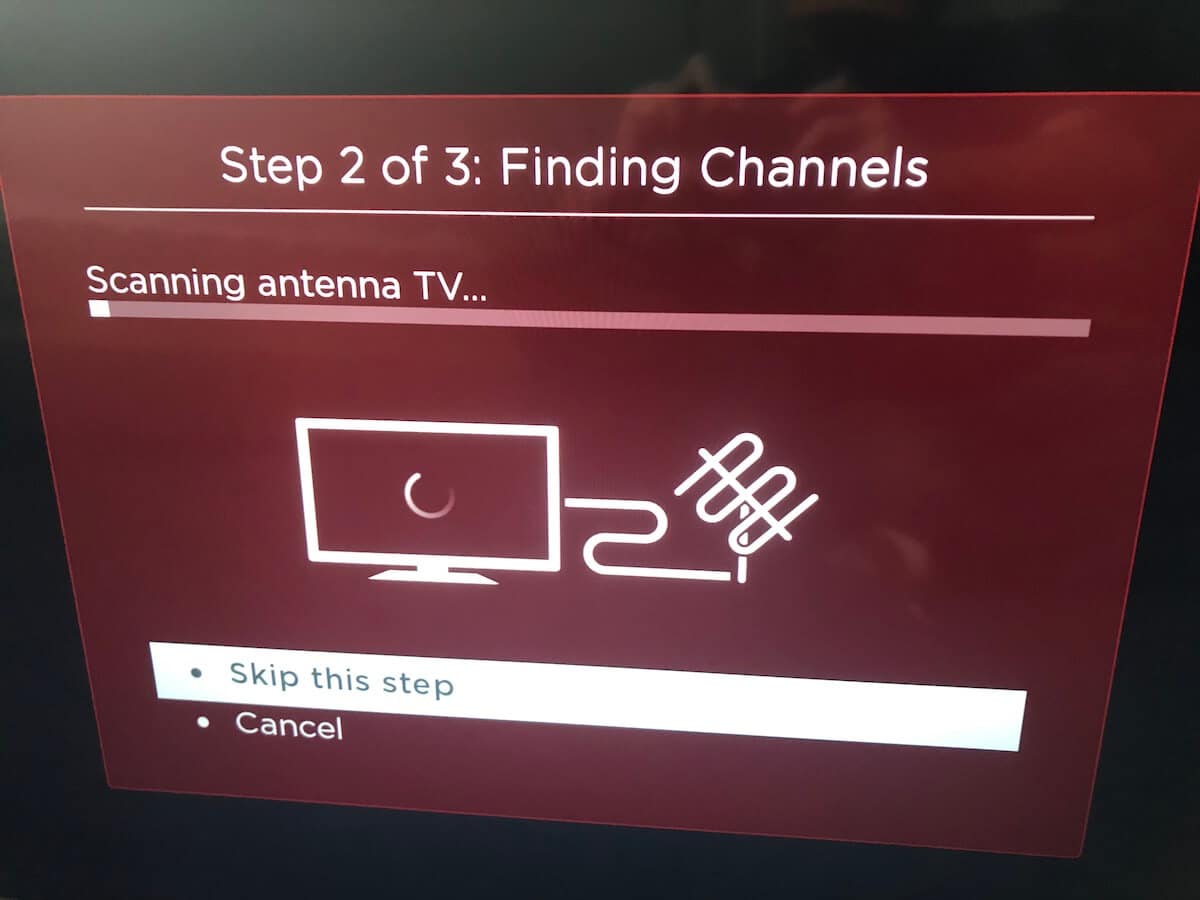 When the bar is complete, Step 3 will start automatically. This step scans for cable TV channels. This if you have hooked a cable TV source up to your Roku TV. It will scan the input just like it would for an Antenna. Most can skip this step. When complete, you will see how many Live TV channels you can receive on your Roku TV. I was able to find 44 channels in my area, including ABC, NBC, Fox, CBS, PBS, The CW, and more!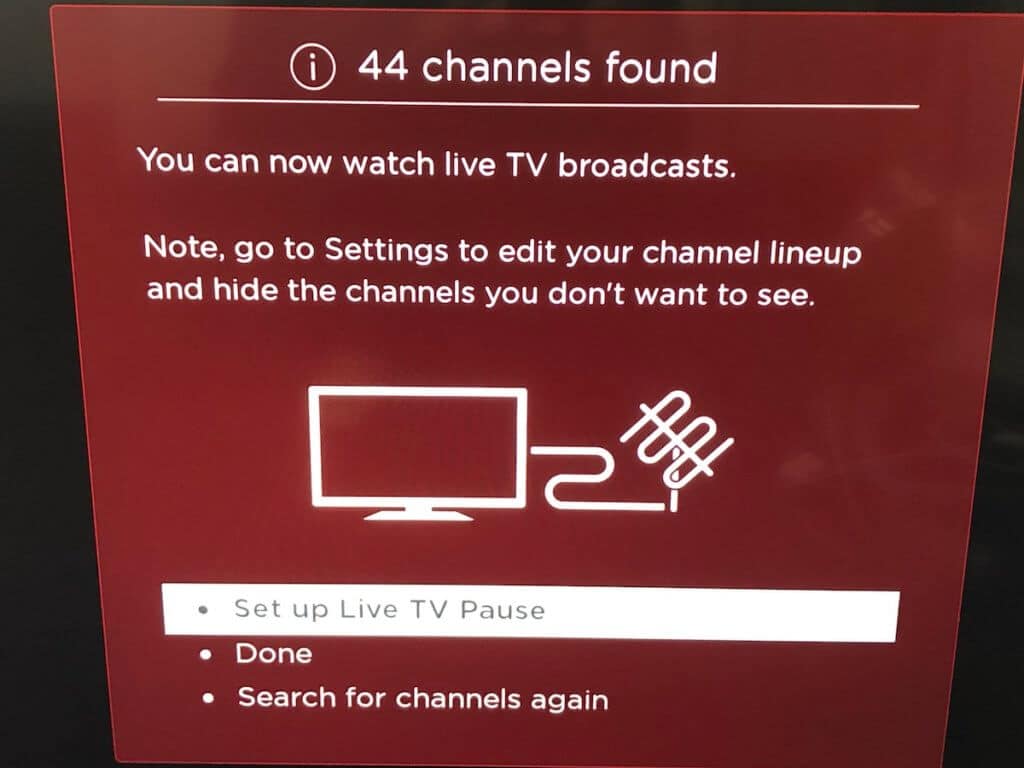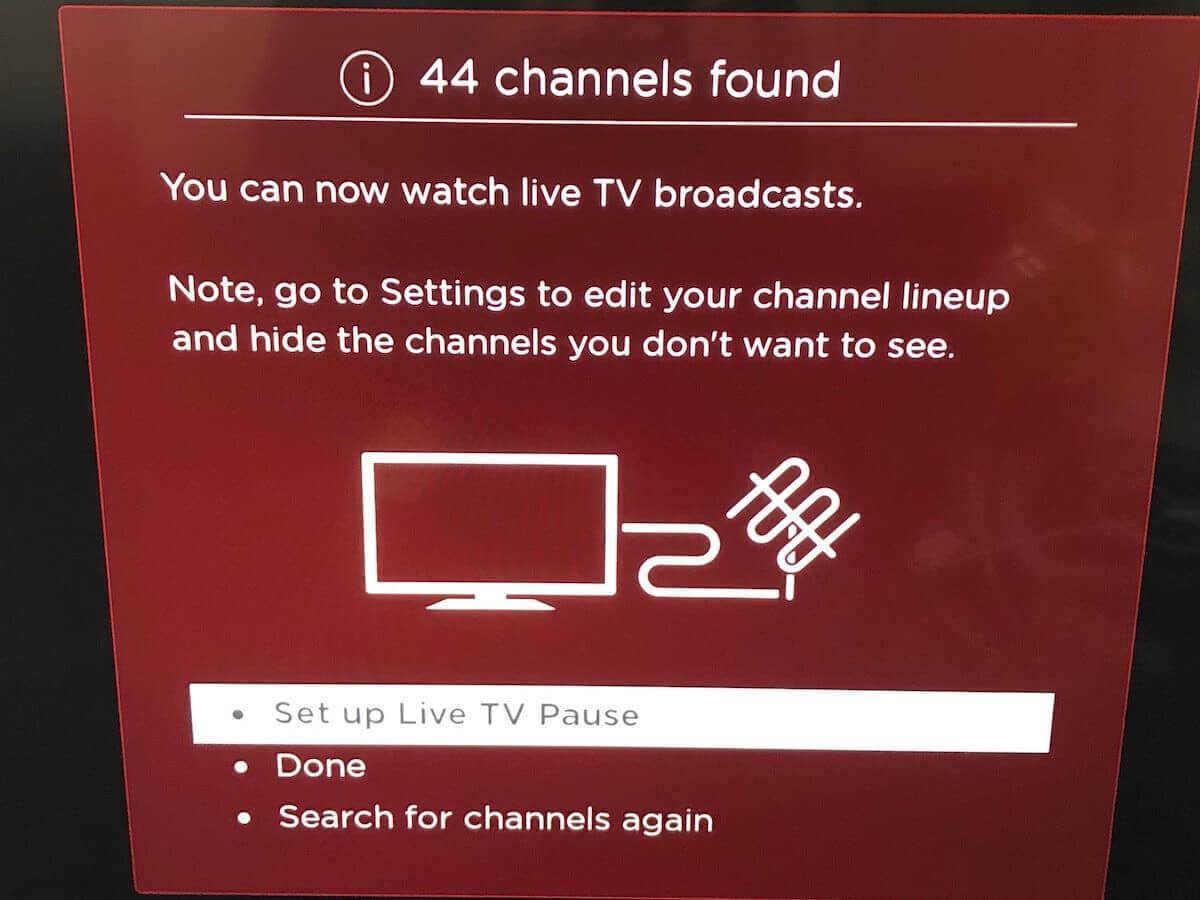 Roku TV Live TV Pause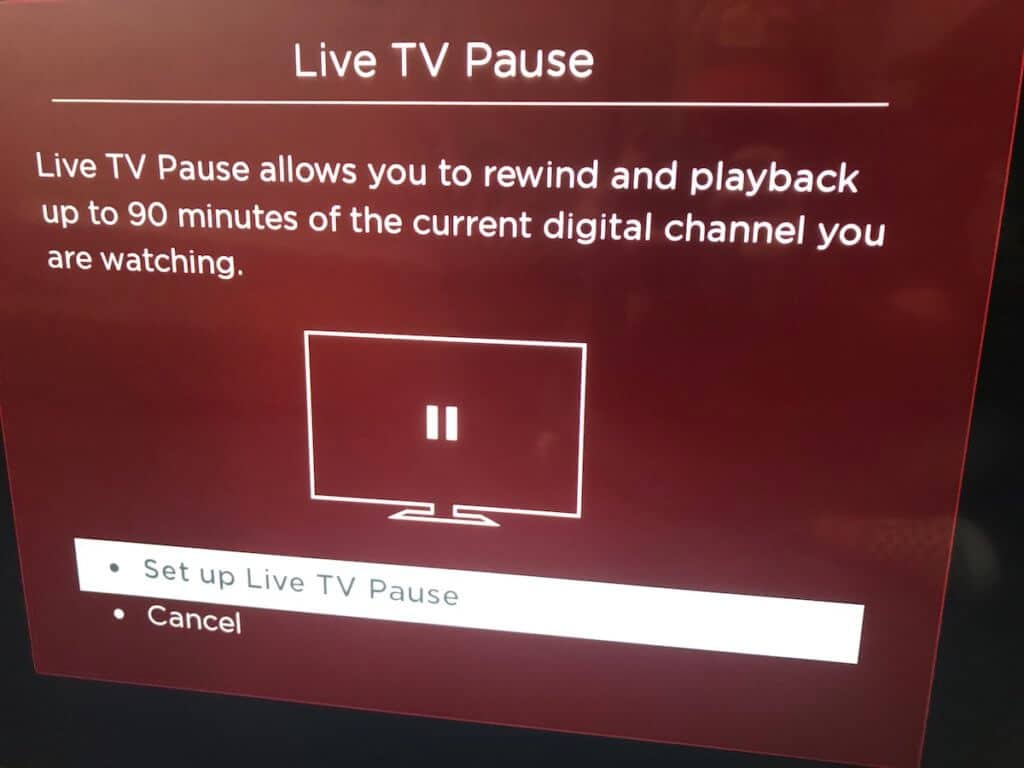 Roku TVs also have the ability to pause, rewind, and playback live TV. For this feature to work, you need to plug a USB 2.0 drive that's 16 GB or larger into the USB port on your Roku TV. I prefer these 32 GB flash drives from PNY.
Follow the on-screen dialogs to format and set the drive up for Live TV Pause. Regardless of the drive, the maximum pause/rewind/playback time is 90 minutes.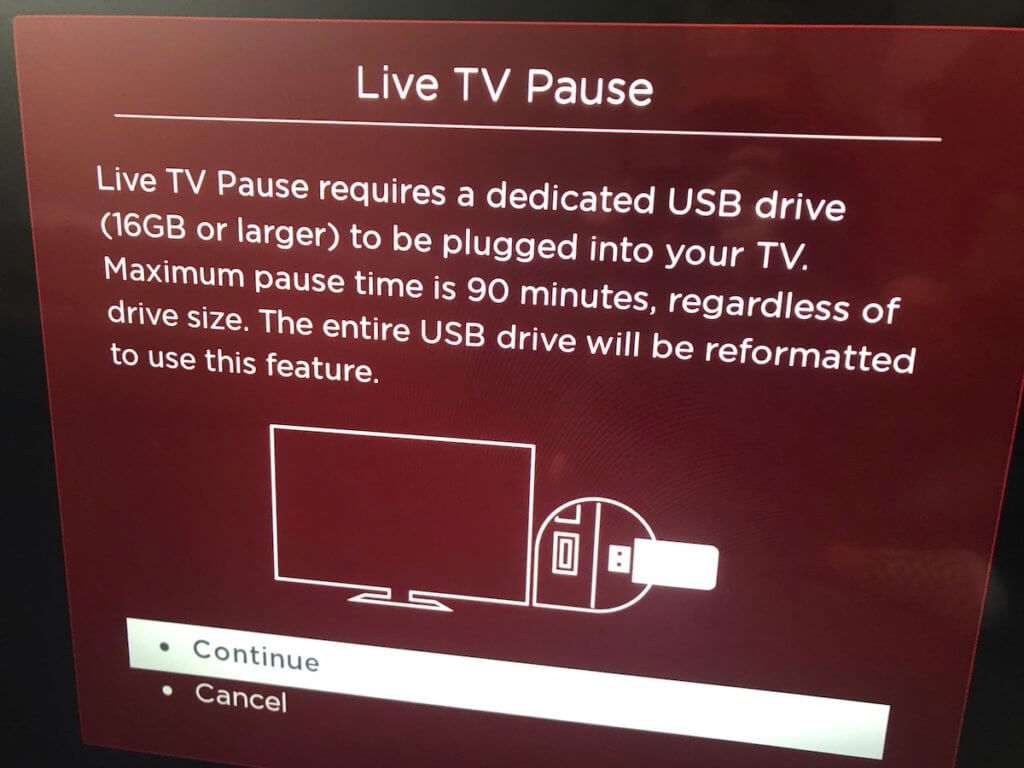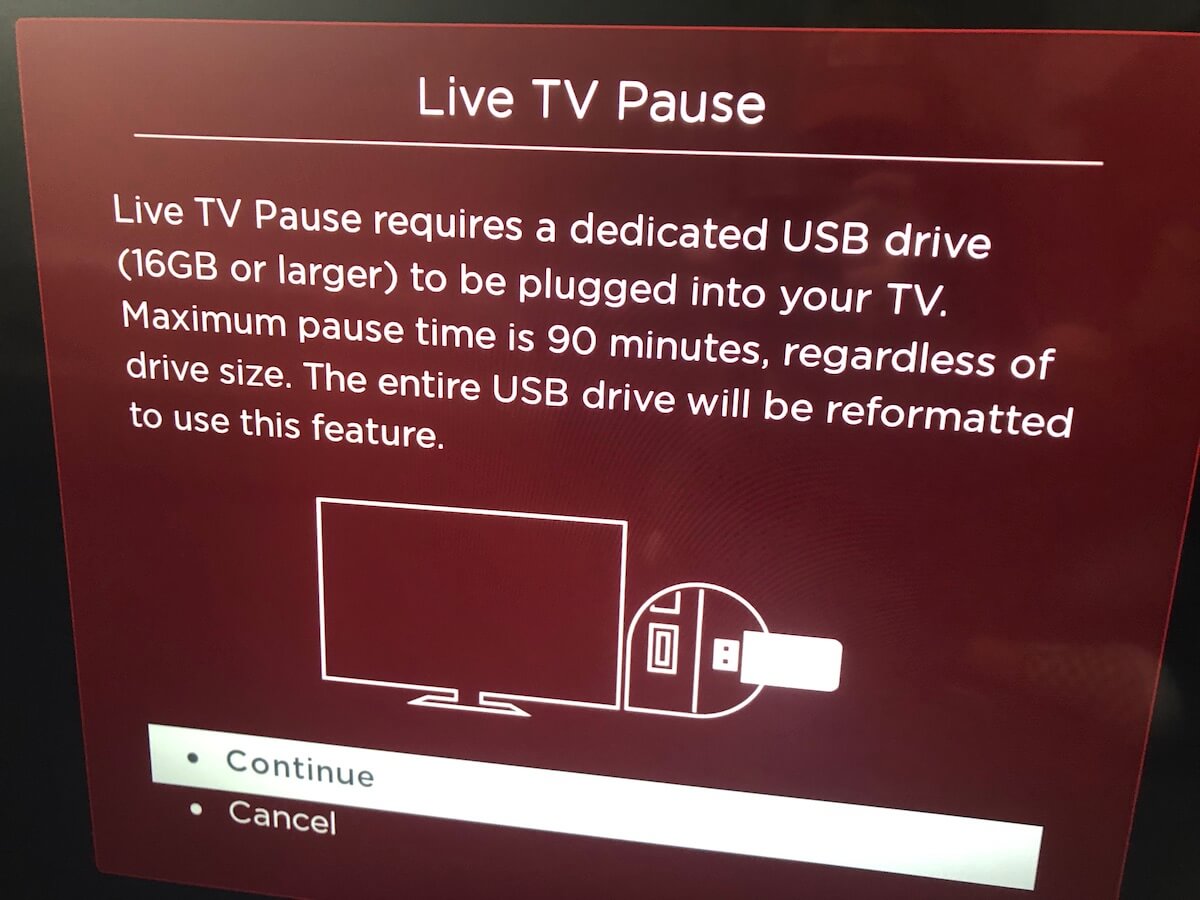 When this feature is set up, you can pause and play using the Play/Pause button on your Roku TV remote. You can press the Rewind button at any time to rewind the current channel up to 90 minutes or to the point where you first tuned to that channel. If you tune to another channel, leave Live TV, or power off the TV, the place where you paused the program will be lost. After being paused for 90 minutes, playback begins automatically.
Once these steps are complete, live TV will begin playing as soon as you enter the Live TV app. On your Roku TV remote, the purple Up and Down arrow control changing channels to the next or previous available channel. You can also use the Roku TV The Live TV guide. The guide is similar to the live TV guide most remember with cable and now use with live TV streaming services. To bring up the Live TV Guide, press the purple Left arrow on your Roku remote.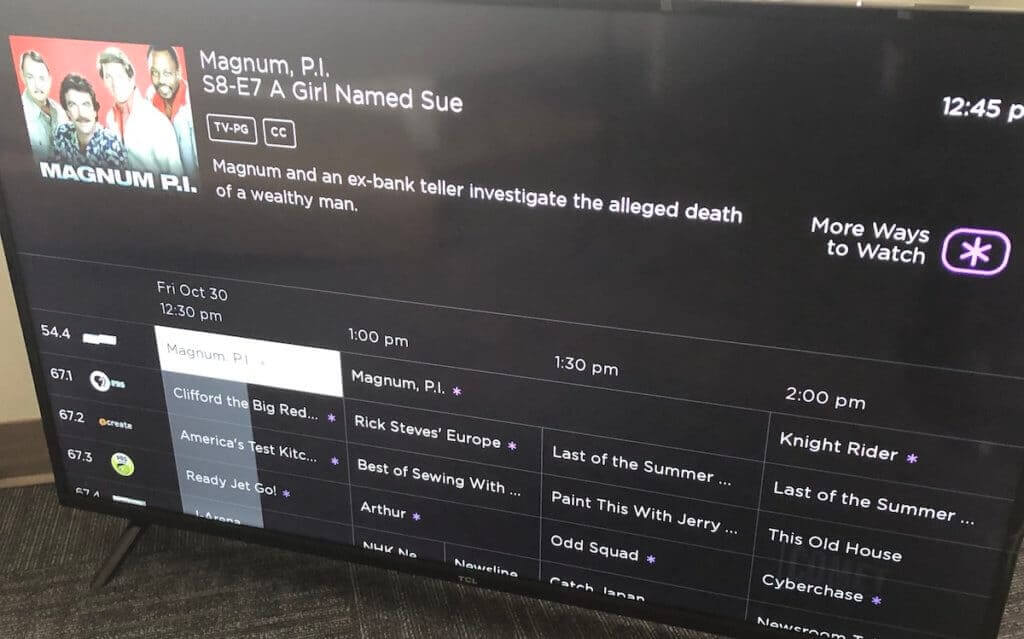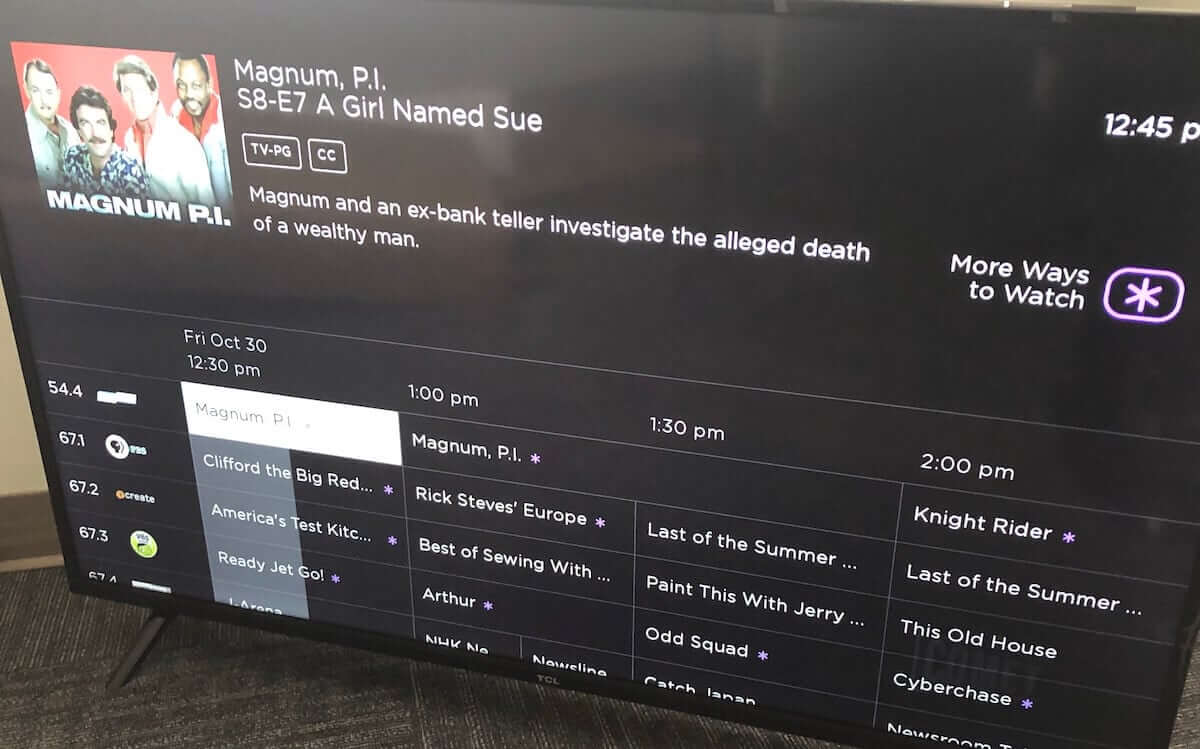 The guide is pulling show data and information from the TV towers. The data they make available in the signal will populate the guide. This will vary by location, but major channels in my area will populate the Roku TV guide more than a week out. Also, notice the "purple asterisk." on some shows. This is the "More Ways To Watch" feature. If you enabled the "Automatic Content Recognition" feature we described earlier in this article, pressing the asterisks on your Roku Remote will show you other places to stream this episode and related episodes.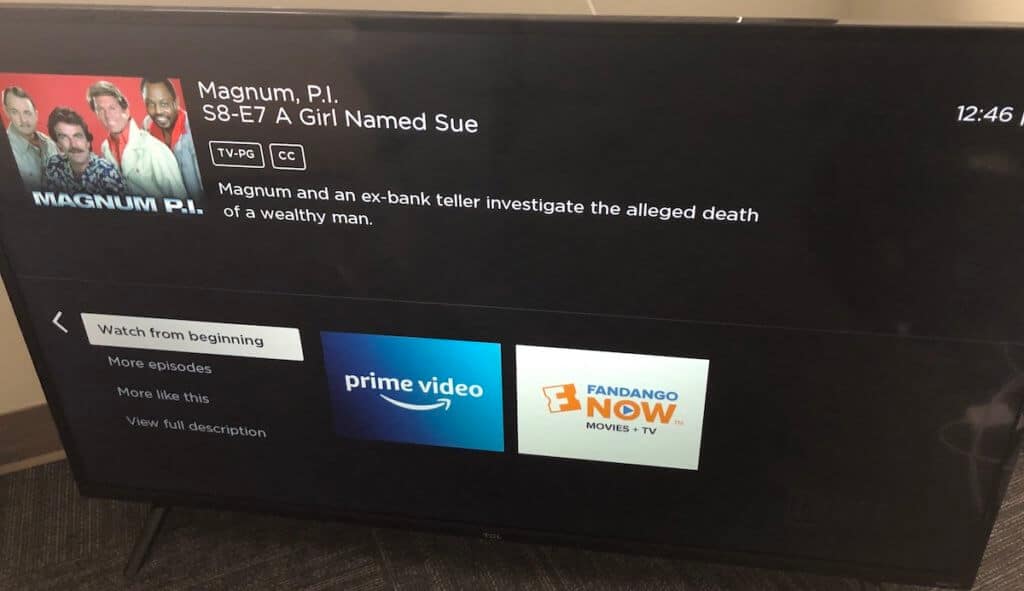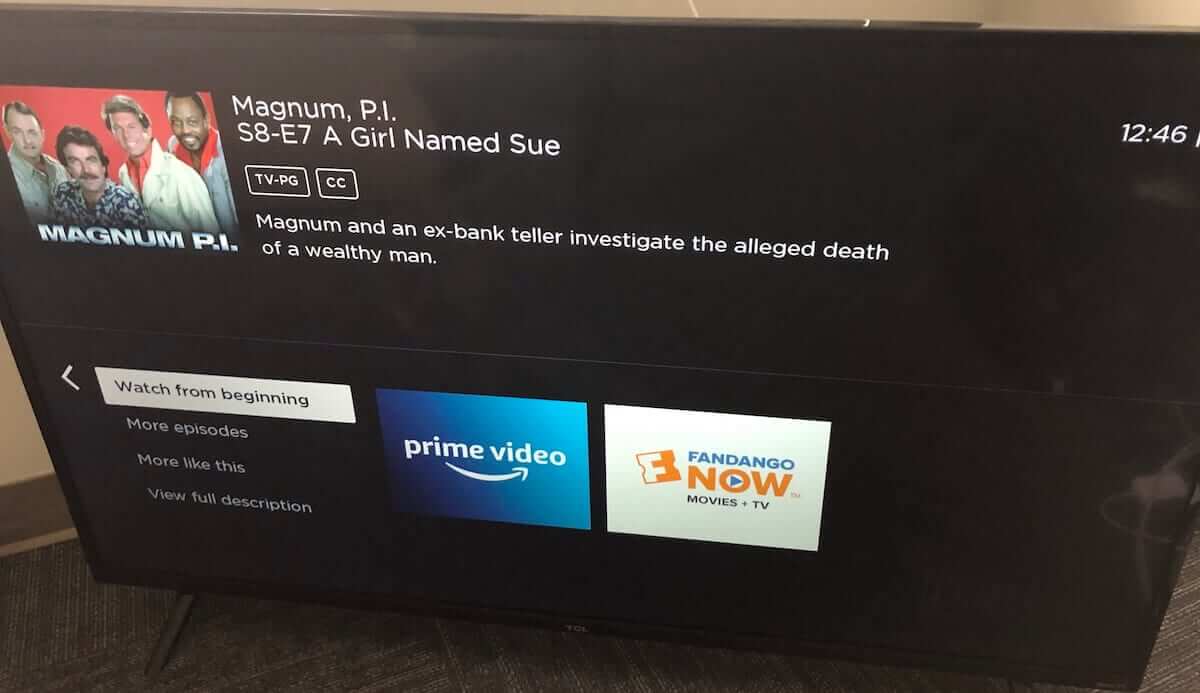 Rescanning and Revisiting Options
If you need to rescan channels, you can do so by going to the Roku Home screen and pressing the asterisks on your remote while you have the Live TV app highlighted. I recommend rescanning channels a few times a year to pick up any new broadcast channels you can receive. This is also where you can set up the "Live TV Pause" feature.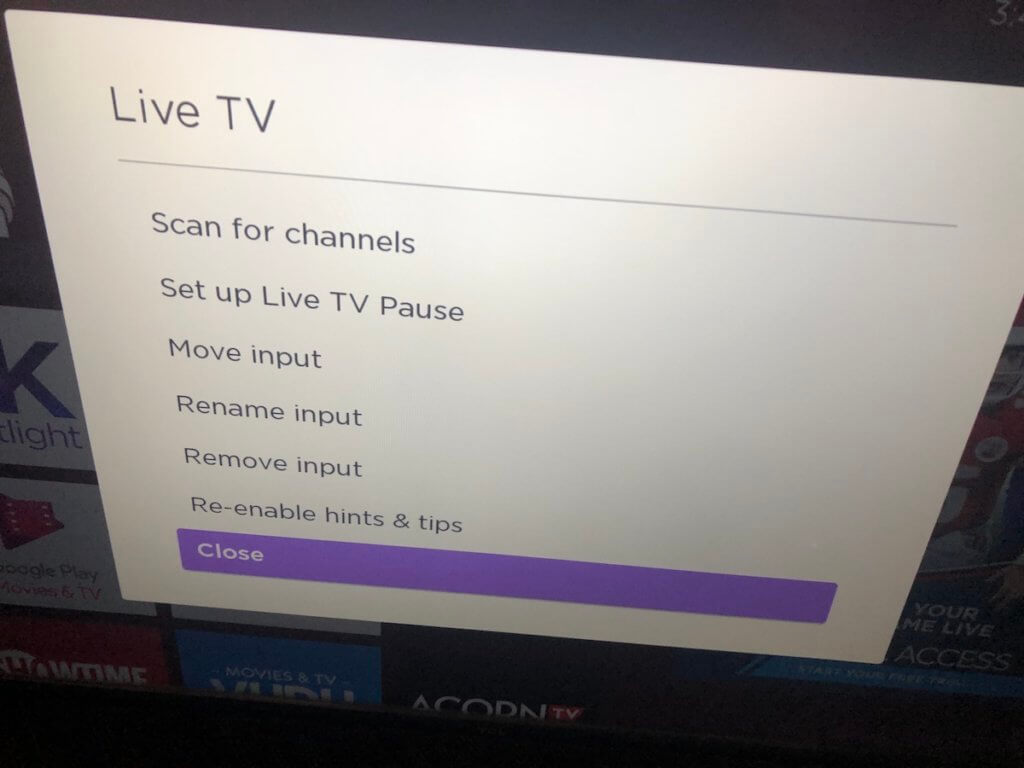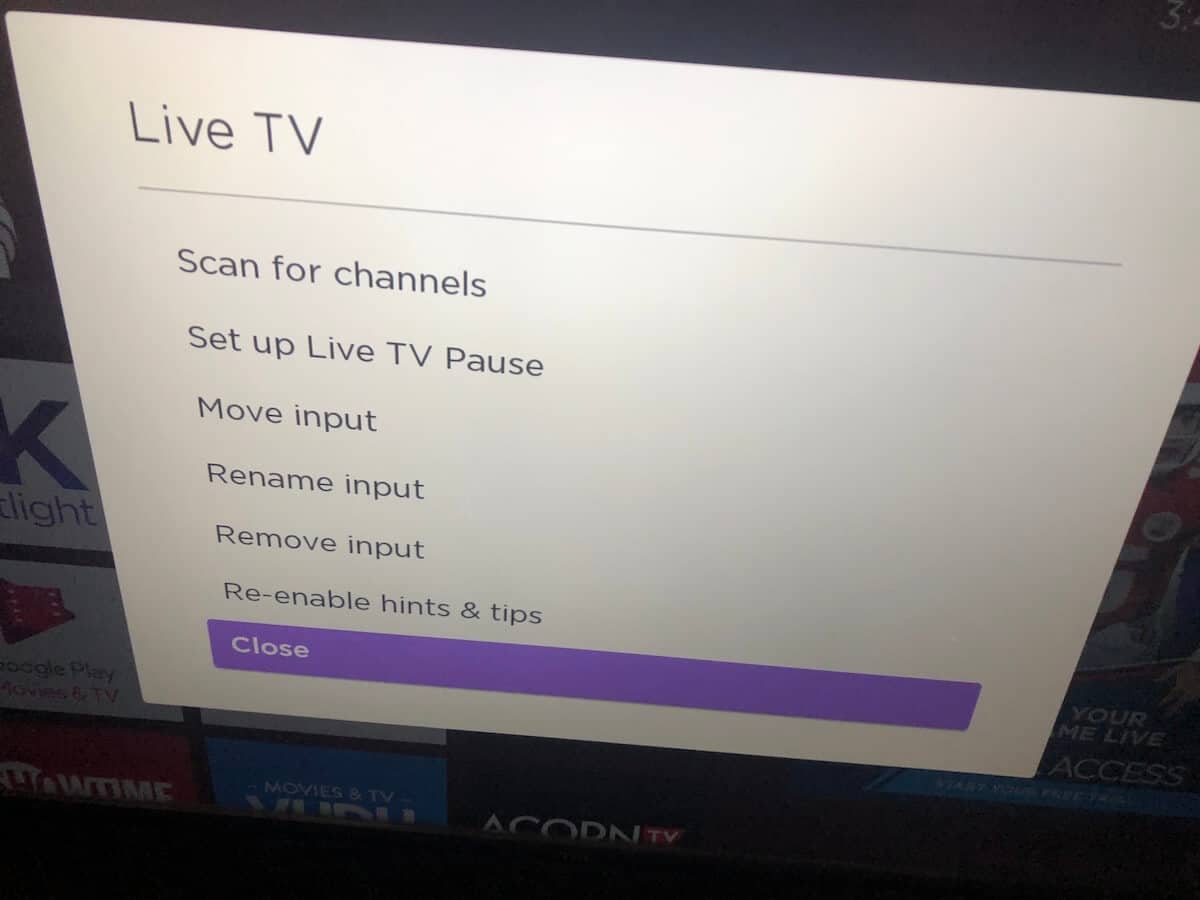 However, this menu isn't where you can adjust the Automatic Content Recognition feature. That feature can be turned on and off from Settings > Privacy > Smart TV Experience.
Need More Information?
If this article didn't answer your specific question, head over to our Home Page! It will guide you to affordable internet providers, streaming services to meet your needs, information on antennas, and many more tools and resources to help you save money on TV and Internet access.
For the latest news tips and tricks on cutting the cord and other tech topics be sure to follow our Google News Feed, like our Facebook Page and Follow Us on Twitter.
Join Millions of Cord Cutters
*
Disclosure: Grounded Reason is supported by a small commission for purchases made through product links on this website. We do not accept compensation from companies attempting to sway our review of products.