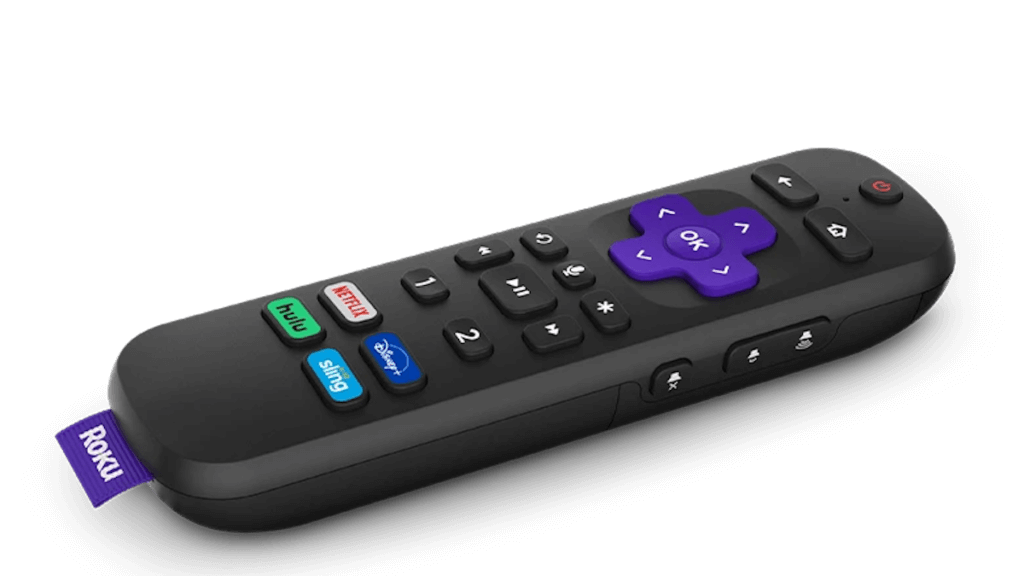 The Roku Voice Remote Pro is finally available to Roku owners. This remote is a huge leap forward from its predecessor, the  Roku Enhanced Voice Remote. The Voice Remote Pro does everything the Enhanced Voice Remote can do, but accepts hands-free voice commands, has a built-in remote finder, and doesn't require batteries!
The Roku Voice Remote Pro Features
Roku currently has a standard point and click basic IR remote and a few iterations of its "point anywhere" voice remote. The new Roku Voice Remote Pro provides all the past Roku remotes' functionality while adding USB charging to eliminate the need for batteries, a mid-field microphone for hands-free control, and a remote finder feature. It's a considerable upgrade priced at just $29.99. Let's take a look at what the Voice Remote Pro can do.
Hands Free Control and Remote Finder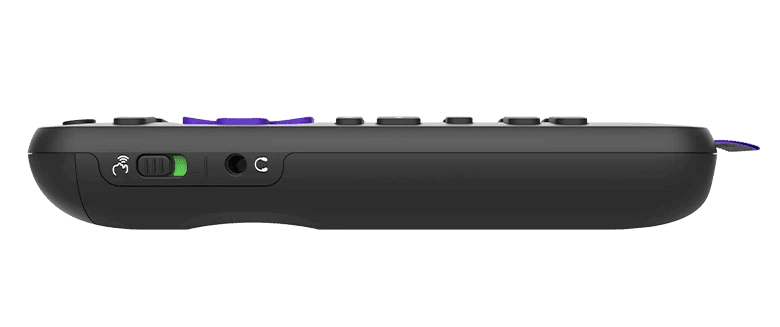 Roku's new remote has a small sliding switch on the remote's front-left side, just above the private listening headphone jack. This switch enables the remote's mid-field microphone, allowing you to give voice commands to your remote from a distance by saying, "Hey Roku." Without even touching the remote you can control your Roku device or Roku TV with commands like:
"Hey Roku, launch Hulu."
"Hey Roku, Power on TV"
"Hey Roku, Search for Avengers"
"Hey Roku, launch The Roku Channel"
"Hey Roku, turn down the volume."
or "Hey Roku, set the volume to X."
You can even use the hands-free feature to say, "Hey Roku, where's my remote?" and the remote will begin beeping to help you find it when it's lost in the couch cushions. Voice commands also work on a Roku-enabled Smart Soundbar with commands like "Hey Roku, play The Cure in the family room," and alt-classics will start playing, even with the TV off. The midfield microphone works from about 12 feet away and closer. Just make sure the mid-field microphone switch is on for the hands-free feature to work.
No More Batteries
There is no more battery compartment on the Voice Remote Pro. Instead of 2 double-A batteries, the new remote has an internal rechargeable battery. There is now a micro USB port on the bottom of the remote under the Roku tag. Along with the remote, a USB charging cable is included in the box when you purchase the remote. According to Roku, a fully charged remote will last up to 2 months without needing a recharge. It takes about 2 hours to charge the remote fully, and you can still use the remote while it's charging.
Other Features
Other features we love from the previous Roku Enhanced Remote are available on the Roku Voice Remote Pro.
There is a headphone jack on the left side of the remote. Plugging in earbuds or headphones will enable Private Listening, which mutes the TV so you can watch Roku without disturbing others in the room.
The Voice Remote Pro is a "point anywhere" remote that uses radio frequencies or "RF" to control the Roku device through your wireless network. However, the remote also supports infrared, meaning you can point and click on your Roku device.
There are quick launch buttons for  Disney+, Hulu, Netflix, and Sling TV, along with two more programmable quick launch buttons marked "1" and "2."
There is a voice control microphone button to issue voice commands to your Roku if you don't feel like saying "Hey Roku."
Buttons to control TV power, volume, mute, pause, and playback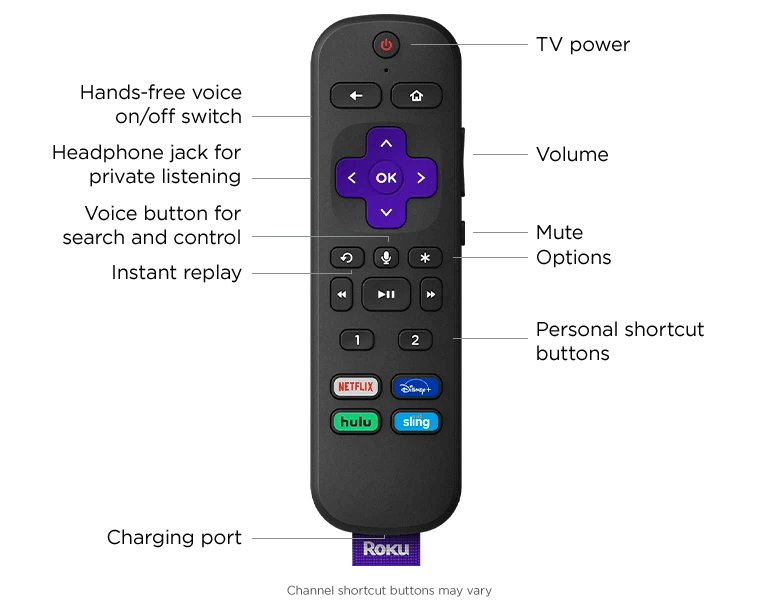 Setting Up Your Roku Voice Remote Pro
There are a few ways to pair your remote depending on whether or not you have an existing remote.
Press the Home button on your existing Roku remote.
Scroll up or down and select Settings.
Select Remotes & devices, followed by Set up a new device and then select "Remote".
Your Roku Device is now in pairing mode
On the back of your Roku Voice Remote Pro press the pairing button for 5 seconds
Your remote will automatically with the device in pairing mode. Once paired the Roku device will return to the Remotes & devices menu.
If You Can't Access the Roku Settings
If you lack a remote and can't access the Settings menu, then you can try using the Roku Remote App on iOS or Roku App on Android and use your mobile device as a remote. Both your mobile device and Roku device need to be on the same network. If you don't have a mobile device compatible with the Roku app, then you can follow these steps to pair your remote
Remove the power cord from your Roku device.
Wait at least 5 seconds.
Re-connect the power cord.
Wait for your Roku device to power on, and the Home screen to appear on your TV screen.
Within 30 seconds of seeing the Home screen, press and hold the pairing button for 5 seconds
You should see the remote pairing dialog screen and the remote should pair. If not, perform all steps again
Roku Voice Remote Pro Specs and Compatability
The Specifications for the Roku Voice Remote Pro are listed below
Model: RCS01R
Port: micro-USB for power
Power input: 5V – 1A
Height: 0.9 in (23 mm)
Width: 1.7 in (42 mm)
Depth: 5.7 in (145 mm)
Weight: 2.8 ounces (80 g)
Device Compatibility
Below is the compatibility chart for the Roku Voice Remote Pro
| Device | Model |
| --- | --- |
| Roku TV | all models |
| Roku Streambar | 9102x |
| Roku Smart Soundbar | 9101x |
| onn.™ • Roku Smart Soundbar | 9100x |
| Roku Express | 3900x, 3930x |
| Roku Express+ | 3910x, 3931x |
| Roku HD | 3932x |
| Roku Streaming Stick | 3600x, 3800x |
| Roku Streaming Stick+ | 3810x, 3811x |
| Roku Premiere | 3920x, 4620x |
| Roku Premiere+ | 3921x, 4630x |
| Roku Ultra | 4640x, 4660x, 4661x, 4670x, 4800x |
| Roku Ultra LT | 4662x |
| Roku 2 | 4210x |
| Roku 3 | 4200x, 4230x |
| Roku 4 | 4400x |
Need More Information?
If this article didn't answer your specific question, head over to our Home Page! It will guide you to affordable internet providers, streaming services to meet your needs, information on antennas, and many more tools and resources to help you save money on TV and Internet access.
For the latest news tips and tricks on cutting the cord and other tech topics be sure to follow our Google News Feed, like our Facebook Page and Follow Us on Twitter.
Join Millions of Cord Cutters
*
Disclosure: Grounded Reason is supported by a small commission for purchases made through product links on this website. We do not accept compensation from companies attempting to sway our review of products.