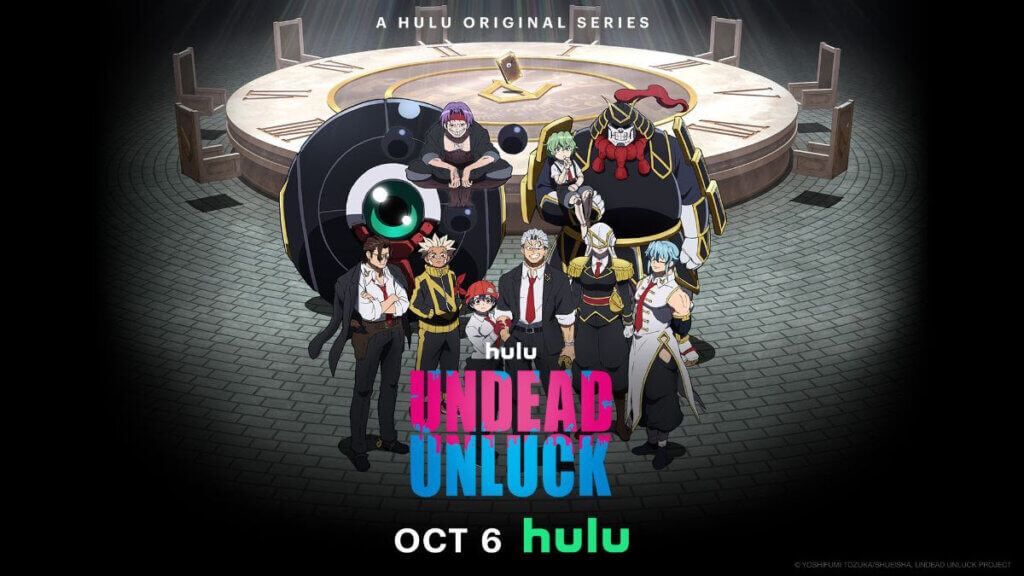 With the ever-popular nature of anime, all the major streaming services are trying to get a handle on the market. While Netflix has its fair share, Hulu has recently declared itself a destination titled "Hulu's Animayhem." This week, it will premiere the first season of the new anime adaptation of the popular Manga Undead Unluck.
About Undead Unluck
Undead Unluck follows the story of Fuuko Izumo, an unlucky girl who has been living in seclusion since a violent incident that killed hundreds of people, including her parents. Her Unluck special ability seems to doom anyone who touches her, so she decides to end it all. But then she meets Andy, an Undead man who can't die no matter how he tries. Can an Unlucky girl and an Undead boy bring each other the peace they are searching for?
The series has been a popular manga in Japan since 2020 and will make its animated debut on Hulu. It's easy to access with Hulu's streaming library, which is available through a monthly subscription starting at just $7.99. Read on for more about how to subscribe.
When does it Air: New episodes of Undead Unluck will be released weekly on Fridays.
How To Watch: Use this 30-day free trial to subscribe to Hulu.
How To Watch Undead Unluck
Undead Unluck will be available exclusively through Hulu's streaming library as part of their "Animayhem Destination." Hulu offers a free trial month and several different monthly plans:
Hulu (with ads): This plan costs $7.99 per month but provides an annual billing option priced at a discount. This plan is ad-supported.
Hulu (no ads): This plan costs $17.99 per month. With this plan, you get all the movies and TV shows in Hulu's streaming library commercial-free. (Due to network arrangements, Grey's Anatomy, Marvel's Agents of S.H.I.E.L.D., and How To Get Away With Murder will always have commercials).
Hulu is supported on Roku, Amazon Fire TV, Apple TV, Google Chromecast, and more. For more information on the service features and device support, please see our in-depth review of Hulu.