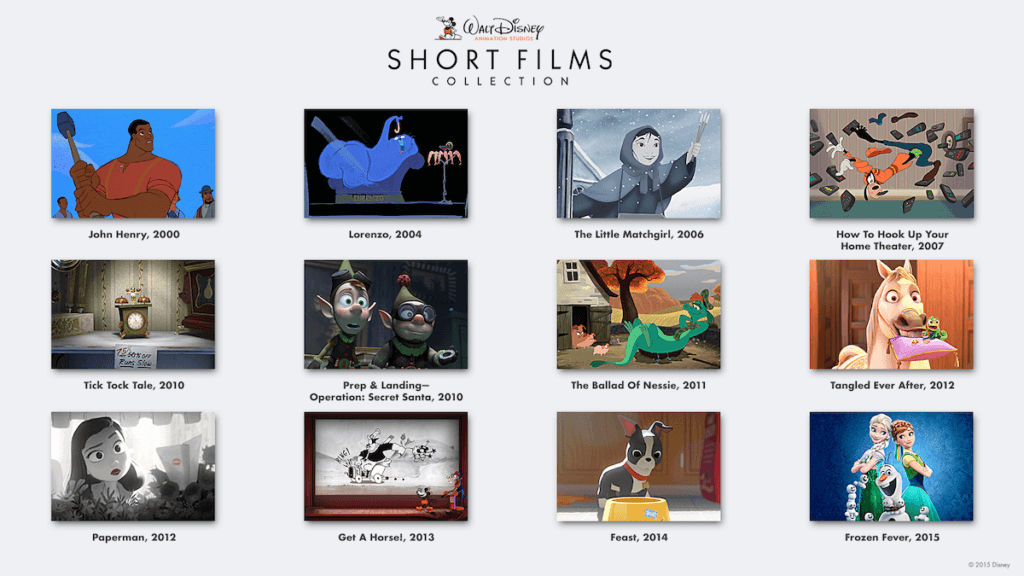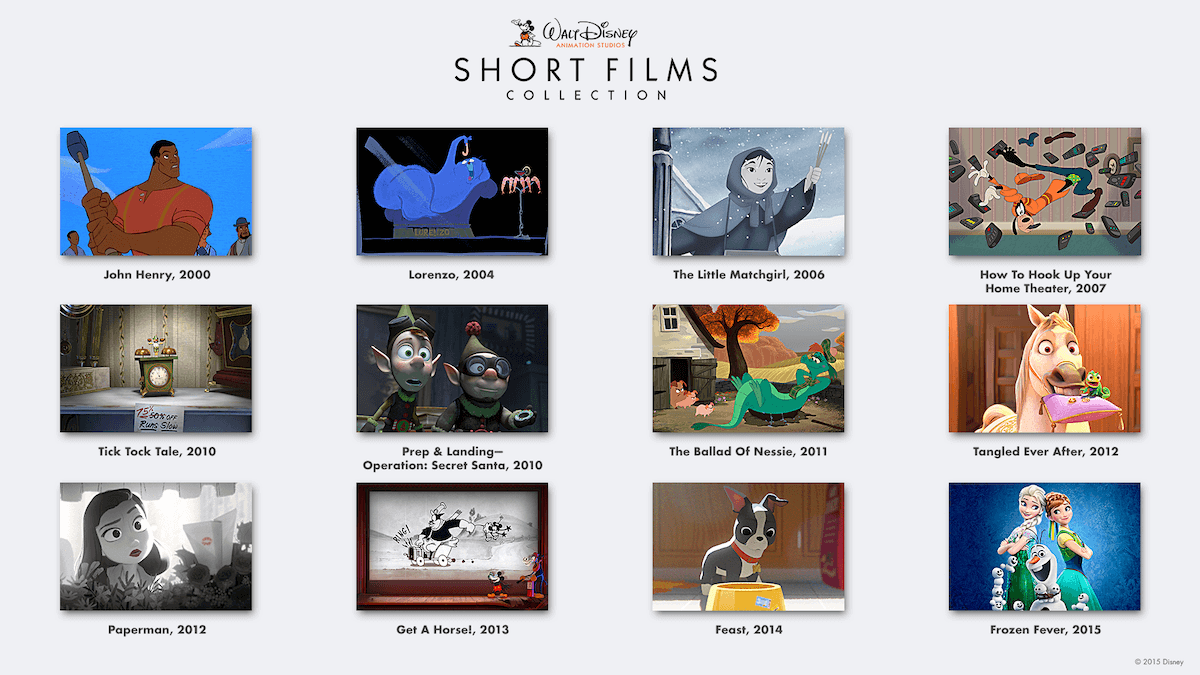 See our review of Disney+ for full details on the Disney+ streaming service.
One of the more delightful things about Disney+ is exploring the many various short films the studio has produced over the years, particularly under the Pixar umbrella. We look at the range of shorts available on the streaming service and pinpoint a few favorites and unique gems. With most running times under 10 minutes (shorter when you consider credits), these are quick bites of imagination that explore many facets of storytelling.
While there are many great shorts to explore on Disney+, it is admittedly hard to find them all. There is no one filter for "shorts," Although it is a category on the home page, it only gives you a small handful of them. Once you find some of the more unique ones, you get other suggested content. However, there are many outside tools to find complete lists of all the shorts from Disney. Beware. However, that like many streaming sites, Disney+ may rotate them out, and not all titles will be available at once. 
Disney Classic Shorts
Staring in the late 1920s, Disney Studios used shorts to develop many of their landmark animation techniques. In 1929, "Silly Symphonies" were launched. There would eventually be 75 Silly Symphonies in 10 years, each furthering advancements in the animation industry. For example, The Goddess of Spring (1934) would contribute heavily to the animation techniques used for Disney's first feature Snow White and the Seven Dwarfs. (Many of the early shorts are considered problematic somehow, and most include a warning that the "program is presented as created. It may contain outdated cultural depictions.")
Steamboat Willie (1928) – This famous first Mickey Mouse cartoon is the first cartoon with synchronized sound. 
Destino (1945 / 2003) – Actually created in 2003, this trippy and surreal short was the brainchild of a partnership between artist Salvador Dalí and Walt Disney. The original storyboards and a 17-second clip were created by Dalí and Disney studio artist John Hench in the 1940s, but the project was shelved until it was unearthed in 1999. The art style is reminiscent of classic Disney, and it is largely done in traditional animation techniques.
Numerous nostalgic shorts from the 1940s-1960s, featuring Donald, Pluto, Goofy, and other classic Disney figures, are floating about on the site as well. Use the search tool to find your favorite character in some of their earliest antics.
For a longer short, you might enjoy Tim Burton's 1984 original Frankenweenie, a 26-minute live-action short that was an early taste of the burgeoning director's style—albeit one that got him fired from Disney at the time. 
PIXAR Shorts
There's no question that Pixar has become the biggest name in animated shorts. The company was practically built on them, as was early Disney, as they were used to develop new animation styles and technology. From The Adventures of André & Wally B.and the more well-known Luxo Jr. to the franchise shorts from popular films, they have been churning them out since day one.
Pixar theatrical shorts are largely stand-alone shorts that were released with feature films. There is a wide variety, but all manage to pull at your heartstrings in traditional Pixar fashion. Here are a few of our favorites currently available on Disney+.
One-Man Band (2006) – Wacky and musically fun, this short is also a nice showcase for the music of Michael Giacchino, a leading cinematic composer, and long-time Pixar collaborator. 
La Luna (2012) – A simple coming of age story in an unexpected setting.
The Blue Umbrella (2013) – Giving heart to inanimate objects has been a hallmark of Pixar, and this charming short is no exception.
Sanjay's Super Team (2015) – A cartoon-obsessed kid is drawn into an unexpected adventure that gives a new perspective on his observant father's Hidu traditions.
Piper (2016) – This sweet short about a baby sandpiper learning to face its fears in search of food is very simple, but has some of the most beautiful life-like animations. 
Bao (2018) – A Chinese mom is surprised one day when a dumpling springs to life, and she takes it as a second chance.
SparkShorts on Disney+
SparkShorts are Pixar Artists' Projects, a series of independent shorts produced by artists within Pixar, and launched first on YouTube (2019) before moving to Disney+. Many of them reflect deeply personal stories and a wide diversity of perspectives and experiences. There are seven in total so far, all available on Disney+. Bonus: several of the SparkShort have an extra feature video available, in which the artists behind the shorts talk about the inspiration and process. Our favorites include:
Float (2019) – Perhaps one of the most touching, Float is a magical take on a personal story about parenthood and acceptance. 
Kitbull (2019) – The behind the scenes is worth checking out after watching this one, as they show how computer technology was combined with hand drawing frame by frame for an aesthetic that captures the chalky backgrounds of vintage Disney. (CW for some off-screen animal cruelty and dogfighting.)
Wind (2019) – A journey into magical realism, a grandmother and grandson scavenge debris to build an escape to a better life, in true heart-pulling Pixar fashion.
Loop (2020) – Featuring Pixar's first non-verbal autistic character, Loop looks at two kids struggling to communicate during a camp canoe ride.
Franchise & Home Entertainment
From Pixar to the wider Disney family, shorts have become a popular way to keep audiences engaged with favorite characters and build side plots for supporting roles. Pixar has at least a couple character-driven shorts to go with each film, and recent Disney hits such as Frozen have begun joining the shorts game.
On October 23, Disney will fill in the History of Olaf with Once upon a Snowman. This short takes place moments after Elsa created Olaf as she was "letting it go" and building her ice palace, and when Anna and Kristoff first meet him in the forest.
While we wait for the release of Once upon a Snowman, Here are a few of the top ones available. 
Cars Toons – Join goofy tow-truck Mater as he goes on nearly a dozen adventures, including flight, the moon, and a film noir detective.
Forky Asks a Question – Forky, the new arrival in the fourth installment of the Toy Story films, learns about various topics, including Money, Art, Love, and Friendship.
Lamp Lift (2020) – Also from the Toy Story universe, this short fills us in on the adventures of Bo Peep between films 2 and 4, in which she made a big comeback. 
Auntie Edna (2018) – The Incredibles' brusque and no-nonsense designer is up to the task of babysitting baby Jack-Jack, whose limitless powers she tests to make him the perfect super suit. (A personal favorite if you happen to be a costume designer helping to care for an active 9-month-old…)
Marvel Shorts
Disney is also getting its Marvel wing into the realm of the short with Marvel Funko shorts, three (very) short adventures with popular Marvel characters – as played by their large-headed Funko toy counterparts.
Need More Information?
If this article didn't answer your specific question, head over to our Home Page! It will guide you to affordable internet providers, streaming services to meet your needs, information on antennas, and many more tools and resources to help you save money on TV and Internet access.
For the latest news tips and tricks on cutting the cord and other tech topics be sure to follow our Google News Feed, like our Facebook Page and Follow Us on Twitter.
Join Millions of Cord Cutters
*
Disclosure: Grounded Reason is supported by a small commission for purchases made through product links on this website. We do not accept compensation from companies attempting to sway our review of products.