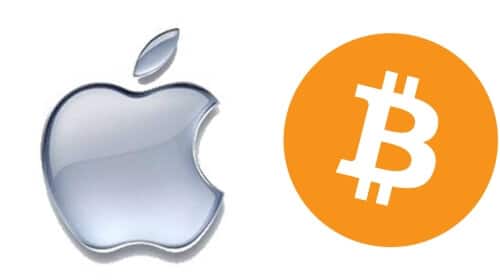 Apple Pay, a way to make in-store payments with your iPhone, was launched today to much fanfare. Bitcoin, a software based internet payment infrastructure introduced in 2008, has struggled to obtain mainstream adoption.  Together, Apple Pay and Bitcoin might just be the combination that starts a revolution in the way commerce is conducted.

Bitcoin Overview
Making Bitcoin Transactions
A bitcoin is a unit of virtual currency that is currently worth around 400 USD as I'm writing this. However, Bitcoin with a capital "B" is more than just a unit of digital currency.  It's also a decentralized network that hosts a shared ledger known as the blockchain. This ledger is a record of all bitcoin transactions conducted over the Bitcoin network.
To conduct a transaction on the network requires 2 Bitcoin wallets, a sender and receiver of bitcoins. Each wallet has a private encryption key.  This private key used is used to sign transactions for a given wallet on the public ledger (block chain.) Therefore, new transactions are verified with an amount of bitcoin to be spent or received by a given wallet.  Hence, a Bitcoin wallet can calculate its balance from the blockchain by using its private key.
Verifying Bitcoin Transactions
Verification of the transactions happens through a process called "Bitcoin mining."  Miners are computers that apply a mathematic formula to a block of transactions to create a fixed length piece of data called a hash. The hash is then added to the end of the blockchain.
Furthermore, the previous hash in the blockchain factors into the computation.  This allows multiple miners across the network to independently compute the hash and confirm the transaction. These computations conducted by the miners create a consensus that the transactions are valid.
Ultimately this leads to a means of 2 parties transacting commerce electronically without the need of a bank or crediting institution.  For their efforts, miners are provided with bitcoins when they add a new block to the blockchain.  This is how new bitcoins are introduced to the network.
Benefits of Bitcoin
The allure of bitcoin is the elimination of a required intermediary to conduct business. This means an elimination of the roughly 3% transaction fee charged to businesses for utilizing a credit card purchase. In contrast, a majority of Bitcoin transactions cost nothing.  Bitcoin also acts as its own exchange, allowing international transactions to occur without incurring an exchange fee.
This is not to say Bitcoin has been a perfect technology.  Bitcoin currently has no institutional backing or insuring mechanisms preventing loss.  Currently if you lose access to your wallet, you lose the bitcoins as well. Solutions to these flaws are possible and should evolve as Bitcoin matures.
Enter Apple Pay
Apple Pay is a way to make an in store purchase using your iPhone or iWatch. Simply add credit and debit cards to the Passbook on your iOS 8 device, and the devices are ready to use Apple Pay.  To pay, just hold the iPhone or iWatch near the store's reader.  With the touch of a finger, the payment information is sent.  Verification of the transaction comes in the form of an audible beep or vibration.
The security of Apple Pay is where it shines.  A unique "Device Account Number" is encrypted and stored in a chip within the iPhone when a card is added to the Passbook. Much like Bitcoin, the number is sent with a transaction specific code to process the payment.  Hence, the actual card number is never transmitted along with the payment.
Apple Pay uses the "Touch ID" on the iPhone. Therefore, if an iPhone is lost or stolen it cannot be used by anyone not setup with a Touch ID on the device. Apple also provides functionality within "Find My iPhone" to lock the phone down so nothing is accessible, or even wipe the phone completely.
This technology is easily accessible and user friendly. Apple has already lined up over 200,000 stores to accept payment with Apple Pay. It looks like Apple Pay is positioned well for widespread adoption, thus introducing the virtual wallet to millions of Apple customers.
Apple Pay and Bitcoin
Bitcoin enthusiasts initially panned Apple Pay as being built on the "old rails" of the credit card network. That view seems short sited.  Bitcoin is a brilliant technology that has the potential to allow direct peer to peer financial transactions securely and privately. Furthermore, it can eliminate the fees on the trillions processed by credit cards every year.
However, Bitcoin is yet to gain mainstream adoption as it relies on people not only being comfortable using virtual currency, but also accepting the idea of a virtual wallet.  This is where Apple Pay comes in.
Apple already has an established trust with businesses in the global economy. It also boasts legions of extremely loyal customers. This is the perfect formula for mainstream adoption of the virtual wallet in the form of Apple Pay.
Eventually, though the convenience and security of Apple Pay, the virtual wallet will establish itself in the comfort zone of consumers worldwide.  Once the virtual wallet is accepted as a means to conduct business, the legacy card system beneath the wallet can modernize without requiring new behavior from users.
If and when that happens, it will be Bitcoin's moment to shine. Merchants already have an incentive to adopt Bitcoin as it adds 3% of card purchases to their revenue stream. Once the widespread use of virtual wallets is established, Bitcoin becomes plug-and-play with the addition of simple application software.
Apple Pay and Bitcoin could lead to a revolution in commerce as it's currently known. Yes, it's possible another virtual wallet or virtual currency infrastructure could take their place and usher in this change. However, no other technologies are currently better positioned than Apple Pay and Bitcoin.
Ultimately with all revolutions, those that currently hold the keys to the kingdom will do everything in their power to keep a tight grip. Consequently, credit card companies and their lobbies in government are the only things I perceive stopping this natural marriage of innovation.