Heather C. Jackson is a freelance writer, editor, costume designer, and self-proclaimed television junkie located in Baltimore. Her writing work includes copywriting and editing art books, play scripts, and academic work; time as an editor, communications specialist, and publicist in regional theatre; and several years as a home and lifestyle writer and editor.

Latest posts by Heather C. Jackson (see all)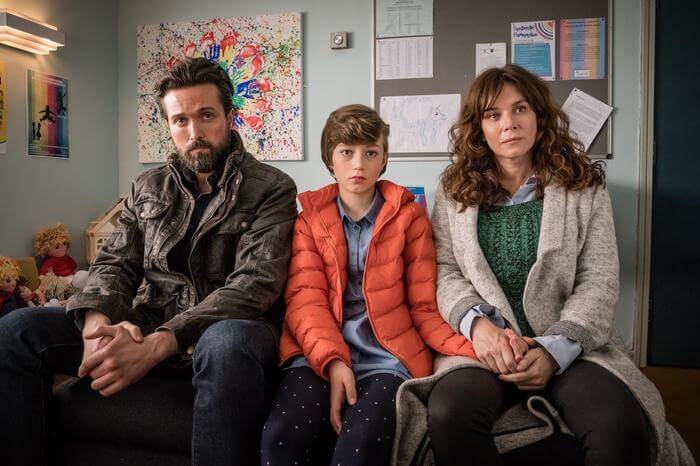 One of the most exciting things coming to Hulu this month might be the American debut of the emotional family drama Butterfly, from ITV in the U.K. A three-part miniseries, Butterfly tells the story of the family of an 11-year-old struggling with gender dysphoria and the desire to transition from a boy to a girl. 
Max (Callum Booth-Ford) has dressed as a girl at home for years, and it was his own inability to deal with his son's gender nonconformity that drove Stephen to leave the family. At 11 years old, Max, now choosing to go by Maxine, wants to live life as a girl publicly. Her estranged parents must come together to find a way to support Maxine and rebuild their family, while each finding a way to deal with their own feelings and issues with their child's gender. The series takes on heavy subject matter, but in a careful and thoughtful manner that looks at the real struggles that face trans youth and those dealing with gender dysphoria. Butterfly also stars Emmy award-winning Anna Friel (Marcella, Pushing Daisies) and Emmett J. Scanlan (In the Flesh, The Fall) as Maxine's parents, Vicky and Stephen, who reunite to decide how to support Maxine.
One of few series to really tackle these issues on a mainstream family level and focused on trans children, Butterfly was an immediate critical hit when it debuted in October 2018. The series had a supportive response from members of the trans community in the U.K., as well as receiving praise for its honest and touching portrayal of the challenges facing trans youth and their families.
Preparing to tell this story, BAFTA award-winning writer and series creator Tony Merchant spent time with trans families, as well as the organization Mermaids, which works to support children, young people, and families dealing with gender nonconformity and dysphoria, and to raise awareness of the issues facing these young people. The effort seems to have paid off, as ITV audiences embraced the heartwarming and challenging family drama. The series holds a 100% fresh critical rating from Rotten Tomatoes (with a respectable 80% from viewers).
Hulu has unique streaming rights to the series, and will debut it to U.S. audiences on January 18, 2019.
For more, see the ITV trailer here:
How to watch Butterfly on Hulu
As of right now, Hulu is the only service that will carry Butterfly in the United States, and all three episodes will be available starting January 18. Don't have Hulu yet? It is easy to sign up. Hulu offers a free trial month, and then offers several different monthly plans:
$7.99/month with limited commercials
$11.99/month commercial free
$39.99/month commercial free + live TV of up to 50 channels, as well as on-demand feature.
Sign Up For A Free Trial of Hulu
(For a more detailed breakdown of all the features and options from Hulu, check out our recent review of Hulu.)
Hulu can be watched through Hulu.com online, as well as apps for Apple TV, Roku, Chromecast, Amazon Fire, Xbox, and mobile devices.
Deal of The Month
Looking for fast Internet and a way to stream live TV online? Right now, new Fios customers can get blazing fast internet and 1 month of Free YouTube TV!.
Need More Information?
If this article didn't answer your specific question, head over to our Home Page! It's designed as a guide to our most important articles to help you ditch pay TV.
For tips and tricks on cutting the cord and other tech topics be sure to join our Facebook Page and follow us on Twitter @Grounded Reason.
Join Millions of Cord Cutters
Disclosure: Grounded Reason is supported by a small commission for purchases made through some product links on this website. We do not accept compensation from companies attempting to sway our review of products.